FEATURES
Strange and Perfect Connections: Mats Gustafsson at 50
By Peter Margasak · October 14, 2016
Saxophonist Mats Gustafsson is still somewhat embarrassed that a three-day festival—held at the Vienna club Porgy & Bess in October 2014—was essentially organized to celebrate his 50th birthday. The venue sponsors a few artist-in-residency projects each year, and it invited the Swedish native—who lives in Nickelsdorff, Austria—to participate. He mentioned that his birthday was nearing and that, perhaps, the residency could be connected to the occasion. "And then I immediately regretted it," he jokes. "But I'm very happy it was done."
Earlier this year, more than four hours of highlights from that extravaganza, which featured performances by the saxophonist with many notable collaborators, was released as a box set by Trost Records: MG50 Peace & Fire. It's a spectacular collection of gritty, high-energy free improvisation jazz and experimental music from one of the most prolific and passionate figures in cutting-edge sounds of the last three decades. "It was still a focus on me, and I feel a bit uncomfortable when I look at the box sometimes," he says. "But I have friends who convinced me it was a good thing to do."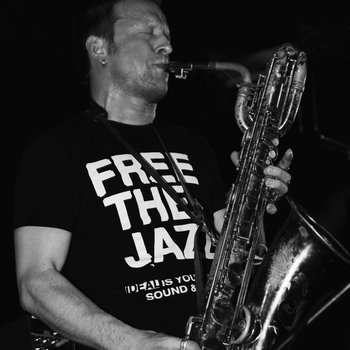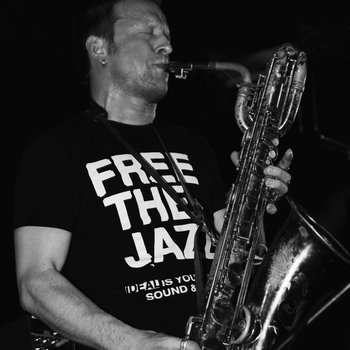 Since he emerged in the mid '90s, Gustafsson has made connections between free jazz, noise, underground rock, and improv like few others. He's a wildly curious person, forever excited by new ideas and fresh collaborations. Early in his career, his interest gravitated toward European free improvisation, and from a young age he was playing with folks like German drummer Paul Lovens, Swedish pianist Per-Henrik Wallin, and British bassist Barry Guy. As the years passed, his circle of collaborators and interests expanded wildly. In addition to a veritable who's who of jazz improvisers, legendary figures like guitarist Derek Bailey and reedist Peter Brötzmann, he's worked with underground rock heavies like Jim O'Rourke, members of Sonic Youth, Lightning Bolt, and the Ex, and art-pop singer Neneh Cherry. He's worked with noise artists such as Lasse Marhaug, Otomo Yoshihide and Merzbow. If anything has marked his lengthy career, it's been a dedication to pushing forward while retaining a deep reverence and respect for music from the past.
He says the recent box set "gives a pretty good picture of where I am right now." The sprawling release contains performances by long-running projects, such as the muscular free jazz trio the Thing, his twisted salute to vintage Swedish jazz called Swedish Azz, his electro-acoustic project with turntable experimenter Dieb13 called Fake the Facts, and a slew of improvised solos from many of his cohorts, including Spanish pianist Agustí Fernández and Breton bagpiper Erwan Keravec.
"I have a lot of interest in taking my music in different directions, and to get inspired from all different kinds of music all the time, and I hope that you can hear that in this box set," says Gustafsson. "As long as you don't compromise with your own language, I think you can do anything when it comes to music.  You don't have to stick with only doing abstract free improv European music, or only the Japanese noise style of music. You can pick elements from all kinds of music, as long as you use your own language on your instrument. If you try to change your own language too much, then it starts to get problematic. It's a fine line to walk there, of course, but I'm so interested in different music."
"I need to understand," he continues, "to learn more from other people, from other music, from other cultures, from other media. And in order to learn, you have to try things out. I hope that the box represents a little bit of that—trying things out. More than any other release I've made over the years, this has a huge palette of all of things that I'm interested in. This is a sample, but it gives a pretty good image of what the fuck I'm doing and what I'm interested in."
Perhaps one of the most unexpected collaborations in the set are two pieces with Vienna's celebrated contemporary classical ensemble Klangforum Wien, which began a few years ago when they contacted Gustafsson to collaborate on a project that used the drawings of Iraqi-born British architect Zaha Hadid as graphic scores. "It was extremely amazing for me to work with Klangforum—I think it's the best contemporary music ensemble that there is at the moment," he says. In fact, the ensemble's Swedish trumpeter Anders Nyqvist had recently become a member of Gustafsson's international orchestral project NU Ensemble. "This direction with Klangforum, to try to mix the limitations of exact notation with the freedom of improvised music and to see where the friction is has always attracted me," Gustafsson says. "You can put anything in front of them, or instruct them and they'll play it. And some of them are also really good improvisers, so I really look forward to continuing that work. I've been doing much more compositional work since I moved down to Austria, for the last three or four years, and [this work] kicks me in a good way."
So what's Gustafsson up to these days? He recently premiered an original piece with his NU Ensemble, based on the music and lyrics of Frank Zappa, at Sant'Anna Arresi Jazz Festival in Sardinia, Italy. "I kind of deconstructed Frank Zappa in a way, like William Burroughs/Brion Gysin style, cut up and put together. So there was a lot of really strict notation and a lot of freedom," he says. The group performed under the direction of the Dutch conductor Bas Wiegers, who Gustafsson says used the orchestra itself as his own improvisational tool. In that group, as with many of his ensembles, Gustafsson continues to introduce exciting new players to the world. He has always thrived as an advocate for fresh talent, a predilection that shows no sign of stopping.
"That's the best thing there is, except trading records with your friends," he says. "To present good things, to present creative things, for a larger audience. We know how it works. It's a really small world in a way, even if it's widened now with the internet and with all the globalization of this music. But there's still so much shit that people don't know about. And if there is a new name doing something really good, it's great to be able to help—to produce records or set up a concert." In particular, Gustafsson is enthusiastic about an explosion of female musicians playing improvised music, and regularly supports many important upcoming players, including singer Sofia Jernberg, saxophonists Mette Rasmussen and Anna Höberg, all of whom are members of his Fire! Orchestra, among other projects.
"It's better, I think, than ever, in this free jazz/experimental music scene, that there are more women playing," he says. "It's more important than ever to support the great ones—the ones that really want to make something of the music. Because, if you have young students who are like 15, 16, or 17, preparing to go to music university or something, and they see Anna and Mette playing in Fire! Orchestra and having all the space they have and being able to make experimental music, that's where we can really change something from a gender perspective. It's been really bad for so many years, and it's still far from equilibrium. But I think something is really going on, especially in Scandinavia at the moment. There's a lot of amazing female players."
In the coming year, Gustafsson's activity will be limited. His trio Fire!, a sub-project of the Orchestra, with bassist Johan Berthling and drummer Andreas Werliin (of Wildbirds & Peacedrums) will be involved in a production under the leadership of the prestigious Swedish theater director Lars Rudolfsson at Stockholm's Royal Theatre, with a cast including actors who worked with the legendary Ingmar Bergman. That doesn't mean he's stopping his prodigious output—The Thing is presently working with the great American harmolodic guitarist and singer James "Blood"  Ulmer, and Gustafsson has a new duo with Austrian electronics improviser Christof Kurzmann.
Gustafsson also began co-running an online mail order site called Discaholic Corner in 2012. He once had a trio with Thurston Moore and Jim O'Rourke called Diskaholics Anonymous, which played on the record-collecting obsessions of its members. In the past, Gustafsson has interviewed fellow record collectors about their habits and has routinely insisted, "A vinyl a day keeps the doctor away." Many releases in his voluminous discography have been issued in absurdly small editions on vinyl, but in the last few years he's turned to Bandcamp to make a growing number of titles available digitally. "I mean, I like exclusivity and limited editions when it comes to vinyl. I like to collect things," he says. "But I want my music to be available so people can hear it, and maybe people who are looking for collaboration will hear it, So it's a win-win situation, the more you can put out there."
—Peter Margasak