FEATURES
The Dreamy Synth Pop of Puerto Rico's Los Wálters is Rooted in Themes of Distance and Escape
By Amaya Garcia · February 08, 2017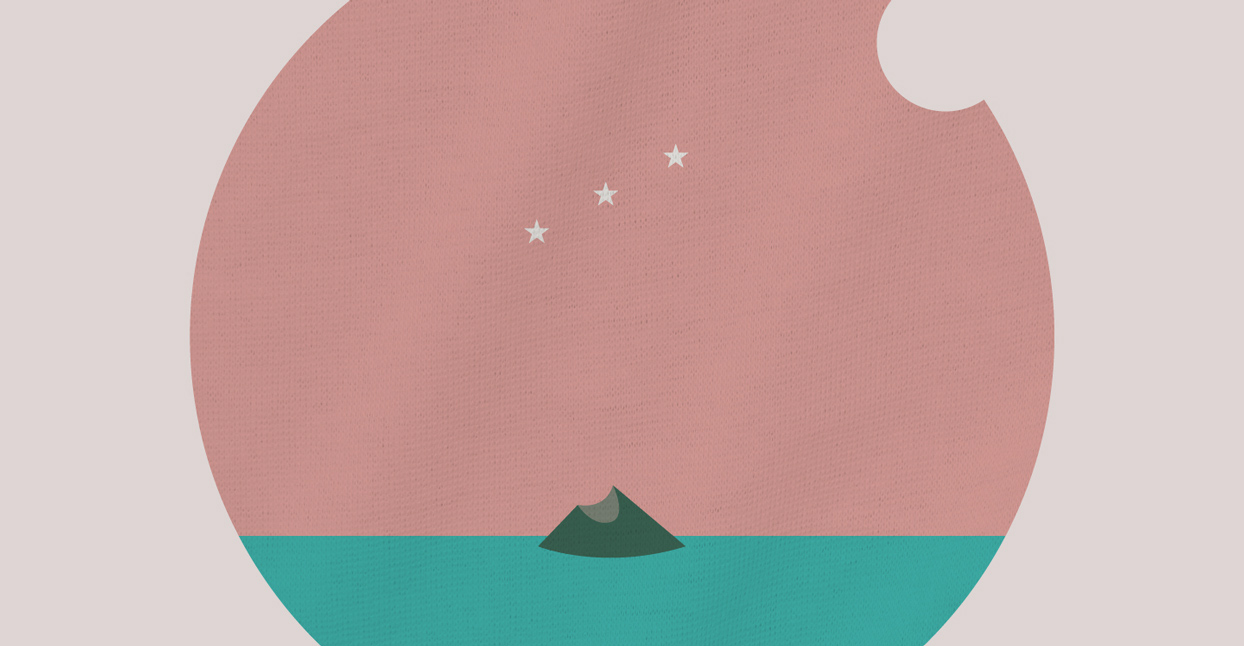 Towards the end of Isla Disco, the third full-length album from the Puerto Rican synth pop duo Los Wálters, is the following line, heard in the characteristically harmonious vocals of the band's members, Luis López and Ángel Emanuel Figueroa, and buried underneath seemingly unending layers of bass and synths: "No hay nada violento en escapar." There is nothing violent in escaping.
This theme, the need for a mental (if not always physical) respite from reality, is one that has appeared throughout the duo's discography since they burst onto the Puerto Rican music scene in 2011—whether it be in their relentless layering of harmonies, their dizzying array of synth lines, the understated references to tropicalia, the dreamy quality of their lyrics or the visual dreamscape they create in their videos. It has defined their approach to music and the world that surrounds them while thrusting them into a category of their own in the island's scene, farther away from the smaller venues, closer to larger stages and dominating festival line-ups in the Caribbean and in Miami. In a scene dominated by punk, hardcore and rock acts, Los Wálters have formed a uniquely tropical brand of synth pop, influenced by everything from Italo-disco to '80s pop and new wave to the oft-cited movida madrileña, that aims to provide a different soundtrack to the lives and experiences of Puerto Rican youth today.   
"We want people to think of the island as bigger than it is," López explains, with a whiskey and coconut water cocktail in hand. "It's a small island, but we have big ideas and music that makes us feel bigger than we are." The duo is talking via a Skype video call from Figueroa's apartment in midtown Miami, where he's been living for the past few years. They're fresh off recording new music to accompany the vinyl release of Isla Disco later this year. "There's nothing wrong with staying put in the island for a little bit," Figueroa says. "Obviously, you don't want to be alienated or ignorant with what's going on around you, but there's nothing wrong with getting away for a little while, experiencing what you want to experience and then getting back to work."
Much like the narrative of an ever expanding subset of young Puerto Ricans, the story of Los Wálters is rooted in traveling, emigration, the embrace of distance and the new forms of connection it forges. Ever since their first production, 2011's self-titled EP, and the release of their debut album #Ponteelcasco in 2013, López and Figueroa have seldom created music in the same space. They don't exactly remember where they met each other, but a chance collaboration with López's former synth band, Yo Soy Luis El Es Juan, led Figueroa and López to quickly form a musical bond that has proven unbreakable throughout the years.
After Figueroa moved to Philadelphia for work —then to São Paulo, Rio de Janeiro and Miami— and López spent time in Barcelona finishing his masters, the duo started working on their sound long-distance, sending each other beats through Dropbox, Skype and Gmail, and haphazardly constructing what would become #Ponteelcasco, with López even recording vocals in the bathroom of his studio apartment in Barcelona. "We started sending each other music, then he started sending me some of his beats and I started sending him some of my stuff," Figueroa explains. "We both split, but we stayed together, stayed in communication, sharing music and cross-collaborating. I started adding stuff to his beats, he added stuff to my beats, and then I said: 'I think we have something, let's get together.' It's part of the essence of who we are —collaboration, long-distance. Obviously we get together for the final stages, but we started doing things this way and it worked."
Even though they both stress that the distance prevents them from the rituals of a normal collaborative friendship (like sharing ideas and tweaking their music over beers or cigarettes after a long session), one of the most tangible benefits, aside from the wide array of styles and influences that are now part of their sound, has been the connections they've formed with other musicians and studios outside of Puerto Rico. A testament of this is their long-standing relationship with Turtle Studios in Philadelphia —where most of their work has been mastered—and their collaboration with Elisita Punto, vocalist for the Chilean band MKRNI, on one of Isla Disco's tracks, "Cabaña"—a whimsical story about lovers reconvening in a cabin made of flan.
Their collective experiences outside of Puerto Rico, playing in international festivals and making music have led them to further professionalization and maturity, one of Isla Disco's most palpable traits. In contrast to the crude production of 2014's Verano Panorámico, Figueroa and López manage to create a crisper sound that showcases the lush, layered vocals and dreamy synth lines that have made them a crowd favorite in Puerto Rico and that has fueled their escapist narrative. On tracks like the opener "Claridad" and "Supermán" the band experiments with mambo influenced, chiptune-like melodies and a renewed focus on reverb and bass, something that gives the music a heavier, introspective quality. The bass comes courtesy of Luis Rodríguez, a new addition to the band's recordings and an integral part of their live set-up, which also features friends and collaborators Aleida López, Ferdy Valls and Manuel Vargas. In essence, Isla Disco is one of their first records that can be replicated live, something they had also been working for in their journey towards perfecting Los Wálters' sound, reaching a certain maturity as a working band and making the project self-sufficient.
"We recorded Isla Disco with better microphones, better synths, better audio cards," Figueroa says. "It's not necessarily about the equipment because you can make fucking perfect sounding music with as little as you have. But, now that we've gotten good feedback, we're getting more gigs, and with the little cash that we got coming in from the project, we try to invest in us. […] We have a motto which is diversión antes que perfección. Fun before perfection. There's this perfection that never comes but there's beauty in the search of it."
This search is latent in Isla Disco's approach to music, putting the record in a different, more nuanced dimension than the rest of their output, not only when it comes to sound quality, but through a bigger focus on lyrics and a stronger urge to drive home the message that escape is a choice you have. In that sense, Isla Disco is a danceable and beautiful ode to a constructed tropical paradise parallel but not opposite to the one that has seen them grow. It's their nostalgic vision of the "magical island" but with an undercurrent of existential preoccupation that can be heard most notably in "Mayagüez," a song about taking a road trip to forget about your problems.
"That song, people ask about it because it obviously speaks about the economic reality, but it's just a song that tells you to go away and have a road trip, but understanding your conditions and being able to work something out to make it better," López says. "We don't want to make music that's disconnected from reality. We want people to be connected to our music, travel, have road trips, do drugs or be cool…whatever they want to do. But, also to be aware. We want to be part of our generation. It's difficult to find jobs, there's a lot of bad shit going on, but we still have the opportunity to feel better. I think that's what we're going for."
At the end of the day, Isla Disco is meant to function as a mythical place, a planet of its own where escape is welcome —a world that Los Wálters constructed to function as a relief and creative outlet for the band and for their fans to experience fleeting beauty and abandon. A place of relative safety, if only for the night. "We're open to whatever is happening around us," Figueroa says. López finishes the thought: "We're just trying to create our own version of Puerto Rican music. We want to create the stuff that we want to hear."
—Amaya Garcia