FEATURES
On "Kalenda," The Lost Bayou Ramblers Blend Cajun Music With Dance & Psych
By Jim Allen · October 03, 2017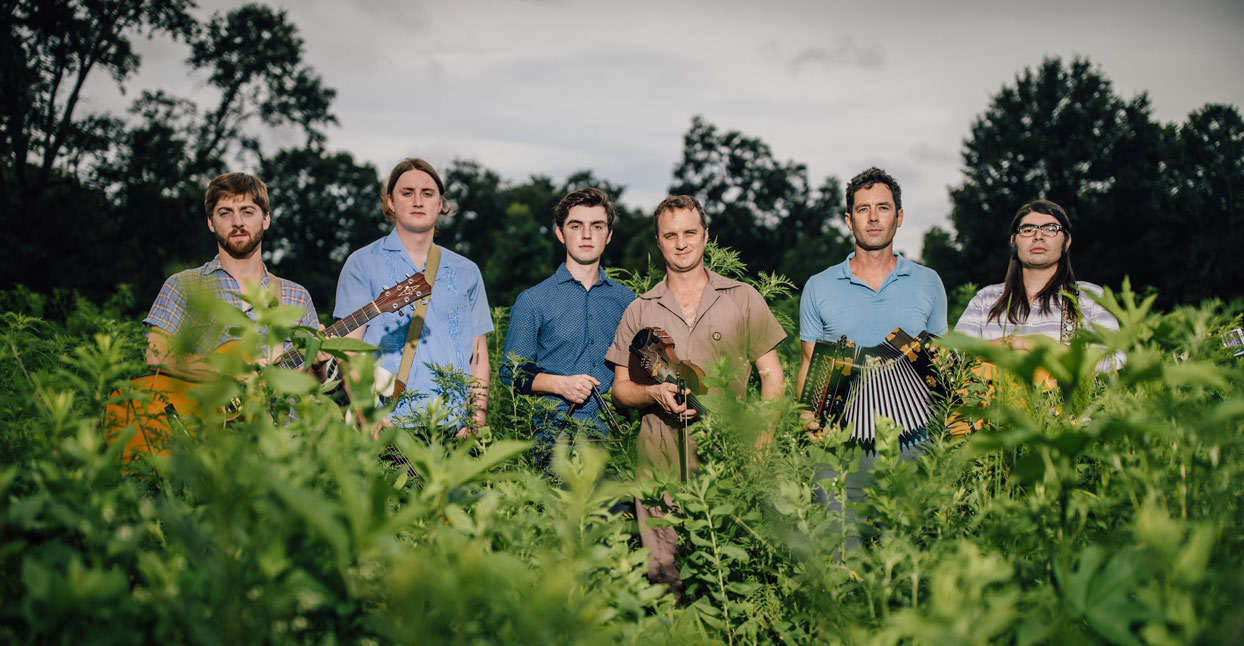 "You don't just stop at one point and say, 'This is where the tradition ends,'" says Louis Michot of Lost Bayou Ramblers. "Tradition has to keep growing and keep breathing to continue to live." How else could you explain a Cajun band that has opened up for Arcade Fire, jams regularly with one of The Pogues, and has a producer/bassist moonlighting with LCD Soundsystem?
On their new album, Kalenda, the Cajun warriors from Lafayette, Louisiana mix centuries-old musical traditions with everything from electronically-assisted grooves to dirty, punk-tinged guitar attack and swirling, psychedelic effects. But they also come from a deeply traditional background, bearing an enormous knowledge of and respect for the history of Cajun music.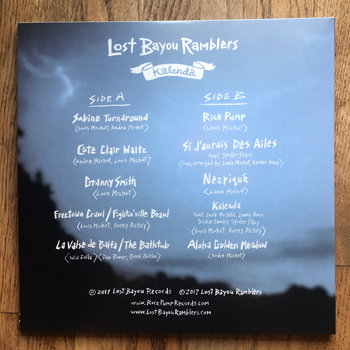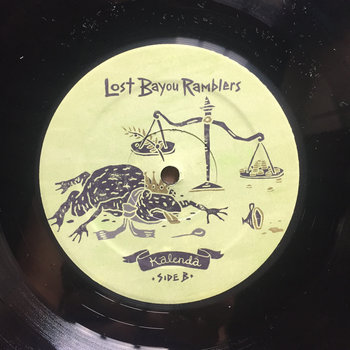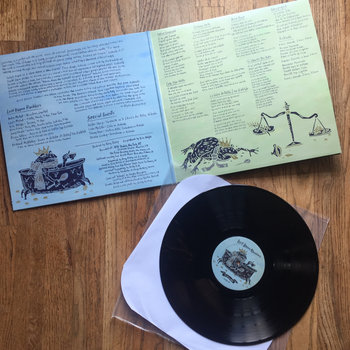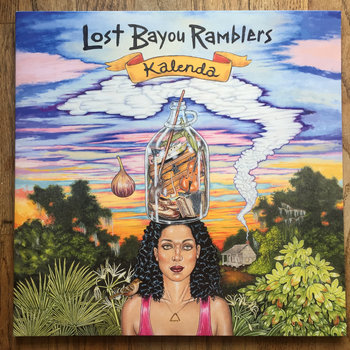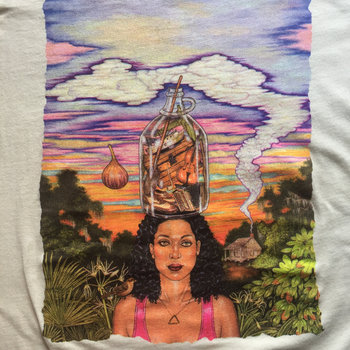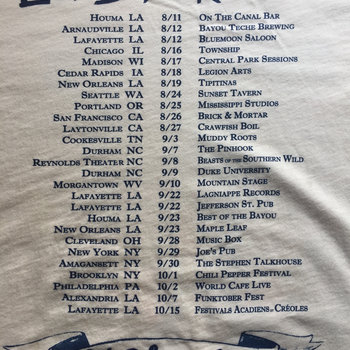 .
00:10 / 00:58
Merch for this release:
Vinyl LP, T-Shirt/Apparel, Compact Disc (CD)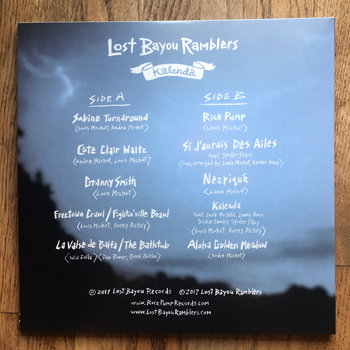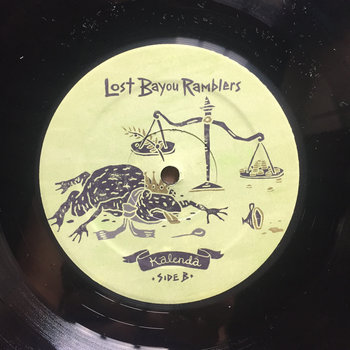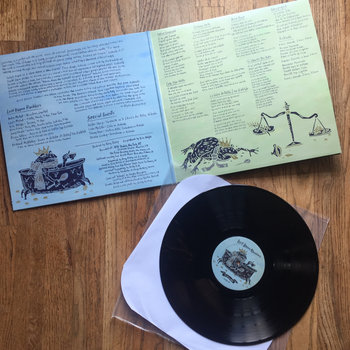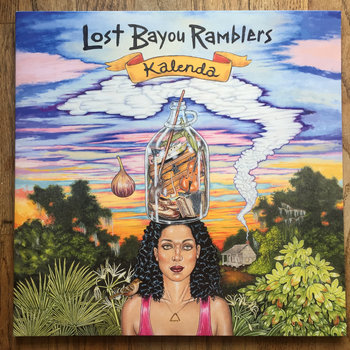 "Music has been a part of the Michot family for as long as we can count," says singer/fiddler Michot, who started the band with his brother Andre on accordion and lap steel in 1999. "My great grandpa, who was the first Louis Michot, played with all his brothers-in-law. His mama was a Cajun accordion player." And Louis and Andre's father and uncles started trad Cajun band Les Frères Michot, which formed in 1984 and is still active today.
"We eventually started replacing our uncles in Les Frères Michot," explains Michot. " I was the standup bass player for Les Frères Michot, and Andre was the acoustic guitar player. When I turned 18 and Andre about 20, we both picked up the lead instruments of accordion and fiddle, and then we started Lost Bayou Ramblers."
On their first five albums, the Ramblers perfected a sound steeped in Cajun tradition. But by 2012's Mammoth Waltz, they started pushing things a little further. "Mammoth Waltz was definitely when we took our biggest leap into feeling comfortable enough to experiment on a deeper level," says Michot. "I think with any traditional music, you really have to master the basics before you can think about adding, so it took us over 10 years to get to that point… but Mammoth Waltz is the first time we took the liberty of experimenting with different sounds."
This was the point where producer/musician Korey Richey's influence came to the fore, with touches of programmed beats, dirty, distorted guitars, and heady sound manipulation leavening the rootsy vibe. Guests like actress Scarlett Johansson and The Violent Femmes' Gordon Gano further added to the stylistic expansion. Around this time, Ramblers fan and filmmaker Benh Zeitlin used the band's "Valse de Balfa" in his Oscar-nominated, Louisiana-based film Beasts of the Southern Wild, broadening the band's reach even more.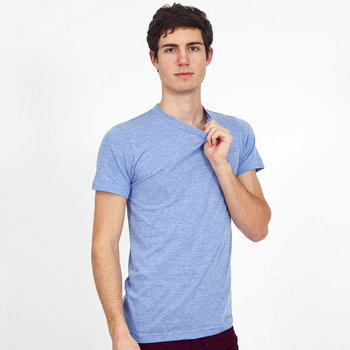 .
00:10 / 00:58
Merch for this release:
Vinyl LP, T-Shirt/Apparel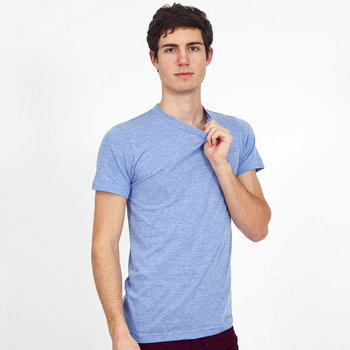 Kalenda, the Ramblers' first album since the departure point of Mammoth Waltz, finds the band pushing even harder at the boundaries of Cajun convention. The seeds that were planted on the previous album bear bountiful fruit here. The electronic beats, punky barrages, and psychedelic sound processing subtly deployed last time around become an even bigger part of the overall picture here.
Richey, who engineered LCD Soundsystem's newest, American Dream, and co-producer Eric Heigle, who worked on the latest Arcade Fire album, Everything Now, helped the band realize their vision of an endlessly adaptable continuum of Cajun music. "I think progression in Cajun music is natural," says Michot, "it's something that's always happened. Especially in the '20s, '30s, and '40s; there was a lot of progression going on, and then that became the standard, and people stuck with that standard for a long time. Why shouldn't it keep growing?"
The theme of the album is a perfect example of the kind of cultural mutability Michot and his bandmates pursue. "[The phenomenon of] Kalenda is such an amazing metaphor for the complexity of Louisiana's history," says Michot. "It started out as a Congo Square dance in the 1700s and early 1800s. New Orleans on Sundays was the only time and place slaves could actually express themselves and keep their traditions going. There was one dance called the Kalenda, a risqué courting dance, but it ended up being adopted by the French and Spanish, both of which were our ancestors. We're made up of mostly Spanish and French Creole from New Orleans on the Michot side."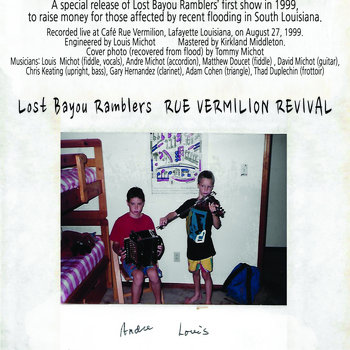 .
00:10 / 00:58
Merch for this release:
Cassette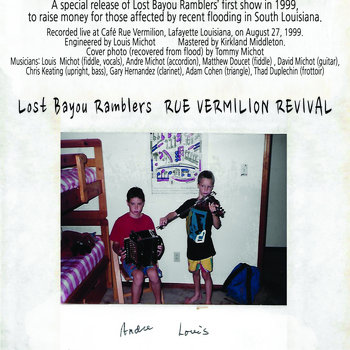 By the 20th century, Kalenda had gone from a dance to a rhythm to a song. "If you ask someone around Lafayette now, 'What is Kalenda?' they'll say it's a Cajun rock 'n' roll song about a girl who dances too close," says Michot. "Looking back you realize it wasn't her name, it was the dance that dancing too close. And somehow it made its way from Congo Square through generations and cultural transmissions from one people to the next, from a risqué dance to a Cajun rock 'n' roll song in the '60s about a girl named Kalenda."
The version of "Kalenda" that is the title track of the Ramblers' record achieves a transcendental, appropriately syncretic atmosphere. It blends the African polyrhythms of the dance with eerie ambient textures, and even the tin whistle of erstwhile Pogues member Spider Stacy (he makes his home in Louisiana these days, and sometimes gets the band to accompany him on Pogues material in the performance project Poguetry in Motion, named after the 1986 Pogues EP).
But most of the tracks on Kalenda are original compositions, however deeply rooted in the band's background. The throbbing pulse and blaring riffs of "Granny Smith" actually frame a story about the Michot brothers' grandmother. "The words are kind of about her and the wisdom she shared with us, and about her growing up on the bayou and swimming across," says Michot. "It's a really huge bayou down there, Bayou Teche, it's really wide, and she would swim across in the middle of the night. This is a story one of her childhood acquaintances told us after she passed away. She would swim across and he would have a horse for her ready to go, and a gun, and they would go polecat hunting overnight."
The intensified stomp of "Rice Pump" (also the name of the band's label) is inspired by a Louisiana tradition that encompasses both music and machinery. "'Rice pump' is the term some of the older Cajun musicians use to describe the pulsing bass drum of two-step rhythm," explains Michot, "because it sounds like these old-school one-cylinder rice pumps, which is actually a water pump that's used to fill the rice fields. It's very important to us, because we love that pounding rhythm and the constant drone in Cajun music. It's a way the land and the working of the land is tied in with the music. And on a more personal level it's a song I wrote for my wife, I said, 'You make my heart beat like a rice pump.'"
The most overtly left-field track on the album is "Freetown Crawl / Fightin'ville Brawl," which moves from an ominous, minimalist setting for spoken verses to downright industrial-sounding electronics more akin to Throbbing Gristle than anything out of Louisiana. "I think that was more of an experimentation," allows Michot. "It uses the rice pump [beat] as kind of a heartbeat. Freetown is where we started…Andre was living in Freetown. And then Fightin'ville is another town on the other side of downtown Lafayette. It's kind of this Cajun French spoken word piece about 'Go and do what you do in Freetown…and then you end up in Fightin'ville.' It's kind of a story about living around these areas of Lafayette, and what life would be like."
Kalenda may feel like the farthest the Lost Bayou Ramblers have come from their roots, but those roots are never abandoned. They remain at the heart of everything the band does, even if they're framed far differently than usual. "This is traditional Cajun music," insists Michot, "but we're also having a lot of fun with the drums and guitar and effects and the sonic creation of music. New Orleans is really reactive to art, so if it's really good, people will come out. They're not judging us for what we are or aren't supposed to be, they're appreciating us for what we are."
—Jim Allen