FEATURES
How Hearing Loss Helped L'Orange Refocus His Career
By Ben Niespodziany · October 07, 2016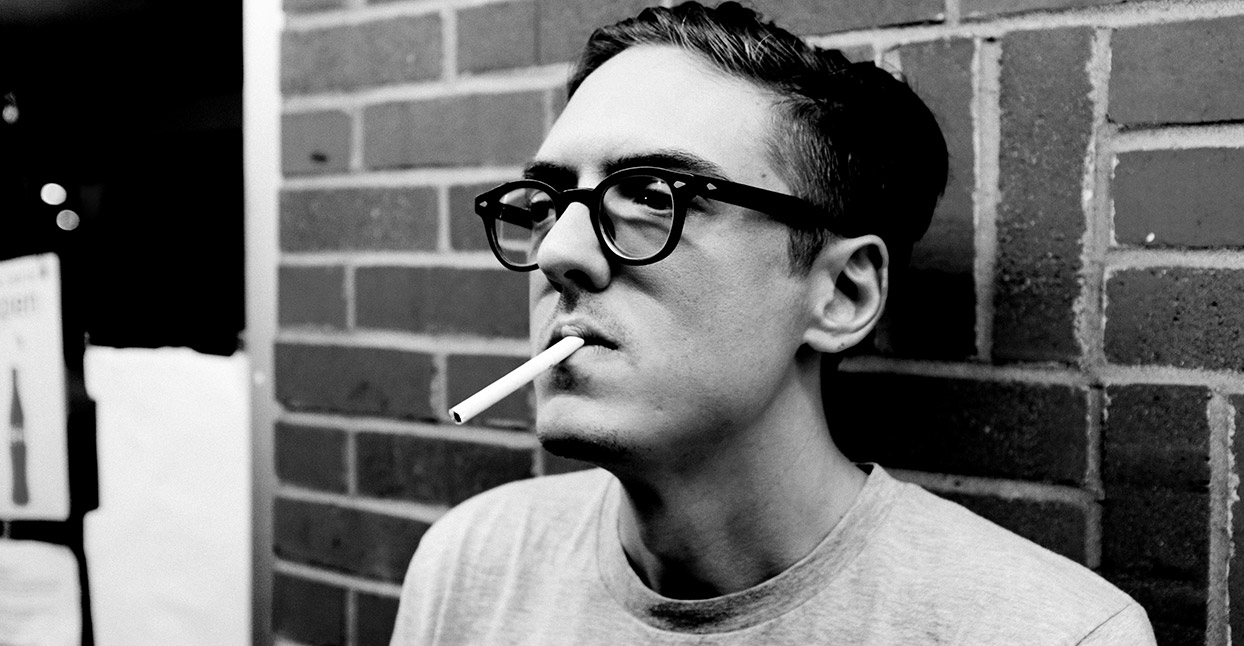 How does a musician still create when their ability to hear is impaired? Nashville producer L'Orange is finding out. Over the past year, he's undergone two major ear surgeries to remove a benign tumor doctors found in his right ear, which has slowly cost him his hearing. "It's been something I've lived with for a long time," he says. "Unfortunately, [the tumor] returned a few times. So, my surgery this year was me giving up on the idea of rebuilding my ear and, instead, letting it collapse to prevent it from being threatening in the future."
It would be natural for L'Orange, someone who depends on his ears to make a living, to be frustrated with his circumstance. Instead, he's calm and reflective. "It's been ups and downs," he says. "Since this new surgery is what's called an 'Ear Wall Down' surgery, it means that my hearing is unlikely to ever return. That sounds more grim than it is for me, though. I haven't been able to hear well in that ear my whole career."
That impairment clearly didn't slow him down. He debuted in 2011 with two projects: The Manipulation EP, which was built on cut-up jazz samples, and his debut full-length, Old Soul, which repurposed dusty Billie Holiday samples for songs that were stark and arresting. His sound quickly stood out; both efforts conjured a cinematic, vintage vibe, their songs built with an MPC 2500, SP303, a turntable, Logic, and plenty of coffee.
After releasing The Mad Writer in 2012—which he self-described as a "fiction novella"—L'Orange began netting comparisons to forward-thinking producers like Blockhead, Wax Tailor, and the Avalanches, but his work consistently draws on music from decades past. Trapped in yesteryear, playing jazz on his way to the drive-in, he's like Toby McGuire's character in Pleasantville—if he had a milk crate full of vinyl and a turntable. His cinematic scope continues on his ninth project, The Life & Death of Scenery, a collaborative effort with veteran rapper Mr. Lif. Like L'Orange's recent collaborations—Time? Astonishing! with Kool Keith, and The Night Took Us In Like Family with Jeremiah Jae—Scenery is a concept album, one that unfolds in a post apocalyptic realm where art no longer exists.
Unearthing the source of these concept-album impulses isn't hard to do. L'Orange (named after the bright orange car he had in high school) is a fan of old radio shows; most of his vocal samples are taken from early 20th century broadcasts, the 1940s being a particular favorite. "L'Orange's production harkens back to the Prohibition Era in its style," says Michael Tolle, founder of Mello Music Group. "It's rugged, but with a touch of that era's campiness—sort of the golden era of radio. People want to call him noir, but that's merely one aspect of his larger character as a producer. I hear influences from the entire early half of the 1900s in his production: the golden age of radio, speakeasies, Houdini magic shows. There's a wonder to what he creates sonically."
L'Orange was signed to Mello in 2013, joining a production lineup that includes Apollo Brown, Oddisee, and Gensu Dean. He's released five albums and an EP in that time; in 2014—a standout year for L'Orange—he worked with numerous artists for back-to-back projects The Orchid Days and After the Flowers EP. Red Pill, Chuck Inglish, Blame One, Mayhem Lauren, Billy Woods and Homeboy Sandman have all turned up on his albums, lending insightful, intricate vocals.
.
00:10 / 00:58
Now, five years into his career, L'Orange is more patient and, unfortunately, a little more deaf. In addition to the tumor removal, he suffers from a condition called hyperacusis, which he says made it, "very painful and unpleasant to listen to music—let alone make it." As he recovered from the surgery that collapsed his ear, the producer found new ways to stay busy. "It led me to writing more and trying to find other things that I enjoy," L'Orange says. "At first, I spent a lot of that time depressed. I didn't do much of anything for a while, but that was largely due to recovering from surgery. I had started seeing someone at the time, so I was able to put energy into something other than myself. In the long term, I believe going through this will help me stay inspired as an artist."
After releasing multiple projects every year and then taking a yearlong break, L'Orange was forced to adjust his lifestyle. "Instead of making one or two beats a day, like I had for years before, I was doing my best to make one or two a week," he says. "It created some bad habits. Because I wasn't able to stay in the studio long, I became discouraged and impatient. Luckily, I'm feeling much better now, and just trying to return to form and become as methodical and obsessive as I'm used to."
From Tolle's standpoint, L'Orange has handled the challenge well. "We've been fortunate to be able to almost schedule his surgeries around releases," he says. "So he'd be able to finish a project or two, and then hit the surgeon. While he was recovering, we'd focus on the release campaigns and marketing instead of the music creation. I imagine with any other artist, it wouldn't have worked. But L'Orange is unique in his ability to be incredibly well prepared and still maintain an artists' spontaneous nature."
.
00:10 / 00:58
The Life & Death of Scenery marks his triumphant return. DJ QBert provides scratches, Chester Watson stops by for a verse, as do Akrobatik and Gonjasufi. The album's second single, "A Palace in the Sky," cracks and thumps along, creating mental visuals of dark alleys and ominous shadows. Mr. Lif's narrative and wordplay are vital to the release, but L'Orange's instrumentation remains its central focus. "Most producers get into working with a hero like Kool Keith or Mr. Lif and just lose themselves," says Tolle. "But L'Orange is like Dan The Automator or Prince Paul or Oddisee: he leaves his imprint upon the work he creates."
L'Orange says he doesn't want to go another year without releasing new music. It's been a difficult time, but he's come back wiser and more efficient, and ready to take his art in new directions.
"People are hard to destroy," he concludes. "We're more resilient internally than our squishy skin would lead us to believe."
—Ben Niespodziany