FEATURES
Laurent Clerc Details Little People's Deep, Danceable New Album "Landloper"
By Toussaint Egan · January 03, 2019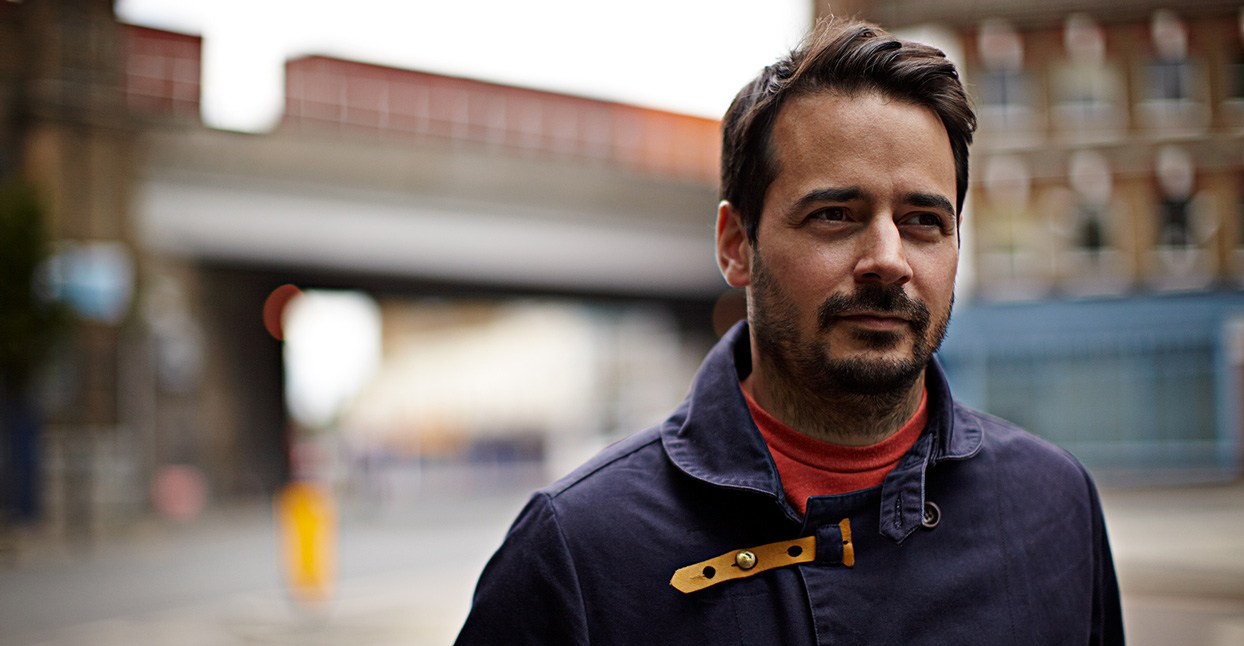 No one would ever accuse Little People for being the type of artist who's quick to rush his music out, let alone one to take the path of least resistance. Born Laurent Clerc, the Anglo-Swiss electronic musician and producer has been putting out instrumental dance music with a playfully tongue-in-cheek bent for little over a decade under his 'nom-de-guerre' moniker Little People, touring across the States and Europe beside the likes of electronic music duo ODESZA and downtempo wunderkind Emancipator — all while he carves out his own lane, in his own time.
To describe Little People's music is to describe a dozen different continents of sound unifying into a Pangaea of modern orchestration; he grew up listening to artists like A Tribe Called Quest and DJ Premier on his hometown radio station in the Swiss Alps, before discovering the wide and shifting world of electronic music when he moved to the UK to attend university. From the bass-heavy snarl of Mobb Deep and the mischievous plunderphonics of Xploding Plastix, to the cinematic sobriety of Endtroducing-era DJ Shadow and the minimalist serenity of Steve Reich and Ryuichi Sakamoto, Clerc's inspirations prove just varied as his sound: an eclectic brand of downtempo electronica infused with the verve of classical music, underscored with the vivacity of hip-hop. That he refers to his stage moniker as a 'nom-de-guerre' is absolutely intentional.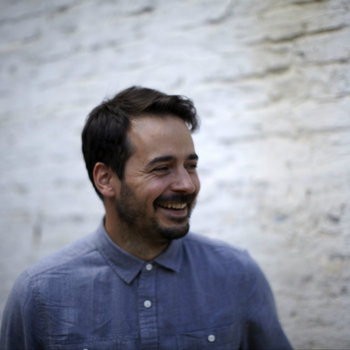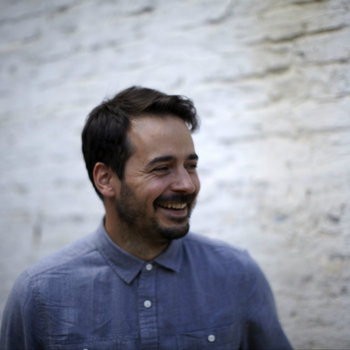 Merch for this release:
2 x Vinyl LP
Clerc's newest album Landloper—his first in six years—is a cumulative one, pooling together the best learned lessons of his past work while pointing forward to a bright and beat-laden future. The producer's most dance floor oriented record to date, Landloper pulls from the disparate corners of disco, John Carpenter-esque synth riffs, and glitchy IDM for a seamless expansion of Little People's existing sound. We had the opportunity to speak with Clerc over the phone about Landloper's production, his creative process as an artist, and what it means to create music in the very online space of 2018.
In the six years between the release of your first album, Mickey Mouse Operation (2006), and your second, We Are But Hunks of Wood (2012),  you'd taken a break from music, traveled the world, worked an office job, fallen in love, and had two children. What's happened in your life now in the six years since your last album and this one?
It does feel like it's been quite a long time, hasn't it? In my head it's almost felt twice as long. (After I released We Are But Hunks of Wood, I came out with a remix album and the [Csay Csay] EP three years later.) I've been raising my kids — I have a set of twins and a newborn right now—and all of us went over to the U.S. for a year in 2014, so that I could be out there, and write music. Which I did, and it was actually really quite productive. The album you're hearing now kind of, really, the core of it was written over the course of six months. I'll admit that I'm fairly slow with my music in that, I struggle to put things out the door because I want them to sound just right, which is why it can take such a long time.
But yeah, it is a bit ridiculous. Six years is a long time between albums, and I admit that [laughs].
Let's talk a bit about the name of your new album, Landloper. It means "wanderer," or "adventurer." It's a fun word, though not one you'd likely hear spoken often. How did you first come across it?
It's a title that sort of represents my professional life. I've lived in a lot of places, traveled through a lot of places while touring. It comes from the experience of being in a lot of places, making new friends, experiencing new things—this feeling of wandering and finding your place in the world. So Landloper is a word to describe the journey of my move to the US, this chapter of my life, and the experience of playing music in all these different parts of the world. And on top of that, it's just a lovely sounding word! I thought the title should be a word that looks familiar, but is also strange and exciting.
Merch for this release:
2 x Vinyl LP
You've spoken before on how your collaboration with Tif Lamson of GIVERS came together on the track "Skies Turn Blue." How did you first link up with your other two collaborators for this album, Reva Devito and Rahel Debebe-Dessalegne?
So for Reva, she lives in Portland and she's a friend of a friend of mine. I was looking around to record someone whose voice could be used as, sort of, sound mix fodder, and it just so happened that she was in town and I asked her to come in and record something. So I basically recorded one of her voice sessions and then she sang some percussion stuff. So what I did was, I just got loads of samples of her singing and cut them up into syllables and sounds and resequenced them as a guiding point. And then I just chopped them up again and reworked them, and so her voice is scattered throughout the whole album. She's a big part of the record in a lot of ways, not necessarily through lyrics but as a sound, as an instrument.
For Rahel, I saw her play a show and met her shortly after that. She tours with a lot of different artists, one of which is a musician and composer named Matthew Herbert, so she played a show with him and I thought "Well, I'll give it a shot," so I found her details and reached out through email about working together and she was really into the idea. I initially thought it would only be one song, but she was up for doing all three! [laughs] So we did the recordings in South London at a studio around when I had just gotten back into town. I remember us doing a take and she would just intuitively know where to improve on it and where to take the track next, so we would just re-do it. She's extremely good at what she does.
And then Tif, I met her actually through Glassnote Records, who were looking at my record at the time, and they put me in touch with her. What she does with her band is quite far away from the stuff I do and I thought, Will this work? Yeah, this could work,' so I sent her over some tracks, and "Skies Turn Blue" came out of that. I was very pleased with it and I think she was happy with it as well.
Your second album marked a transition away from the sample-heavy sound that defined your first and had you experimenting with new equipment, like using an old Akai reel-to-reel tape machine to record and process a string ensemble to resemble the textured sound of vinyl compression. What were some of your favorite instruments or equipment to use in the making of Landloper?
It's kind of a whole host of different instruments, but I guess just generally it's a crossover between synthesizers, analog and digital, and I just think that for me it's less about tools and more like using what I have on hand at the moment. I'll just mess around, create sounds on a synthesizer, sample that, and then play with that again. My songs will go through so many iterations where samples are cut up, cleaned, and tweaked that sometimes, I can't even remember how I got to a particular sound!
So that's kind of the essence of what I do: very iterative, spontaneous, and in-the-moment.  The laptop is home to everything I do; that doesn't change. I like to start off from a point 'in the real world,' with analog sounds and instruments like a piano or xylophone, but generally, it's [about] taking those sounds and bringing them into a digital realm. I'll record strings, woodwind stuff; I love collecting and playing with high-pitch bouncing samples and incorporating those into my music. I never do just one thing. I want my music to have a lot of variety, a lot of color, and a lot of character.
The orchestration on this album is impressive. Who did you work with to record the strings? What did you learn working with a string section back in 2012 that came to bear on making Landloper?
Well, when I was working on We Are But Hunks of Wood, I was learning how to direct a string section—how to gesture towards the sound I wanted, and guide the section to that outcome. This time around, I had a more cohesive approach to achieving that; I actually went to a studio when I was living in Portland, and worked at replicating the sound of a much larger string ensemble. We only had four string players, but we still had eight chairs—so we recorded one take with players sitting in one set of chairs, and then did a different take of them sitting in a different set of chairs, and then overlaid those recordings, so [that] it ends up sounding like eight players at once. That resulted in a much fuller sound, which I feel really comes through on the tracks for this record.
Merch for this release:
2 x Vinyl LP
What are some things that surprised you in the course of producing Landloper? Is this album, this evolution of your sound, what you had in mind when you first started work on it back in 2014?
I find it very hard to pinpoint one idea from the next. It's more like, 'This is where I want to get to' and 'This is what I want to do.' As it often happens, my process starts with trying for a certain sound and then ending up with 50 different ones, which I think is fairly typical when making music. I have many artists that I admire, tracks that I think are incredible and I'll think 'Wow, how did they do that?' And then I'll give it a go and probably not end up anywhere near with what they did. But by doing that, I'll have probably landed somewhere with a track that no-one else has done.
That tends to happen when you're chasing a sound: it forks into several different ones, and you end up in a richer place for having followed your instincts. But as far as where I wanted to go with this album, I wasn't sure. I think that the time I spent on this one made for a richer album than what I could've imagined at the start, in my opinion; when I first started, I didn't think this album was going to have so much collaboration going into it and that was kind of a nice surprise—to have so many people to work with and share this experience.
You've cited a fairly eclectic range of influences over the course of your career, from Mobb Deep and DJ Shadow to Steve Reich and Ryuichi Sakamoto. What sort of music and artists have been your points of contact while producing Landloper?
I think it tends to be fairly varied. I'll admit that my listening habits have kind of changed a lot with the advent of Spotify. I've always loved discovering new music, but Spotify makes it almost too easy now [laughs]. I have a big playlist of music I was listening to while I was working on the album, but picking out one or two particular artists is difficult. I think whatever algorithm they're working with is fantastic, and it does a good job of accommodating to diverse tastes. Y'know, if you're listening to a little bit of Afrobeat here and there, and a little bit of hip-hop as well, but also throw in some classical music, all those things will be represented in your mix somewhere. So, I guess as far as artists that have influenced me, there's only a few artists that I listen to that I feel like, outside of what they do, have been a guiding light for what I do. The usual suspects in my book are Jon Hopkins, Four Tet, Caribou—people like that. But I also love one-off songs. Some people make moving tracks that eclipse anything else that I'm aware of [from] them, in terms of their output. It could be something I find incredible. So I wouldn't say I'm influenced now by any one artist, but by ideas I come across that happen to spark something in me.
Tell us about your new label, Future Archive Recordings. I noticed that some of your co-founders and signees, like Sun Glitters and Blockhead, are people you've worked with before in the past. What influenced your decision to launch Future Archive Recordings?
It's actually all very recent. When it sort of came around was, I had been working on my own for awhile and thought I would benefit from working with an actual record label, but things didn't really quite materialize. I was toying with the idea of self-releasing the record, but then I started talking with a few people and just thought, 'Welp, it seems kind of stupid to be doing all this work on your own.' The first person I talked to was Blockhead, and then a bunch of others had been thinking the same thing, so we went from there. We started talking about it in July, I think, and then by September we had our first compilation out, so we moved really quickly.
Basically the idea is to have a platform in place for us to put out new music—not in a way that's predicated on making money, but on encouraging creative expression. We take a lesser share of whatever profits the record makes, and it all goes directly back to the artists. It's a like-minded group of musicians who want to do their best work, either on their own or together. We all have our own skills that we share, so it makes for a nice division of labor.
What's next for Little People in 2019? How do you see your career, your journey as an artist evolving and changing in the future?
Well that's the thing—it's down to how this record does. There's a bit of a question mark at the end of that, how things are going to go. I think what I have seen over the past, let's say, three or four years, is that music has kind of gone from being initially a hobby to now a trade or a craft, which only now I feel like I'm beginning to master. I'm excited to, once this record's out the door, put my head down and write new music. I'm pretty sure the next bit of music might take some time to come out [laughs]. I still feel like I'm mastering my field. It's funny, the more you work in a field the more you realize you knew so little before. But I finally feel like I know what I'm doing now. It's tough to say what I'll be doing, but I'll be looking into more collaborations, ideally producing for some other people. But yeah, I'm looking forward to releasing more music under the Little People moniker in the future.
One last question. You've said in the past that if you weren't a musician, you'd probably be a cook, and one of your favorite hobbies is trying out different foods while touring. What's your favorite food to cook, and what's your favorite food to be served?
I've always really been into Asian food. That's usually my go-to. It's fresh, it's quick to do, and always flavorful. I also really enjoy heavier, European fare; between those two are generally where my palate sits. If someone's cooking for me, I like to choose things I could never be bothered to do myself, things that are messy or tricky to do. So anything to do with frying—I'll gladly go to restaurants and pay for that instead than do it myself [laughs].