FEATURES
The No-Boundaries Experimental Pop of Let's Eat Grandma
By Martin Aston · July 03, 2018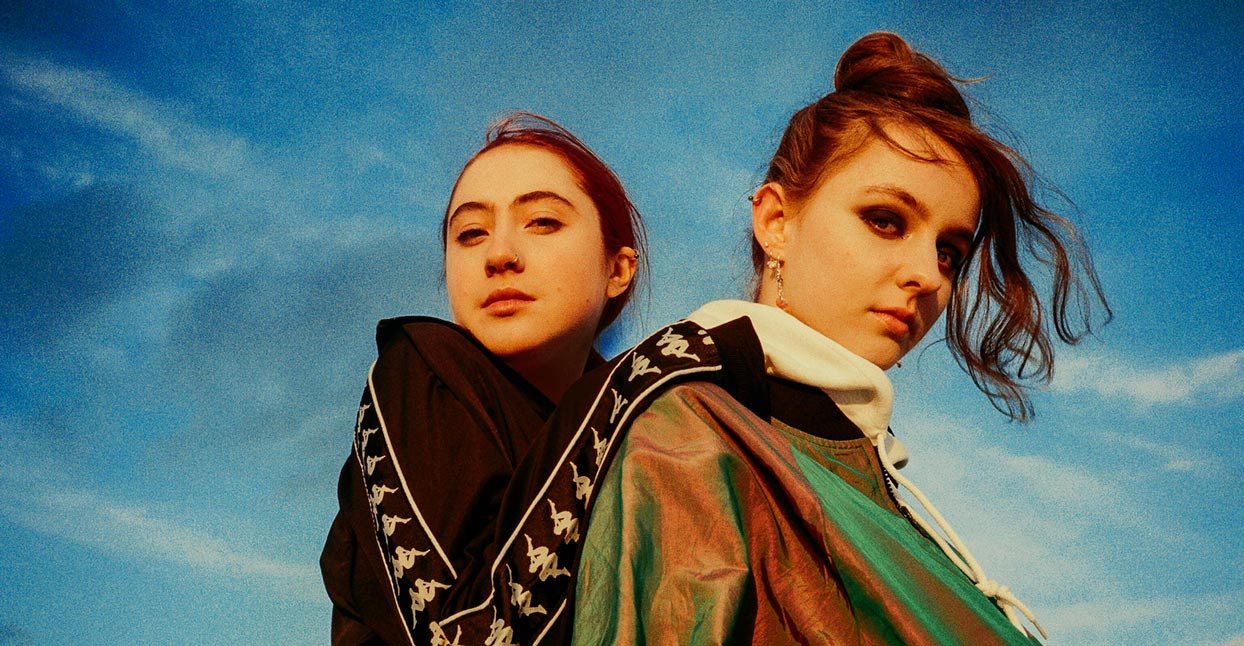 The finale of Let's Eat Grandma's intoxicating, expansive second album I'm All Ears is the intricate 11-minute drama "Donnie Darko"—named, of course, for the 2001 film that has become a byword for suburban teenage angst. Director Richard Kelly served that familiar emotion with a hefty side of disturbing magical realism; nothing is quite as it seems, but emotions run high.
.
00:10 / 00:58
"We watched Donnie Darko while we were still writing our first album, years ago," explains Jenny Hollingworth, one half of the U.K. duo, alongside Rosa Walton. "We weren't writing about the film—there's nothing about giant rabbits—but it was an inspiration, especially the part when [Donnie's] run over. Some of the themes match some of ours: [being] a teenager, navigating the world, and things being ambiguous. Even in terms of the sounds on the album, it just made sense."
Hollingworth and Walton have been best friends since kindergarten, and bandmates from the age of 13. They put out their first album when Walton was just 16 and Hollingworth 17—astonishing, given their debut's musical and lyrical range. The title, I, Gemini, underlined their twin-like persona; they look alike (the mass-of-curls hairstyles help), sound alike, and project a singular vision and sense of humor.
They hail from Norwich, 100 miles northeast of London, isolated in the bleak flatlands of a region known as East Anglia—more famous for Britain's leading brand of mustard than its musicians. "It's said about Norwich that it has a pub for every day and a church for every week," says Walton. "But we like it here. It's a city, but surrounded by countryside. It feels really safe."
Still, Norwich has also failed them to some degree. "It's disheartening for people who don't fit the standards of the education system, in terms of cleverness or success," says Hollingworth. "We weren't encouraged to be creative, so we'd get frustrated—and then go home and write music about it.
"Anyway," Walton adds, "being creative, and meeting people, is a great way to learn."
.
00:10 / 00:58
Against this "safe" backdrop, the pair have fashioned something almost willfully adventurous, like two kids in a sandpit making impossible castles from their unfettered imaginations. "Donnie Darko" ebbs and flows between spellbound folk, trance-y electronica and gothic rock, a perfect summary of two teens' no-boundaries attitude to music in the age of streaming and shuffle; I'm All Ears highlight "Ava" is an exquisitely sad-eyed piano ballad, while "Hot Pink" is giddy dayglo pop, one of two tracks bearing the mark of PC Music producer SOPHIE. They've labelled their vision "experimental sludge pop"—just don't call them "psychedelic."
"On I, Gemini," Walton sighs, "there's this song 'Eat Shiitake Mushrooms,' after we'd seen some graffiti: 'Eat shit, take mushrooms,' We thought it was funny, but then people said [of us], 'They're psychedelic, they take lots of drugs.' But we don't. We're not ambiguous about that part."
The title I'm All Ears refers to "being open to new experiences," Hollingworth explains. "Like conversations with friends." The pair admit that I, Gemini was inward-looking and escapist, dominated by childhood memories ("Welcome To The Treehouse") and wordplay ("Chimpanzees In Canopies") that, under closer inspection, revealed anxieties and uncertainties about the adult world they were speeding into. Now they're two years older, they feel able to address that world, from critiques of consumerism ("Snakes & Ladders") to "how femininity is underrated, and not just girls, but how guys too can't express their femininity" ("Hot Pink").
"A lot of lyrics are about transport, which is our reality now, on tour and going to studios," Hollingworth adds. "The times we feel most normal are when we're on a train or staying in a Travelodge [a cost-effective hotel chain]."
Travelling, touring, and recording, virtually 24/7 with your best friend who doubles as your creative foil, while still teenagers—it's an intense existence. "We've already been in a band for six years; that's a long time already," says Hollingworth. "Sometimes it does feel like a lot going on at once, but we always get to go home to Norwich. Right now, we can't imagine not being in the band. This is as much of a normal life as we can lead!"