FEATURES
Members of Thrice, Kowloon Walled City, and Curl Up & Die Join Forces as Less Art
By Zachary Goldsmith · July 26, 2017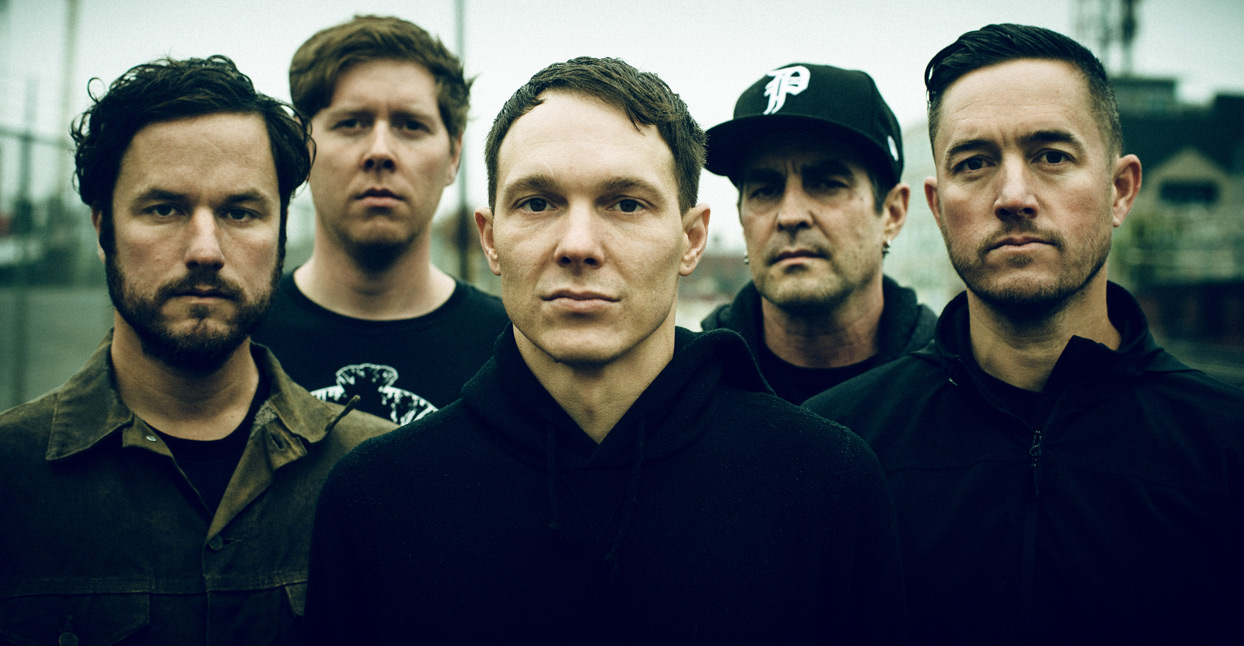 The term "supergroup" is bandied about these days with little regard for the "super" part of the term. But in the case of Less Art, the term applies: Ian Miller and Jon Howell of celebrated post-metal group Kowloon Walled City join Mike Minnick of Curl Up & Die and Riley and Eddie Breckenridge of Thrice to make a post-rock outfit combining elements of sludge and noise with more than a few jangly guitars. Using the project as an outlet for their various life stressors, on their debut, Less Art tackle in-your-face issues like suicide, animal extinction, and gun control in a way only savvy veterans can.
Ahead of the release of their debut LP, we sat down with bassist Ian Miller to chat about their lifelong commitment to baseball fandom, long-standing friendships, and the importance of experience.
Listen to Strangled Light in full: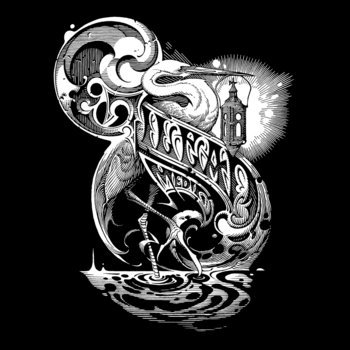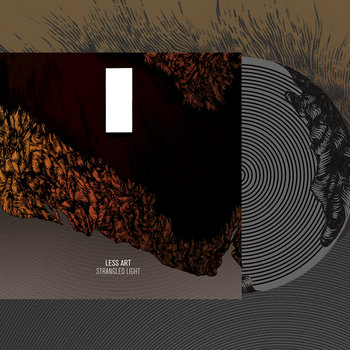 .
00:10 / 00:58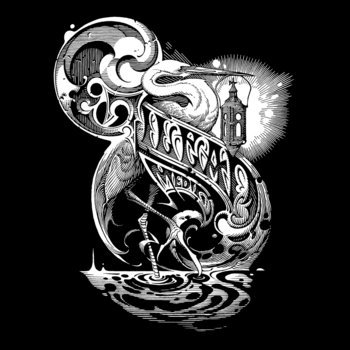 Merch for this release:
Compact Disc (CD)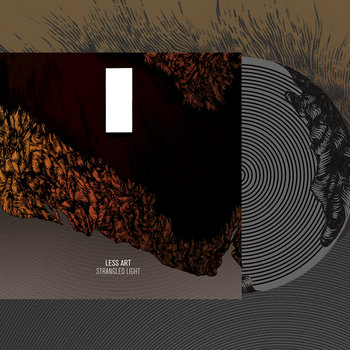 Your individual musical backgrounds are pretty diverse. How did Less Art come together?
Well, Riley and Ed, who are the rhythm section of Thrice, were trying to do a thing with Mike on vocals and various guitar players, but it never really came together. Four out of the five of us are in Puig Destroyer [a baseball-themed project named for Dodgers player Yasiel Puig —ed.] together, and we talked about doing Puig Destroyer, but in a more serious way, which is what Less Art became. We added in Ed Breckenridge, and that was Less Art. Those guys had been working on songs that eventually became the Less Art tracks. And, actually, some of my favorite stuff is stuff that Ed brought to the mix.
You mentioned your baseball-themed project Puig Destroyer. Are you all avid baseball fans or is it just you?
We're an odd collection. Riley is a born and raised Angels fan. I am sort of a Giants fan—or was for decades, but have also spent my life rooting for the Astros because of some friends who work in that organization. I mean, I adopted the Giants in the Barry Bonds years. I'm no Johnny-come-lately.
How do you feel about Barry Bonds? For me, he's probably the greatest player of all time. 
You know, he's easily one of the greatest hitters in the history of the game, if not the greatest, steroids notwithstanding. It was a tremendous privilege to be able to watch him at his peak. Just watching him put up statistics and walk totals that will absolutely never be broken.
Yeah. No one will touch Ted Williams or Joe DiMaggio or Barry Bonds walks at this point.
Oh, absolutely. I don't foresee anyone hitting over .400 in my lifetime.
So, you talk about lifetimes, what do you think it means to be 'post-youth,' which is a pretty humorous term I've seen you guys throw around.
We are all old. This isn't our first rodeo. We are all older men who have been doing the band thing for a long time. I'm the oldest of all of us, so I feel fine with the label. I'm totally comfortable now. Jon and Mike are actually pretty young. Riley has a few kids and he's an 'adult' by definition. We are all coupled and pretty much, well, adult. Everything these days is 'post' something, whether it be post-hardcore, post-metal, etc. So, it was our joke that we are 'post-youth.' It's kind of a gag, but people have really adapted to it and thrown it around. It's going viral.
But, you guys find it advantageous to be older, right? I mean, there's a lot to be said for experience. 
Sure. It gives you a certain perspective on things. We've previously made all the mistakes you make when you're young, and we've all learned from those experiences at this point. The real benefit is that none of us harbor any illusions about what this is. So, we are not making music for anyone but ourselves and other people like us that actually want to listen to this. There's no genre or trend-hopping here. I'm not saying that with braggadocio. We're just older men that know what we are about and know what music we want to create.
How does that change your approach to writing when you're not worried about the bottom line, as it were?
I think, you know, the Breckenridge guys from Thrice are looking for a refuge from the big show and stadiums. Thrice is on tour with Deftones. That's a huge tour. I think, to some extent, those guys miss playing small, sweaty clubs. So that's a great environment for them to be in. And, for me, I just love the guys that I'm in this band with. They are absolutely four of my favorite musicians in the world and I just feel incredibly lucky to be able to make music with them.
Jon is also in Kowloon Walled City with you, right?
I've often said that Jon is one of my all-time favorite living guitar players, and I'm completely lucky to be in one band with him, let alone a few. Riley I've known for a while at this point and we never thought it would work that we could be in a band together, and now it's working out, and playing with his brother Ed has been a total revelation. His guitar playing, he plays bass in Thrice but guitar in Less Art, is super weird in a great way. It's so complementary to Jon; that's what I mean by 'revelation.' And Minnick, I mean, he's my favorite heavy vocalists of around. We really started Less Art because we wanted to be the backing band for Minnick and just let him go on vocals.
His vocals on this album are great.
Yeah! He's the whole package. Just a great lyricist, vocalist, and performer. I'm super pumped that the public gets another avenue through which to enjoy him. He's just so good at the lyrics, striking this great balance between being confessional, but not being incredibly transparent. He keeps enough mystery that it's interesting. Keeps me out of having to worry about it.
You have a bunch of pretty great political topics on this album. Real hot-button issues, like gun control. Is that something you discuss as a band, or is that just Mike? 
That's a good question. Well, that stuff is really not explicit with us. You know? We talk about the same terrible, boring stuff that everyone talks about at band practice. It's mostly inside jokes and the like. We are kindred spirits that are lucky to have found each other and we all share similar worldviews. We don't sit around talking about politics at band practice or anything. We're comfortable letting Mike do his thing.
It's interesting, because it's been an idea online lately, the debate about whether metal is a community, or loud music is a community, really. It gives you an opportunity to meet like-minded folks. 
Yeah. All of us came tighter from very different backgrounds and literally from halfway across the country—relationships that had existed for decades and somehow drove us into this situation. I can't really unpack all of that but that's basically how it happened. I'm just really happy to be hanging out with these guys.
How do the geographic logistics work out?
Well, we're adults with jobs and families and such. So we have to be responsible and pick our spots. Especially with all the Thrice commitments. They tour a bunch. So we have to target a specific week in August, like this coming one, and everyone flies in to get it done. The fact that we've all been doing this for long enough that we feel confident with our craft to handle a small tour after week of rehearsals. Everyone shows up ready to go with their chops up to par.
And the family units are cool with this plan? 
I mean, I can only speak for myself, but my partner has always been incredibly supportive of my musical endeavors. She knows how happy this stuff makes me and how I would go insane without it. We just had a wedding anniversary on Friday, and I'm sure our marriage is much older than many people that will listen to the band. It's a good thing.
—Zachary Goldsmith