FEATURES
A Queerer Picture? Accurate Mirrors?: The Songs of Leor Miller
By Ron Knox · October 31, 2016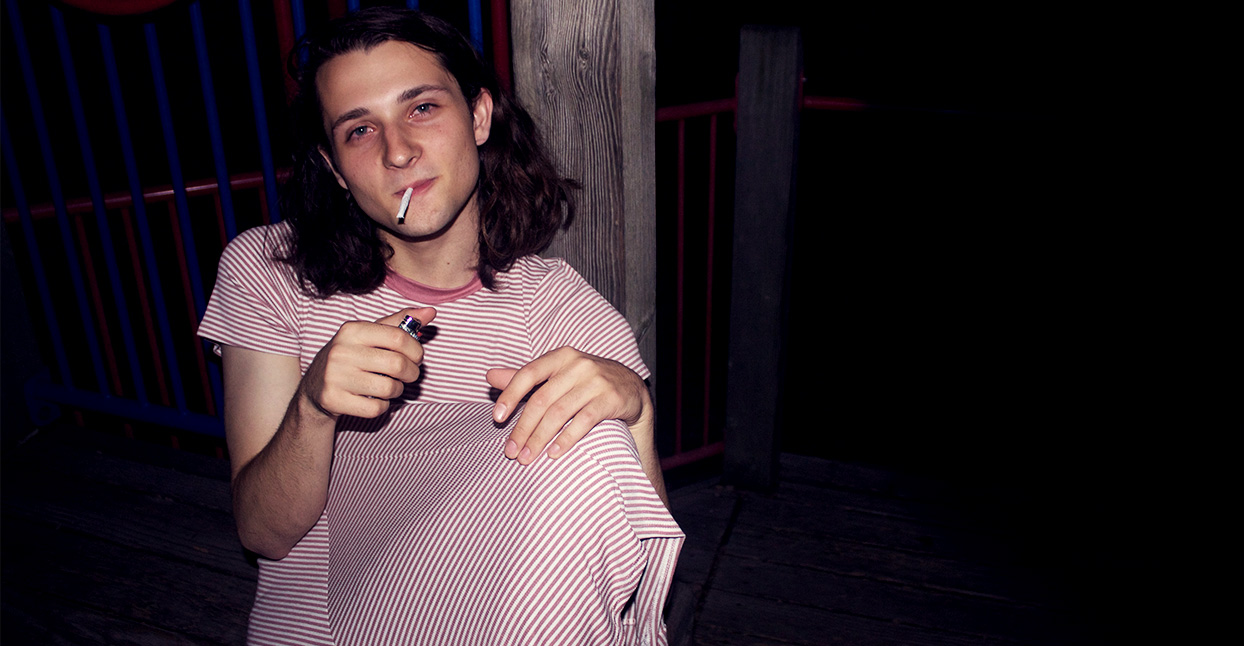 The inspiration for songs strikes Leor Miller whenever, wherever. In art history class, the seeds of a song might appear in notes Miller makes in the margins of papers, in little drawings and jotted words. Sometimes, something another student says, or a bit of prose from a Richard Wright story, triggers a snippet of a lyric.
Miller hasn't always worked this way—but since leaving the Midwest for Bard College to study photography, they've become an impossibly prolific songwriter. When they released riding out the big anxiety in March of this year, they stood back for a moment and realized it was the sixth album of some sort they had written, recorded, and published since leaving Illinois. At this writing, in the past year, they've put out 10 albums or EPs, writing 56 individual songs in the process.
Miller's transgender identity shapes how they interact with the world. Since coming out, Miller has felt alienated from some notion of "normal," but they take solace in their perceived strangeness. So in song, Miller treats the normal both as unfamiliar, and as completely fine—even idyllic. "There are some songs like: 'Damn, I feel really separate from everything that exists.' And there are other songs where it's like: 'That's really chill,'" Miller says.
Their bedroom pop, alternately melancholy and twinkling, requires no band and no collaboration; any further refinement would add unnecessary shine to the lo-fi patina of their work. They've got everything they need in the clutter of their dorm room: two guitars, two amps, a computer, a kit of software, and ample material from which to extract inspiration.
This is not to say the songs go unvetted. Miller crafts carefully; many of their songs drift from dead-ahead guitar pop into inventive and precise noise—electronic clatter and samples woven into the songs' very fabric, layered so that the noise is often imperceptible. Elsewhere in the catalogue, Miller's songs veer astray, eschewing standard songwriting forms and, perhaps, the weight of too much self-awareness. They are often as efficient as hardcore, clocking in at two minutes or less. Some lack proper choruses or other bits of infrastructure. They are sparse and varied—intentionally so.
Before Miller left for college, they wrote a very intentional album of what they call "Midwest emo-y stuff," and sent it to a label that peddled in similar music. The label rep wrote Miller back. The songs, the label said, sounded like some angry kid trying to make an emo record. They'd pass.
The response shook Miller, who then planned to re-record the album once they got to Bard. Once they arrived on campus, something changed. Miller began thinking about songs differently—as things capable of capturing more than just moments of urgency and emotion. They wanted to create art that explored through experimentation, and could drift from one sound to the next, according to mood and context. They said they wanted to use sounds to create emotion, rather than using emotion to create sounds.
"I feel like there are so many different things I want to try. I'm interested in so many different types of music," Miller says. "They definitely have mostly a similar backbone, in terms of music I create. But I decided I didn't want to confine myself in one genre."
A friend called what Miller does "weird pop," and they're fine with that. So many of Miller's songs are ultimately about feeling weird, disoriented, about experiencing strange growth and fumbling into adulthood. Through the music, Miller strains to see life's common moments as real, then works hard to navigate through them.
Miller began playing guitar at 9, joined a band at 13, and all the while, life grew more complicated. They wrote songs as a way to process it, and now, as they settle into their identity and their place in the world, that processing has become perpetual. "Things have definitely gotten more complicated, in terms of being alive, in terms of mental health stuff, and gender stuff, and even like, not really pathologized or theoretical experiences," Miller says. "Just being in the world—it gets harder. And as it's gotten harder, music is a very cathartic thing for me."
So, Miller writes. The day we spoke, they had dashed home after a math class to record a new guitar lick, the kind of thing that springs to mind during an otherwise very academic day. It wasn't a whole song, just a little structural bit to come back to later. But that's enough. It's how Miller starts—just a riff, an idea and a way to record it all, lest it get lost somewhere in the abyss. "I think I started writing a new album today," Miller says.
On the advent of  Miller's latest album, Transgender Superspace, here are five songs from their catalogue worth catching up on.
"discover myself"
From gender dysphoria memes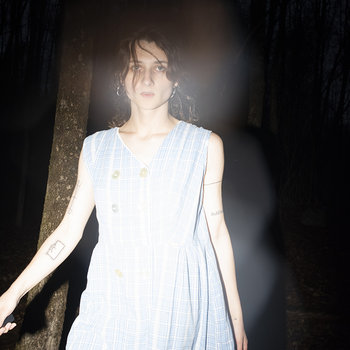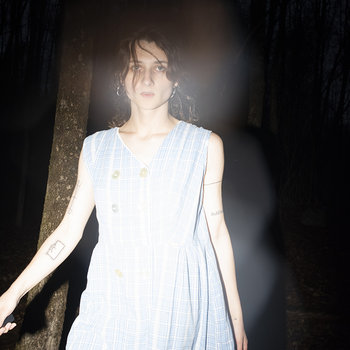 Miller's songs are at their catchiest when infused with that late '90s alt-pop jangle that seems to be such a natural component of their song structures. While "discover myself" smacks of early Modest Mouse and the like, it lives firmly in the musical world Miller has created over the past year, both in sound and message. There is no discovery in "discover myself"; instead, "I dig futile holes in the ground," Miller sings.
"every"
From tiny shoes
Miller's songwriting shines brightest when they superimpose the acute isolation of identity onto the mundane stuff of daily life. Here, Miller buries vocals in distortion and distance, magnifying the disconnect that permeates through this particular album. "I smoke 100 miles away from your driveway," Miller sings—a stark picture of physical and emotional distance.
"solace song"
From riding out the big anxiety
Precisely as Miller intends, "solace song" captures a tiny moment—a few synapses firing, to be honest—that reverberates beyond those sparse words and chords of the song itself. It's the ultimate compliment, to be honest: "I was trying to do better but was getting caught up," Miller says, "but then I remembered you."
"what do you dream of?"
From 30 DAY FREE TRIAL
Using the closest thing to a traditional song structure as you'll find on their albums, Miller asks, "What do you dream of? A queerer picture? Accurate mirrors?" The song captures that juxtaposition between some supposed idyllic normalcy and the awkward pangs of those cast as "other." In the endless cycle of weeks and weekends, Miller says, "I am weak and getting weakened."
"church street bridge"
From cigarestless
Another perfect, wrenching snapshot of isolation, both in the physical space of city streets and emotional space, walking next to someone who remains distant. This is the kind of moment Miller is so skilled at capturing, a window open into some emotionally desolate world. "Even with you I felt alone," Miller writes. "We walked, but we never got home."
—Ron Knox