FEATURES
The Return of Lavender Country, Queer Country Pioneers
By Barry Walters · March 04, 2022
Nearly 50 years ago, a queer, Marxist country band out of Seattle released one of the rawest and most revolutionary records of its era or any other. Lavender Country's eponymous 1973 debut is the earliest known album solely devoted to reflecting gay and lesbian lives in wake of Stonewall. Self-released and distributed almost exclusively through mail order because no retail outfits besides a few underground gay bookstores would dare carry it, Lavender Country sold out its 1000-copy pressing and then vanished from history. In 2012, Australia's Chapter Music included "Cryin' These Cocksucking Tears" on their gay-lib-themed compilation Strong Love. Eventually, the song gained traction on YouTube, prompting the album's 2014 reissue on Paradise of Bachelors—and now Don Giovanni Records has released Blackberry Rose, a similarly bold sequel almost 40 years in the making.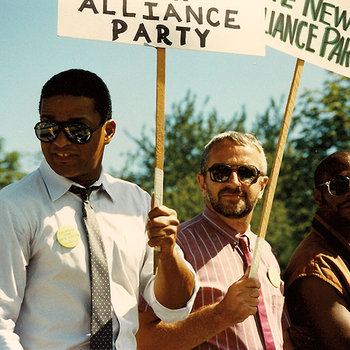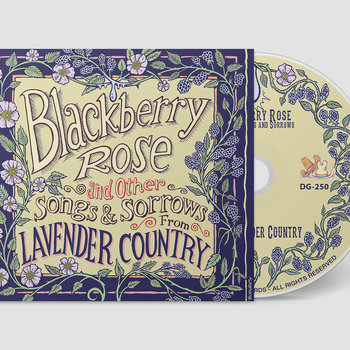 .
00:10 / 00:58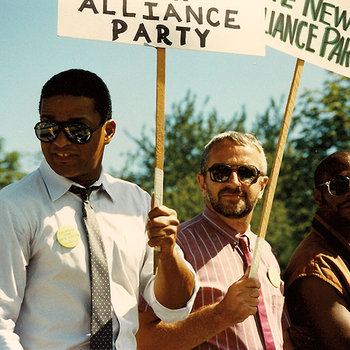 Merch for this release:
Vinyl LP, Compact Disc (CD), T-Shirt/Shirt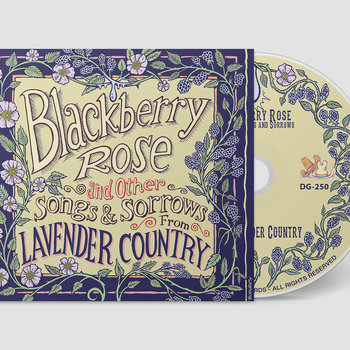 "I grew up in a barn, milking cows, listening to Hank Williams and the other early country women and men," explains the band's 77-year-old primary singer and songwriter Patrick Haggerty from his Bremerton, Washington home, outside Seattle. "Country was the only thing I had any basic competence in. A lot of Lavender Country songs are three chords, and I'm certainly telling the truth."
He's not kidding: The first verse in Lavender Country's "Waltzing Will Trilogy" is based on Haggerty's time at Western State Hospital, the same Steilacoom, Washington facility where the lesbian Hollywood star Frances Farmer was institutionalized. "Back then, homosexuality was considered a mental illness," Haggerty explains. "In 1966, I joined the Peace Corps and was housemates in Calcutta with another rural guy. Jerry was completely heterosexual, and we never had a sexual encounter, but I fell in love with him. The Mormon doctor working for the Peace Corps found out, and 24 hours later, both Jerry and I were on planes back to Washington, D.C. The Peace Corps decided that Jerry was not gay, and that I was gay, and so they sent Jerry back to India to complete his projects and kicked me out."
"I was trying to get back to India, so I stayed at a Honolulu YMCA, a hotbed of gay activity. I didn't participate, but it caused me to call my mother and say, 'Mom, I gotta come home; I'm in rough shape.' So my mother took me to the old family doctor, who decided I had a homosexual encounter in Honolulu that I was blocking, which led him to believe I was borderline psychotic. He advised my mother to check me into the mental hospital, and I was too weak to fight it. The sidebar to this story is that I never broke off my relationship with Jerry—I just got off the phone with him."
At the end of 1973, homosexuality was declassified as a mental disorder, and although stars on the level of Elton John and David Bowie could get away with singing about it, Lavender Country proved to be much riskier stuff. Shortly after the album's release, a lesbian-feminist DJ named Shan Ottey lost her job at Seattle's KRAB—one of the earliest educational FM stations—after playing "Cocksucking Tears." It's easy to understand why she'd do such a crazy thing; aside from the song being really, really gay, it's an astute and hilarious critique of heterosexual male privilege that Haggerty links to misogyny and homophobia. The sentiment behind its opening line, "I'm fighting for when there won't be no straight men/ 'Cause you all have a common disease" wasn't new to feminists of the early '70s. That a gay guy was voicing it so strongly on record, though, was unprecedented.
The album also includes "To a Woman," a lesbian love song written by the band's violinist Eve Morris. "You've opened part of me/ Made me free," she sang just as women's music—what lesbian-feminists had started calling compositions by, and emphatically for, women—was coalescing into a separatist movement. Bringing gay and lesbian experience together on the same record was another of the band's feats.
A couple years after Lavender Country played Seattle's first Pride celebration in 1974, the group dissolved. While maintaining his activism, Haggerty worked at an alternative youth foster placement agency, became a discrimination investigator for the Seattle Human Rights Department, and then sought election for Seattle City Council and Washington State Representative in 1989 and 1990.
"I ran with three men from the Nation of Islam on a Black/gay unity platform, and we managed to get like 17% to 19% of the vote," Haggerty recalls. "The campaign was in conjunction with a member of the New Alliance Party, Lenora Fulani, a pro-gay and pro-socialist Black woman. She ran for president in 1988 and managed to get on the ballot in all 50 states. I spent about a decade working with Black community issues as my focus, as opposed to gay rights. My husband's also Black and there are other Black folks in my immediate family, so that certainly influenced a lot of things."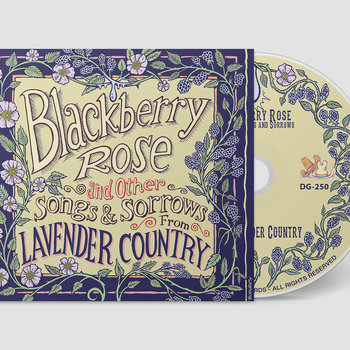 .
00:10 / 00:58
Merch for this release:
Vinyl LP, Compact Disc (CD), T-Shirt/Shirt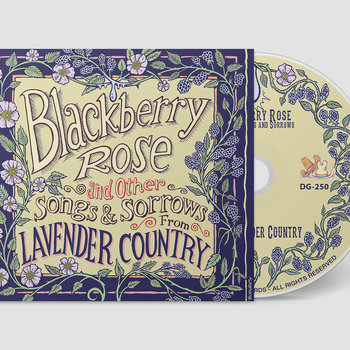 Haggerty's alluding to Blackberry Rose, which reunites the singer-songwriter with Lavender Country's original guitarist Robert Hammerstrom and broadens the band's concerns far beyond its LGBTQ+ focus. The reconfigured act hasn't lost its gay perspective; Blackberry includes a re-recording of the debut's randy but romantic highlight "I Can't Shake the Stranger Out of You" as well as "Gay Bar Blues," a knowing holdover from Lavender Country's earliest shows. But much of the rest addresses bigotry and misogyny, or the intersection of racial, sexual, and agrarian identities, like in "Sweet Shadow Man," which Haggerty sings from the perspective a young white Louisiana guy who pursues a Black man before the fall of segregation in the South.
"Gay relationships between whites and Blacks have been going on since the Mayflower landed, and nobody ever talks about it," Haggerty asserts. "I dropped the song in Jim Crow to give it a historical context and to have those two topics rub up against one another. There are racist elements in the narrator's mind; it's not like this kid could have it all together and be a passionate anti-racist freedom fighter in 1962 Bogalusa."
The album also shifts drastically in tone; the epic title track unsparingly depicts violence against women and Black people, while "Stand on Your Man" (co-written by Haggerty and Seattle lesbian activist Lamar Van Dyke) spoofs Tammy Wynette's submissive C&W classic: "Tell him to do the mopping/ While you go out bar hopping," sings the band's fiddle player Nikki Grossman.
This mix of seriousness and irreverence is winning Lavender Country a new generation of followers. Haggerty's tale of how his father taught him to embrace his true self was turned into a popular 2015 StoryCorp animation, "The Saint of Dry Creek," and the singer is also the subject of an award-winning 2016 documentary short, These C*cksucking Tears (2016). In 2019, gay country crooner Orville Peck invited Haggerty and pals to open for him in Seattle. A vet of RuPaul's Drag Race, Trixie Mattel covered "I Can't Shake the Stranger Out of You" with the bandleader on her 2020 album Barbara. But another queer country-originated upstart has won Haggerty's heart.
"Lil Nas X is the complete shit," he gasps. "I totally love him. He is so brash, so bold, so pointedly political. He reminds me of me in 1973. Before I die and go to hell or heaven, I would love to meet him. It's beyond my wildest dreams to do a show with him."