FEATURES
Land of Talk's Elizabeth Powell on the Healing Power of Music
By Laura Stanley · May 19, 2017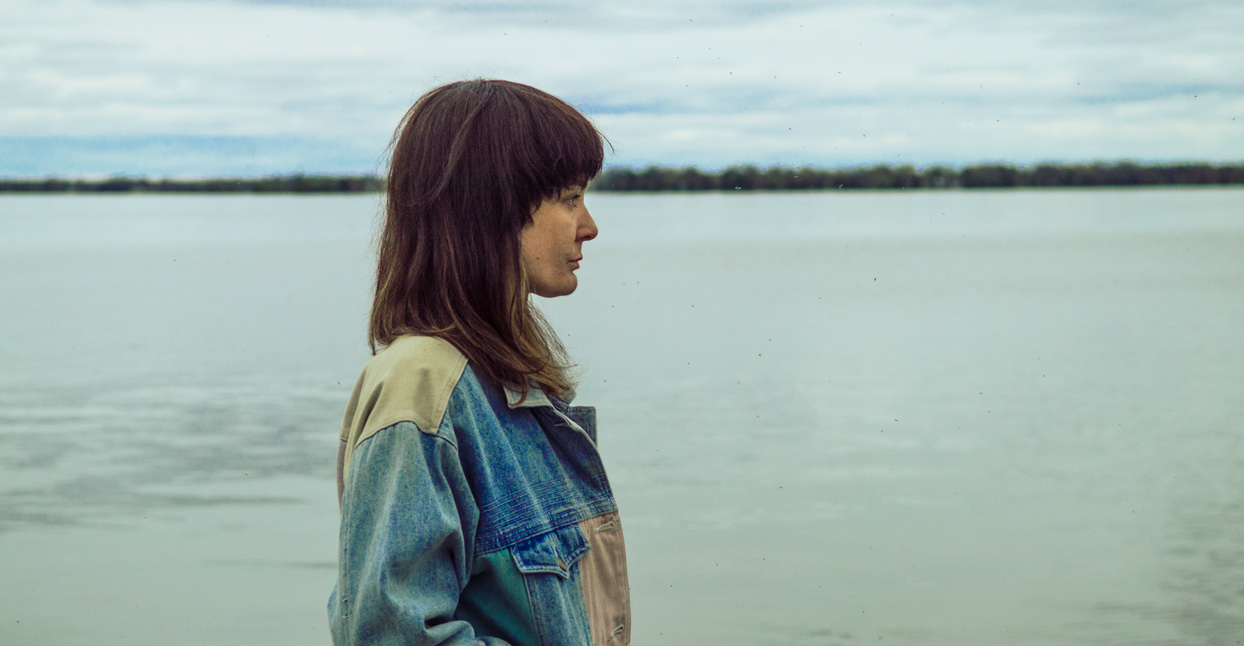 In 2011, Land of Talk's Elizabeth Powell was writing and recording demos on her laptop for a solo album when her computer crashed and she lost everything. Deflated, Powell decided to take a break from music. Instead, she turned to creating visual art and, drawing on 14 years of classical training, got back into dance. When her dad suffered a debilitating stroke in 2013, her life was put on indefinite hold while she helped him recuperate.
As her dad's recovery progressed, Powell felt her keyboard and amp calling to her. With encouragement from friends and family, and after reconnecting with original Land of Talk drummer Bucky Wheaton, her new album, Life After Youth began to take shape. Soon, Powell had a small team of people assisting her—among them, longtime friend Sharon Van Etten (the early days of their friendship are captured in an episode of La Blogothèque's Take Away Show), producer John Agnello, and former Sonic Youth drummer Steve Shelley. The result is a curiously lush recording, energetic but never harsh—a tender comfort.
On "Magnetic Hill," from Land of Talk's debut EP Applause Cheer Boo Hiss, Powell sings, "Life's long / Can't tell." Eleven years later, on Life After Youth's "Loving," Powell contradicts that statement: "Life's not long, why don't you live it?"
"You can't take anything for granted," she says. "Everything becomes more and more meaningful the more you realize that time goes by and doesn't just stop for you." There is undoubtedly life after youth, but you need to be around to see it.
.
00:10 / 00:58
We chatted with the Canadian artist about her journey back to music and the people who helped her along the way.
What was your relationship with music like after you finished touring your last record Cloak and Cipher, and when your laptop crashed?
I think the laptop crashing, and I don't want to be dramatic, definitely was demoralizing. It did take the wind out of my sails.
When my dad had a stroke, he had major brain trauma, and music was the only thing that would soothe him when all else failed. It was beautiful, in a weird way, to watch music help heal him, and to enjoy that together. I reached out to my friend Andrew Barr [from the Barr Brothers] who was the drummer on Cloak and Cipher and asked if he had any music for healing or meditation. He sent me a list that included tonkori music. [My dad would] listen to that on repeat. When he started speaking again, my dad said to me, 'OK, it's time to get back to music again.'
When I was helping my dad with his recovery, I was doing baking shifts at a cafe in Orillia [Ontario] called Apple Annie's. Nancy, my boss, is amazing. She's a huge champion of music in general, but [especially] local music and arts and culture. She basically gave me an ultimatum and said, 'You can work here for year, but then the game is up and you gotta go back to music.' Everyone was so frustrated with me not doing music that it started to become something irrefutable.
Between your family and friends and the musicians who came together to help make Life After Youth, you seem to have such a wonderful support system.
Right? And that's what it's all about! That has been the coolest thing of it all. Even when I was away, people would write or post stuff online wondering where we were. That fact that people are invested and want to hear more music—that's a really lucky position to be in. It's not like I have to win everybody back—I'm coming back to open arms. I'm very grateful.
Are you, then, Land of Talk, or is Land of Talk the community around you?
I don't know! It's like the most ambitious part of me, creatively, goes into Land of Talk because of my intent to do it for all the other people. It's me, but it's me motivated by everyone else. If I were to make a solo record, it would never happen, because another laptop would crash, or I'd get distracted by something else. Land of Talk has a life of its own and, in a weird way, I feel like I honor it before I would honor anything else. I think it demands more attention because it attracts such great people to it.
Did you have a connection to music as a therapeutic tool before its role in your dad's recovery?
From a young age, I could see and feel firsthand the power of music. My whole draw to music was that it saves you. You know when you're a teenager and see punk shows in basements? That's music therapy! When my granny was passing away, we sung her out with 'Angel Band.' That was the only thing that made sense to do in her final hours—to hold her and to sing. I feel that's pretty universal and as old as time. I guess I've always internalized it and knew the healing and therapeutic qualities of music.
.
00:10 / 00:58
How did you bring this view of music to recording Life After Youth?
In the studio, when we were working on arrangements, or even the way I would sing, the idea was I didn't want to be hitting you over the head with anything. It was more about setting a tone. Last year, we played four shows and when we played these new songs, the room would lighten up a bit. If you start trusting that the song isn't really going to go anywhere on you, then it's got you. I wanted this music to feel like, 'We got you.' Like we're holding you. There's no fireworks, no major stuff is going to happen, it's just going to be this nice slow burn. That's what I need, that's what I like, and what I need to sustain myself and I'm OK with being selfish.
You started Land of Talk over 10 years ago now. What's the biggest thing you've learned in those years?
I have learned that I am so much stronger than I thought I was. Watching my friends and family go through a lot of shit in life and with this record being made, I've realized that you trick yourself into thinking you can't do something, but you can. I've learned that you can come back from a lot—whether it's somebody trying to walk or talk again or whether it's someone trying to recover from a horrible trauma or being abused. I used to be more of a defeatist or a fatalist but now I think, if you really want it, then keep going for it, you can come back. But you can't do it alone, you need a community. Friendship and music have saved my life one hundred times and I know that's true for almost everybody I talk to. I didn't know it in my bones as well as I do now.
—Laura Stanley