FEATURES
La Luz Balance Surf's Menace and Melody
By Mariana Timony · May 21, 2018
Ever since they first appeared in 2012 with their lush combination of moody surf guitar and luminous girl group harmonies, La Luz have pushed the expressive possibilities of surf into ever more adventurous realms, with songwriting and arrangements that have grown increasingly sophisticated over time. The band's latest LP, Floating Features, is the most fully-realized version of their sound to date, a record of complex, cerebral rock songs that feel as light and effortless as pop.
Merch for this release:
Compact Disc (CD)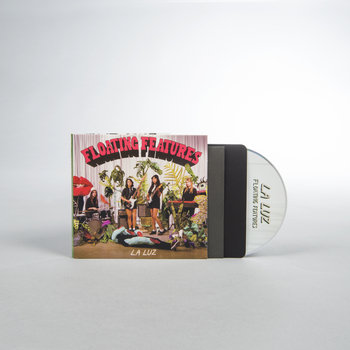 Though La Luz made a much-publicized move to L.A. from their hometown of Seattle, only drummer Marian Li Pino and organist Alice Sandahl still call the city home (guitarist and vocalist Shana Cleveland and bassist Lena Simon have since decamped to more affordable locales). They're back in Los Angeles when I meet them at their practice space, where they're preparing for an upcoming national tour.
Floating Features was recorded in Nashville, and it marked the first time the group had been able to "take full advantage of all the bells and whistles and the toys that were just kind of laying around the studio," remembers Simon, the group's resident gearhead. "Harpsichord, orchestra chimes, marimba, all the different pedals. A Leslie speaker, too. We ran different organs through the Leslie with various effects."
"It was a particularly creepy sounding Leslie," recalls Sandahl. "It had these weird squeaking sounds. It needed some WD-40, but you can hear it on the record and it's kind of cool."
Like the rest of the band's discography, Floating Features is a record that hinges upon La Luz's preternatural talent for writing songs that balance the menacing edge of instrumental surf with sunny harmonies, a mix that's defined the band from the beginning.
"It just seemed like a nice combination to mix these two types of surf music that seem like they're on opposite ends of the spectrum," Cleveland says.
La Luz formed after Cleveland's previous group with Li Pino, The Curious Mystery, had run its course; she'd been listening to a "bunch of world rock n' roll from the '60s, stuff with a lot of vocal harmonies and twangy guitars." She wanted to form a band that could do "the menacing thing and the vocal harmonies—like the Beach Boys, but a little more interesting. The Beach Boys are amazing, but nobody ever accused them of being real rock n' rollers."
But La Luz are real rock n' rollers, and Floating Features contains some of the most impassioned musicianship of the band's career. Sandahl uses a variety of retro sounds on organ lines that are by turns both accent and main attraction, and sometimes both—on the twinkly "Lonely Dozer," she and Cleveland playfully trade leads. Li Pino inverts and subverts traditional surf beats into dazzling new patterns. Simon's bass lines are both melodic and solid as rock, the heavy compliment to Li Pino's rhythmic acrobatics. Then there is Cleveland, an endlessly versatile guitarist whose always-expressive leads have become even more fearless over time. Individually, they're impeccable musicians, but together they demonstrate the power of the rock band in the most traditional sense—sometimes literally, as on the title track, a powerhouse instrumental with more than a hint of prog's grandiosity in its majestic riff.
Merch for this release:
Compact Disc (CD)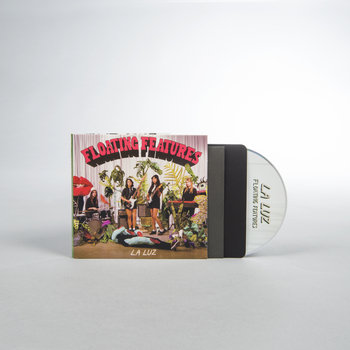 The record also features moments of delicate beauty and arrangements plush enough to disappear in. Languid psych-folk track "Mean Dream" builds up to an outro suffused with airy, choir-like harmonies that linger like perfume. The band's deft interplay on the slow-burning "California, Finally" shows off their technical chops, while still sounding as breezy as the title implies. The record closes with one of Cleveland's favorite lyrical motifs, a restless yearning to transcend worlds. "Don't leave me on the earth/ take me with you when you go," she pleads over a chorus of heavenly sighs.
"For me, I've always felt like [I'm] in between a lot of different worlds; part of that is being biracial and never really feeling like it was a clean fit [for me] in any one scene," Cleveland says. "That's always kind of stuck around as a perspective whenever I've written lyrics, that juxtaposition of your inner life and the outer world."
La Luz's music similarly feels suspended between two worlds, and their discography is a wide-ranging spectrum of dark and light. 2012's It's Alive, their first full-length, is La Luz at their sweetest—the surf licks candied, the floating harmonies more lightly spooky than truly haunted. 2015's Ty Segall-produced Weirdo Shrine, recorded after La Luz experienced a near-fatal car accident while on tour, had a more deranged energy, their dreamy atmospherics turning feverish and intense on tracks like"I Wanna Be Alone With You," where they sound like a band playing for their lives.
Merch for this release:
Compact Disc (CD)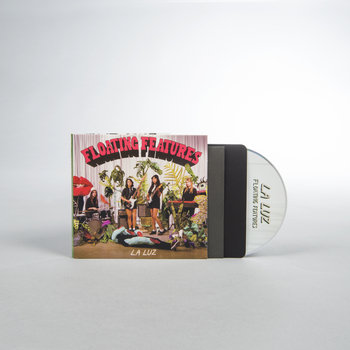 Floating Features brings both sides of the band's musical personality into focus, synthesizing It's Alive's gauzy beauty and Weirdo Shrine's dark abstraction into a record that balances La Luz's ability to deliver both thrilling, off-the-cuff rock star moments and perfectly composed four-part harmonies that soothe. Floating Features also vibrates with an infectious newfound confidence. In its finest moments—like the fiery breakdown in the middle of "The Creature," which might contain 2018's finest guitar solo to date—Floating Features inspires the kind of hair-raising euphoria that comes from listening to a band playing at the peak of their powers, completely attuned to one another and their collective musical vision.
Unsurprisingly for a band whose music's emotional strength is largely generated by the deeply empathetic musical communion between its players, La Luz thrives in front of an audience. Cleveland gushes about crowds in Los Angeles, in particular, as helping La Luz "figure out who we were as a band in some ways, more than Seattle"; they get excited when they see people crowd surfing to their set—"we never thought that that would happen, crowdsurfing to four-part harmonies," Cleveland says.
Their upcoming tour has them playing twice in many major cities, something they've never felt confident enough to do before. Cleveland echoes the sentiments of many musicians before her when she expresses a sincere desire to build bonds with her music, both onstage and off.
"For me a big thing is just connection. Playing music is a way to feel connected to the world," she says. "By sharing an expression, you really do share that with the audience. That's what gives my life meaning. When we're onstage, I try and open my heart as much as possible and be 100% present in hopes that it will become a shared experience. To me, that's the closest thing I know to a religion."
-Mariana Timony