FEATURES
The Confounding Story of La Gritona, Boston's Best Kept '90s Noise Rock Secret
By Michael Hill · October 27, 2016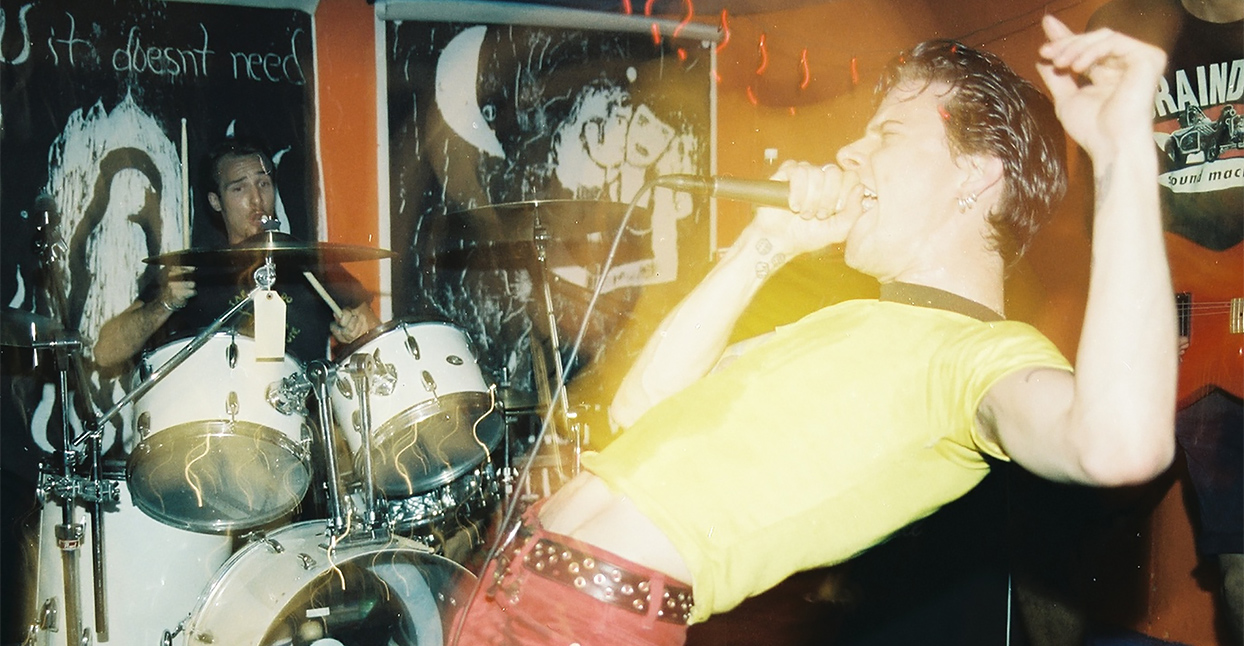 Unless you were living in Boston during the 1990's, you've probably never heard of La Gritona, a four-piece noise rock outfit that burned brightly for a short period of time before fading into obscurity. During the band's brief tenure, they recorded a body of work that is urgent, intense, and years ahead of its time. For anyone who is a fan of Deadguy or Coalesce, La Gritona should be required listening; they were exploring the same chaotic landscapes as those bigger bands a good three to four years before them.
The heavy rock underground was in a particularly bizarre place in 1994, teetering on the line between obscurity and mainstream success. Helmet's Meantime had launched a sneak attack on the Billboard charts, Nirvana had almost single-handedly created "Alternative Rock," and suddenly middle America (and a feeding frenzy of major label reps) were talking about punk again after suddenly forgetting it existed roughly a decade prior. Independent labels like Sub Pop, Amphetamine Reptile, and Touch and Go were releasing records by artists that were both creatively innovative and modestly successful on a commercial level. Whether you'd grown up with Black Sabbath or Black Flag—or you were in your teens and having your mind newly blown—here were dark depths that were still relatively accessible.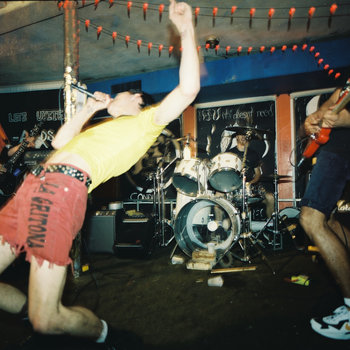 .
00:10 / 00:58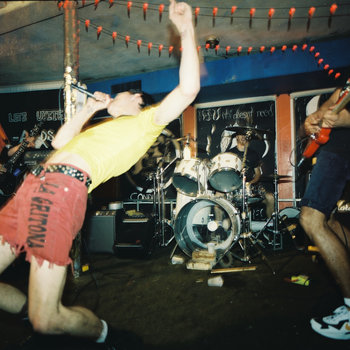 La Gritona—vocalist Colin Burns, guitarist Dana Embrose, drummer Thos Niles, and bassist Andy Donheiser—had metal elements too, but didn't hew many of the genre's popular conventions. There weren't any ripping guitar solos or songs about Satan. They used metal like a tool—a method to communicate their stories of alienation, or as a weapon to punish the ones that didn't get it. Burns had cut his teeth in prominent Boston metal band Slaughter Shack; Niles had been active in the Boston hardcore scene and was formerly the drummer of Eye for an Eye. Burns, reflecting on his Slaughter Shack days, says that his first group always had a love for post-punk at its root—The Birthday Party, Black Flag, Gun Club, Big Black, Scratch Acid, Butthole Surfers, Sonic Youth—though their sound slowly evolved into something more commercially understandable as metal. "There was always a lot of hair," he laughs.
Niles and Burns met through the small Boston underground heavy rock circuit and formed the band Suicide King; they played a total of four shows and recorded a demo tape before two of the original members departed. Embrose and Donheiser joined, and La Gritona was born. Says Niles, "Of those three or four songs on the demo, two of them turned into La Gritona songs that were the same sort of structure and spirit. A couple others were dropped pretty quickly afterwards. But it's definitely sort of the seeds of La Gritona for sure."
.
00:10 / 00:58
The band was painfully intense live—they didn't play music as much as they executed songs. The destructive rhythm generated by Donheiser and Niles provided the structure for the tortured guitar work of Embrose and Burns' Nick Cave-meets-Black-Flag-era-Rollins vocals. The essential rules of punk—short, loud and fast—dominated their sets, sometimes frustrating those who didn't understand that a 20-minute set can be the perfect length as long as you rage all the way through. "I remember club promoters not wanting to give us a headlining spot because our set was so short," Burns says. "We played as much as anyone else, we were just determined to have as few breaks as possible."
He continues: "It was a really intense experience for me—I think for all of us. We were tight. We honed the attack of the set. I think when it came to playing live, we were all giving it everything. It was kind of desperate, if you know what I mean? Physically, it was exhausting. I always needed to hide for about half an hour after a performance. Then I could mingle and load gear. Niles adds, "We wanted to make anybody else who was trying to play rethink their own situation. We wanted the bands that played before us and after us to just look trivial. We were essentially trying to hurt other people's feelings with our music, and that was part of the creative spark."
Parallel to their live output, La Gritona were prolific in the studio, releasing a grip of singles, splits, and demo tapes. Perhaps their best-known release is the "Frank White" 7-inch (two originals and a Circle Jerks cover), named for and featuring Christopher Walken's character from the Abel Ferrara film King of New York. But some of their most powerful material came out of a late-night recording session from 1995 that wasn't even mixed until 2007. Any building can be a studio if you have the right equipment; La Gritona recorded these songs at the now-defunct Liberty Coffee Shop in Cambridge, blazing through four songs in the middle of the night with Ayal Naor (Spore, 27) at the controls. Naor was an early supporter of the band and is responsible for documenting much of the their output. The songs from that session captured the band at their most ruthless.
Perhaps one of the reasons for La Gritona's lack of recognition in the history books is that they utterly confounded most listeners at the time. They weren't part of the emerging Boston "indie rock" scene, nor were they a straight-up metal band. Though some members had roots in the hardcore punk scene, they weren't really invited to any of those gatherings, either. "We'd play with a lot of these [hardcore], bands but we weren't part of their scene," says Niles. "Some of it was by design, because we didn't want to be a part of any of these scenes. Looking back, it's kind of a shame. Maybe we could've been a part of something that was more community-oriented. Maybe we could've shown more leadership in that sort of situation. But we just never really fit in."
.
00:10 / 00:58
Though they were perennial outsiders in the scene, a few like-minded misfits fell in love with La Gritona. "I think the small number of people who enjoyed it really, really enjoyed it," Niles reflects. "[We were] definitely an acquired taste. I think you had some people who got it on kind of the same level we were trying to give it. There were some people who enjoyed it on sort of a more spectacle level. Colin definitely had a unique stage presence. Like I said, we were trying to bring sort of something to the performance that was maybe above and beyond your garden-variety local band."
Former WFNX DJ Janet Egan (a.k.a. Juanita the Scene Queen), who had a local music show and wrote for area fanzines, was one of those few people who thought there was something special about La Gritona. She introduced the band to reps for MCA Records, who were more prone than usual, in those gold-rush post-Nirvana days, to throw a difficult-to-market group some cash ("I think it was $2,000," says Niles). They got in the van and drove out to Steve Albini's Electrical Audio studio in Chicago to begin work on the sessions that would eventually become their self-released full-length LP Arrasa Con Todo.
"I think we wrote a letter—like an actual snail-mail letter, because that's how things were done then—to Steve Albini and asked him if he would record us, and what that would cost. That turned into a couple of phone conversations," Niles reflects. "His whole trip back then was that he operated on this sliding scale—I don't know if he still does this—but depending on what the project was, his level of interest and availability and how it was getting funded, he would change his rates accordingly. So I think we didn't tell him that we were getting money from MCA, we told him that it was self-funded—which is really not so much of a lie, because there was never really a hope in hell that MCA was going to put anything out we recorded." Both parties settled on an agreeable rate; Arrasa Con Todo only took three or four days to record and mix.
La Gritona's complete discography, including some previously unreleased material, is now available as Demasiado Tonto Para Los Niños Listos / Demasiado Listo Para Los Niños Tontos. It's a welcome recollection for those who were there at the time and a chance for noise-rock fans outside of Boston to discover the band's confounding, anxious, visceral aggression, to be transported to a bleak and entirely realistic world where it's always 4 AM on a Monday night, the trains have stopped running, there are sirens in the distance, and you've got $5 left in your pocket to get you home.
—Michael Hill