FEATURES
Winnipeg's KEN Mode are in it for the Long Haul
By Michael Hill · January 12, 2017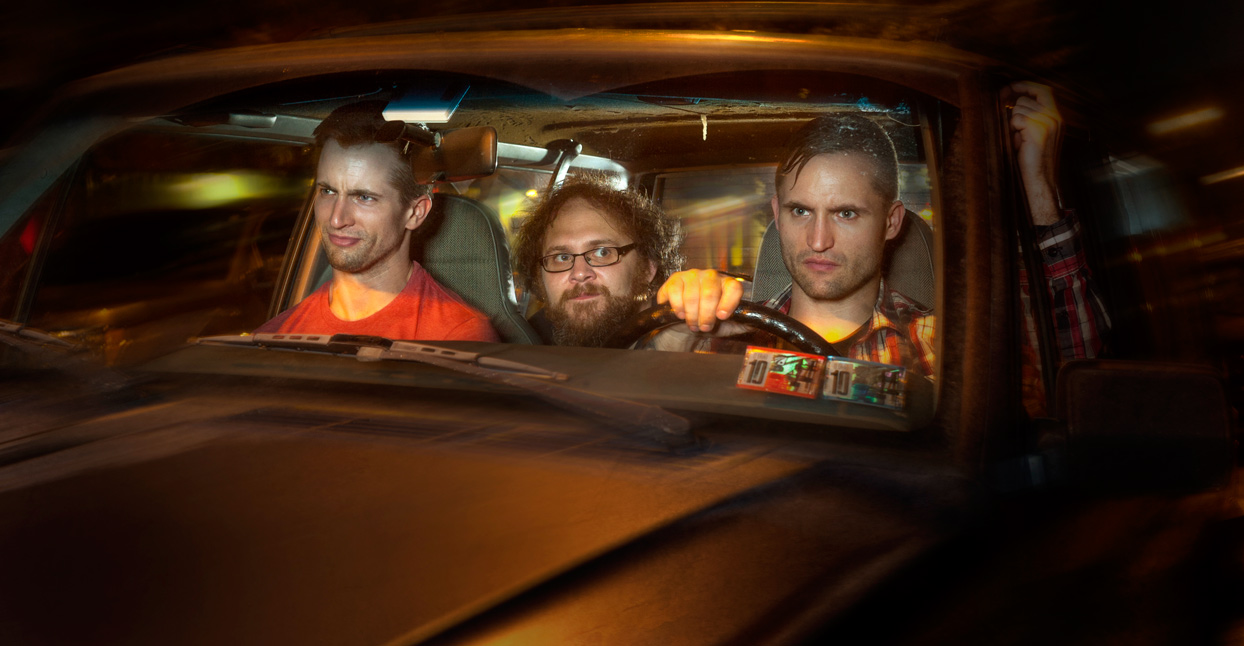 It's been a long and noisy road for KEN mode. The band was formed in 1999 by brothers Jesse and Shane Matthewson (guitar/vocals and drums respectively) in Winnipeg, Manitoba, when they were barely out of high school. The original lineup was filled out by Darryl Laxdal, who would be the first in a long line of seven bass players.  KEN mode have always been unique, blending the harsh nihilism of noise rock bands like Unsane, Big Black and Today is the Day with the power and intensity of metallic hardcore. The band have been consistently labeled as "innovators" by both critics and fans, acclaim that usually creates a pressure to be constantly pushing toward 'Something New.' That kind of scrutiny has caused legions of other bands to fall apart, but KEN mode have stayed the course, largely due to the strong bond between brothers Jesse and Shane.
KEN mode may have changed labels—and bassists—in the intervening years, but they've never flagged in their dedication to their fans, their challenging music, or their desire to take a "creative outsider" approach. Their upcoming EP, Nerve, is a fascinating collection of older material (outtakes from the Success recording sessions with Steve Albini in 2014, demos, and so forth)—fan service of the best kind.
The name KEN mode comes from a reference made by Henry Rollins about the emotional intensity developed during Black Flag's My War days. It stands for "Kill Everyone Now mode"—an apt tag for a band of teenage misfits making "Mammoth metallic noise," as the Matthewsons have described their music.

Having spent their formative years steadily consuming the output of Nirvana and other grunge bands of the era, they developed a fascination with the darker, more intense aspects of popular music. After reading Michael Azerrad's Come as You Are: the Story of Nirvana, Jesse discovered a subterranean strata of bands and artists that were name-dropped throughout the book, and soon they became influences. As Jesse notes, "A lot of them liked gnarly hardcore, punk and noisier music. I looked up every band that was mentioned in there. That got me into Black Flag, Melvins, Jesus Lizard, Scratch Acid, Big Black…it opened up the entire underground for me. The noisy, more frustrated stuff tickled my fancy the most."
In the early days of hardcore and punk, the doors were wide open to creativity and individuality, but by the 90's, the subgenre had become the kind of institution original punks kicked against. In the mid-'90s, bands like Deadguy and Bloodlet provided a gateway for the typical hardcore kid into an intense, aggressive musical landscape that provided a little bit more of a challenge than your average youth crew record. For a few short years, those bands and their imitators blazed a new pathway, offering inspiration to extreme bands like Dillinger Escape Plan, another act that embraced progression.
KEN mode would have fit nicely into this micro-scene, but by 1999, it was evaporating. Bands were either breaking up or fading into obscurity. Christian hardcore, traditional hardcore, and the more mall-oriented incarnation of screamo were on the rise. According to Jesse Matthewson, Winnipeg was an odd city, home to many bands that defied categorization. "It was cool that there was a scene of bands that didn't fit neatly into one category or another," he says, "because that is definitely what we have always been. I don't know if that helped us or hindered us; probably hindered us, particularly in the time that we broke in, because a lot of the bands of the '90's were breaking up, and there was kind of a new scene that was emerging."
Aside from their relative youth, KEN mode were also stymied by Winnipeg's remoteness. The nearest cities were a solid eight-hour drive away. Nonetheless, they started playing any show they could book, whether it was a community center, basement, or bar. Their determination transformed into an ironclad work ethic, which paid off when the band drew the attention of Escape Artist Records, the label curated by Gordon Conrad and Adam Peterson, who both had experience working at extreme music labels Relapse and Earache. Escape Artist had already garnered critical and popular success with early releases from Isis, and had fostered a solid lineup of diverse heavy bands like Burn It Down, Keelhaul, Anodyne, Playing Enemy and Time in Malta. KEN mode would release two LPs on Escape Artist: Mongrel, in 2003, and Reprisal, in 2006. Laxdal left the band soon after the completion of Reprisal, starting the Spinal Tap-esque bassist turnover that would continue over the years.
Though KEN mode had a grip of new material, by 2008, Escape Artist had ceased operations. Undeterred, Jesse Matthewson started his own imprint, Arctodus Records, releasing the new material as the Mennonite LP. Bassist Jahmeel Russell appeared on the record, but left just prior to its release. Chad Tremblay joined up for the subsequent touring; he also directed the music video for "Extending Common Courtesy Throughout The Evening," one of Mennonite's singles.
A European tour supporting the Welsh band Taint materialized, creating the possibility for KEN mode to finally become a full-time venture. Jesse recalls, "Shane had been to school for accounting for the past couple of years; I had been working as an accountant myself at that point for almost four years. Shane was just graduating and was in a position where most chartered accountants kind of dive into industry.  He was 26 years old and didn't really want to dive head first into an accounting career. I'd been contemplating going back to school to do something else. I brought up the prospect of doing the band full time for, like, a year to see what happens. For me, it was going back to school or doing music full time, which is the one thing I've ever cared about.  We chose music."
After Mennonite illuminated the struggles that come with self-releasing a record, it was clear that if the band was going to approach a musical career full time, they needed the support of a higher-profile operation. Enter the excellent Canadian label Profound Lore, which released Venerable in 2011. During the relentless Venerable tour cycle, the band went through three bassists, with Andrew LaCour being the last man standing. But there was light at the end of the tunnel—in 2012, Venerable netted the group the inaugural Metal/Hard Music Album of the Year Juno Award. Jesse recalls, "We were feeling kind of beaten up and down and then all of a sudden that Juno thing happened. We joke about it now: the people in the Canadian music industry giving us a representation of false hope."
In addition to raising the band's profile, winning a Juno also helped the band get funding and grants from the Canadian government. "The Canadian grant system basically provides tour support for acts," says Jesse. "For us, it was the biggest thing in the world, being able to actually eat while on tour because the government is giving you money. Granted, we had to report to them how the money was being spent and how things are growing with the business. Legitimately, we had to have business plans and marketing plans that you're accountable for." (Finally, a proper use for that accounting background!)
Post-Juno win, Gordon Conrad, an early fan of KEN mode's who'd just signed on as North American Label Manager at Season of Mist, brought the band aboard a varied roster perhaps better known for black metal than noise rock for Entrench and Success. The wheel of bassists whirred on; LaCour was replaced by Scott Hamilton in 2013, who seems to be sticking around for a minute.
These days, the brothers Matthewson are comfortably settled at home in Winnipeg (though they may heed the call of the road at any point), applying their business acumen to MKM Management Services, a family business which they've transformed into a multi-tiered support agency for other working creative professionals. They continue to push themselves and everyone around them forward, carving out their own world as their own bosses. Not too shabby for a couple of teenage misfits.
—Michael Hill