FEATURES
Ken Ishii's Decades of Techno Innovation
By Philip Freeman · June 20, 2023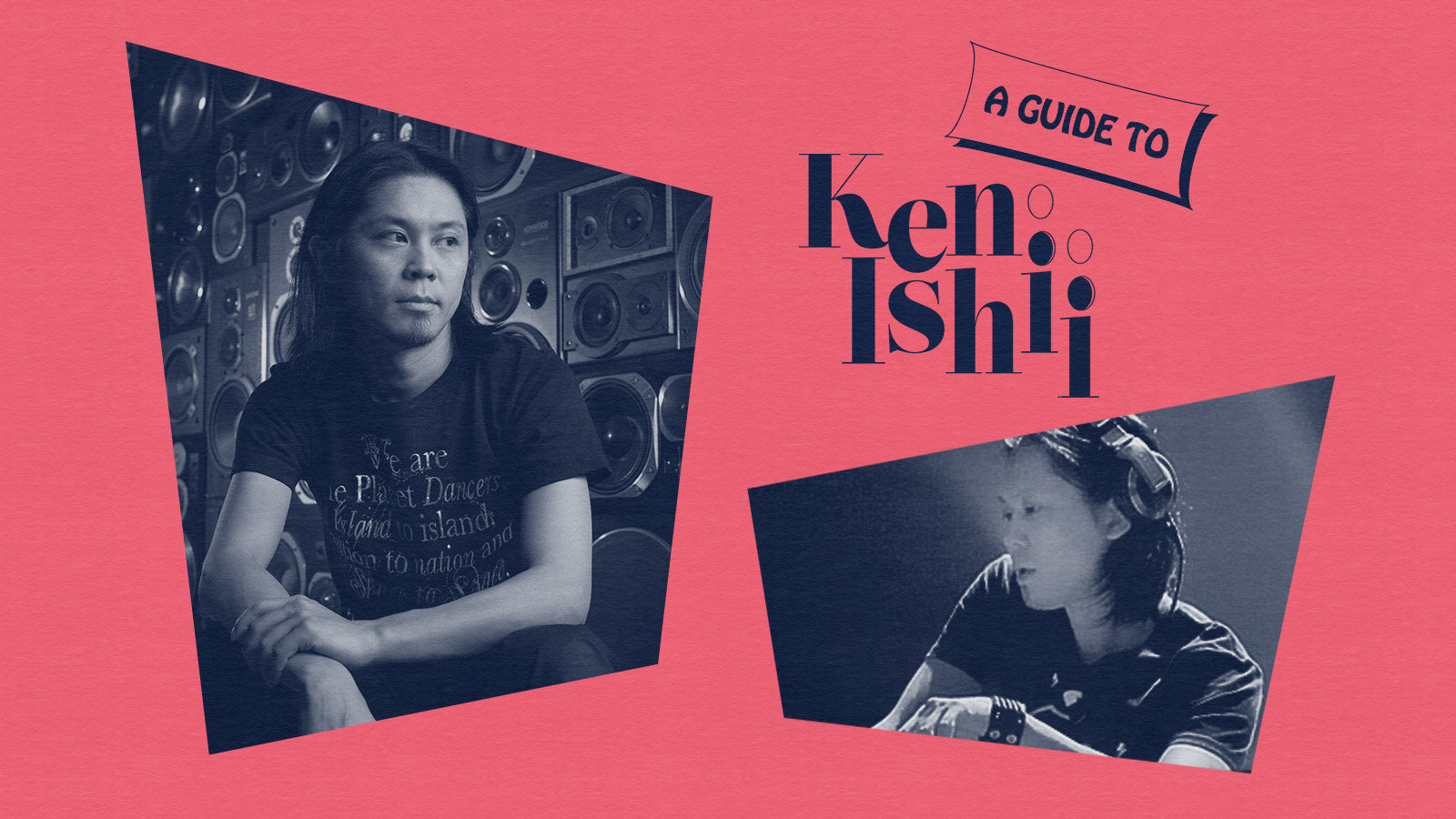 Ken Ishii has been making techno for 30 years, and has risen to be one of the genre's biggest names. After a string of highly successful and revered albums on the R&S label, he founded his own 70 Drums imprint, and has continued to release albums and EPs and tour the world. He's been embraced in his home country and elsewhere: he composed the music for the opening ceremonies of the 1998 Winter Olympics, held in Nagano, Japan, and he won the Best Dance Music Video of the Year award from MTV Europe in 1997 for his song "Extra," the video for which was directed by Koji Morimoto, the animation director for the classic film Akira (1988).
Ishii's initial run of albums, including 1993's Garden On The Palm, 1995's Jelly Tones, 1997's Metal Blue America, and 1999's Sleeping Madness, traveled through a variety of sonic moods. Even a track like the anthemic "Extra," which opened Jelly Tones, was like a suite, mutating constantly and striking repeated crescendos in under four minutes, and that was followed by the electropop-esque "Cocoa Mousse"; the shimmering, zapping "Stretch"; and the almost ambient "Moved By Air." Ishii views his albums as complete works of art, rather than collections of tracks. At the same time, he loves DJing and maintaining a surging energy on the dance floor. When asked about this via email, he says, "I have two modes running in my brain. One is a DJ mode which is about entertainment, and the other is an artistic mode which is about bringing creativity and originality."
"I would describe myself simply as an 'electronic music' artist who plays techno as a DJ," he adds. His recent singles and EPs are more minimal and aggressive than his albums, but he says, "the music is for DJs to play and mix, and its simplicity and rawness work better when played loud to make people dance. I still think you can do whatever you want with techno, so when I make an album my music is more diverse and 'colorful' though."
In 2020, Ishii began releasing a series of three- and four-track EPs as Bandcamp exclusives, called Unreleased Works; to date, there are 10 volumes. Some of them include two versions of songs, an original that might date back a decade or more and a new reworking. "Solar Wind," from Unreleased Works Vol. 1, is a bouncing electro-funk jam from 2014 with percussive handclaps and washes of sparkling synth, while the 2020 rework is harsher and more robotic, almost like early Daft Punk.
"Those tracks were initially produced as DJ tracks, but they weren't really fit to the trend at that time and […] I also thought those tracks were not really album material, so I just kept the data in my hard disk and was looking for a good timing to complete or rework them. Then, after several years, I have learned more engineering/mixing skills as a producer, the desired BPM is different, and the sound quality needs to be better in general, so I updated them […] Dance music constantly changes by nature," he says.
Ishii says he'll put a track away if it doesn't sound of-the-moment enough to be commercial ("DJs buy music every week and there are always countless releases out there," he adds), but if he decides it doesn't sound enough like him, that can be an issue, too. "Your music should be current and stand out with your own elements," he says. As the Unreleased Works series shows, though, there's always the possibility of re-discovery: "I often discover my forgotten loops after a few years and find some interesting elements I didn't see initially. Then I start reworking them with new plugins and fresh sound-making methods."
What makes Ishii's music fascinating is its mix of old and new—innovative approaches to production that still employ sounds and techniques that nod backward to electronic music's decades of history. On "Slowdown," from Unreleased Works Vol. 2, he uses a classic electro cowbell sound, but soaks it in echo until it seems to come drifting out of the listener's memory.
"I always look into an interesting mixture of sounds—old and new, stiff and soft, and hard and mellow," he says. "The '80s electro-ish cowbell sound has been one of my all-time favorites since I was a teen and the idea to use it for a deep modern acid [track] occurred to me all of a sudden. Electronic music has already 40+ years of history and now it has signature sounds which anyone can recognize, although they were all, like, inventions in the beginning. Maybe like muted trumpet for jazz, or distorted guitar for rock music. The acid sound of [the Roland] TB-303, the kick drum sounds of TR-808 and 909 — it's quite interesting how these specific sounds of specific Japanese gear have become universal sounds."
Since he works as a DJ as well as making his own music, Ishii is continually inspired by what he hears and plays. "By the nature of techno [and being] raised in the DJ culture, I think it's very normal to be inspired by other people's music as well as to inspire others with your music, because you keep listening to lots of pieces of music like a daily job," he says. But his insistence on maintaining his own sound keeps him from direct imitation or following trends:
"I still want my music to be somewhat different even though it's minimal techno, so what inspires me is more like something technical—'Let's try this EQ'ing technique' or 'What's this compression trick?'—than using the same sounds. On the other hand, when I make an album, I stick to making something entirely original that sounds like me. I don't care about a typical formula of techno, but do look for something no one else does, messing around with new plugins. It's quite a fun part of doing music."
He adds, "Techno as a style of dance music can be enjoyed everywhere on the planet today, so people tend to focus on a common functional formula to make people dance. However, techno is originally the electronic music of freedom and what you can put your creative and artistic ideas into. It stays like this, no matter how big or small the scene is."
Ishii's Unreleased Works aren't just a clearing out of his archives; they also give a hint as to what his live shows can offer. "When I do a live set, I always include unreleased material," he says. "It can be an unreleased track, a live version of the existing tracks, or improvisation on stage. My biggest track, 'Extra,' was originally made as an exclusive track for a live set two years before its official release. The boss of my record company at that time was freaked out when he first heard it and told me to polish and complete it […] I play an exclusive and updated version of 'Extra' every time I do a live set."