FEATURES
Kari Faux is Realer Than Ever on "Lowkey Superstar"
By Natelegé Whaley · October 18, 2021
In Kari Faux's "Chattin Shit" music video, a one-finger salute to those obsessed with her every move, the unruffled red-haired rapper cruises around Houston in a Corvette convertible. "Tryna peep the moves, but you know I stay low," she says in her deep, rich tone. The line defines Faux's outlook on superstardom and drives her new album Lowkey Superstar (Deluxe): It's not about being seen, but staying grounded in your authentic self. "So many people have told me 'You're gonna be a superstar,'" she says, calling from New York City ahead of her first show since 2019. "But I don't care to have people chasing me down the street, or obsessing over who I'm dating. I don't care about that type of stuff. So that's why I put the 'lowkey' in there."
The Little Rock, Arkansas native's desire to explore her artistry while maintaining realness was one of the reasons she moved to Houston in April—away from the glitz of Los Angeles, where she had been living since 2014. She spent quarantine with family in Arkansas, and the experience made her want to be closer to them. "I just love Southern shit," says Faux. "I love hospitality, good food, and good people. It's really rich in culture. The history, like DJ Screw, and Rap-A-Lot [Records]—there's so much hip-hop history there, and I pretty much grew up on Texas rap, because Arkansas is so close." Though Faux is proud of her Little Rock upbringing, she isn't a direct representation of the culture there. "I'm very much like an alien," she says. Faux's sound, a range of rapping and singing over hip-hop, pop, and R&B productions, draws on a host of sources: Andre 3000, Pharrell Williams, Erykah Badu, Santigold, Blondie, and Fiona Apple are just a few of her influences.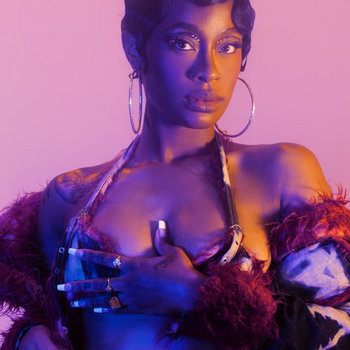 .
00:10 / 00:58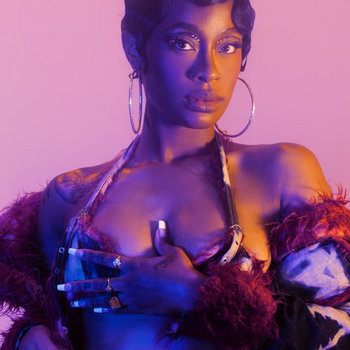 Merch for this release:
Vinyl LP
Having such a wide range of inspirations makes Faux something of a playful chameleon; but every character represents one of her raw moods, phases, and experiences. Take 2019's Cry 4 Help, a cathartic project about her struggles with depression. Faux says those clouds have lifted now, and the Lowkey Superstar era explores the upbeat confidence of a once viral rapper turned indie hip-hop artist who's determined to do things her way. "I had a viral hit but, I ain't had another one since then and I'm still here. I take care of myself. I help my family."
Faux's journey to success began in 2014, releasing the mixtapes Spontaneous Generation and Laugh Now, Die Later, which contained the buzzy single "No Small Talk." That year, she moved to Los Angeles, releasing Lost En Los Angeles, on Childish Gambino's label Wolf + Rothstein in 2016, and landing a spot on the soundtrack to HBO's Insecure. Faux has maintained a consistent run, dropping Primary EP, Cry 4 Help EP, and the original Lowkey Superstar last year on Change Minds, LLC. Her latest is the first release on her label Lowkey Superstar Records, in partnership with indie label Don Giovanni Records.
Faux produced the original version of Lowkey Superstar over the course of six days in January 2020, with producer Danio in London. Following the April release, Faux conceptualized a deluxe version to extend the life of the project. The final result pulls in fellow rappers J.I.D., Jazz Cartier, Smino, Yung Baby Tate, and Deante' Hitchcock. The album kicks off with the hard-hitting "While God was Sleepin'…(Remix)," featuring J.I.D., where she raps on the themes of spirituality and sexuality. "The rest of them are really bouncy, and light-hearted for the most part, and that one felt a little more menacing and darker," she says.
.
00:10 / 00:58
Merch for this release:
Vinyl LP
For "StickUP! (Remix)," featuring Jazz Cartier, a close friend and former roommate, Faux is a "Southern Belle" raising hell over a jolting beat, out to get the money she's owed. Another stand-out is "Mo' Liquor," a jovial New Orleans-inspired bounce track featuring Smino. "He's a very musical guy—I mean, I am too, but I put him in a different atmosphere," she says. "Too Much, Too Fast" with Deante' Hitchcock contains a quip about a relationship moving too quickly: "You want me to Uber to your place/ Want me to Uber to your house/ But we only friends with benefits/ I Uber to that mouth." "That song was inspired by this girl that I dated," she says. "She wanted to move in after being together for like two months, and I'm like, 'Bro what?'" These stories interwoven throughout Lowkey Superstar (Deluxe) prove Faux a candid raconteur.
With the new album out, Faux looks forward to releasing visuals for "Mo' Liquor" and the '80s R&B-style "Rapunzel." After revealing this, she follows up with a matter-of-fact heads up: "Please also say that I can't make promises." Though her stage name is Faux, she can't help being genuine.