FEATURES
"Fall Guys" Soundtrack Exults in High-Energy, Wonderfully Weird Electro Pop
By Casey Jarman · October 14, 2020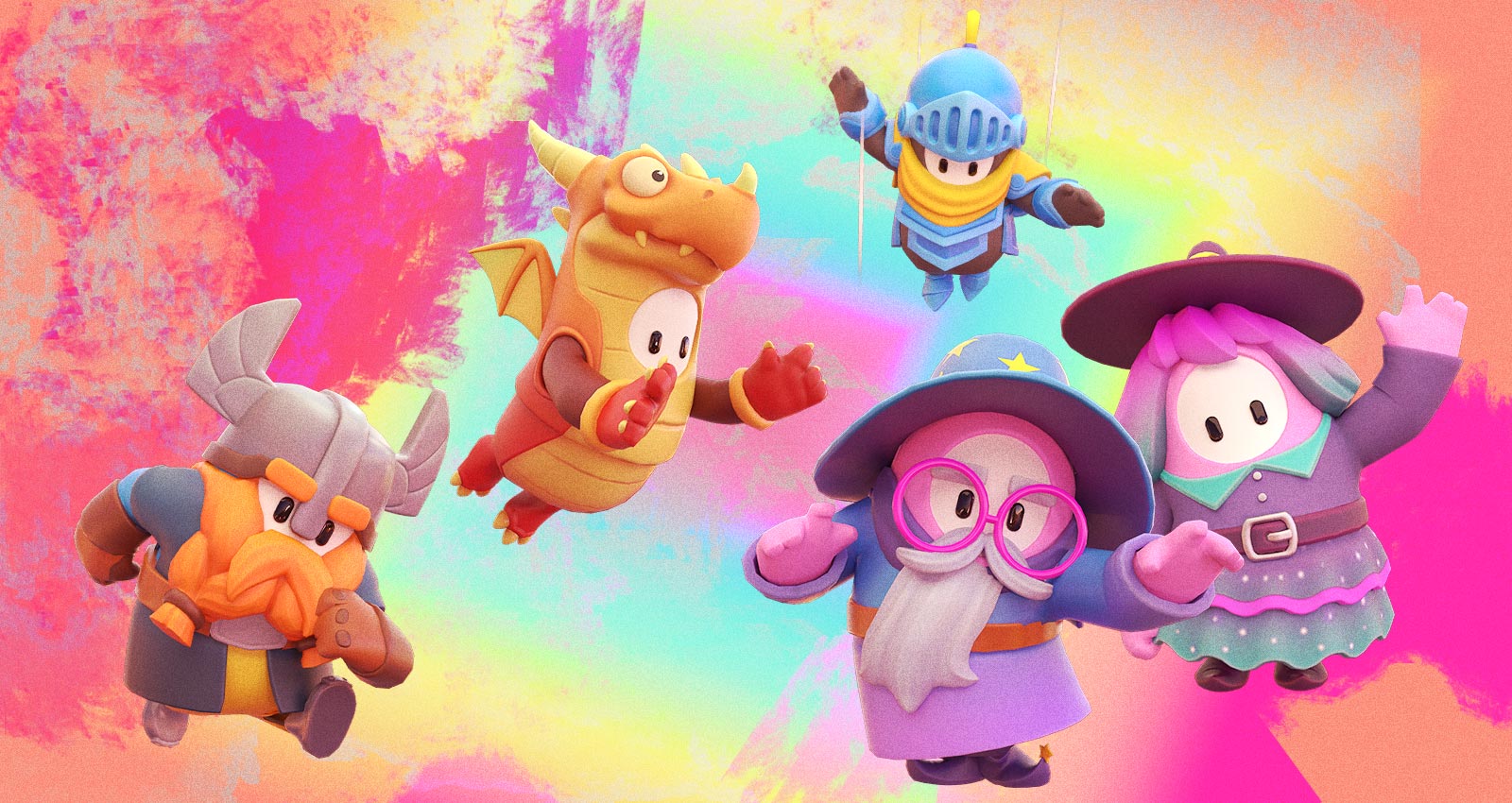 Right from its dayglo opening menu, the blockbuster indie video game Fall Guys is a retina-burning cornucopia for the eyes. The game's rubbery protagonists (which loosely resemble Minions by way of Teletubbies) wobble their way through chaotic, Playskool-esque obstacle courses that owe a debt to game shows like Wipeout and American Gladiators. One might assume that a game like this, with its frenetic pace and Jackson Pollock palette, would feature an obnoxiously amped-up soundtrack. One would be wrong. While the Finnish team of Jukio Kallio (Minit, Nuclear Throne) and producer Daniel Hagström did work within game developer Mediatonic's proposed parameters of high-energy, synth-based music, the duo also got into the proverbial sandbox.
"We came up with the idea of '70s and '80s sports program themes," Kallio remembers of the duo's first crack at Fall Guys' music. "An essential sound in the main theme is a recording where Jukio inflates a balloon," Hagström adds.
.
00:10 / 00:58
"They started sending us weird audio samples of kids' toys and instruments," says Joe Walsh, Lead Game Designer with MediaTonic. "We were pretty sure we had the right composers for the job."
While some of the earliest sonic experiments for Fall Guys' music were mutated and modernized—'70s vibes are scant, though it's not hard to imagine the epic melody behind the game's main theme, "Everybody Falls," anchoring vintage episodes of Wide World of Sports—the end product is a psychedelic, bizarre, and hypnotic sonic gumbo. It sounds like happy hardcore mingled with smooth funk, J-Pop, '80s cartoon soundtracks and video game music from Sega's Dreamcast era. Kallio and Hagström's go-to instrumentation choices include frequent slap bass and jungle-esque breakbeats, but bulbous synths take the edge off. "Survive The Fall" sounds like something Thundercat might cook up for a children's album, while the victory song "Didn't Fall! (You Win)" sounds like the fever-dream version of a Mario Kart theme. Four new tracks, which play on the loosely medieval themes of the game's "second season" update, were added to the collection on October 8th.
"I have no clue what the genre or style of this music is, even," Kallio admits. "We definitely wanted it to be very high-energy, very positive-sounding. It has a lot of these 'soft-sounding' synths, which I think is what makes it sound like Fall Guys."
Because a player's focus is usually so tightly tethered to the action on their screen—and because it's not uncommon for players to hear a song repeated hundreds of times—video game music is a powerful medium. Like an unavoidable commercial jingle, it can slip into a player's subconscious or jackhammer them into submission. Kallio is particularly adept at imbuing great games with life beyond the screen, expanding the virtual worlds in the process. The core of his approach revolves around bringing more to the table than "what the game looks like it should sound like."
"With Nuclear Throne, which is a pixel-y, shoot-everything action game, I wanted it to have real acoustic guitars and some very somber soundscapes instead of high-energy chiptunes that are usually associated with games that look like that," he says. With Fall Guys, Kallio focused on musical modulations—the big key changes that usually happen in the final chorus of a pop song. Kallio and Hagström refer to them as "Eurovision Modulations," after the long-running pop song contest program. "I used them relentlessly, sometimes at surprising points of the song, like mid-riff," Kallio says. "This makes the music sound new, even though the melody often stays the same. It also gave me a fun puzzle to solve in the composition: How to modulate back to the original key seamlessly, because the tracks needed to loop in the game."
.
00:10 / 00:58
Kallio is quick to credit Hagström, who crafted the actual sounds of Fall Guys from Kallio's original demos, for the game's unique aesthetic. Despite the toys and the far-flung sonic influences, Hagström says that most of the production was "in the box," built primarily with Ableton Live. A mastering engineer by trade, Hagström invested much of his time into small sonic variations that might not be noticeable at first listen, but extend the shelf life of songs that hardcore players might hear hundreds or even thousands of times: A quickly pulsing synthesizer melody in one part of a song might loosen and find a groove in another. "The music must have just the right amount of contrast, yet feel great to the ear," he says. "It can't have any offensive or messy sounds that cause listening fatigue."
For a game whose PC players alone have logged well over 125 million hours of total gameplay, these touches are important. But most vital, Mediatonic's Walsh says, was crafting a unique sound that helped position the game in its own strange world. "Fall Guys takes place in a totally manufactured universe," he says. "And we wanted the music to reflect that—this mishmash of genres has you grabbing cues from all sorts of places and it really keeps things feeling otherworldly. The game is a bit of a sensory overload, and we really wanted the soundtrack to reinforce that feeling."
Fall Guys is, indeed, otherworldly. It's also wildly popular, with the biggest Playstation Plus service launch in history and over 10 million copies sold on PC. The music, predictably, has benefitted from that attention. For Kallio, accustomed to soundtracking critically acclaimed indie projects on a smaller scale, that attention has been a game-changer. "It's completely insane. like a hundred times more insane than anything I've experienced before," he says. "I'm an avid user of Twitter, but I had to delete it from my phone because it was just too much to handle."
Not that he minds the inconvenience. "We didn't really know how it would go," Kallio says. "We never imagined it'd be as big as it has become."