FEATURES
On "Veteran," Rapper JPEGMAFIA Revels in Creative Freedom
By Blake Gillespie · January 31, 2018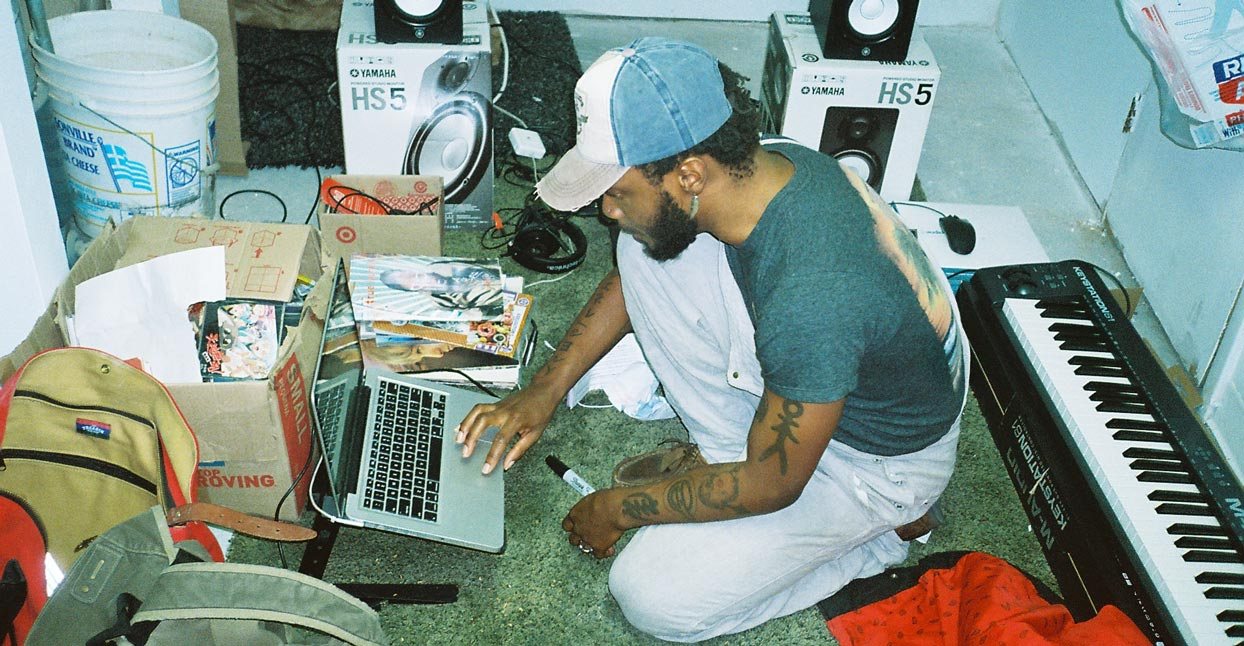 Baltimore rapper JPEGMAFIA is prone to a very particular kind of audacity. In 2015, when his home city was under curfew following the uprising after Freddie Gray's death, he ventured through its streets after hours to record sounds for his Darkskin Manson EP. That nerviness extends to his song titles—"I Just Killed A Cop Now I'm Horny," "I Might Vote 4 Donald Trump," and "I Cannot Fucking Wait Until Morrissey Dies." Blending Baltimore club and experimental rap, JPEGMAFIA seems to revel in anarchy, and his burgeoning fanbase indicates that he's managed to find an audience hellbent on the same.
On the woozy, vaporous "My Thoughts On Neogaf Dying," he raps in deadpan: "I don't care about the cars / I don't care about your flash / I don't care about your phone." That's the message JPEGMAFIA sends across the entirety of his latest album, Veteran, an album on which he embraces a raucous, unbridled artistic freedom. "As an artist, I can say anything I want," he says. "It's not free of consequences, but it is a buffer between [yourself and] those consequences. Being free in art is one thing."
Those same freedoms look a bit different when applied to daily life. A military veteran who was honorably discharged after a tour in Iraq, JPEGMAFIA doesn't have many kind words for his supervisors in the Air Force—a stance that would conflict with much of mainstream society. He knows that if his supervisors heard his rebellious tone, they'd be offended. "It's not received as well as when it's not in the music," JPEGMAFIA says. "Freedom in real life is harder to achieve. Freedom in artistry is just being brave enough to do it. Freedom in real life is being brave enough to do it, and also to be very ready for the real-life consequences. It's harder to achieve, but I bet it feels just as good."
JPEGMAFIA is not one to sugarcoat his opinions. On 2015's Communist Slow Jams, he called out actors Tina Fey and Amy Poehler for criticizing comedian Bill Cosby, even though they ignored Roman Polanski's and Woody Allen's transgressions. Much like Ice Cube circa Death Certificate, no one is safe from JPEGMAFIA's pen. But while he's unafraid lyrically, there were still a few songs he'd written that even he deemed too weird for the public. That is, until he began working on Veteran. "People just know me for the harsh shit," he says. "I wanted to show I'm not just a one-trick pony. I always do weird shit. I usually just keep it to myself. This time, I just let the filter go."
He's always been rebellious. The first tape he made—at just seven years old—included a diss track aimed at FOX News. In 2013, he reached out to musician Alex Zhang Hungtai for career advice. At the time, Zhang—then known as Dirty Beaches—performed solo and dealt with racism as an Asian-American creating lo-fi blues. Zhang's reply was encouraging: "Just do what you want to do. Fuck everyone else. Just do it your way." JPEGMAFIA recently shared this correspondence on Instagram ahead of the release of Veteran, calling it a catalyst to his self-discovery.
JPEGMAFIA isn't all shock and awe, though. Throughout Veteran, the rapper/producer shows bold creative vision, like on "Real Nega," where he takes Ol' Dirty Bastard's throaty wails and splices them into syncopated notes, set to manic drum & bass percussion. He follows ODB's saliva bubbles with auto-tuned crooning on "Thug Tears," then fuses sparse, echoey snaps and bent synths on "Williamsburg." He named a song "I Cannot Fucking Wait Until Morrissey Dies" because he finds the Moz's "Cause Black Is How I Feel On The Inside" James Baldwin T-shirts unforgivable. "Since you're going to mock someone who's dead, I'm going to mock you," he says. "I can't wait until you fucking die."
On Veteran, he can ad lib, "you the one with that liberal arts degree" and then wish death upon every liberal arts graduate's favorite English vegan songwriter; one song later, he's retreating into his own self-loathing, on a bummer rap song named after child actor turned adult hipster Macaulay Culkin. It's not about white celebrity—he has no problems with Culkin—and his crass demeanor never feels like a "fuck you" to fans or detractors, or the people he thinks gentrified and ruined Williamsburg. Veteran instead seeks communion with those who encounter it.
"If I say I'm gonna make a country-metal-folk-yodeling album, I want ni**as to not even laugh at it, but look at it and say, 'OK, let's see where this goes,'" JPEGMAFIA says. "I'm trying to build trust with this album. Trust me, yo. I'll do the work. It's like here I am. Judge me."
-Blake Gillespie