FEATURES
Jazz Trombonist Jonah Levine Is Making His Own Lane In L.A.'s Rap Scene
By Will Schube · April 13, 2017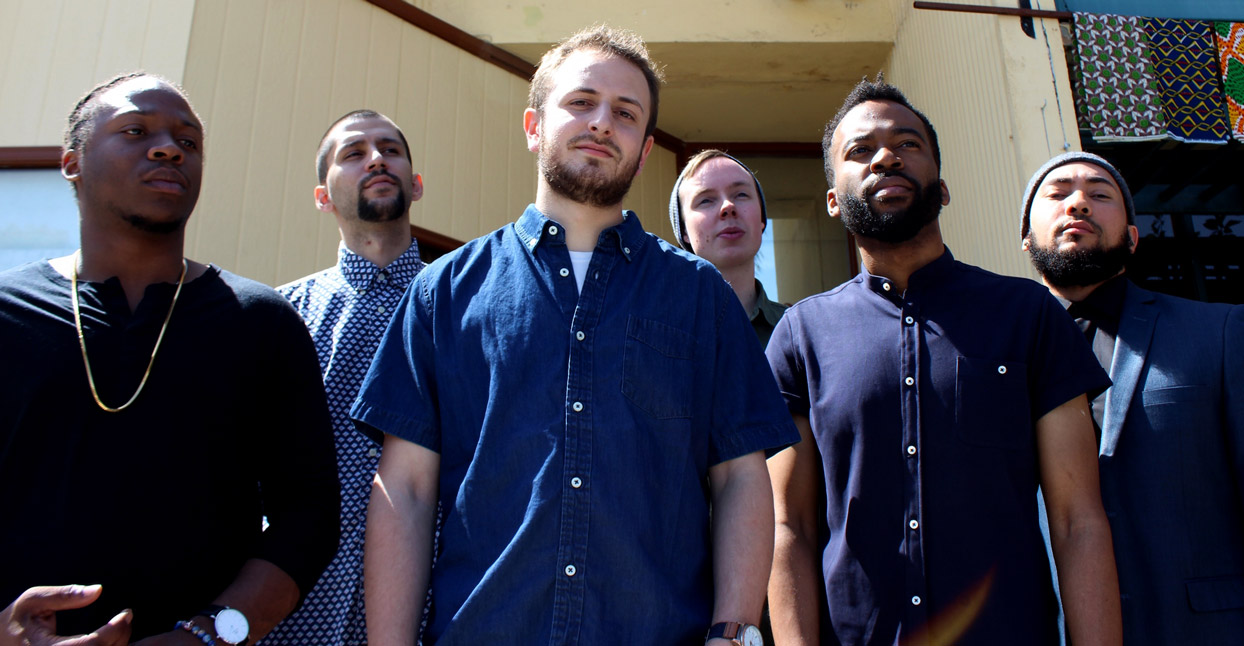 When you think of the L.A. beat scene, a few names come to mind: Knxwledge, Mndsgn, The Gaslamp Killer, Flying Lotus. But on Attention Deficit, the debut album from the city's Jonah Levine Collective, the group puts its own spin on the airy head-nodders for which L.A. is known. With Emile Martinez on trumpet, Josh Johnson on alto saxophone, Owen Clapp on bass, Jonathan Pinson on drums, and Kiefer Shackelford on piano, Levine uses his trombone to carefully craft songs that display both a discerning sense of melody and a wide array of influences. He has a knack for lumping non-traditional influences into traditional jazz melodies.
"False Alarm," for instance, opens in classical fashion—with light drum taps, floating keys and melodic horns. Yet two songs later, on "French Song Reprise," the group drifts into alt-rap territory, constructing a beat—with guest Iman Omari—that resembles something Knxwledge would create. Vocalist (and Levine's former bandmate) Aditya Prakash sings Indian hymns atop "Rakia Nightmares," and producer Mndsgn lends his acid-washed beat-scene ethos to "Zootcase." Despite the features, Levine's strength is in the way he weaves his own band into the mix. There's a strong sense of synergy in this collective, which has played together since Levine's days as an undergrad student at UCLA. It doesn't hurt that they're close friends in real life. We spoke with Levine about his kinship with jazz, the patience it took to compile this album, and how touring with mainstream artists impacted his art.
What's it feel like having your first LP finally out in the world?
It feels amazing. I've been sitting on this music for a long time. We recorded it almost two years ago. Some of the songs are five or six years old. I've always known that I wanted to have a record out there. To finally have it released feels amazing. I can finally have something to point people to if they want to hear my band or my writing style.
Why do you think it took so long for the album to finally be released? Were you waiting for the right label?
All I knew was that I wanted to make a record. Once I had enough music and enough funds, I planned the recording session. I went step-by-step with everything. I did everything by myself in terms of arranging—the band, the rehearsals, the studio—and paid for everything myself. Because of that, I really wanted to take my time. I didn't want to rush anything. I wanted every aspect of it to be as good as possible. There was no need to rush because no one was expecting anything. It was a great opportunity to set the bar really high.
Once I finished the initial recordings, I wanted to add some stuff on top. That's where you hear some of the percussion and the added vocal stuff. Separately I did stuff with Iman [Omari] and Mndsgn. I took my time with the mixing, too. I never thought a label would pick it up. I never considered it a possibility. I expected to release it myself. I set up a distribution deal and a PR situation and was ready to do everything myself. My friend Josef Leimberg told me to send the record to [Daddy] Kev and the rest is history.
You play both the trombone and piano. Which do you use for composition—or is it more fluid than that?
I write most of my music at the piano. I'm more self-taught on the piano than the trombone. I stopped taking lessons in the third or fourth grade. I always love playing the piano, playing chords and melodies at the same time. If I have my laptop, I'll write directly into music notation software, but most of the time it's on the piano. It's never on the trombone.
Which instrument did you start playing first?
I started playing trombone in fourth grade. Technically I started it after the piano, but it's always felt like my main instrument. It's the one I always played in school bands. I got into UCLA for trombone, too. Only recently have I been confident in my piano playing, enough so to put myself out as not only a trombonist but as a piano player, too. The song 'Microverse Battery' is all me on piano, and I did all the piano parts on the track with Mndsgn ['Zootcase']. All the overdubs, too.
How did you link up with Mndsgn?
I met him through Kiefer [Shackelford, pianist for the Jonah Levine Collective]. Kiefer and Ringo [Mndsgn] have been friends for a while. Kiefer's one of my best friends, in addition to being a collaborator. It's funny because he met Ringo through Iman Omari, who I had recommended Kiefer to. It's this whole tightknit community of jazz musicians and hip-hop producers. We are all sort of in the same world.
When you're rehearsing for shows and you have songs with room for improvisation, are those moments incorporated into the practice sessions? Do you dictate the direction of the solos?
It depends on the song. Some of the songs—'Transition,' for example—is almost entirely through-composed. I wrote the song all the way through. Sometimes when we do it live there's a solo section and Jonathan [Pinson] will play a drum vamp every time, too. We have a song called 'Suitcase,' which eventually became 'Zootcase,' that is very free. I don't like rehearsing that one because I'd rather play it live and just see where it goes. Sometimes the entire band will drop out and there will be a bass solo by Owen [Clapp] and then the drums will come in—something like that. A song like that has no rules. I like having a mix between stuff that's written out and music that's very free and improvised.
How did you assemble your band?
We all met at UCLA, or, almost entirely. I was in undergrad with Owen and Kiefer. Owen was a year above Kiefer and me. I met Emile [Martinez, trumpet] my sophomore year at a jam session. We connected right away and we just started hitting each other up for gigs. Then with Josh [Johnson, alto saxophone] and Jonathan, they were both part of the Thelonious Monk institute at UCLA. They studied with Herbie Hancock and Wayne Shorter, which was crazy. We all used to hang out all the time. At one point I got a gig at UCLA's Fowler Museum and asked those people if they wanted to play. They were my closest friends but I looked up to them as players, too. We had such a good time that we decided to make it a thing. We've technically been playing together since then, but those first two years, we only had a few gigs. There was so much time in between when we weren't playing. But now we've been together for four years. Even if we're not playing in this band together, we're always playing in different contexts. So it always feels like we're playing together.
When did you start getting into jazz?
Probably seventh grade. I was playing classical and band music on trombone and was getting sick of it. I had to wake up super early to go play in the orchestra before school and the band sounded horrible. It wasn't fun at all because trombone parts are whole notes. I was ready to give up until I met this guy named Marty Wehner who's an incredible jazz and funk trombone player. I had no idea you could do that stuff on the trombone. He changed my life, like, 'Wow, jazz is cool. You can actually improvise.' I didn't understand that.
Was that when you realized you could pursue a career as a musician?
Not really. In high school, that's when it became my thing. It became my main interest and hobby. When it came time to apply to schools, I wanted one with a good jazz program and good academics. When I got to UCLA, I acted like it was my career. That was my mindset when I first moved to L.A. It was no longer something I just did in school. It was four years of preparation to get ready to be a professional.
You've been on big tours with hugely popular artists. Has that impacted the way you've approached your own music?
One of the first things I was doing out here when I was a sophomore was playing with Breezy Lovejoy, who's now Anderson .Paak. He was the homie. We did shows at the coffee shop for free. The first time I played with Breezy, he was playing drums for Iman Omari. It's crazy the way we all know each other and how it's worked out for everyone.
Hanging with those guys has totally influenced my music and my outlook on life, really. They expanded my mind. You hear a lot about the way music should be while being in school, but when you get outside of school and hang with people like that, they have a totally different perspective and they're listening to different stuff. I was spending half my time at school and half my time hanging with producers and musicians outside of my norm. It had a huge influence on my music.
How did you settle on Kendrick Lamar's 'For Free?' as a song to cover on the record?
When I first heard that record, I lost my mind. I remember driving in the car the day that record came out. And hearing that record in particular—hearing him rap over a minor blues with a jazz swing—I started laughing. It was crazy, holy shit. I listened to that record a ton—over and over—and it took me a while to realize that song was just a minor blues. It's not your average approach to that structure. Pretty soon after that I decided we had to play that tune. We played it at a couple of shows right before we recorded, and I realized we'd have some time at the studio and we did it in one take. It wasn't a great take—there are a ton of errors—but the energy was right. That reckless energy. I realized it's the perfect end to this album. Conceptually, I think 'Transition' is the last song. In my head, the album ends with 'Transition.' But having 'For Free?' after it serves as a nice little extra. It's our encore, the grand finale.
—Will Schube