FEATURES
John Henry West: '90s Hardcore that Burned Bright and Fast
By Tony Rettman · April 16, 2021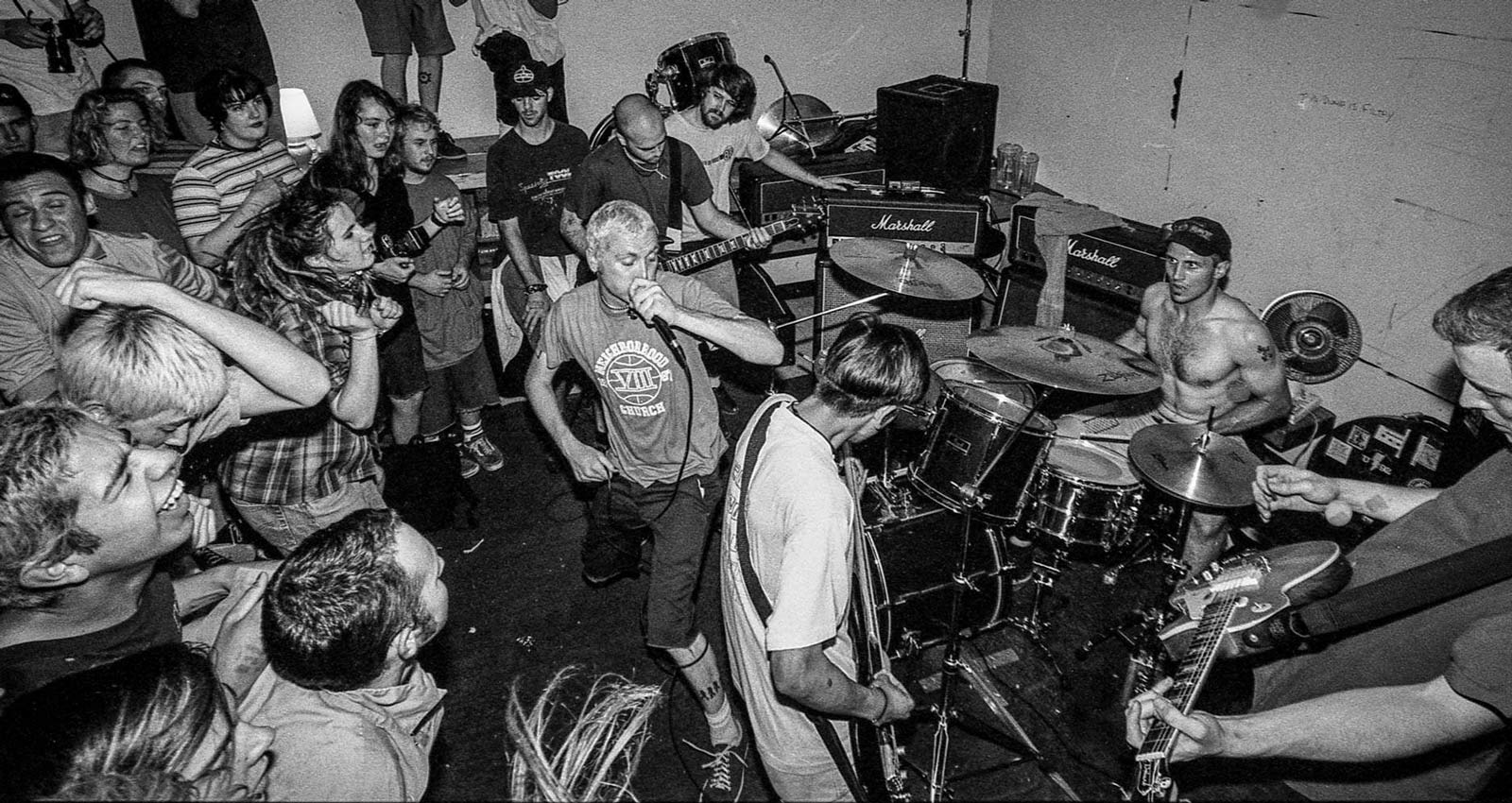 Growing up in the California punk scene, Cory Linstrum witnessed his fair amount of violence at shows held around San Diego in the 1980s. "Extremely violent—just brutal," is how he remembers it. "Skinheads and a general thug mentality ruined it for a lot of people."
Linstrum's response to the pointless bloodshed he saw as a kid came in the next decade, when he became the vocalist in John Henry West, a Bay Area band who—along with San Diego's Heroin and Santa Barbara's Downcast—cultivated a peculiar microcosm within the California punk scene during the early '90s; one that held fast to youthful exuberance and a frenetic musical style, but jettisoned the meathead physicality some thought was synonymous with the genre.  
Before moving from the conservative confines of San Diego to the Bay Area in 1991, Linstrum had fronted two fiery units down south: End Of The Line and Brain Tourniquet. Guitarist Sarah Kirsch had seen the latter open for Linstrum's hometown pals, Heroin, and felt his guttural vocal style would be a good fit for a new project she was working on with some kids from the far eastern suburbs. Kirsch already had an impressive pedigree, which included Fuel and Sawhorse—two bands heavily inspired by second-generation punk bands out of Washington D.C., like Fugazi and Soulside. "I would see Kirsch whenever I went to the Gilman Street Project and she was just like me; Ignition t-shirt and a Thrasher patch," Linstrum recalls. "Half skate punk, half Dischord Records enthusiast." 
But for John Henry West, the groove-oriented template of current D.C. bands Kirsch normally utilized was set aside for the raw, breakneck style of earlier groups from the capital, like Minor Threat and Government Issue, with Linstrum's unruly vocals and Kirsch's love for experimentation sprinkled on top. "Kirsch experimented with feedback, amplifier placement, alternate picking techniques—and she used metal guitar picks! Neck bends, playing above the nut, and behind the bridge. Anything to make layers of noise," Linstrum says. 
John Henry West played their first show in January of 1993 and immediately began shuttling themselves up and down the state playing all the newly founded, all-ages DIY venues like San Diego's Che Cafe, The Red Barn in Isla Vista, and Hollywood's Macondo. Sharing bills with other like-minded bands like Antioch Arrow and Manumission, Linstrum could sense an interesting chapter in California punk developing. "The kids started a new punk or hardcore movement that was based on respect and care, with as many young women involved as young men," Linstrum says. "We still had our wild dance floors and stage dives, but no one was out for blood. From Southern California to Northern California, there was a crop of venues hosting shows where the old macho mentality was unwelcome."
By March of that year, John Henry West was already in the studio with Heroin vocalist Matt Anderson occupying the production seat. Accentuated by the web-like use of feedback Anderson became known for in his production work, the six songs recorded in the two-day session capture a fervor and precision unexpected from a band only into their third month of existence. Four of the tracks would end up on a self-titled 7-inch EP released later in the year by Anderson on his label, Gravity. 
From the tracks culled for the EP, the steady chug of "Bullet Proof" exemplifies John Henry West's charm, crammed with Kirsch's intricate-yet-stocky riffs and Linstrum delivering a no-holes-barred retort to the thuggish elements he dealt with in his local punk scene as a youth. Linstrum's personal favorite from the session is "Avoiding," a fierce attack on the American dream which appeared on the 3/12/93 compilation released on Ebullition Records: "It was a declaration that I, and my band, will reject the square, normal lifestyle, the blind patriotism of the Gulf War-era and the expected rules of society. Singing that song in 1993 and rereading the words today, it's a fantasy of seeing our suburban American society crumble." 
The price of barreling at such a brisk clip caused the band to crash and burn soon after returning from a summer U.S. tour. They were around for less than one year. "We were all so young and it was moving so fast. We did exactly 50 gigs and we realized we had left our mark and it was time to let it rest." Kirsch continued to make an indisputable impact on the East Bay punk scene, playing in bands like Torches To Rome and Bread and Circuits, before succumbing to a rare bone disease, fanconi anemia, in 2012. Linstrum never relented on his sonic mission either, fronting punk units like Han-Shan, The Salem Lights, and his most recent, Very Paranoia. 
When discussing this band that took up such a short portion of his life, Linstrum is appreciative of the attention still being paid to John Henry West, and is also well aware of what keeps attracting people to their music. "Working in a band with Kirsch, I felt lucky to be collaborating with a person with such talent," he says. "The band had a buzz because of that talent. Her work is so important to a huge number of people. Fans are genuinely moved by our personal-political songs that, when composed, were thought of as something we were just cranking out in order to get ourselves up onstage so we could jump around, record a 7-inch, tour over the summer, and that was about it. I never dreamed anyone would care about this stuff many years later."