FEATURES
Jim Kirkwood: Dungeon Synth's Fantastical Antecedent
By Robert Newsome · October 18, 2023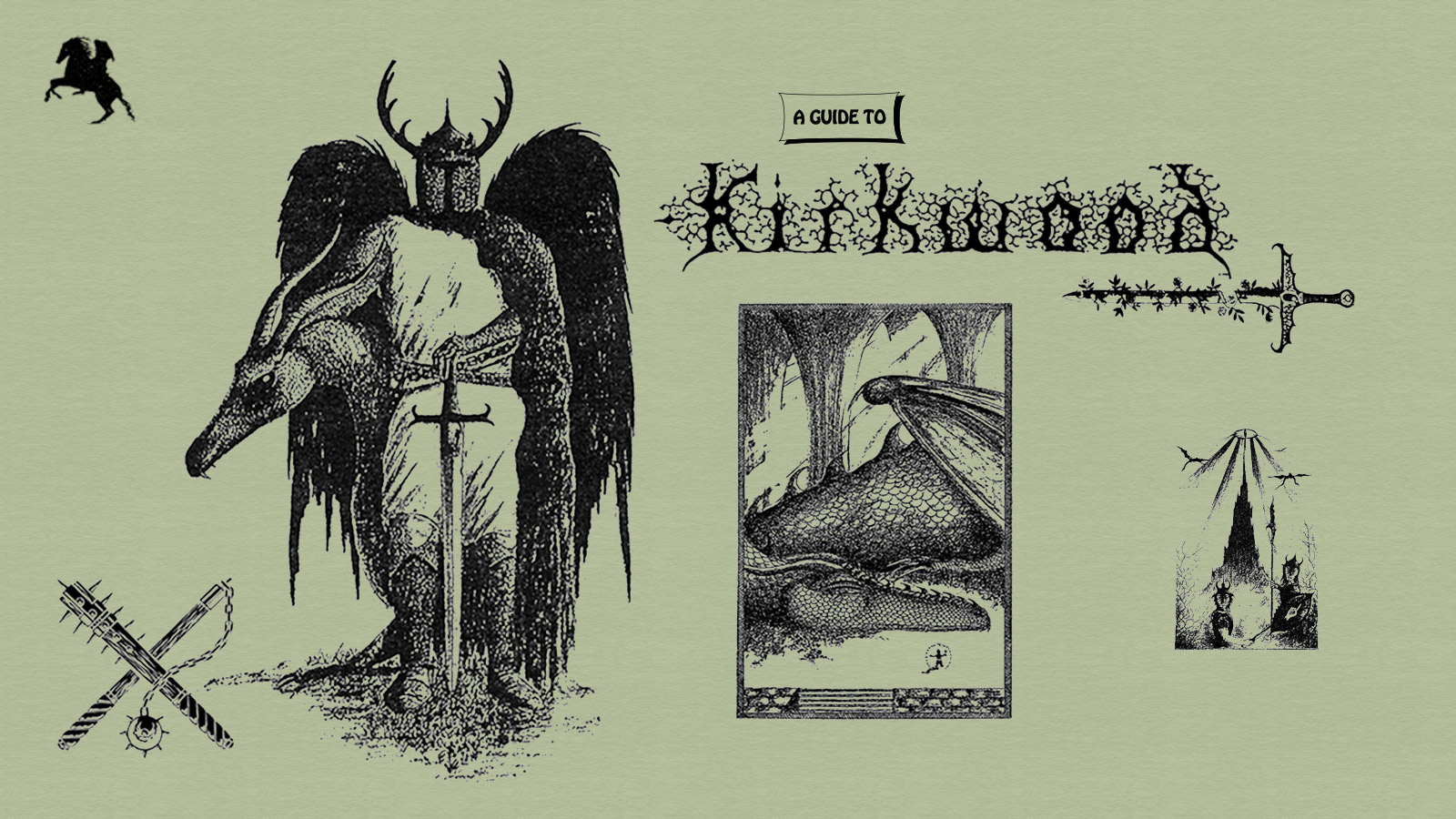 For Jim Kirkwood, it all began with J.R.R. Tolkien.
"I heard the Hobbit when it was read to us by our teacher when I was 13," he says. "The whole class was utterly entranced. It was my first taste of fantasy literature." That "first taste" helped lead to a remarkable and influential musical career; one which, since beginning in 1990, has seen the release of well over 50 albums, many of which are based on themes found in fantasy. Those early '90s beginnings are the focus of an upcoming reissue project from Maine-based label Out of Season and Brooklyn's Hosianna Mantra Records. Initially, this reissue project will feature remastered (by Bonati Mastering) vinyl editions of Kirwood's Tolkien-focused albums Where Shadows Lie (1990), King of the Golden Hall (1991), and Uruk-Hai (1992), with the promise of the remainder of Kirkwood's recordings from 1990-1995 to follow.
.
00:10 / 00:58
Announcement of these reissues has generated no small degree of excitement among fans of synthesizer music, especially those in the dungeon synth scene. Kirkwood is considered a foundational influence on the genre, even if he wasn't aware of it at the time. "I took a break from music," he says,"'round about 2011-12, which I believed at the time was going to be permanent. I had absolutely no contact with what was happening in the music industry for nearly eight years. Around 2019, I discovered this new genre of music called dungeon synth to which my name had been attached. I was suddenly a legend in my own lunch hour!" Much of the anticipation has to do with the fact that Kirkwood's music has always been self-released and, as a result, somewhat difficult to find on physical media (although he maintains a well-stocked Bandcamp page of his own).
Although held in high esteem by the castle dwellers, cave trolls, and lonely knights of the dungeon synth scene, Kirkwood's own output feels more in line with the British progressive rock and Berlin-school style of synth music that inspired him. After a metal band formed with his brother and some friends didn't work out, Kirkwood "moved on from the rock/metal thing…I started to listen to a lot of Berlin School Electronic music, Tangerine Dream and Klaus Schulze, etc. That was the impetus to start writing my own music. I also had a liking for various prog rock bands and their long tracks of concept music, particularly the song 'Gates of Delirium' by Yes and Bo Hansson's beautiful Tolkien-inspired work."
Those inspirations are clear on Kirkwood's Where Shadows Lie from 1990. "Elven Smiths" uses synth arpeggios and a bubbling bass voice to accompany the metallic sounds you'd expect to appear in a track named for the group that forged rings of power. As the track progresses, it becomes more kinetic, the addition of a drum machine and strong lead melodies propelling the track forward before fading into the idyllic "Enchanted Stream." Kirkwood, though quick to offer praise to those who inspired him, says he was unaware of whatever place he may have had in the larger early 90s electronic scene. "There was just me, doing my thing, reading the books and listening to already successful musicians and trying to work out how to get the equipment I needed without taking out a mortgage."
.
00:10 / 00:58
That equipment (a Fostex M80 eight track recorder, a Roland D50 synth, an Akai S900 sampler, and a Steinberg sequencer for those interested) returned to Middle-Earth for 1991's King of the Golden Hall, a work showing an expansion of Kirkwood's sound. The aforementioned influences are still present, but throughout the album, samples and sound effects are used to draw the listener into Kirkwood's (and Tolkien's) sonic world. The atmosphere of "Moria," for example, is almost physically present through the use of wind effects, faraway unearthly vocal sounds, and a softly swelling synth beneath it all. There's also experimentation with the capabilities of the equipment. Check out the buzzing, gurgling, low growl that pervades "Dead Marshes," which gives that track an appropriate ominous sense of foreboding.
Completing this first round of reissues is 1992's Uruk-Hai (the title refers to one of Tolkien's major groups of antagonists, Saruman's fearsome and brutal army of super-orcs). It has a darker, more somber mood, although it does end with the light, celebratory "Hobbits."  The 8-minute "Nirnaeth Arnoediad" uses a martial-paced percussion track to accompany stabbing, towering synth runs, perfectly fitting its titular namesake, a major devastating battle in which the evil forces of Morgoth overcame armies of Elves. "Numenor" sounds at times like early '90s industrial through its use of clanging percussion and prominent low end, but Kirkwood makes the track his own through his characteristic use of strong melodies and bright synth voices.
.
00:10 / 00:58
The release date for the physical editions of these three albums is set for December 1, 2023, but if you can't wait to hear the remastered versions, or if you need a crash course in what to expect from Kirkwood, you can check out the Knight of a Dark Grail sampler. Proceeds from digital purchases of this sampler will be donated to the South Essex Animal Hospital to provide veterinary attention and rehabilitation to injured, ill, and orphaned wildlife.
Considering Kirkwood's status as a prolific and creative musician as well as his fundamental influence on an ever-growing and evolving subgenre of contemporary electronic music, it's a benefit to have these early recordings more readily available for his fans, old and new. It was, says Kirkwood, "a big and pleasant surprise to discover that folks were aware of who I was and wanted my early cassettes."
Kirkwood seems to be aware of his place within the dungeon synth subgenre, acknowledging "Dungeon synth as a genre is much bigger than any one artist. From what I understand, I have unwittingly played a small part in its beginning, [but] I love this genre for its own sake." Of the sound's continued evolution, he fittingly sums it up by paraphrasing a quote from Tolkien: "Listening to a lot of dungeon synth has influenced my own writing. There are 'wheels within wheels,' so to speak, and nothing stands still in the world of music. Dungeon synth is a breath of fresh air and I embrace it wholeheartedly! The road goes ever on and on."