FEATURES
Jazz Group Dopolarians is Built on the Strong Bonds Between Its Members
By Britt Robson · December 04, 2019
About halfway through the 12-minute "Guilty Happy" on the Dopolarians' debut album, Garden Party, the adventurous jazz sextet is pared down to a trio of old friends—saxophonist Kidd Jordan, drummer Alvin Fielder, and bassist William Parker. They start gradually siphoning away the effervescence, instead languishing in a bittersweet melancholy, one that's leavened by Fielder's gentle dance on the snare and cymbals, and deepened by the reintroduction of vocalist Kelley Hurt's resonant croon. That interlude provides crucial context for a song that explores the way contradictory feelings of happiness emerge in the midst of mourning a loved one. The tone of the song is apt, given the story behind its creation.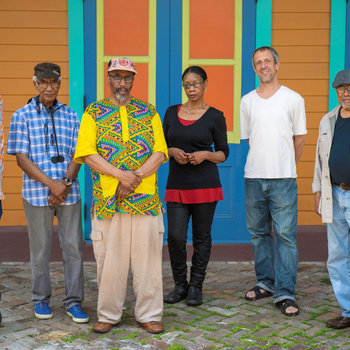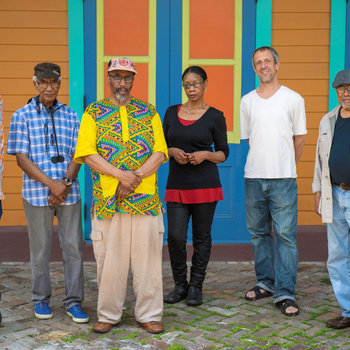 Merch for this release:
Compact Disc (CD)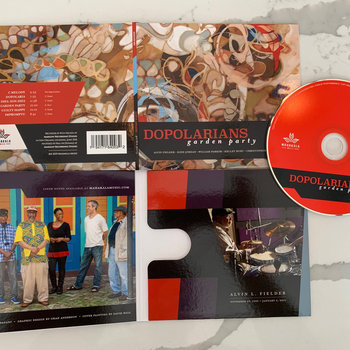 The stories of how Fielder and Jordan reinforced each other as avant garde musicians in the Deep South over 40 years ago have become legend. Jordan, who taught at Southern University in New Orleans and was able to find plenty of traditional jazz work was, in 1974, on the verge of giving up—he was frustrated that he couldn't find kindred spirits who wanted to experiment with the freer aspects of jazz. Fielder, a founding member of Chicago's AACM, had moved down to Mississippi to help tend his family's pharmacy at the height of the Civil Rights Movement in the late 60s. He heard about Jordan's plight from a mutual musical friend, and sought him out. The rapport was immediate, and the nourishment of their weekend sessions together led to the formation of what would become a variety of Improvisational Arts ensembles beginning in 1975.
Decades later, William Parker got involved. Parker had become a pillar of free jazz—the preeminent bassist in New York's experimental music scene. For years, he's joined Fielder and Jordan for gigs at the New Orleans Heritage & Jazz Festival, and has brought them up to participate in New York's Vision Festival.
The pianist Chris Parker was the nexus that led to the formation of Dopolarians. He began a friendship and ongoing musical relationship first with Fielder, and then Jordan and Parker after he relocated back to his native Little Rock, Arkansas, from New York City in the mid '90s. The vocalist and Memphis native Kelley Hurt is his wife and the sixth Dopolarian; alto saxophonist Chad Fowler, has been a friend since high school.
Garden Party was recorded in the summer of 2018, with the sessions booked in New Orleans so Jordan, who was 83 and hadn't played saxophone for months due to a recent illness, didn't have to travel. The sad irony is that it became Fielder's last recording; the drummer, who was himself 83, died from heart disease and a stroke in January.
It would be easy to romanticize the music of Garden Party in light of Fielder's passing. Fielder called his relationship with Jordan, "more than a kinship, a twinship," and named Jordan the godfather to his daughter. William Parker visited Fielder's bedside shortly before he died and was so close to New Orleans drummer Ed Blackwell, who mentored both Fielder and Jordan, that he is in possession of some of Blackwell's cremation ashes. These are profound bonds.
Merch for this release:
Compact Disc (CD)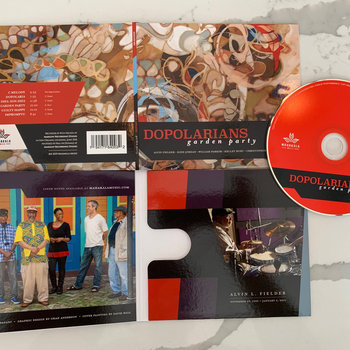 But listeners don't need any sentimental nudging to appreciate the ease and depth of their musical interplay. "There was always a top-notch connection with Kidd and Al, and with me. That's a big head start on any music," says William Parker.  "Alvin was a historian of drum language. He'd say 'Max [Roach] would do it this way, and Art Blakey would do it this way.' But his own style had layers of sound.  He'd break apart the rhythm and push the emotion of it in a dynamic sense, and the next thing you know the music is flowing; it floats and then it drives. What I do is lay in the parts Al doesn't play. I am walking, I am driving, I am playing the rhythms where they are broken."
As often occurs on the sessions he attends, Kidd Jordan is the wild card. "Kidd can be reclusive—it took about a year before he first spoke to me," says Chris Parker. "But he knows who he is and what he wants. He is looking to situations where people are serious about improvising. He doesn't want to waste his time."
Jordan confirms this. "Too many guys don't improvise, they memorize solos," he says. "Chris and Chad, they improvise. They had Alvin. And William. William hears what you are doing, so I can hear what he is doing. He listens, doesn't put in a lot of patterns. He is going to lay it down. You heard the record? I jump in, in the moment. I'm always in the moment."
Garden Party demonstrates the way Jordan's uncanny ear and roots in the blues ground those moments in a context his fellow musicians can utilize. "Kidd is a 'sound' player," William Parker explained. "He doesn't play off chord changes, he plays off what he hears. If someone pushes a window up in a room and it squeaks, or if there is an ambulance going by," he'll play that sound. But then when he plays a song like 'Wade in the Water,' he incorporates that mood that's locked up inside him, and includes the blues and the history of New Orleans."
But as Kidd Jordan noted, Garden Party doesn't work if Chris Parker, Fowler, and Hunt are simply along for the ride. William Parker thinks enough of Chris Parker to have recorded a pair of yet-unreleased albums with him. Fowler provides a couple of stellar compositions flexible enough for extensive improvisation, and provides a deft chromatic mesh to complement Jordan's horn. Hunt's wordless vocal and playful title track are both integral to the overall mood of the record.
Merch for this release:
Compact Disc (CD)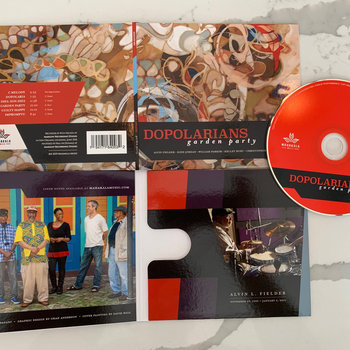 "Free jazz" can be too often typecast by the extremes of impassioned noise-making or stark minimalism. The veterans in Dopolarians excel at both, but they also traverse the vast, subtler territory where traditional compositions are enriched by group improvisation, and where their reactive beats, bleats, and plucks intuitively cascade into a musically complex, emotionally nuanced exchange of ideas. You hear the southern spirit of folks like Guitar Slim, Ray Charles, and Lowell Fulson—mentors to Fielder and Jordan at an early age.
"You can't repeat what you did yesterday—you want to go to the unknown," says William Parker. "But the route to the unknown is going to sound like the root fundamental—that is why we say 'ancient to the future.' The most modern thing can be the most ancient thing at the same time. But the basic rule of things is love. We have that love."