FEATURES
Jaye Bartell Premieres "Light Enough"; Talks Eileen Myles, Spalding Gray and the Books that Inspire Him
By Ally-Jane Grossan · Photos by Daniel Topete · April 27, 2016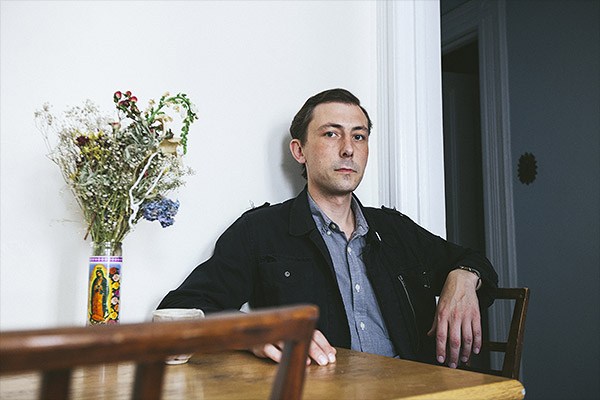 Jaye Bartell wrote the 12 songs on his new album Light Enough, out Friday, in the confines of his Brooklyn bedroom. His inspiration came from books by writers like Eileen Myles, Spalding Gray, Robert Creeley, Sheila Heti, and others. Here, he discusses these influences, as well as hot air balloons, and finding words to live by.
Listen to the exclusive premiere of Light Enough: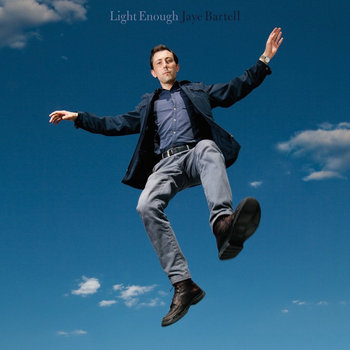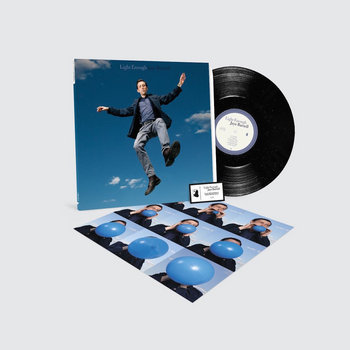 .
00:10 / 00:58
Merch for this release:
Compact Disc (CD), Vinyl LP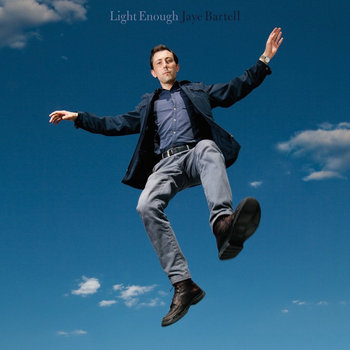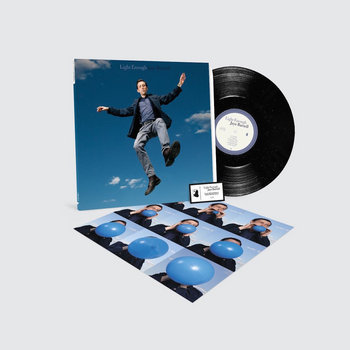 The Books That Inspired Light Enough: 
Spalding Gray, Sex and Death to Age 14 and The Journals of Spalding Gray
Most of Spalding Gray's books are screenplays in reverse, refined transcriptions of tape-recorded performances. He would start with notes and a guiding structure, but would rely on live performances to hone and formalize the content. The collection Sex and Death to Age 14 compiles Gray's monologues up to the popular Swimming to Cambodia, including the title piece, which recounts what the author/speaker remembers of those two situations up to age 14. As Gray describes in the introduction, "The monologues are a section of an ongoing oral history, within which I include myself, and all the others who have been part of 'our' story along the way." While few of my songs explicitly tell a story, let alone a factual, narrative one, the quality of Gray's work (and life) that I find most relatable is the pursuit of memory, and the patience to follow associations and the curves of experience to find life's details—including the unflattering details. The story is found in the telling, and because I find it so difficult at times to explain myself—or anything—I'm relieved and uplifted by those who can, and I turn to them for a kind of permission to bring detail to the blankness that's otherwise there.
My album cover is modeled after the artwork for the 2010 Steven Soderbergh documentary And Everything is Going Fine, which is made up entirely of footage and recordings of Gray's performances and TV appearances before his death in 2004, functioning as a chronological, single monologue. The title for the song "Wake on the Way Down" and a few of its images and themes are taken from The Journals of Spalding Gray, which were published after his death.
Gray's monologues settled some of the misgivings I felt toward what could generously be called my stage show—sitting with my nylon-string guitar and singing in a way that no one would describe as operatic. If Gray was able to provide 90 minutes of compelling stage time with minimal gestures and a natural voice, then I can do half of that, at least. And I have the added resources of melodies and cover songs.
Eileen Myles, Cool for You; Inferno; Chelsea Girls
I'm not much of a literary critic—or any kind of critic, or scholar or even a good reader. The most sophisticated point I can make about any given thing is that it exists, and I'm pretty sure I stole that line from Robert Creeley. There's a book by American poet Louis Zukofsky called Barely and Widely, and that phrase describes my approach to reading. It's hard to avoid sounding coy or willfully inept, but I don't even like books—especially not for the sake of a good story or a plot or any formal quality. I look to the books I do value, as with music or paintings, for information on how to live. I say all of this to justify my statement that I just love Myles' books, and the reasons are in the books, and the vividness of understanding I experience reading them. The stories of growing up in Massachusetts in Cool for You and Chelsea Girls provide a clarity and sense of unburdening—the sense that your story is being told, with variant particulars and circumstances, and with no exclusivity or possession. But there's a pain to what's untold that Myles' work relieves. I don't know how else to put it. I used a line from Chelsea Girls on the back of the record jacket, and it reads, "All my life I have waited for permission. I feel it growing in my breast. A war is storming, and it is behind me, and I am moving my forces into light." This line describes how I felt after I finished the record, which I did while I was reading Chelsea Girls again.
Balloons, by C.H. Gibbs-Smith
Falling Upwards, Richard Holmes
When I first started writing the songs for what would become Light Enough, I was working with themes and images based on flight—namely, hot air balloons, and balloons in general. A month or so after I moved here from North Carolina, I found an old book filled with color prints of hot air balloons on one of the sidewalk carts at New York City used book institution The Strand. It was only a dollar, because the binding was split, but the prints are nice. The images depict the fantastic, ludicrous ideas of flight in the late 18th century—mostly in France and England, where balloons were the peak of the culture's transcendent aspirations. It was a period where science, poetry, mysticism, and religion seemed braided and interrelated, like with Mary Wollstonecraft's Frankenstein or Percy Shelley's The Triumph of Life—just a full-on hallucinatory pursuit of the full compass of cosmic power. I eventually got a book by Richard Holmes called Falling Upwards, which came out around the same time that I moved here, which is a full-spectrum history of hot air balloons, from the social/spiritual aspects that I described, to military and propaganda aspects. Early on, everyone died in twisted, public, fiery crashes. I papered the walls of my room with hot air balloon prints. Most of the images depict wildly impractical designs, like a gondola ushered by two sets of large albatross-type birds and buoyed by a few kites, or one of a soldier and his horse standing on a large wooden platform, held aloft by a ceramic dome. My room then was very small, maybe 10 feet long and  6 feet wide, with 12 foot ceilings. I lived there until just recently. It's where I wrote all the music on the record. The balloon pictures, I thought, would provide me with a kind of sympathetic expanse—posted reminders of a more spacious plane. In any case, I did write a song called "Pictures of Balloons," and there were a few others that dealt more directly with flight and anxiety, but they didn't make the final cut. But early on, with the initial material and my informal research, the personal corollary at play was my effort, especially in recent years, to live in this world, this body, this person, however volatile and indeterminate those things truly are. In the concluding lines of Later, Creeley writes, "But now—/ but now the wonder of life is // that it is at all, / this sticky sentimental // warm enclosure, / feels place in the physical // with others, / lets mind wander // to wondering thought, / then lets go of itself, / finds a home / on earth."
Robert Creeley, Later; Words; Pieces; Life and Death
There's a redundancy to citing Creeley's writing as an influence on my songwriting, since his use of language, down to specific phrasing, are so inherent to my own daily thinking and speaking—this whole sentence sounds like second-rate Creeley! From the simple, maxim-like lines of, "To be in love is like going out- / side to see what kind of day // it is," to the observational, thought-tracking sketches of "Pieces" ("Things / come and go // then / let them"), the rhythmic, musical quality of words was first shown to me through Creeley's work. A song such as "Tuesdays" has a specific relationship to a few of his poems, including some direct references to certain lines. One is the seven-part poem "Later," from the book of the same name, which I've come to love more every day since I first read it at age 21 or so. There's a line that goes, "These days, call it 'last Tuesday,' / 1887, my mother was born…". I was born on a Tuesday, as it happens, too. Come to think of it, there's a whole section in the poem about his childhood dog, so there's an added corollary. Another line comes from a poem called "So There," where Creeley paraphrases Allen Ginsberg (I think), with, "What's gone / is gone forever / every time, old friend's / voice here."
Sheila Heti, How Should a Person Be?
Linda Rosenkrantz, Talk
Sheila Heti's "novel from life" has been important to me since long before I wrote any of the songs on the record, but it remains a standard of what I value in writing. It's fitting that the first time I saw her read, at The Poetry Project, was with Eileen Myles, at an event organized by Myles that also included Mira Gonzalez, whose work is also terrific and funny and specific. For Light Enough's purposes, I followed Heti's example of celebrating, if not enshrining, your friends, even if it's only with a word or two. As with all of these books, the effect is intangible, and most likely undetectable, but the content and essences imbue all that I do. The other lesson from Heti's book concerns humor and comedy, as in, "Where's the funny?" And while I won't say I failed to make my songs funny, they're also totally not funny. Talk by Linda Rosenkrantz, first published in 1968 and reissued last year, is an elemental, granular version of Heti's novel, although there's no relationship or correlation between the two—just a sympathy. Talk is made up entirely of transcribed conversations among three friends over a summer, and I admire that the story emerges on its own, that what's there is what's there, unmitigated (if deftly refined and formed by the author). I'm making these books sound like James and the Giant Peach, but they're unsparing, and true to the pains, embarrassments, absurdities, enthusiasms, etc. etc., of daily bodily life. As Creeley writes, "Tangible, they tell /the reassurances, / the comforts, /of being human."
Fernando Pessoa, The Book of Disquiet
Patti Smith, M Train
The Book of Disquiet is what I read during the first few months after my move to NYC, over the late fall and through the early winter. It was an ideal guide through the loneliness and uselessness that comes with being in a new place, and in my case, not having a job or many people to talk to. Most of Disquiet takes place in an office, but there's not much interpersonal interaction. Pessoa wrote under a host of different names, and each name had an identity with its own constituent philosophy, attitudes, and writing manner. Disquiet is attributed to Bernardo Soares and is described as a "factless autobiography." Soares/Pessoa finds company with his perceptions, or with the objects of his perception, and even the conditions of perception, such as light, fog, a languid afternoon—the materials of so-called poetry. But he characterizes it without the usual commemorations and sanctimony. It's consoling for some who loves and adores the world and doesn't understand any of it or know anything. It's like they're suffering from a moment-to-moment amnesia, but hollower, forgetting what you never knew, but felt you did.
Likewise, Patti Smith's M Train has that melancholy patina, but at its center is a sense and reality of poetry that I respect. It's based on relationships across time, and even material form, rather than tidy, ornate etchings of language that ignore the very people or things they're meant to commune with—whether it's Wittgenstein's radiator, or a cable stay bridge.
Photos by Daniel Topete