FEATURES
James Ferraro's Neo-Classical, GPS-Obsessed Americana
By Winston Cook-Wilson · August 17, 2016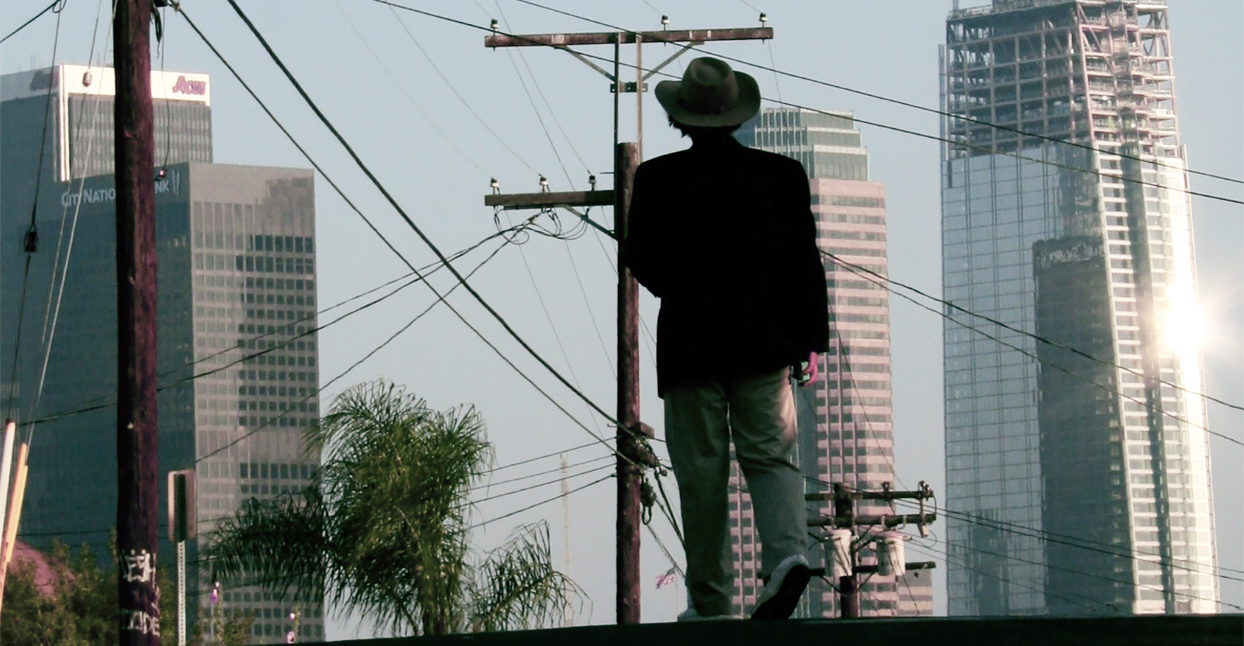 It was the most indelible image of the Republican National Convention: Donald Trump emerging in misty silhouette to the strains of "We are the Champions," his feet pressed together in the first position of a ballet dancer. Watching the broadcast, a dystopia worthy of Vonnegut unfolded before James Ferraro's eyes. "It made me think that it would be really interesting to create a 'Donald Trump on Ice,'" he explained, speaking from his Venice Beach home. "With all sorts of political satire — a comedic element to it. Just the spectacle of the Donald Trump rallies and stuff, happening in that context."
An in-depth Trump exploration remains only theoretical for Ferraro, one of many possible new projects he's struggling to choose between. But in general, the electronic composer describes himself as more inspired by the "overall architectures or systems" that govern political behavior rather than the politics themselves. As a nod to these constructs, he jumbles up relevant buzzwords in his song titles (from "Fro Yo and Cellular Bits" to "Find Out What's On Carrie Bradshaw's iPad") and in the glitchy "word salads" he feeds through text-to-speech bots in his compositions. Ferraro's music, which he's been steadily refining and expanding over the course of his career, has rarely espoused clear ideologies — whether its the noise-music he made with the Skaters, his run of lo-fi cassette and CD-R releases, elevator muzak at the MoMA, or the damaged, Autotuned R&B experiments of recent years.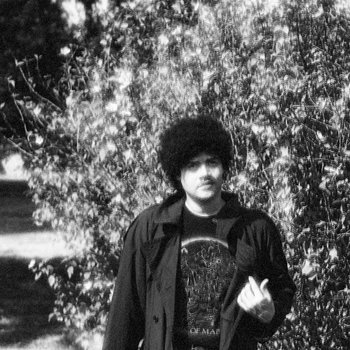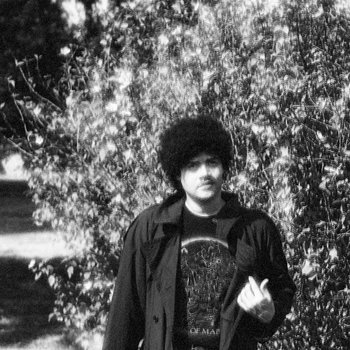 Merch for this release:
Cassette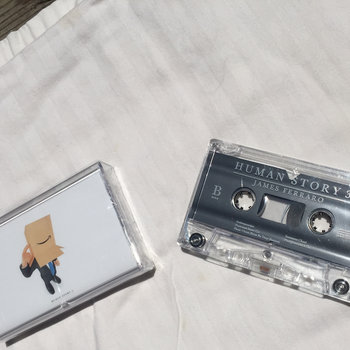 His June effort, Human Story 3, doesn't have much to do with the digi-psychedelic "vaporwave" movement with which he has, despite his best efforts, become associated. It's a pristinely-rendered modern-classical composition, realized by acoustic orchestral instruments — strings, woodwinds, piano, and more — and human voices recorded in a professional studio. Ferraro's own synthetic flourishes are there to complicate the picture, not define it.
Ferraro has murmured about moving in a more explicit art-music direction in the past, discussing a potential "Wagnerian opera" in interviews (He has plans to mount a new stage work by the end of the year, as well as a new Prius-inspired orchestral work). On some level, Human Story 3's specific artistic vision feels like a reaction to the misunderstanding of his work by fans and critics alike.
"When the narrative is pushed forward by journalists, people tend to think of it as an account of what's actually happening," he explains. "They historicize it, when it's just a living thing. I don't want to necessarily be blamed for vaporwave. I never thought that had much to do with what I was doing."
Merch for this release:
Cassette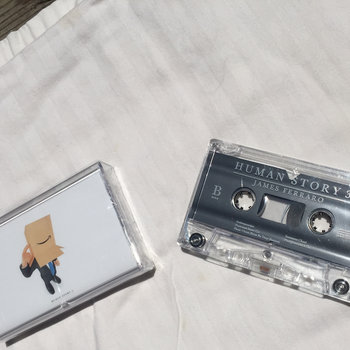 Perhaps as a result of his unease with public perception, Ferraro has become more elusive than ever in recent years. Finding his contact information — he no longer uses PR — is nearly impossible. Evidence of him largely exists primarily in washed-out photos, in which he sports weird props and hats. Most of his tweets read like chatter from the robotic narrators in his songs — "Such virtual destruction may once have seemed innocent, but these days the whole thing hits a little close to home."
Ferraro dropped Human Story 3 with little fanfare, save a few puzzling "trailers." Two featured young women taking selfies in slow motion. As with most of his uploads, comments on these videos are disabled. "I want to put it across without cushioning it," Ferraro says.
The music on Human Story 3 is as cryptic as its presentation. IRL singers are painted into digital chorales, compressed out of recognizability. Organic sounds blossom only briefly—like the string quartet that leads off "Security Broken," or the pointillist piano salvos in "Immanent Cloud"—before being subsumed by pealing synths On top of the music, a nerve-racking, stuttering back-and-forth between the text-to-speech protagonists rages endlessly.
"I wanted it to sound like service bots that were kind of just approaching cognition," Ferraro explains. "It would be a remarkable achievement. But they'd also have to confront their intended purpose — to, like, drive from your home to an IKEA or a Starbucks."
Ferraro leaves the sci-fi-short-film plotting out of the album's liner notes. However, he does specify that the musical forms on Human Story 3 are intended to offer a "solution for our 'smart planet.'" When asked to elaborate, he says, "Certain newer apps tend to bring people together — in a mechanical, artificial way — in shared space. I think that's probably the trend, post- this hyper-individual era. So it's obviously going to be unnatural if it's being manipulated through a third party like that—a bit alien."
Merch for this release:
Cassette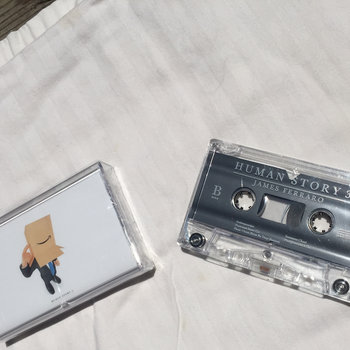 The contradictions of the composer's imagined near-future — further outlined in the video for "Plastiglomerate & Co.," in which SIMS-like avatars glitch-step and collide in a human ant farm — are built into the instrumental tumult on Human Story 3. Whimsical motifs barrel toward discord and anarchy, sporting numerous reference points: Igor Stravinsky's jarring musical montages, Erik Satie's primitivist humor, or Charles Ives's cacophonous heartland quotations.
Ferraro's biggest muse, however, turns out to be American populist master Aaron Copland, the composer of the ubiquitous orchestral work Appalachian Spring. "I think he's the purest musical spirit," Ferraro says. "His music wasn't just appealing to the common denominator—it's pandering toward their higher mind. He does that really well: just bringing in all of humanity. It represented something really, really virtuous for me."
Copland is a strange idol for a guy known for an album of ring tones (2011's Far Side Virtual), but it's not hard to hear Human Story 3''s "Marketphagia," as a kind of Siri-era "Fanfare for the Common Man." Ferraro's bots chant tentatively, at random intervals ("startup…collapse," "IKEA"), punctuating the piece's cascading chimes and lithe strings. It's like a GPS version of Adam and Eve, arising from a primordial ooze of code.
Copland also provides a connection back to Donald Trump. In a recent campaign-trail travelogue in The New Yorker, George Saunders described Trump rallies as testing his convictions about "Coplandian notions about the essential goodness of the nation." For Ferraro's part, the GOP grotesquerie has only affirmed them. Sarah Palin's garbled Trump endorsement speech — which came late into the making of Human Story 3 — was formative.
Merch for this release:
Cassette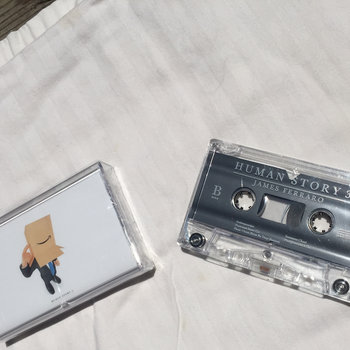 "Her rhetoric, and Donald Trump's… it galvanizes people into trusting them," he explained. "I felt like that related to the world I was trying to illustrate: where every possibility is open, and can either lead us down a path toward a Dark Age, or toward universal enlightenment." For Ferraro, it's unprecedented moments like these which embody, "the double-edged sword of power of the human will. Humans have a lot of virtue and powerful ideas—that, to me, is beautiful. I consider it to be a miracle."
Ferraro detractors alienated by the trees — gaudy MIDI patches, programmed yammerings about "lattes" and "GPS" — will miss this forest: the composer's holistic, almost-doe-eyed optimism. It allows him to, in good faith, include "Sarah Palin" and "miracle" in the same train of thought. It unites his ever-revising and, yes, humanistic musical vision, and pushes him to explore challenging new musical structures that reflect contemporary reality in unexpected ways. It allows him to remain, however quietly, one of the most compelling avant-garde musicians around.
—Winston Cook-Wilson