FEATURES
The Rattled-Up Sound of Weaves: An Interview with Jasmyn Burke
By Nicholas Rombes · Photos by Cole Giordano · June 14, 2016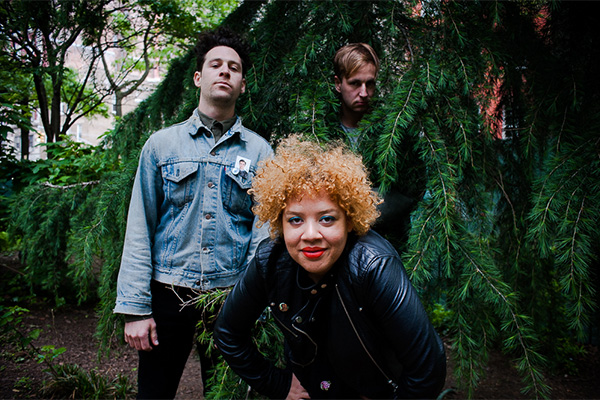 "Every song we perform has its skeleton and sometimes we just rattle it up."—Jasmyn Burke
We can all learn something from Weaves, a Toronto quartet with music so alive and confounding that you're unsure where it'll land. They work on the fly and let themselves make mistakes, crafting a versatile sound that blends pop, R&B and classic rock. The results are fresh, surprising and impossible to forget.
Featuring vocalist Jasmyn Burke, guitarist Morgan Waters, drummer Spencer Cole, and bassist Zach Bines, Weaves formed in 2013 after Burke and Waters met at the Holy Oak Café in Toronto. After releasing a few singles and a critically-acclaimed six-song EP in 2014, their self-titled debut album is a snapshot of controlled anarchy, a captivating blast that demands attention.
.
00:10 / 00:58
On the eve of a tour that will take Weaves through Europe and the United States, we caught up with Burke, who discussed her songwriting process, the vocalists who've inspired her, and the fine art of "rattling it up" (don't worry, she'll explain).
To what extent were you thinking about the album as being a standalone piece of work rather than a collection of songs?
I think if anything, the album is much more concise than our EP. With the full-length, we didn't want to rush the process, and we didn't have any strict deadline. So we really tried to let the process shape the record. Some songs on the record are from two years ago—right after the EP came out—while others were recorded literally last summer after we had come back from Europe. An album shouldn't be rushed; sometimes a song might pop up right after you think the record is complete. So I think we were focused on making this collection of songs something that made sense as a grouping, but also would allow us to explore any genre we wanted to on our next record. It leads us into being more excited about what we can write in the future. I guess in that way, this album was a lift-off towards whatever comes next.
You have said that the album was recorded 'live off the floor.' Could you talk a little about the process, and how you achieved the 'live' feel?
When we recorded our EP, it was mainly Morgan and I figuring out every little detail at his home recording studio. It was much more controlled, and everything was pieced together in little sessions. With this record, we knew that we wanted to capture what was happening live with the whole band. We've been playing together for two years now, and there's a certain chemistry that has developed that we wanted to try and capture on the LP. I think the only way to do that, at least for us, was to record live off of the floor for most of the songs.
For example, 'Two Oceans' was recorded this past summer and was not a fully-written song. Everything you hear was improvised in one take on the spot. Morgs had made a joke about my love for Two Oceans wine the night before at rehearsal, so we made up a fake chorus of sorts for a few minutes. Based on that, we literally just started playing while in the studio, and all the words just kinda came out of my mouth. I think for us, that sense of working on the fly and making mistakes is what comes with recording live. So with most songs, we just kept rolling until we felt like we maybe heard something that sounded OK. It's just real and passionate, and that's what we hope the album feels like when people listen.
Do you see yourself as drawing on and extending any musical genres, traditions or singers?
I think I definitely always identified with women in punk music, or women who went against the grain. I love Karen O, Patti Smith, Ari Up, Lydia Lunch, Kim Gordon, and others. They are all people who worked within the constraints of a male-dominated style of music and used their distinct voices and intellect as a way to push forward the thinking of what it means to be a songwriter, regardless of gender.
But I also admire women such as Bessie Smith, Sister Rosetta Tharpe, Mavis Staples, and Koko Taylor — maybe lesser celebrated in the mainstream, but important pioneers who had a lot of sass. I think that I also draw from both men and women as any songwriter should. Nowadays, people don't necessarily identify with one specific genre, they listen to an array, so I hope to just push forward what it means to be a songwriter and hopefully encourage more young females to create honest work.
Morgan has talked about the immediacy and thrill of releasing songs once they're finished, as opposed to waiting for an album. At a time when people don't necessarily listen to albums the way they used to, do you find yourself thinking about the collection of songs on an album differently than just releasing individual songs as you finish them?
An album is still a special moment for anyone who has put together a record. It's your baby, and it should be taken care of, even if no one else hears it. So I think the order and flow is important, because whoever decides to listen to your work should be on a journey. That's how people used to listen to music, and I think if told with fluidity, new audiences might listen to your whole record. But we also like to release singles throughout the year on the fly, which is what many artists are doing — that's a whole other energy. But we don't think of a song on the record or a singular release differently, because you still have to care and be proud about putting out your songs in the Universe.
Speaking of sequencing, the sequence of "Two Oceans," "Human," and "Coo Coo" is so strong. Did you have any input on the sequencing of songs?
We put together the tracklisting of the album. It took time, but it represents us as a band, so hopefully people feel the work that was put into the LP.
The mixes on the album are clean, crisp and immediate. How was it to work with producer Alex Newport? Was there much collaboration and back and forth?
We loved working with Alex Newport. He was passionate about our music and really believed in our album, which was really encouraging after having spent two years working on it. We are pretty particular humans, and there was a lot of back and forth. But he really understood what we wanted, and elevated each song with his mixes. We can't thank him enough for all the work he put into helping create a full-sounding record. You can tell he really loves music and is passionate about putting out material that he cares about and wants to succeed. That enthusiasm and precision really helped foster what can alternatively be a frustrating and difficult process. He was just really understanding, and brought the album to life.
You've been touring a lot, and I'm wondering about the relationship between playing songs live and recording them. You've spoken in the past about letting the tone and approach of the song match the mood and the audience. In the studio, what goes into deciding what 'version' of the song you're going to record?
Every song we perform has its skeleton, and sometimes we just rattle it up. While recording, we stuck to what we perform live, but every take was kind of different. It was a matter of sorting through and hearing which one we clicked on most. Not a whole lot of thinking, just more doing, that's what we tried to have happen on the record. There weren't too many takes of each song, so it was just playing them strong and figuring out what take we liked the most, and then tweaking from there.
What sorts of music did you listen to growing up?
We all listened to different kinds of music, but I'd say collectively we all love Bjork, Queens of the Stone Age, PJ Harvey, Michael Jackson, Radiohead, Missy Elliot, Beck, Ween. I'm literally thinking of what we liked in the van on our last tour! We don't have an aux input, because it's an old van, so we brought our old CDs — which would have been how we all first experienced listening to music. The beauty of not being able to listen to music on our phones is that we're revisiting entire records while in the car, and there is something really special to sitting around with your friends and listening to a band's record in its entirety that I didn't realized I missed. Let's have more listening parties in the future!
I know you're about to embark on an international tour. Is there time to write new material on a tour like this? Is that something you hope to do?
I don't really write on the road. I don't feel like I'm in the right zone. I usually spend like eight hours alone in our rehearsal space, looping my guitar and vocals until something comes out, so that'd be difficult in the non-vibey van or a tiny motel room.
— Nicholas Rombes
— Photos by Cole Giordano