FEATURES
Inside Out May Have Only Released One EP, But They Put An Indelible Stamp on Hardcore Punk
By Tony Rettman · July 23, 2020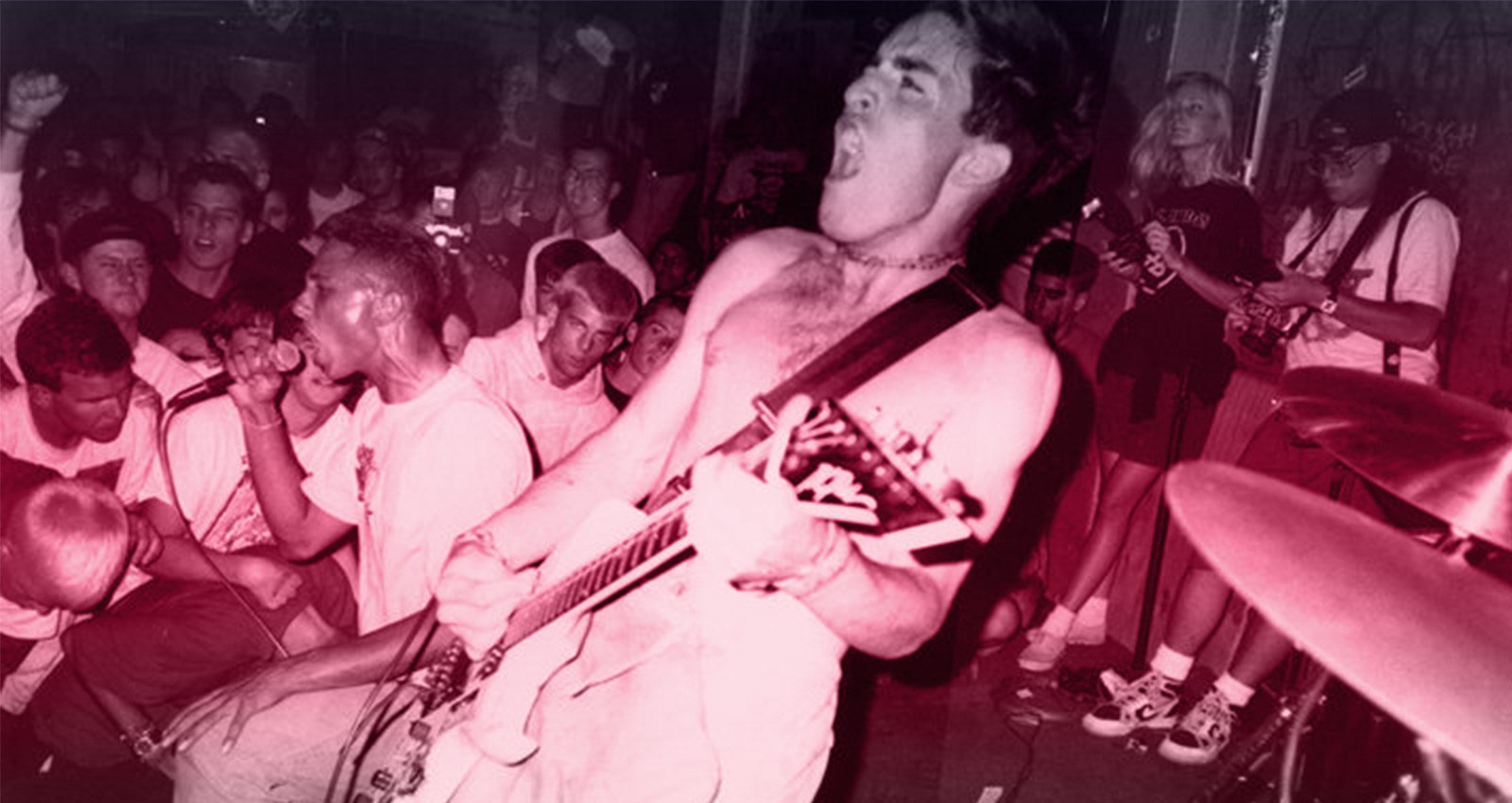 When the American hardcore scene reached its first full decade of existence in 1990, it seemed to be at a creative standstill. The four-song 7″ No Spiritual Surrender from Southern California's Inside Out felt like a solution to the deadlock. "We wound up taking a little bit of everything we liked, rather than from one subgenre," says Vic DiCara, the band's guitarist. "We wound up combining what we liked about hardcore, from D.C., and New York, and crossover metal." But instead of simply mimicking the basic elements of Minor Threat, Cro-Mags, or Slayer, Inside Out wound them together into a sound of their own creation, with skewed riffs, snaking rhythms, and soul-searching lyrics.
Inside Out was considered little more than a side project for Zack de la Rocha (yes, of Rage against the Machine), and Rob Haworth, the two guitarists in the Orange County-based Hard Stance. When they opened a show consisting of local bands in the fall of 1988, Hard Stance drummer Alex Barreto was impressed with the way de la Rocha took naturally to being a frontman, after years of being strapped to a guitar. "There was something really sincere in his eyes when he was singing," Barreto says. "I was really intrigued by that." Barreto managed to steal the role of Inside Out's drummer away from Half Off's Vadim Rubin, and hounded de la Rocha to pursue the band further. But de la Rocha was afraid that giving more attention to Inside Out would cause rifts within Hard Stance. "Hard Stance was his baby, and everyone else in that band had been friends since middle school," says Barreto. "I was just this outsider who replaced the original drummer. But it was clear to me that Inside Out should happen."
Barreto finally succeeded in getting de la Rocha to break up Hard Stance and take Inside Out seriously when he suggested DiCara—an East Coast transplant who had previously played bass in the short-lived New York hardcore band Beyond—replace Haworth on guitar. During their first jam session, it became clear that DiCara's frenetic style of playing and endless supply of riffs were the missing elements Inside Out needed in order to become truly matchless. "The combination of Zack and Vic was very important and made the band what it was," Barreto says. He also cites DiCara as the catalyst for the band's more radical experiments in sound that are found on the EP. "When Vic came in, things got more odd. He definitely played a big role in anything that sounded dissonant after that."
A prime example of the skewed vision DiCara brought to the band can be found on No Spiritual Surrender's opening track off, "Burning Fight." DiCara recalls its creation: "As soon as we played those first three notes of the song in Alex's bedroom, we were bouncing off the walls." Riding a wheeze of feedback and a maniacal riff courtesy of DiCara, the song is an incredibly striking opening for a hardcore record, a heady brew of criss-crossing riffs, raw dynamics, and de la Rocha's harrowing and defiant yowl.
Just before the recording sessions for Surrender began, Rob Haworth's brother Mark signed on as the group's bassist. The fact that Mark was also a former member of Hard Stance made him an easy fit; but it was really his thunderous tone and mutual fondness for D.C hardcore that made him the ideal candidate. "My main influences were Bad Brains, The Faith, Minor Threat and Dag Nasty," Mark says. "I absolutely loved the sounds Daryl Jenifer from the Bad Brains made using bass chords. I also felt Inside Out brought the melody of Dag Nasty in songs we recorded, like 'Redemption' and 'Sacrifice.'"
Barreto was asked to leave Inside Out just before they entered the studio; he was replaced by Chris Bratton, the drummer for the band Chain of Strength, in which Barreto, coincidentally, played bass. "It was totally out of the blue," Barrto says. "I felt betrayed, because I was the guy who connected all these dots to get the band going." When he was asked back soon after the session, he learned the reason for his dismissal. "I was too young to drive!" he exclaims. "Those guys were way older than me and sick of going an hour out of their way to pick me up."
By the time No Spiritual Surrender was released into the world at the tail end of 1990, DiCara had quit Inside Out to join former Youth of Today vocalist Ray Cappo's Hare Krishna hardcore band Shelter, forcing the group to borrow guitarists from bands like Headfirst and Forced Down before finally throwing in the towel the following year. Mark Haworth went on to play in political post-hardcore band State of the Nation, while Barreto concentrated on his own band, Statue. Zack de la Rocha, of course, went on to rock superstardom. Punk and hardcore bands continue to cover the title track as a lively shout-along, and the 7″ remains one of Revelation Records' catalog standouts. Some may speculate that de la Rocha's involvement is the reason for any interest in No Spiritual Surrender and Inside Out in general—after all, they were a punk band that barely lasted two years. But the members of the band know otherwise. "It's like how people describe the first time they smoke crack, and [then they] keep trying to get that high again. That's what this band is for me," Barreto says. "It's been 30 years and I've played in a lot of bands, but Inside Out had something special. Whether rehearsing or playing a show, it was always exciting."