FEATURES
In Conversation: Default Handshake and Jackie Lynn
By Eva Silverman · June 30, 2016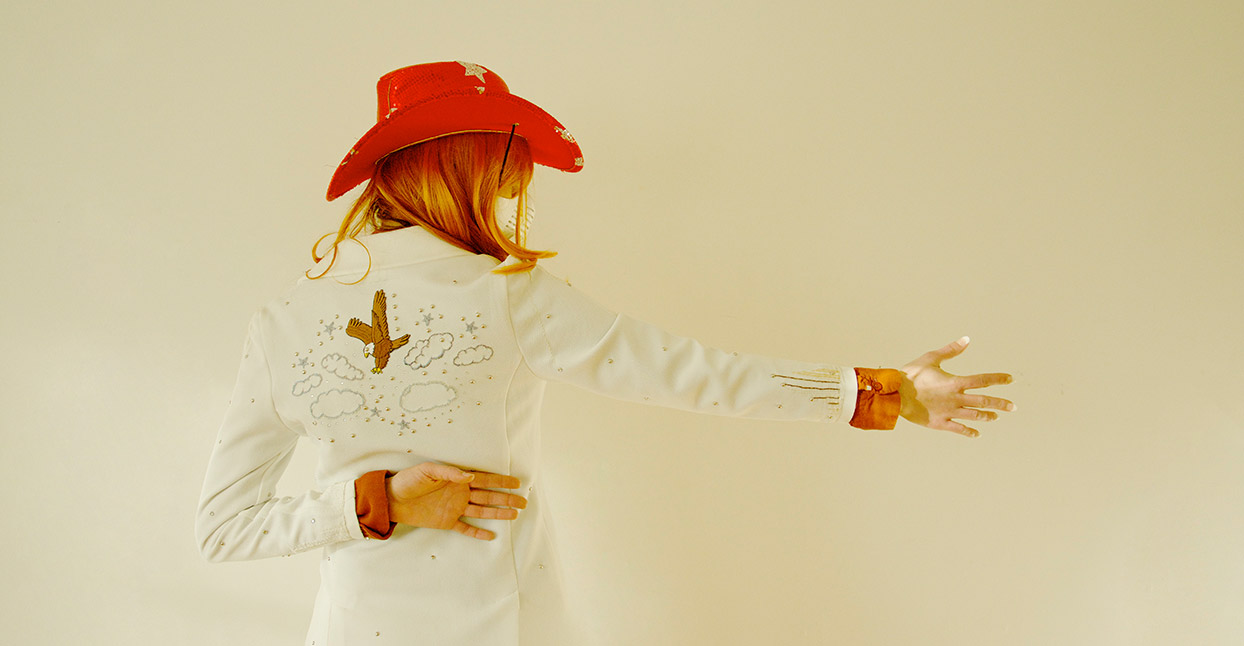 photo by Julia Dratel
"I will soon become a shadow."
D.C. area-based experimental artist Eva Silverman turns poetry about body horror and catharsis into a drum machine-supported sing-song pop mirage as Default Handshake. A part of the fertile contemporary art-punk scene that is also home to Flasher, Silverman's curious and inventive nature made her a perfect person to pair in conversation with Chicago-based Haley Fohr of Circuit Des Yeux, who has been making imaginative, unique, and richly textured work for nearly the last decade.
On her latest album, Jackie Lynn, Fohr abandons the relatively neutral and balanced identity of Circuit Des Yeux to musically inhabit a very specific story about a drug-running, hard-partying young Southern woman on the run from the law. Below, Silverman and Fohr converse about the Jackie Lynn persona, where she came from, where she's going, inverting narrative tropes, and the power of physicality. —Jes Skolnik
Eva Silverman: What were the origins of the Jackie Lynn persona?
Haley Fohr: Jackie came to me one foggy morning in January 2015 while I was staying in L.A. As the idea fell out of my mouth, an older gentleman in the room told me that it was an ill-conceived idea and would be best abandoned. This notion is what drove me to seek Jackie through into fruition.
What are some key words you'd use to describe Jackie?
Powerful, complex, driven, female, sexy, everyone, everywhere.

photo by Julia Dratel
How conscious is Jackie of her self mythologizing? How much of the narrative that she creates on this album is confessional, and how much is performative? Did Jackie write this album with the intention of being heard?
The Jackie Lynn album straddles the line between confession and performance. When I say "performance," I mean it in a way that translates to a life being lived. Jackie and I have both made the great swap, the grand commitment in which art supersedes life. The album is a rolling chronological relic of her life during a very particular time. Jackie and her band used to play out, they were social beings. Any confessional attributes are not [a] secret, but merely her world view seeping through the details of her everyday life. This record was left to be found and heard.
.
00:10 / 00:58
How do you interact with the idea of persona in your day-to-day life?

I feel like people's personalities are expected to cohere into a unified identity, despite the fact that each person is made up of so many disparate traits.
Often it seems like we latch onto certain aspects of our personality and elevate them to personas, showing off those parts above all else, which it seems like Jackie Lynn does. Is there a persona attached to Circuit Des Yeux? Is Jackie Lynn at all a part of you, or are you at all a part of Jackie Lynn?
As Circuit des Yeux, I prefer to stay neutral on many levels. I do not feel an affinity towards dark versus light, man versus woman, or even human versus celestial. I'd like to become a shadow, in which my voice and art represent my being. Jackie is very human, and very female. Although her story is entirely fabricated, during reflecting upon the album, I've come to realize the many shared experiences I have with Jackie. She is… an enigma of sorts, but I'd like to think she is found in every woman.
Jackie Lynn fits into quite a few tropes. She's a small town girl in the big city, she's gone from rags to riches, she has a partner in crime. These are all common character traits in a lot of narratives laid out in pop culture. How does Jackie Lynn embody and subvert these tropes?
Jackie comes from what I know. She is a retelling of gathered facts, stitched together into a new world. I'm not interested in pop culture and its tropes. Most of my material as Circuit des Yeux remains nebulous and undefined. I thought it fun and interesting to complete a project more tangible and immediate. I intentionally created an aesthetic and culture around a very sonically-specific piece of music.

photo by Julia Dratel
What is your relationship to genre?
I find genres to be limiting. They say more about societal times than an artist. Genre definition is a tool listeners use for the digestion of culture. I feel no allegiance to any genre.
I'm interested in the idea of the physical album as a relic, the ways art becomes an artifact. The Jackie Lynn LP is only being released on vinyl and presumably that's the way she intended it to be distributed.
As Circuit Des Yeux and as a music listener, what is your relationship to different ways of releasing music? Do you value tangibility, or can a digital release be just as valuable?
I love and listen to predominantly vinyl records. I think listening to an mp3 rip of an album is the equivalent of watching "Holy Mountain" on a slow buffering YouTube video [on a] cracked IPhone screen. It doesn't do the art justice. But the dissemination of music has greatly changed in the last five years. My job is to make the art and let the label distribute. The album as a relic is an obvious choice for Jackie.
How has recording music as Jackie Lynn affected the way you approach Circuit Des Yeux?
Jackie was an important exercise for me in many ways. As I said previously, I will soon become a shadow. Adopting a new persona helped me rid my identity in a fun way, and has brought me one step closer to destroying that physical identity world. I sing and tour often, and have developed a very unique warbled style of singing. Jackie doesn't wail, she keeps it tucked and straight. Singing smooth harmonies, gaining control of my vibrato, and "chilling out" was a great challenge and growing experience for me. Spiritually, Jackie opened me up to the universal understanding of fun. It taught me to find the journey and ride it! Life is meant to be enjoyed.

photo by Julia Dratel
Setting is clearly a very big part of Jackie Lynn's story, from her childhood in Franklin, Tenn. to her new life in Chicago. How has setting influenced your work as a whole?
I believe that setting seeps into every recording. For me, moving from Indiana to Chicago showed me parts of myself I could never have dreamed. The city, she acts as a mirror and for that I am grateful. Jackie is a product of Chicago and nowhere else.
Over the course of your career, you've experimented with a variety of different musical styles and tactics. Your music has been described as "chameleonic." Do you think a certain inconsistency and an openness to various styles of music is important to creating music? Have you intentionally experimented with different styles, or has the shift happened naturally?
My ability to adapt and change may be both my greatest strength and also my Achilles' heel.  You use the term "inconsistency," which to me has a negative connotation. Annette Peacock has this lyric on "The Perfect Release" in which she sings, "there is discipline in change," and that really resonates with me. I really feel that.
To be honest, I want to be remembered as a distinctive voice of our time. I'd like to become a vocal guru of sorts, and continue the long lineage of vocalists that explored, searched and presented something of merit. You also use the term "openness." I'd like to think of myself as very open to trying any style of music in which my voice can learn and grow.
I just don't trust the passing tide of culture. I have to be me, and I thrive off intentionally creating a box, a world, only to destroy it so I can find and build another box and world, only to destroy it. I've only just turned 27, and I know I have a long way to go. There are so many worlds to build and destroy.