FEATURES
Horndal: Raging Metal From Sweden's Rust Belt
By Philip Freeman · April 07, 2021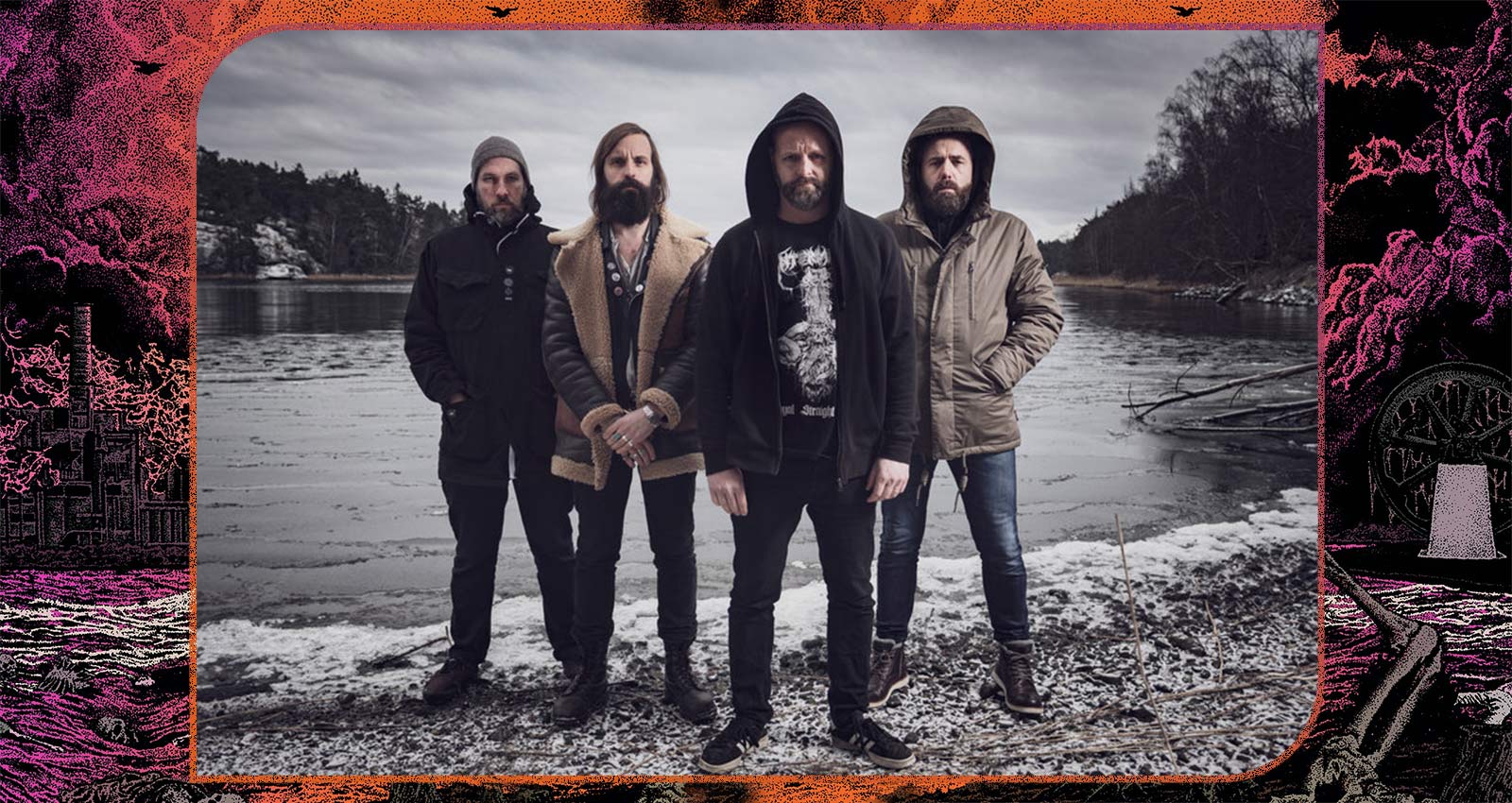 Horndal is a small town in rural Sweden, located about 90 miles northwest of Stockholm with a current population numbering about 1000. Horndal, the band, is a sludgy, metallic quartet led by guitarist/vocalist Henrik Levahn and his younger brother, drummer Pontus Levahn. Their 2019 debut REMAINS and the brand-new LAKE DRINKER tells the story of their hometown, and what's happened there over the past few decades. (The band will be performing live in Horndal on April 18 —ed.)
Horndal was a hub of the steel industry in Sweden for hundreds of years. The town's first ironworks opened in 1652. In 1962, a famous economic study cited "the Horndal effect" and analyzed the seemingly mysterious increase in productivity between the 1930s and 1950s without any investment from facility owners. In 1979, though, the steel mill that had employed local workers for generations shut its doors.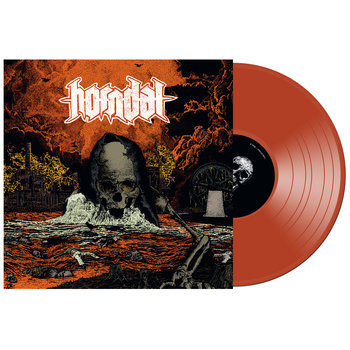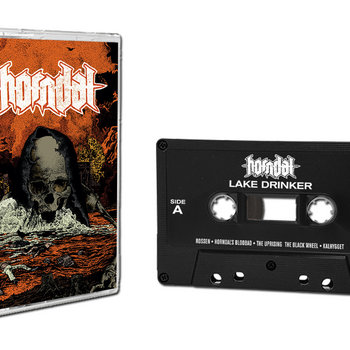 .
00:10 / 00:58
Merch for this release:
Vinyl LP, Compact Disc (CD), Cassette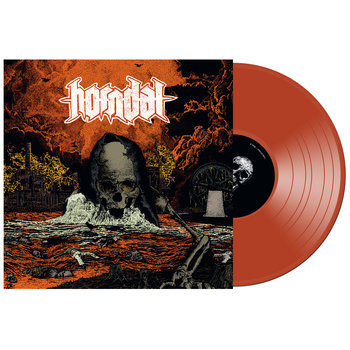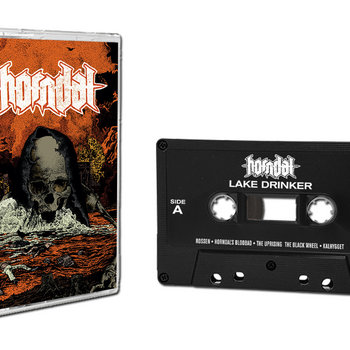 "I was born in 1970, and when I was a kid, [Horndal] was two or three thousand [people]," Levahn recalls. "Then we had three grocery stores, two banks, a café… Now it's only one store and some flea markets. I guess it's the same situation in the Rust Belt in America, places like that."
The residents responded to the closure with protests, even staging a play in which "the Devil came to this little city and took all the money and closed down the steel mill and left the city to die."
The brothers' dad, a local schoolteacher, acted the role of the Devil in that play. Years later, when they had started making music together and were searching for the lyrical subject matter, Levahn had a stroke of inspiration. "Steel mill and the Devil, this is a metal story. So we got the story served in front of us." REMAINS took words from the play and set them to new music. Tracks like "Wasteland," "Rotting Town," "Drudgery," and "The Horndal Effect" had furious, hard-charging energy and guitars that clanged like factory machinery. "Rotting Town," with its sheet-metal riffing and jackhammer beat, was like Unsane playing bludgeoning D-beat hardcore.
In late 2017, Google announced that they'd purchased 109 hectares of land in Horndal for use as a potential data center. "At first we thought, fuck, now the city's gonna flourish, it doesn't fit our story anymore," Levahn says with a laugh. But he soon realized that this wasn't 100% good news. "As we realized when we heard about their plans, when you're building this big server hall, you have to use water to cool the servers, because they get very hot. And they wanted to use our lake, Rossen, to cool the servers with. That's why [the new album is] called LAKE DRINKER—it's a new devil in town, you know?"
"Rossen" is the first track on LAKE DRINKER; another is called "Kalhygget," the Swedish word for clear-cutting. Although Google's proposed server farm remains unbuilt, the proposed location has already been deforested. "What they've done is they've created this enormous empty space – cut down all the trees, so there's a big empty space with nothing on it. And it's actually not decided whether they're gonna build this thing or not. They cut the trees down anyway."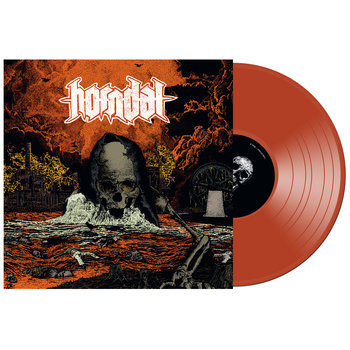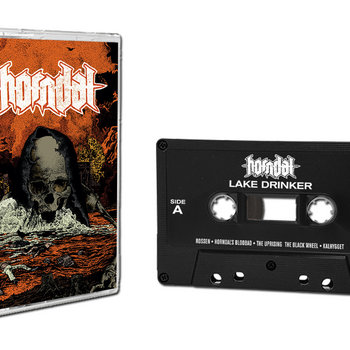 .
00:10 / 00:58
Merch for this release:
Vinyl LP, Compact Disc (CD), Cassette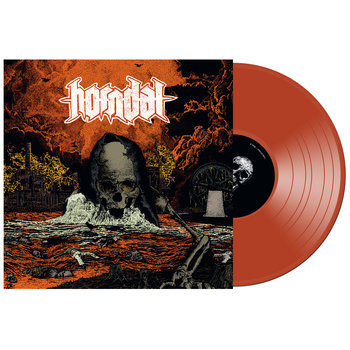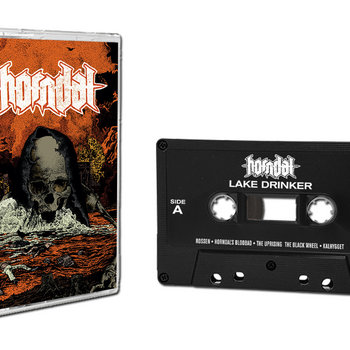 The new songs are heavier and more overtly metallic than those on REMAINS. The grinding, sludgy thrash riffs and Levahn's bellowing vocals bring to mind Chicago underground legends Lair of the Minotaur, but the lyrics remain rooted in Horndal's history, as well as present-day social problems.
On two tracks, "Home" and "Thor Bear," recordings of protesters are mixed in with the music. "Home" is a gentle acoustic interlude mid-album, over which one protester, Anders "Buffalo" Eriksson, speaks. He was arrested at a confrontation with then-Prime Minister Torbjörn Fälldin, interrogated by the Swedish security police, and had his passport revoked for ten years. "Thor Bear" (the English translation of Torbjörn) features archival recordings of that protest over a massive riff, with Levahn speaking as the voice of the people, howling, "We're gonna crush you/ We're gonna win."
In recent years, Horndal's population has grown somewhat, as many refugees from the Middle East have been placed there by the Swedish government. Two of them, Nina and Mitra, were dissident journalists in Iran before escaping to Sweden. The photographs of their life in Iran, juxtaposed with images of their new home in Horndal, form the band's video for "Horndal's Blodbad" ("bloodbath"). Even this influx is fraught, though. It's been beneficial in the short term, says Levahn, "because they have kids and the kids go to school, they use the shops and stuff like that, but it's a very uncertain situation for these refugees. Now they're closing down the system in the Horndal area and they will move them somewhere else, we don't know where."
"Sweden is always portrayed as the role model for everything," he says. "It's not the extreme situation [like in the U.S.] where people march to the capitol, but we have the same tendencies. To me this is a class question, because in Sweden, there are people who feel they have been left out, and it's a lot about urban-rural situations. Stockholm, Gothenburg, Malmö, that's the Sweden that you probably hear about in the newspapers. It's like New York or Los Angeles, very democratic, very PC. And then you have places like Horndal, where the social services are closing down and people are feeling that they've been left out, so to speak. And that's a perfect situation if you want to grow right-wing nationalist aggression, I think."