FEATURES
Producer HANZ is the Master of Controlled Chaos
By Blake Gillespie · January 09, 2018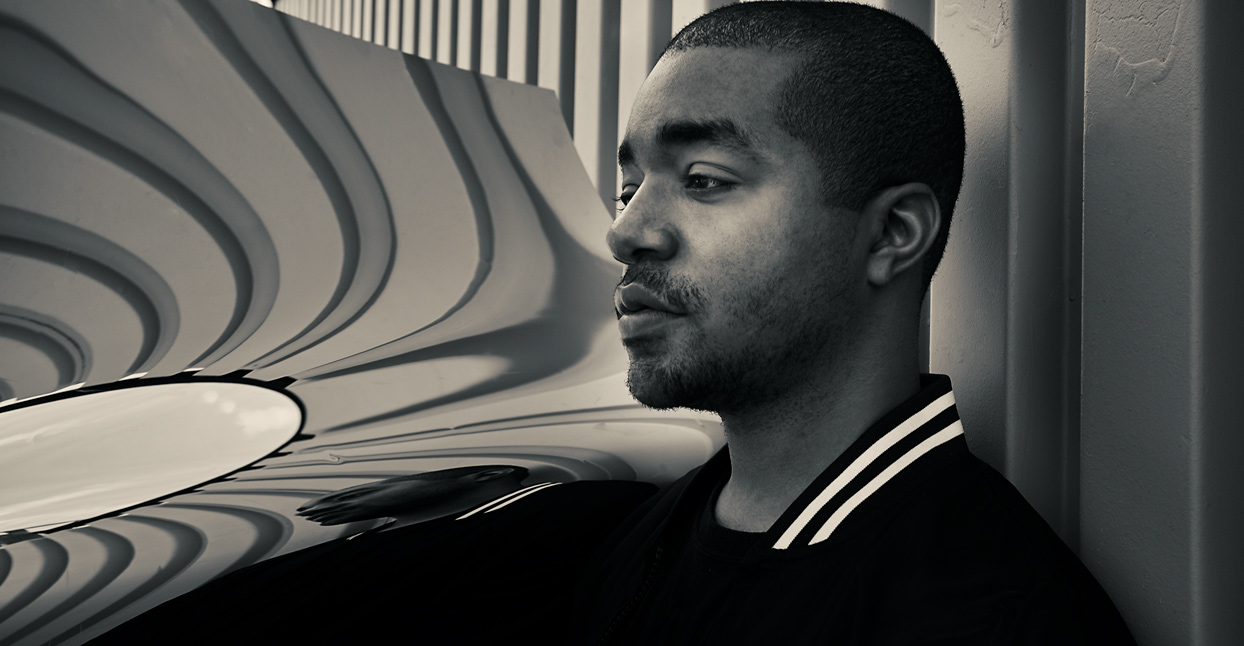 HANZ, an experimental producer from Durham, North Carolina, lives in a city where there's no scene, venue, or local crew with whom he identifies. And he prefers it that way. It just creates more room for his esoteric hip-hop to thrive.
The HANZ moniker, short for madbearHANZ, has been a part of Juhans' creative life since high school, all the way back in 2007. Over the course of a decade, the composer has chipped and whittled his way to a very distinct sound, one that's both dark and industrial. Take "Dead Weight X," for example: Posted to Bandcamp in 2013, it pulsates and hums like the score to a sci-fi horror film in which a lone explorer drifts through space on a ghost ship. But that's just the first two minutes of 14; as it goes on, the song shifts and unfolds without ever losing its creative center.
In the five years since "Dead Weight X," Juhans has refined his sound even further, mastering the art of self-editing without losing his distinct edge. His new EP, Plasty I, feels fashioned from recycled materials, drawing on bits of his older work without simply rehashing it.
"It was a post-production experiment," Juhans says of Plasty I. "I made a bunch of songs, but I wanted this to be a puzzle. So I chopped my own songs up. I took complete songs and destroyed them. I glued pieces of one song into another song. I just scattered it."
.
00:10 / 00:58
He's been doing this in some form or another since 2014's Reducer. Remastered and re-released for his Tri Angle Records debut a year later, Reducer was structured to have a beginning, middle, and end. The tracks have melodic interplay, mnemonic tones, and textures that act as foreshadowing to sounds to come. On the Plasty I EP, he further refines this technique: a vocal blip on "Plasty" becomes an easter egg to be discovered in "King Speed."
"I called it [Reducer] because I was deconstructing my own sound," he says. "I pulled back a lot of the complexities of my earlier work. With Reducer, it has complexities, but it's not overwhelming."
Where Reducer coddles the listener with familiar samples—like the Junior Mafia "Get Money" loop, or snippets of Memphis rap mixtapes—Plasty I and the forthcoming Plasty II don't offer obvious points of reference. Where previous songs may have movements or suites, the Plasty I EP is primarily concerned with the bare essentials. "Advice Ad" is a minute's worth of warped guitar strumming operating at varying levels of hyperdrive, creating an art rock effect. It has no direct corollary anywhere in the HANZ catalog.
"It's supposed to form a full picture," he says. "It wasn't my goal when I started making it, but in the back of mind it was something I wanted to try out."
.
00:10 / 00:58
Juhans took several stabs at the record before he was satisfied. He sent Tri Angle Records as many as four versions of this EP, each with a different name. But each version was erased and rearranged, clipping a finished song to 15 seconds and starting from scratch. The producer says he reveled in the chaos of it.
Tri Angle founder Robin Carolan expects that pursuit of individuality on a roster with artists like Evian Christ and Clams Casino. "I'd never want to work with an artist who felt too similar in sound to those guys," he says. "But HANZ's take on hip-hop was so different [that] his inclusion on the roster felt like a bit of a no-brainer to me."
Carolan calls HANZ a "disciple of Mo Wax, Bomb Squad, DJ Shadow, and various post-punk bands," but he destroys those touchstones and rebuilds from the rubble.
"His work can be super chaotic and abstract," the label owner says, "but what was important to me was I sensed the chaos was very much within his control."
-Blake Gillespie