FEATURES
The Many Tumultuous Waves of Gnod
By Daniel Dylan Wray · April 14, 2017
JUST SAY NO TO THE RIGHT-WING CAPITALIST FASCIST INDUSTRIAL DEATH MACHINE is as blunt and brutal an album title as the music contained within it. A seething and convulsing clatter best described as "Fugazi, with the thunder of Swans," JUST SAY KNOW is a product of the Manchester-based collective Gnod, who are celebrating 10 years of melting minds, shattering ear drums, and deconstructing genres.
Over the last decade, and through more releases than many artists muster in an entire career, the group have hurtled, asteroid-like, through the genres of space-rock, psychedelia, doom, techno, electronica, dark ambient, dub, free jazz, drone, and just about every other one, in an unrelenting quest for experimentation and progression.
If the possibility of repetition rears its head, they simply move on. At one point a few years back, the group sold all of their guitars and bought a huge soundsystem in order to tour a fully electronic operation, no doubt providing a stern kick in the guts to some of the die-hard Hawkind fans who'd jumped on board during the band's heavy psych-rock period. But any techno heads they gained may now find the group's current period of ferocious guitar-based hammering to be the work of someone they don't recognize. In a sense, the one predictable thing about Gnod is their unpredictability.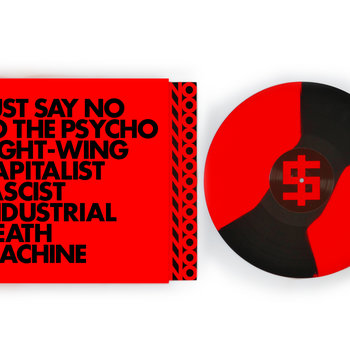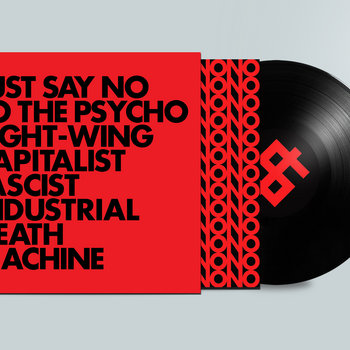 .
00:10 / 00:58
Merch for this release:
Vinyl LP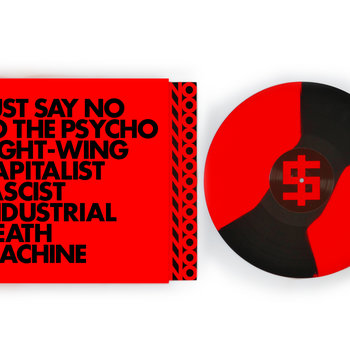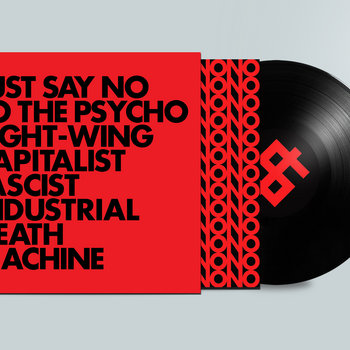 It began in 2007 with the desire to trash all the previous notions of what being in a band should be, ditching the "trying to get signed" mentality, as founding member Paddy Shine says. "It was about saying, 'Fuck all that, we'll just make a lot of noise and we'll get all our mates involved." There's been a lot of mates, too: over the past decade, they have welcomed 43 people through the revolving door that is Gnod. This ever-shifting, ever-changing musical collective was inspired by the amorphous existence of groups such as Sunburned Hand of the Man, and the constant flow of new ideas, altered perspectives, and fresh blood has driven the group consistently ever since. "The first ever collaborations we did were just jamming with all the heads that would show up to the shows." Shine says of the early days, "We'd have 15 or so people on stage. If someone came down with a tin whistle it would be like, 'Yeah, get on stage mate.'" While such a setup is not always harmonious, this friction feeds the process. "You have to work through shit," Shine says. "It's like a marriage. It's not always harmonious, but that's good, because that's when things get really interesting."
In addition to eschewing a traditional unit structure for the band itself, they also reverse the conventional approach to making and touring behind an album. For most bands, a record means hunkering down, writing songs, perfecting them, then going on the road. For Gnod, it's the opposite: they tour with only the sketches of new ideas and material, allowing them to come to life during their shows. They grow them, twist them, and tweak them until they are then ready to be recorded. "We were deliberately trying to get away from that traditional way of working, we wanted to make everything much more immediate," Chris Haslam—Gnod's other founding member—says. "That's why we have so many releases out, because we just bang it down and get it out there."
Their creative, and literal, home for about the last eight years has been at the Islington Mill, an old cotton mill and now gig venue, arts space, and living quarters for many of Manchester's cultural underground. Living above the venue and having access to its constant stream of activity has been a crucial factor in the band's development. The collaborators they meet through the space can often be people who hire artists to perform. One of those was Charles Hayward from the pioneering post-punk outfit This Heat, who the band worked with for his Anonymous Bash project at the venue. "The Mill has fed us in so many ways we can't even remember," Shines says. "It's unfathomable the influence that being here has had on the music. It would probably take another 10 years in order to gain some hindsight and perspective on that."
Sonically, Gnod are vast in their explorations; yet for all their otherworldly sounds, the root of the music is often planted much more firmly in reality. While JUST SAY NO TO THE RIGHT-WING CAPITALIST FASCIST INDUSTRIAL DEATH MACHINE is a clear indication of their political stance, 2016's Mirror was informed by the rise of the right in the UK during election year; even 2014's triple LP Infinity Machines is a more socio-political album than many may realize when caught in its trippy, dystopian grip. Its songs are driven by sprawling and enclaving electronics, billowing drones, and wild and unruly saxophone parts. "It seems like there's a massive lean towards the right, and it's depressing," Shine says. Macarte, a member of the band for the last half-decade, agrees. "It can only go one of two ways at the moment, it's pretty scary. There is a feeling that we could require total devastation in order to start again. It's happened a lot in history and humans are creatures of habit—destroy and rebuild, destroy and rebuild—and it feels like we're coming around to that again. It's cyclical. Ghosts of the past are going to be present in the future."
It's not just the state of the world that shapes the band's music; they're just as troubled by events unfolding on their own doorstep. "Things are fucked at the moment," Shine says. "The homeless situation in Manchester in particular is a really strong reflection of what's going on. People are getting desensitized to seeing someone completely fucked out of their head on the street, looking like a corpse. They just walk past them or step over them. That is just insane. I never thought I'd see something like that—maybe in London or New York, but never thought I'd see that in Manchester. It always felt like a village here to me."
The link between toxic masculinity and backward politics also turns up on the new album. The track "Real Man" captures the pernicious role that the titular 'real men' play. "I do think that the white male is far too dominant in, well, just everything." Shine says. Macarte agrees. "It's the death grips stage of white male patriarchal dominance—it's dying. It's like the end of a horror movie, when the hand comes back up from the grave clawing at you."
While Gnod are an expression and exploration of anger and catharsis, they also aim to prod deeper than either provoking a surface level reaction or screaming helplessly into the void. "It's empowerment above anger," Haslam says defiantly. "Anger doesn't really get you anywhere. [The music is meant to make you want to] stand up and do something." Should you want to take their advice, these are the Gnod records to soundtrack your mission.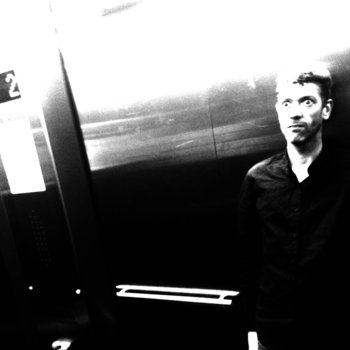 .
00:10 / 00:58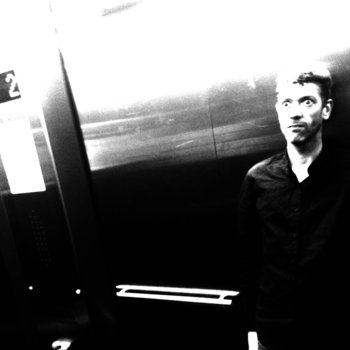 The solo project of Chris Haslam has a rich history of releases that vary hugely in style. Ground-shaking drones and electronics that hiss with a terrifying intensity comprise albums such as Wise to the Con, whereas Don't Say Nothing has an almost club-like skip to its warped techno beat, with industrial throbs giving it a pulsating charge. Much like Gnod, many of the Dwellings albums could each conceivably be created by a different artist altogether, which makes for a deeply rewarding exploration through the back catalogue.
.
00:10 / 00:58
Negra Branca is the project of long-time Gnod member Marlene Ribeiro. Her pieces often recall the hazy beauty of Grouper's Liz Harris, rich in tone, with gentle shifting atmospheres that move like rolling fog. Her breathy voice becomes another layer amidst the rich soundscapes. Sometimes, her voice may only be accompanied by acoustic guitar; on other pieces, as on her debut album, its driven by more complex—although equally melodic—beats and sputtering electronics.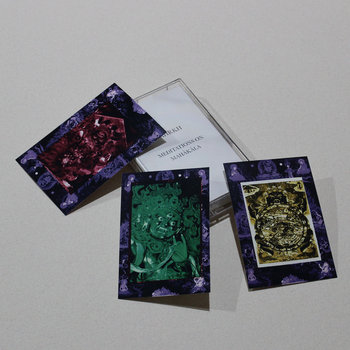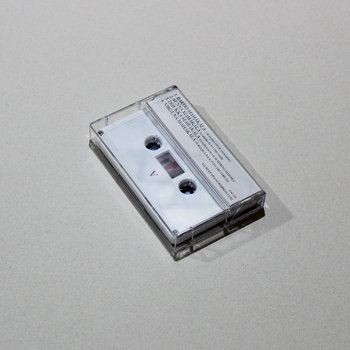 .
00:10 / 00:58
Merch for this release:
Cassette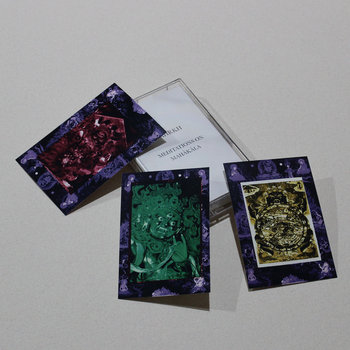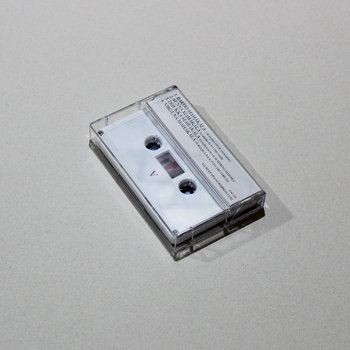 AHRKH is the solo project of Alex Macarte. Boasting track titles such as 'AFTERMATH OF OBLITERATION OF ETERNITY,' it's clear this is music that plunges into some heavy places. On that track, Macarte allows ruminating drones to bubble and gargle atop of various layers and vocal samples that add a stirring sense of melody atop of the almost foreboding sense of doom in the rattling bass. On more recent work, like Meditations on Mahaka, he explores ancient eastern philosophies through respiratory-like waves of sound, as drones move in and out in engulfing rhythms. His collaboration with Mark Wagner as AHRKH WAGNER is also worth exploring, with a slightly more glitch-ambient tone to it.
Paddy Shine's own description of his solo music is pretty on the nose: 'A core Gnodhead tweaking out on an MFB synth, Yamaha keyboard and drum machine. The results sound a bit like being lost in a ghost town hearing a free party going off somewhere in the rubble.' Shine and Haslam also combine in the Dwelling & Druss project, a post-everything mosaic of sounds and genres that still somehow manages to sound fresh and with purpose, despite the fact you would have thought the pair would have run out of ideas long ago.
—Daniel Dylan Wray