FEATURES
Meet Giovanni Damico, Southern Italy's Funkiest Airbnb Superhost
By Blake Gillespie · August 28, 2023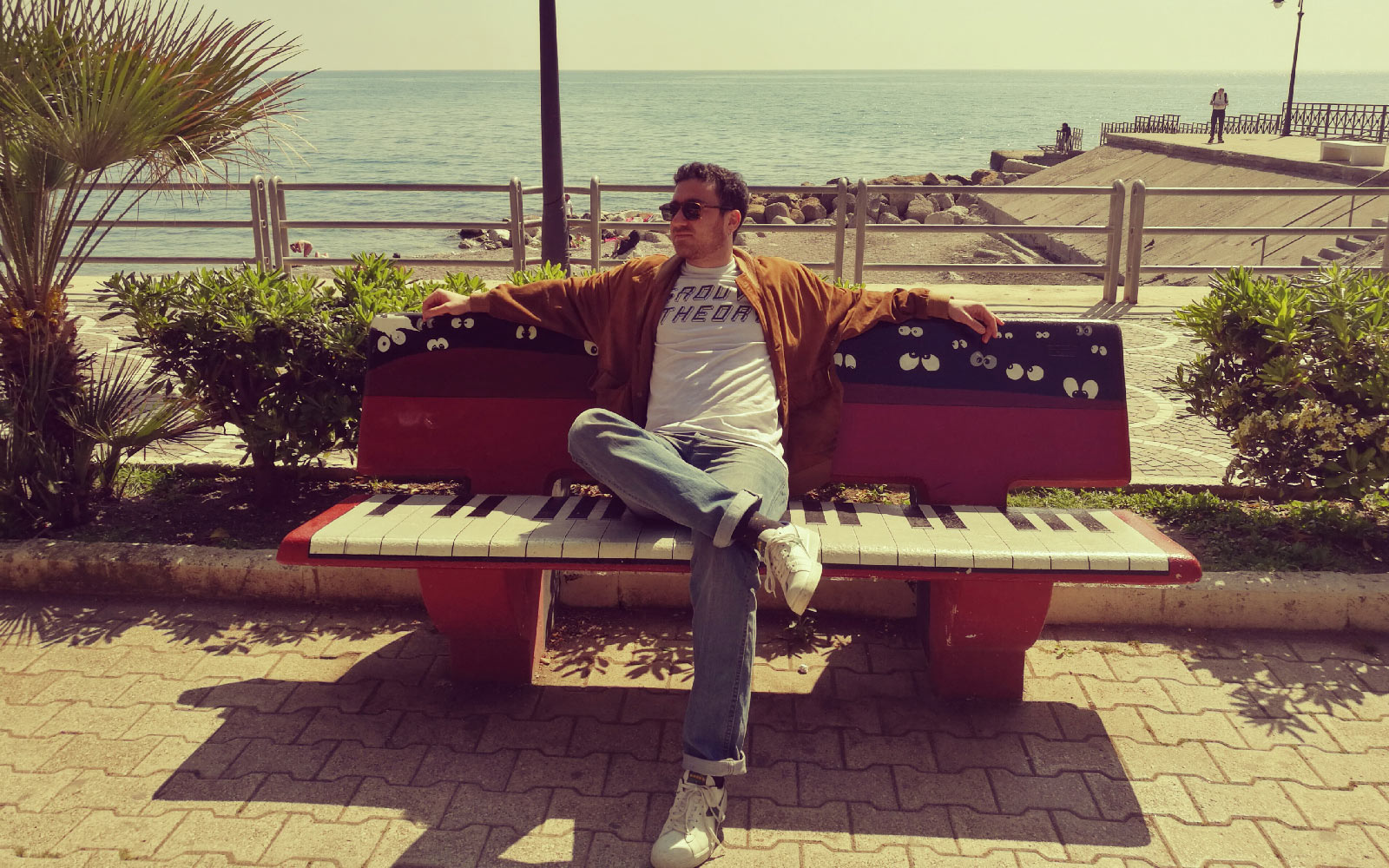 In the quaint coastal Italian town of Vietri sul Mare that electronic producer Giovanni Damico calls home, he's just Gio of the D'Amico family, Airbnb Superhost. He's the local who walks his dog with his partner through the narrow, winding streets. His dog might have more local fame than him. But in the U.S. and throughout Europe, his name is synonymous with some of the funkiest and most inventive explorations of disco-house, African boogie, and Italo.
"Ninety percent of the people only know I'm managing an Airbnb at my parents' home," Damico says. "But the sun, the air, the coast, the big family we are, it's all I need to get the right happy vibes to work on my music, and would never swap it with the big city life."
Remaining in Vietri sul Mare has neither compromised his reach, nor obstructed his prolific output, as evinced by the wide range of labels that released his works over the years: Kalakuta Soul Records, White Rabbit Recordings, and French DJ Pablo Valentino's Faces Records. The self-taught producer's breakthrough record Sounds of the Revolution EP was released by the Amsterdam-based Lumberjacks In Hell, and he's practically a flagship artist on Chicago's Starcreature Universal Vibrations after releasing three 7-inches, three EPs, and The Boogie Tracks LP in the span of three years. Giovanni Damico is not your average Superhost.
.
00:10 / 00:58
Raised in a musical family, Giovanni remembers at the age of seven seeing his brother DJ with his friends and imagining the day when he could do the same. In Vietri sul Mare—known as the pearl of the Amalfi coast in the Salerno province, not far from Napoli and the city of Salerno—the D'Amico family has been there for generations and is known for their music. Giovanni's father was the leader of a band called the D'Amico Brothers and eventually became a classical piano teacher at the Conservatorio di Musica "G. Martucci" di Salerno. But, Giovanni's older brother and sister both avoided their father's insistence that they join the conservatory to become classically trained. By the time Giovanni was old enough for the conservatory and showed an interest in drums, his father gave up on his aspiration to train his children.
"My papa said, 'the music you listen to is shit'," Giovanni says. "So I had to get how to do it by myself."
Now a multi-instrumentalist proficient on bass, drums, and keys, Damico says he got his start during the minimal tech house era of European music. Already self-taught at 19, he was hired as a ghost producer at a studio in Cava de Tirreni. The studio paid him between 200 to 300 euros to produce dance music for commercial use. For a fresh-out-of-school Damico, it was good money and access to equipment to explore his own interests. He says at the time he was interested in Italo disco, house, and boogie funk, but in the late aughts, none of the clubs or radios played those records. He privately worked on his sound, hoping the situation would change.
"I started with minimal because it was the only sound that you could really produce if you wanted to get a contract," he says. "I always was jamming in my studio with house and disco, but the scene wasn't ready yet." His interest in funk and disco started early. Growing up in the late '80s, Italo disco was part of regular television music produced in Italy, unlike in the States where artists like Kano and Ago's For You LP had to be discovered in underground scenes and digging for rare records. Damico compared the Italian sound in Southern Italy to "the daily bread" and ready for cheap purchase at the flea market, while the music of Michael Jackson and James Brown was the exotic import. Much of his childhood in the '90s was consumed by Eurodance, but by the mid-aughts, he'd become obsessive with digging for rare Afro-boogie and house records. It influenced his experiments in the studio as he'd alchemized the Italo music from '80s television into his affinity for disco soul. He adopted the alias G Machine as a vehicle for this sound.
Released through the Dutch label Bordello A Parigi, G Machine tracks like "Flying Objects" took on conceptual tones through manipulated sound bites over arpeggiated Italo synths and ethereal vocals, while "Boogie Down" was far closer to the American boogie funk of Midnight Star. Even though his father still hadn't warmed to his son's electronic music, he gave Giovanni an analog mixer and the occasional insight into notes and scales. Giovanni added a Yamaha DX-7 and a cheap drum machine to his home studio.
"I was very fascinated by Prince or Michael Jackson. The idea of releasing my own self-made music, from the drums to the guitars and the vocals, has always been my biggest inspiration. To be a complete musician and artist."
As his confidence grew he wrote cold emails to labels hoping to find a home for his productions. But the response was just as cold. Marcel Vogel of Lumberjacks In Hell did not appreciate Damico's initial tenacity. Damico enjoyed the label's edits and disco originals and felt his music would fit with the aesthetic, but his repeated messages with attached demos were met with silence. One day, Damico finally got a reply: "Hey man, did you notice this is a one-way conversation? You keep sending me demos but I'm not answering you back."
The producer was incredulous. "I was like, 'Hey man, what's your problem? I might have the music you look for for your label'," Damico says.
Despite the contentious exchanges, it was a Lumberjacks artist named Boogie Nite who gave Damico the endorsement needed to break through with Vogel. The relationship began with the All Humans After All 12-inch EP, a four-song excursion showcasing Damico's curatorial range. An Afro-boogie edit of tribal singing on "Tanzania" becomes a pool party-ready house cut. "I Need Me" is an ode to '90s Chicago deep house and "Are You Somebody" along with closer "Humans After All" are more difficult to pin down, as though they absorbed elements of their predecessors and suffused them with the ingenuity and ease of movement found in Moodymann's early work.
.
00:10 / 00:58
After two EPs on Lumberjacks In Hell, it was the Sounds of the Revolution EP in 2019 that changed Damico's life. The same year she was inducted into the DJ Mag North America Hall of Fame, Colleen Cosmo Murphy was on WNYU playing songs from the EP and speaking praise on the airwaves. "Italians In A Line" featured a Thriller-esque bassline that supported disco strings and laser keys, but it was Damico's voice, his first time singing, that unlocked the record for DJs. His Napoliana dialect made the record feel as though it was unearthed from a forgotten regional private press instead of a new original. Copies of the 12-inch were sold out in weeks of its release and the record remains out of print, exclusively listed for extravagant prices on Discogs.
"It was like a bomb when it appeared on the market," he says. "At the time it was good for me. I gained the respect of many musicians and old maestros, even from Italy. It was a small step that was separating me."
But Vogel's priorities with Lumberjacks In Hell weren't aligning with Damico's creations in the studio. The two remain on good terms, but as Damico was continuing to experiment, he says that he got the impression Vogel was interested more in singles for the charts. However, Tim Zawada of Starcreature in Chicago had the type of interests that perfectly aligned with Damico's ear. He had already been playing Damico's music at his Chicago DJ nights and told Damico "it was always the green light when you send me your tunes."
Seven days after the release of Sounds of the Revolution, Starcreature released Damico's debut LP The Boogie Tracks. The album's sound aligned Damico with the modern funk scene that he'd been welcomed into in the States back in 2016 when Dâm-Funk's Funkmosphere in Los Angeles and Sweater Funk in San Francisco had given him his first U.S. gigs. Damico flooded Starcreature with new music over the next three years. The Nigerian boogie meets Paradise Garage disco of "Another DJ" became an underground hit. And yes, Damico was thinking about the Indeep classic "Last Night A DJ Saved My Life."
"I was inspired a little bit by the groove of the guitar, even if it's totally different chords," he says. "When you're jamming you don't know which kind of words are coming out from your mouth. Of course, I couldn't use the same lyrics."
Although it was the "Try It Out" b/w "Out Of Control" 7-inch that blew up the biggest. The 45 was quickly out of print with requests for a repress. Motor City Drum Ensemble was spinning it in DJ sets. This year Tim and Damico decided to sneak "Out Of Control" onto the Power EP as an appeasement to the requests.
Giovanni's dad doesn't know who Motor City Drum Ensemble is, nor why having a track in his DJ set is a huge deal. He understood that things were changing for his son because he was invited to play in the States even if he had no awareness of Dâm-Funk or the excitement surrounding a new 7-inch on Starcreature. But, he's come around on his son's music. As he saw his son garner international attention and begin to carve out a living as a musician, he told Giovanni he was glad that he never went into the conservatory. The conservatory mindset was a grueling one, he said: "You have to perfectionize yourself until you're the best player." He concluded that such a setting would have stunted Giovanni's creativity; his son wouldn't have become the man he is today.
Instead, Damico says, "Now, my father, at 73, is the first one who gets my demo snippet to check if I'm writing down the right chords or arrangement."