FEATURES
Ghoula's Latest Samples LPs from Algeria, Morocco, Lebanon, Tunisia, and More
By Christina Hazboun · January 26, 2023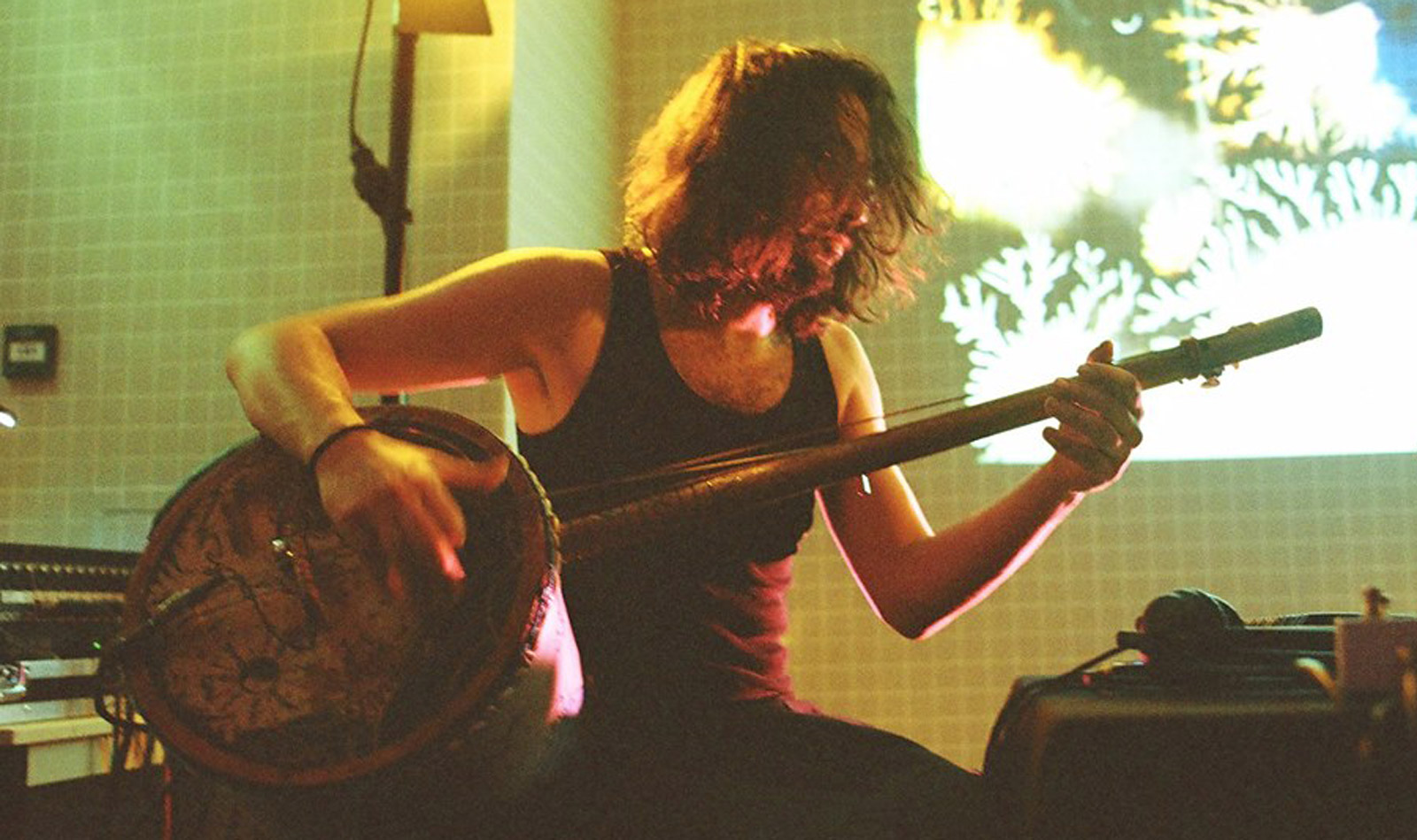 Tunisian producer and composer Ghoula is sitting in his living room in Paris, sipping freshly made mocha coffee while enthusiastically talking about his new album Demi-écrémé—which translates roughly to Semi-skimmed, and which features songs built around the sounds he captured during his travels around Tunisia, Algeria, Morocco, and Lebanon. "I found a lot of vinyl during my travels for my first album," Ghoula says. "And when I started producing my second album, I played around with chords, tunes, and instruments. It's like being in conversation with another person through sound. I found myself thinking, 'These sounds are derivatives of the original source.' So I'll call it Semi-skimmed."
Ghoula's fascination with sound began when he was still a small boy, playing with his Casio calculator and arranging the sound of its beeps to create a melody that would be pleasing to the ear. His father enrolled him in the local music conservatoire in Sousse, where he initially focused his energies on the piano. At home, however, he had a synthesizer, and when he got his first computer "chopping and cutting sound became an infatuation." As he got older, he began playing in local underground bands, everything from reggae to metal to rap and hip-hop. When he visited the States after the Tunisian Revolution in 2011, it opened his ears to a whole new array of sounds. He began thinking back on the sounds that were native to his home region, and how he might capture that in song. That led to travels through Algeria, Morocco, and Lebanon, collecting vinyl to use on his 2016 debut album Hlib El-Ghoula, or Milk of the Ghoul.
.
00:10 / 00:58
Seven years later, Demi-écrémé continues his journeys through West Asia and North Africa via the regions' recorded music. "My method is to pick a record," he says. "If I like the music, I start sampling it. If it works I carry on to build a story with the sounds. In one track, you find samples from three or four records," he says, "and also field recordings." To wit: Demi-écrémé's opening track "Asslama" (which means "hello" in Tunisian) uses samples from a Tunisian-language instructional album on how to speak English. "What I liked about it is that it didn't use Modern Standard Arabic, but the Tunisian language [or dialect]," Ghoula says. "So I started the album with the first stuff you learn, like 'Good morning, how are you?'" The Tunisian producer layered the piece with the melody from one of the most famous North African folk songs "Sidi Mansour" which he describes as "a warm invitation to understand a people—their history and opinions."
On "Zinek" ("Your Beauty"), Ghoula employs the sound of the zukra, a double-reed instrument from the oboe family widely used across the Southern Mediterranean. The prevalence of this sound from Lebanon to Tunisia, accompanied by the singing of mawwal—a traditional vocal improvisation of a poem performed in a colloquial Arabic dialect—unites the eastern and western parts of the Arabic-speaking lands. Layered with the melodic strumming of a guitar and rhythmic synth beats, the song is a melting pot of global influences.
The commonality of the human experience is the subject of "Drum & Gasba," which Ghoula says "is a testimony to the huge influence of electronic music, which continues to inspire me and many of our generation," and which allows him the opportunity to play the guembri—a three-stringed, skin-covered lute—like an electric bass. "Jougar" is named for a mountain in Tunisia that he visited back in 2014 and where, amidst the olive groves, he recorded the voice of an elderly woman singing. On the track, he blends the woman's vocals with the muffled sounds of the gasba as well as dreamy and dark electronics. On "Iwaywa", with its fast, trance-like rhythms, Ghoula sampled a specific genre of Moroccan music called "Aouniyat," which is sung by women at weddings. The song's folk aesthetics are interwoven with upbeat electronica, its cheery and hyperactive synth sounds bordering on at times on hard techno.
.
00:10 / 00:58
By drawing heavily on LPs that Ghoula amassed during his travels, Demi-écrémé also subtly raises questions about access—what becomes of the vast amounts of recorded music all over the world, who can get to it, and who is protecting it from falling into obscurity? "There is one organization that has some of the best music archives in the world," Ghoula says. "But [when I contacted them] they said it's not well looked after, and the place has humidity." It is often up to the individual artist or researcher to collect sounds and give new life to music from different regions, eras, and social backgrounds.
The album's final track, "Boussni" was inspired by Ghoula's childhood by the sea, where the track's title in English—"Kiss Me"—was one of the first things children learned to say to passing tourists. The song itself serves as a goodbye kiss at the end of an album full of songs that span generations.
Ultimately, Demi- écrémé was a labor of love for Ghoula, one that in a way allows him to come full circle. "On this album I worked with Maher Sassi, who's a percussionist, with another guy called Twinlo who does beatbox and helped with vocalization. I incorporated recordings from friends who were visiting me, and made a chorus from their voices," he recalls passionately. "The album is very 'artisanal,' from finding the materials and instruments, to carefully selecting the sounds. It's just like cooking."