FEATURES
Gazelle Twin's Edgy Electronic Music is Fueled By the Current Moment
By Ned Raggett · September 05, 2018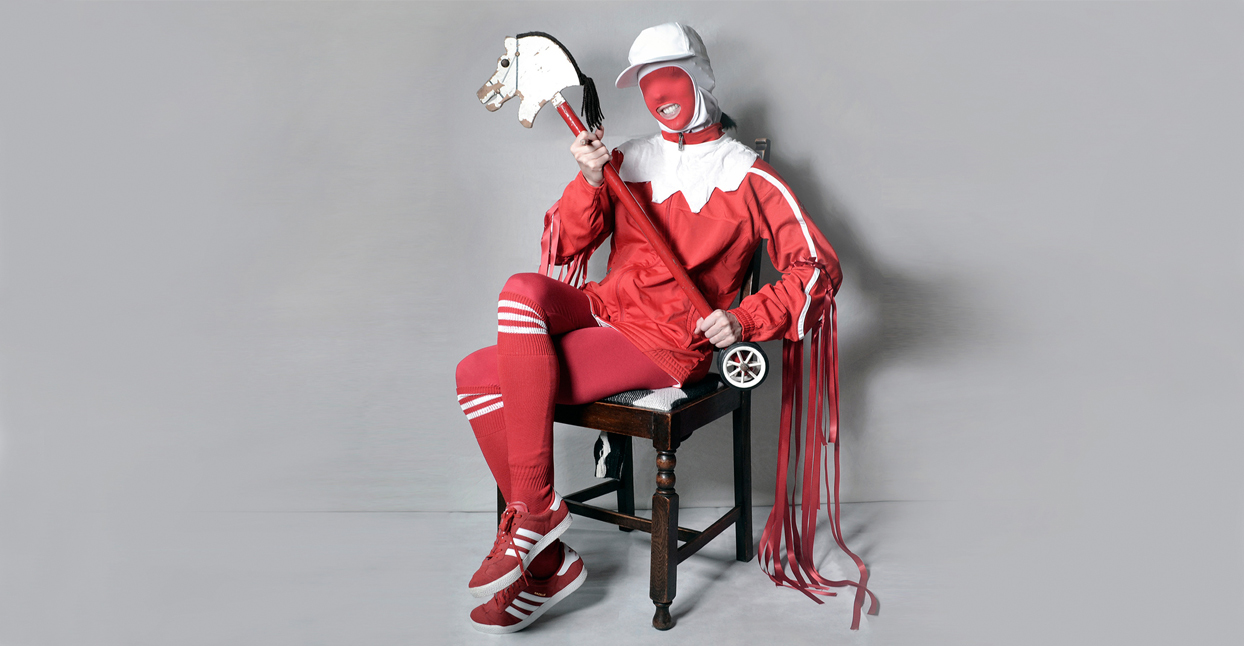 Like so many 21st century artists, Elizabeth Bernholz has worn plenty of hats. But working through her main creative outlet Gazelle Twin, she also found it necessary to make use of a hoodie. Bernholz has made a name for herself over the course of the last decade not only with her exploratory electronic music, but also with the various stage personae she creates for each new release—the origins of which range from the specific to the conceptual.
.
00:10 / 00:58
"The [character] that's probably the most personal—the most like me—was probably the Unflesh figure, with the hoodie and the hair. That was me as a teenager in hell. The new one is much more of a scarecrow figure. I still haven't got a catchy name for it. I just call it the 'Red Imp.'"
The Red Imp, a figure covered head to toe in the colors of the English flag—but with blood red being the dominant color—and wearing a mad grin on its face takes center stage on the artwork for the latest Gazelle Twin album, Pastoral. Following last year's Kingdom Come, the soundtrack to a multimedia stage installation developed by Bernholz, Pastoral is a "proper" Gazelle Twin album which runs the stylistic gamut, from folk music laid against haunting noise to wordless keens and pulsing beats. Bernholz's vocals are constantly twisted and treated, reflecting further characters and mindsets throughout. It's a shifting series of dramatic visions that unfolds over the course of 40 minutes, depicting a social landscape on the verge of collapse.
Bernholz has been frank about the fact that the mood of Pastoral grew from the corrosive results of the Brexit referendum in 2016, and the mindsets given more airtime as a result. (She draws an understandable comparison to the results of the U.S. presidential election later that year.) For her, the timing coincided with her move to the countryside, leading to an exploration of the supposed idyll of that life compared to life in the city.
"It's not necessarily a safe environment for me and my husband," she says. "I don't mean it's dangerous, like some places are, but I mean politically—in mood. We had numerous elections when we moved here, and we were feeling that greater distance from a generation, seeing a very steep rise in bigotry and xenophobia. All this stuff came together, and just made sense to me that it was British identity, and suddenly having perspective on all of our history. Seeing these patterns of violence and extremism, and seeing it in the everyday context of a very quiet, idyllic village life, and suddenly realizing that it's never going to go away and it's always there—it's like a ghost, really. And to think anything less is to probably have a nicer life, but it's also to ignore quite a lot of injustice."
Bernholz describes the songs on Pastoral as "sarcastic," and all of them have appropriately barbed edges. The seeming serenity of "Dieu Et Mon Droit," with a direct titular reference to the English royal motto, sketches a portrait of desperate poverty and blame-shifting, while the aggressive punch of "Better In My Day" strings together a rapid-fire string of "these kids" cliches to create a brook-no-argument sonic beatdown. Meanwhile, the murmured lyrics of "Mongrel"—"Watch your back / For they'll recruit / The quiet ones / At summer fetes"—seems just as relevant in the U.S. in the era of Charlottesville and National Mall marches in August.
But the album's lyrics are only part of the whole; Bernholz describes the process of creating a full song as something almost intuitive. "I am a trained musician. I studied music and I did have some formal training," she says, "but, ever since I started making music, it was always just through feel and through getting completely immersed in it. It's like sort of exploring another sense—I think that's the best way to describe it. I think my music maybe reflects that, because it's always different, and there's never really that much predictable structure. But when it feels like there's something that needs to be that way, I try to go with it."
For all the shadowy moods, Bernholz thinks the next Gazelle Twin album—and, perhaps, public face—will feature a turn in direction. "Hopeful music," she says, "maybe something meditative. I might have burnt out a little bit now with the anger stuff. And who knows, it might end up ramping up even more. But kind of in my mind, I'm thinking, 'Yeah, I think it's about time I wrote some cool music.' Maybe get some classical instruments back in my life again. I feel like I've used Ableton for nearly 10 years. It's so brilliant to use, but I think it would be nice to get out of the little tiny rectangular world that I live in."