FEATURES
The Punk "Radiance and Rage" of Fuck U Pay Us
By Kerry Cardoza · Photos by Simone Thompson · November 20, 2017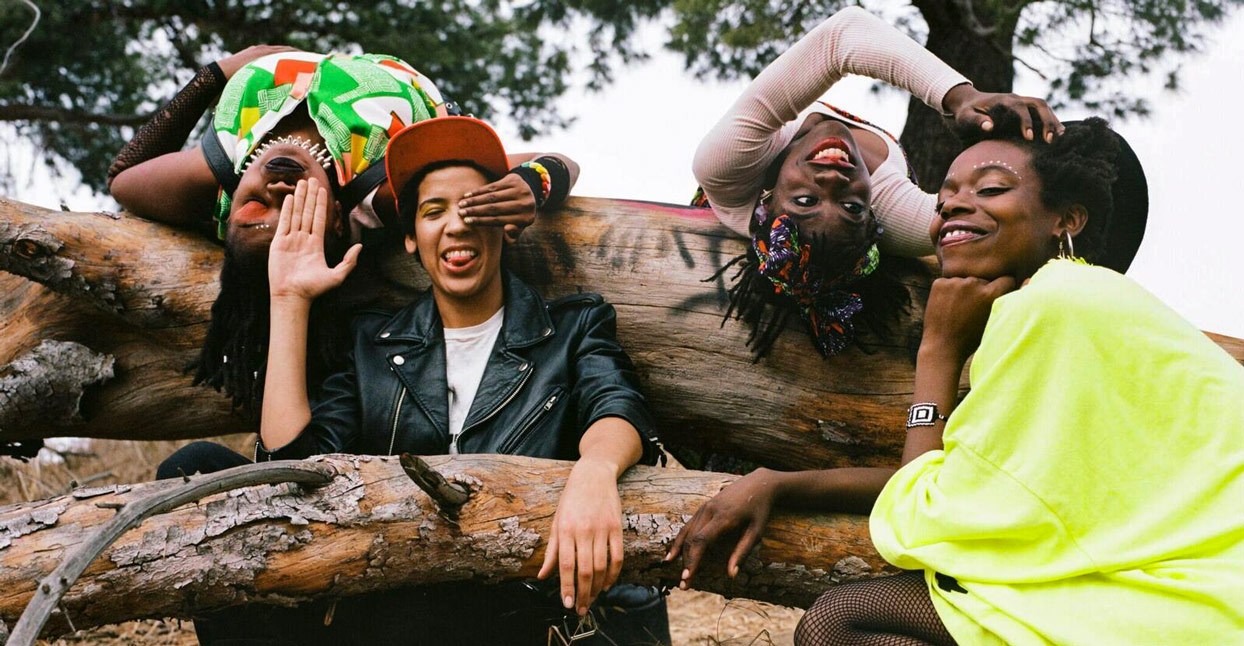 "Eat my asshole! Eat my, eat my asshole! You're an asshole, you're a fucking asshole!" That's what Jasmine Nyende, the lead singer of Fuck U Pay Us, chanted at a recent show, just before jumping into an all-femme mosh pit. As punks danced around her, Nyende continued screaming the lyrics to "Nappy Black Pussy," a track that perfectly encapsulates the band's attitude. Part ode to femme-centered sexuality, part substitute for the more patriarchal "suck my dick" colloquialism, the song centers around Nyende's commands for the listener to go down on her. In short, FUPU is not here to play. "FUPU is the white male patriarchy's reckoning," their bio states. "It's dressed in an all-Black, femme punk band, but it's the war for reparations incarnate." Reparations, femme-style, now.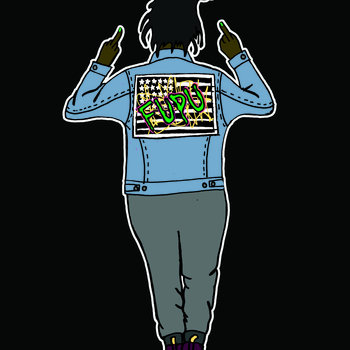 .
00:10 / 00:58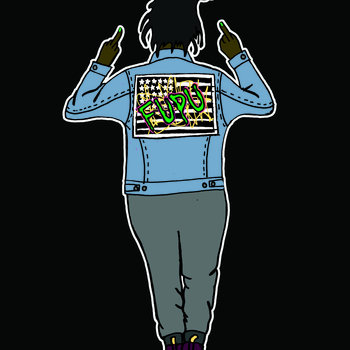 The scene above took place in August at Or Does It Explode?, a DIY festival organized by Chicago's black, brown, and indigenous punks. It's one of several cities FUPU has performed since they formed in Los Angeles in 2016. Like many iconic punk bands that came before them, FUPU began as an idea. Uhuru Ali Moor, who plays guitar, wanted to form a band explicitly as a way to see punk expressed through black women. Moor tapped Nyende, then an acquaintance, to sing after seeing her perform Hole's "Violet" at karaoke. Moor had never played guitar before, though they had long aspired to follow in the footsteps of Jimi Hendrix, one of their heroes.
FUPU went through several lineup changes and one name change—they were originally Fuck U Pay Me—before taking their current form, with Ayotunde Osareme on bass and Tianna Nicole on drums. All of the members describe the band as "a life-affirming creative project."
"It's one of the realest experiences I've had," Nicole says. Her commitment to FUPU was tested following a violent attack she experienced while the band was on a European tour in June. One night in London, Nicole was physically assaulted by a white man, an incident which left her with a broken nose. The band returned home with a renewed effort to seek reparations donations, partially to help the band create a safe space for black women to learn self-defense.
"Following [that] attack, we added free self-defense for femmes to our cause," Moor says. "A group of bystanders did just that—stood by—without helping us. Womxn have the human right, and need, to be equipped to protect themselves against misogyny."
FUPU's strength in the face of such adversity speaks to the band's wide appeal. A video of an early practice session quickly racked up over 40,000 views online. The group attribute their popularity to the music's rawness, and to the truth behind their lyrics. "FUPU is very explorative. We're definitely trying something new, and I think people can feel that," Nyende says. "There's something very beautiful about watching someone work through a sound and share it."
.
00:10 / 00:58
Though the band hopes to do a more formal recording session soon (for now, they only have a live album), the live space is where they truly discover themselves. "After a show, I feel like I've given so much of my spirit," Nyende says. "We care so much about allowing for a space where people feel comfortable screaming—especially other black women, black men, and black gender-nonconforming people. We try to think about how rare it is to be in a space where you can just scream and have that feel really comfortable."
And as with all of their decisions, FUPU is thoughtful about the shows they choose to play, often performing at events intended for marginalized groups, especially people of color. "Those are the people that the music is for, those are the people who are going to understand it," Nicole says.
FUPU's unapologetic spirit proves that punk is more alive than ever. Nyende says that, for her, FUPU comes down to "radiance and rage." "I think that it brings out this kind of limitlessness that people crave," she says. "Like the sound of screaming, the sound of pain, the sound of hearing someone say 'fuck you.' Saying it onstage unapologetically, and to hear and see and witness other black people, brown people, screaming with me. For me it's almost about like building witness to rage. It can be very powerful."
Or, as Nyende screams on another track, "Burn, ye old white male patriarchy, burn."
– Kerry Cardoza