FEATURES
A Guide to Flamingosis and His Bright Soul-Inflected Beats
By Vance Brinkley · June 25, 2018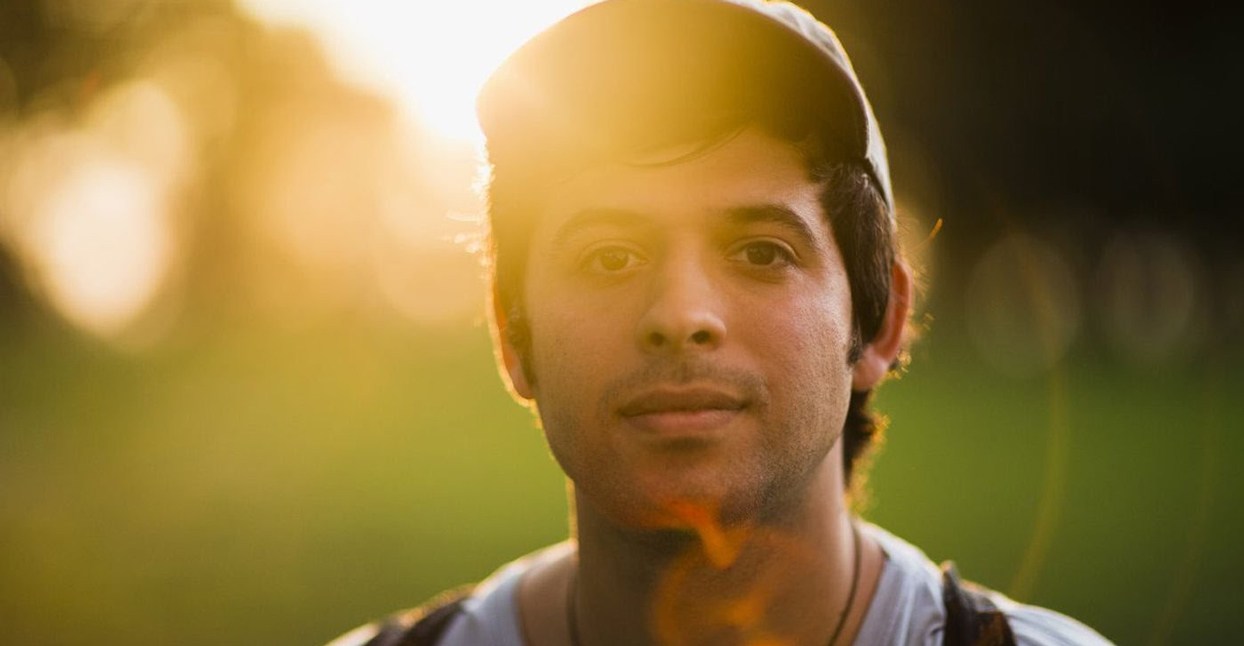 Flamingosis is a New Jersey-based producer whose work harbors a deep knowledge of hip-hop, funk and jazz, and is accentuated by bombastic instrumentals that draw direct lines to J Dilla and Daft Punk. In recent years, producers like Flamingosis have thrived on YouTube, thanks to the rise of what many listeners call "lo-fi hip-hop"—a sample-based subgenre consisting of mellow bass kicks. The subgenre was originally perfected by artists like Nujabes, but now, video platforms like YouTube offer fanmade videos, including mixes and loosies that are played over looped clips of YuYu Hakusho or Goodfellas.
Flamingosis was one of the pioneers of this wave: He was one of the first producers to have his music illustrated by videos that span from anime clips to nostalgic VHS cassette recordings of 1980s commercials. Though he's continued to develop his sound over a span of eight great albums on Bandcamp alone, there's no limit to where his music could go. But the story behind his music fully explains where the sound came from.
Velasquez began his musical journey like many of us, as a listener with a curious ear and good friends, listening to The Chemical Brothers and The Prodigy, and eventually Dilla and Flying Lotus. He learned to play the saxophone and was even a part of a vocal ensemble, but also managed to wrestle in high school and college. However, the transformation from "Aaron" to "Flamingosis" began quietly once he started to learn music production. "We would just mess around with Garage Band loops," he says of his music technology class. "We would take the licensed [loop] files that were just a part of the program, and I just dragged and dropped." This was the producer's first step into beat-making. He started using Ableton, his current program of choice.
So where did the name Flamingosis come from? You'd expect it to have some kind of reference to the pink-feathered bird. However, the name isn't solely inspired by Velasquez's unofficial mascot; it's more of a family thing. His father, Jens Velasquez, is a legend in freestyle frisbee. Jens and his brother Erwin won five championship titles in their career, performing with a combination of physical finesse and classic disco jams. There's still footage of the Velasquez brothers competing in the 1980 Rose Bowl semi-finals with Earth, Wind, and Fire's "Boogie Wonderland" blasting in the sunny skies as the two catch a frisbee behind their backs. The name "Flamingosis" is a trick his father invented while competing, which was a reverse spinning capture on one leg like (you guessed it) a flamingo. "I didn't really think about it, I just used it," the producer says now. "It felt very natural because it has the family history behind it, you know? Plus, my dad and my uncle, when they were in their prime winning their freestyle titles, it was during the late 1970s and a lot of people think that was the golden age of music."
Over the past six years, Flamingosis has constructed a hefty catalog that evokes sunny skies and summertime. Here are eight songs to begin your journey.  
"Porno Music"
The title may catch you a bit off-guard, but it's safe for work. "Porno Music" was the first song off of Flamingosis' self-titled Bandcamp debut, and the track caught the attention of many with its hard-hitting boom-bap and sample of "Second to None" by Atlantic Starr. Instead of hearing lead singer Sharon Bryant singing about how her man's love is No. 1, the producer slowed the track and looped it, letting the vocals lead the song while the Dilla-inspired drums give the song its bounce. Though he had a following thanks to several loose singles on Soundcloud, Flamingosis was the album that introduced listeners to his sound, foreshadowing the many projects that featured his beautifully-crafted use of unique samples and vintage aesthetics.
"Casanova"
Though Flamingosis' music is inspired by 1970s funk, soul, and hip-hop, his sound has expanded into the world of anime. On "Casanova," the main sample is "Lonely For The Road," a track taken from the original soundtrack for Lupin The III. You could already hear Velasquez's beat lead the loop, but once Kanye West's chorus from "Gold Digger" comes in, everything clicks beautifully.
"want me (need me)"
There are many reasons why "want me" could be considered as one of Flamingo's best beats from A Groovy Thing, but one thing's for sure: it shows the producer's depth in music selection. The sample for "want me" is from the 1977 track "Lover to Lover" by Maxi Anderson, which was eventually covered by flute player Bobbi Humphrey the same year. Although the original has been used by several artists including Knxwledge, M.E.D., and even Max B, Humphrey's cover is far easier to find on the internet, but you could only hear Maxi's original song by either watching a YouTube video, searching for a platform that has it or *gasps* actually buying it. But even then, the prices for the original album will run you about $25 for a CD or $30 for the album in vinyl. The song is already a rare gem that was hard to find. But with a quicker tempo and a silky smooth bass kick, Flamingosis manages to use different breakdowns of the song as loops, the acoustics as backdrops, the vocals as the chorus, and the saxophone breakdown from the original track being the climax. It's very brief, yet definitely adds joy to any environment in which it's being played.    
"That's Cold"
Though this is the second shortest track from A Groovy Thing, it is definitely one of the best from Flamingosis's 2017 project. With booming drums and snares, the beat is already immaculate, but it's the keyboard tones throughout that bring it together. "That's Cold" samples instrumentation and vocals from Bobby Womack's 1978 single, "How Could You Break My Heart," yet amplifies the tone of the song to create an infectious loop. The late soul legend is singing his life away for his lady's love in this original gem, yet the beat for Flamingosis' flip is given a faster tempo.
"Football Head"
If you're a fan of the show Hey Arnold, then you're very aware of the jazzy musical composition it uses to tell its stories. Though the title is an obvious nod to the popular 1990s Nickelodeon cartoon series, the beat sometimes switches its flow. Yet "Football Head" is all boom-bap nostalgia, right down to the drum roll that always happens at the end of the original song.
"Finesse (Hey Baby)"
"Finesse" is the theme music you never knew you needed for the summer; it's also one of the more popular songs in Flamingosis' catalog. For this cheerful tune, he flips a slightly slowed sample of the 1973 track "Love So Strong" by The Lovelites, which was already a mesmerizing love ballad with the soulful vocals of the Chicago trio. "That one was pretty crazy because I made that beat in a half-hour, and it's probably like one of my most popular tracks," the producer says. "It usually takes a couple hours to make a beat, a couple of days or a couple of weeks. But that beat, I don't know. I guess I had a clear stream of thought, and I made that in like 30 minutes."
"Flight of the Flamingo"
Sometimes the best songs are made when an artist is traveling, and "Flight of The Flamingo" is one of the clearest examples. A highlight from his acclaimed project Brighter Moments, this is one of the artist's favorite tracks, mainly because of where he did it. "I finished that beat when I was in New Zealand," says the producer. "When I was out there, I visited Bethells Beach and some of their more tropical areas out there…I guess it kind of inspired me to make that beat." The producer's tropical inspiration can be easily heard in the track's tone. The three-minute instrumental features a cool combination of the bass kicks from "Is There Any Love" by Trevor Dand, with the fiery flutes and treacherous trumpets of "The Shadow" by O Ji Ji, one of the rarest samples that Flamingosis have ever used.