FEATURES
Fialta's Sparkling Sunshine Pop
By Annie Zaleski · July 20, 2016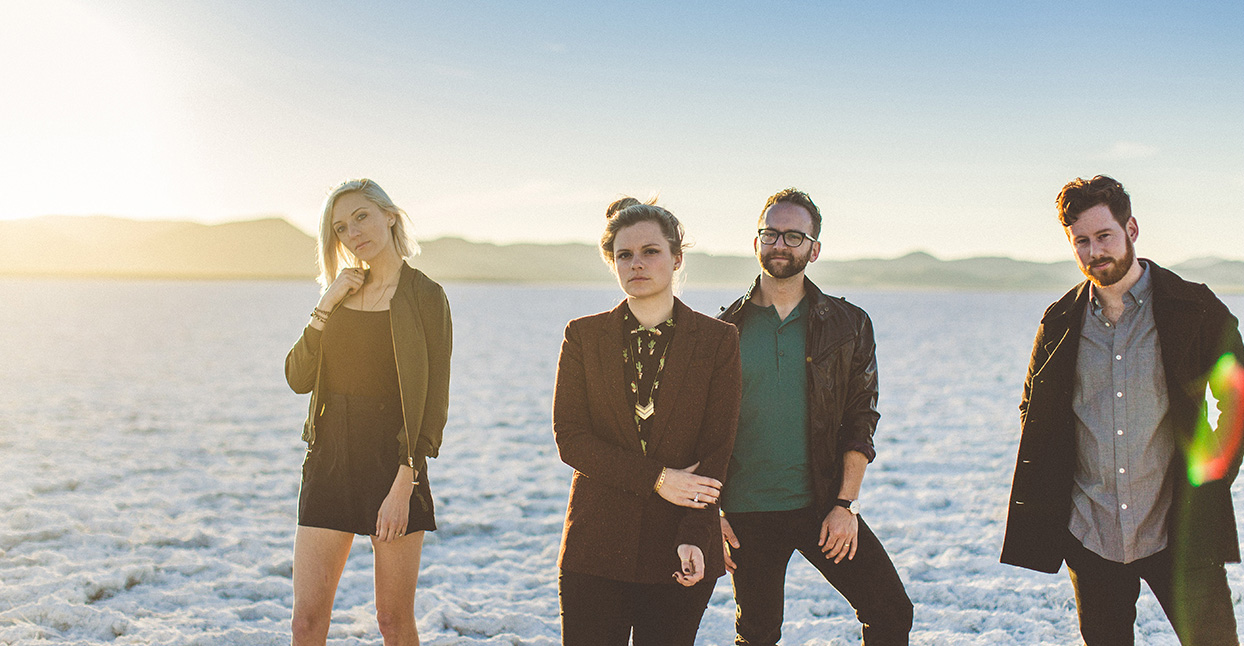 The members of the California indie-pop band Fialta—married couples Beth Clements and Mike Leibovich, and David Provenzano and Sarah Shotwell—kept a grueling schedule while recording their second album, Shadow Of A Drought. For several months, the pairs would wake up on Saturday mornings at 5:00, drive three hours to San Jose from their homes in San Luis Obispo, work in the studio until Sunday night, and then head home so they could be ready for work on Monday morning.
"We're all best friends; we're like family," Clements says. "But we were super family during [this time]—two married couples living in a Subaru on our way to San Jose every single weekend. It was a growing experience for our band, too. We've never been as close and communicative."
That's entirely believable, especially considering Clements admits the couples recently considered moving into a "huge mansion" together that they found for a great price. (They decided against it, admits Leibovich, who's sitting next to Clements: "We were like, 'If we live together, we're not going to ever know how to set boundaries. That's ultimately going to be disastrous.'")
Adding to their intertwined musical lives, each member of Fialta is a songwriter and multi-instrumentalist—Leibovich and Provenzano once played together in the pop-rock band Sherwood. However, having such overlapping priorities and compatible personalities doesn't mean Shadow Of A Drought is one-dimensional. To the contrary, the album is a bustling, colorful mélange of disparate sounds and styles: beachy co-ed harmonies; jagged guitars; bass lines reminiscent of Motown; burbling keyboards; buzzing synths; and retro-futuristic electronic programming.
Merch for this release:
Compact Disc (CD)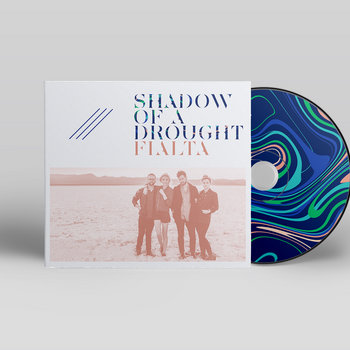 "It's a pretty diverse set," Clements agrees. "But at the end of the day, [the songs] all end up being collaborative, because we have to figure out how to Fialta-fy them somehow." That's in part due to generous (but not overdone) use of ukulele and twinkling glockenspiel—two hallmarks of the band's sound—and the anchoring timbre of Clements' pure, conspiratorial voice, which has a confident lilt and vibrato that's almost antique.
But in general, Shadow Of A Drought's sonics are at the center of a Venn diagram featuring sugary keyboard-pop ("Queen Of The Night"), ornate indie rock ("Central Sun"), jangly C86 homages ("Subway State") R&B-leaning '80s Top 40 ("Burning On Empty") and robust power-pop ("Be Someone"). Songs hint at, but don't directly mimic, bands such as Mates Of State, She & Him, New Pornographers, Rooney and Matt & Kim.
In the hands of other bands, this pile of influences might sound messy. However, Shadow Of A Drought features deft arrangements and mixing from Chris Keene that let each distinct instrument and sound stand out. "Do The Best We Can," for example, spins together effervescent harmonies, plinking piano chords, sleigh bells with a fuzzy production sheen.
Merch for this release:
Compact Disc (CD)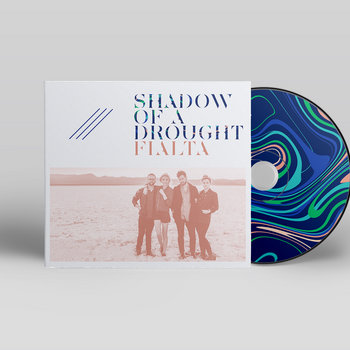 "We don't even listen to as much music as we make," Leibovich says. "People who know us are always surprised—like, 'Where the music coming from?' Sometimes the influence isn't even known to us. 'Another Lonely Heart,' people were like, 'Man, were you guys listening to early Madonna? Where did you come up with that?' And we were like, 'We don't know—it just came out.'"
Merch for this release:
Compact Disc (CD)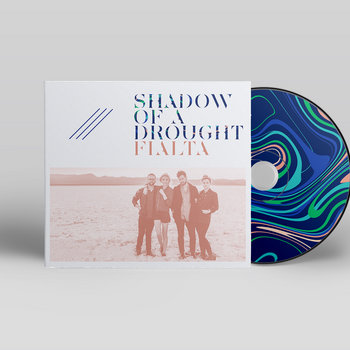 Shadow Of A Drought's underlying lyrical narrative—examining the roadblocks and obstacles that pop up on the way to a happy ending—were an equally pleasant surprise, one that the members of Fialta didn't parse until late in the recording process. "We started to notice there were a few common themes in the songs," Leibovich says. "I would say [they] all touch on some form of drought—environmental drought, relational drought, spiritual drought. They all had this relative cohesion among themes of songs, which was cool. It felt, by the final choosing, like 'This is a family of songs. These songs make sense to go together.'"
That unity extends to Fialta's lives outside the band. Leibovich and Clements are conducting this interview while tucked away in a white board-decorated conference room at their day job. The pair work at the same tech company in San Luis Obispo—in fact, Clements has to go train a new employee after the interview, and they had to take vacation days at work for Fialta's current run of tour dates. (In another sign of the band's intertwined fortunes, so did Provenzano: He works with his bandmates at the same place.) Shotwell, meanwhile, teaches high school history and creative writing.
Juggling day jobs and a band isn't an easy thing, although the arrangement is ideal at the moment. For starters, Leibovich and Clements say their employer is supportive of their art—in fact, the hold music for their company's phone is Fialta.
Fialta's band relations aren't always rainbows and unicorns, however—both Clements and Leibovich admit the band members "get into it" at times. Still, having such rock-solid musical and marital partnerships has helped them navigate any minefields. "With us, it's like, we're in this together," Leibovich says. "There's a safety in hashing it out and getting all the feelings out on the table. It's uncomfortable for me emotionally to get into those, but I feel like at the end, we're more communicative, we have something better on the other end of it."
Indeed, Fialta's momentum is clearly on an upswing. For example, a Paris-based filmmaker reached out to the band via Instagram and offered to shoot a music video for the song "Another Lonely Heart," while Leibovich says Broadway actor Andrew Keenan-Bolger is a Fialta fan and is going to make a "Broadway-choreographed" clip for a future song.
"We just want to keep moving forward," Clements says. "And every time we've done that, another door has opened for us. So we're going to go on this tour and then hopefully another door does open and we can do something even more momentous."
—Annie Zaleski