FEATURES
Revisiting the Legacy of Garage Pop Giants The Exploding Hearts
By Dave Cantor · June 02, 2023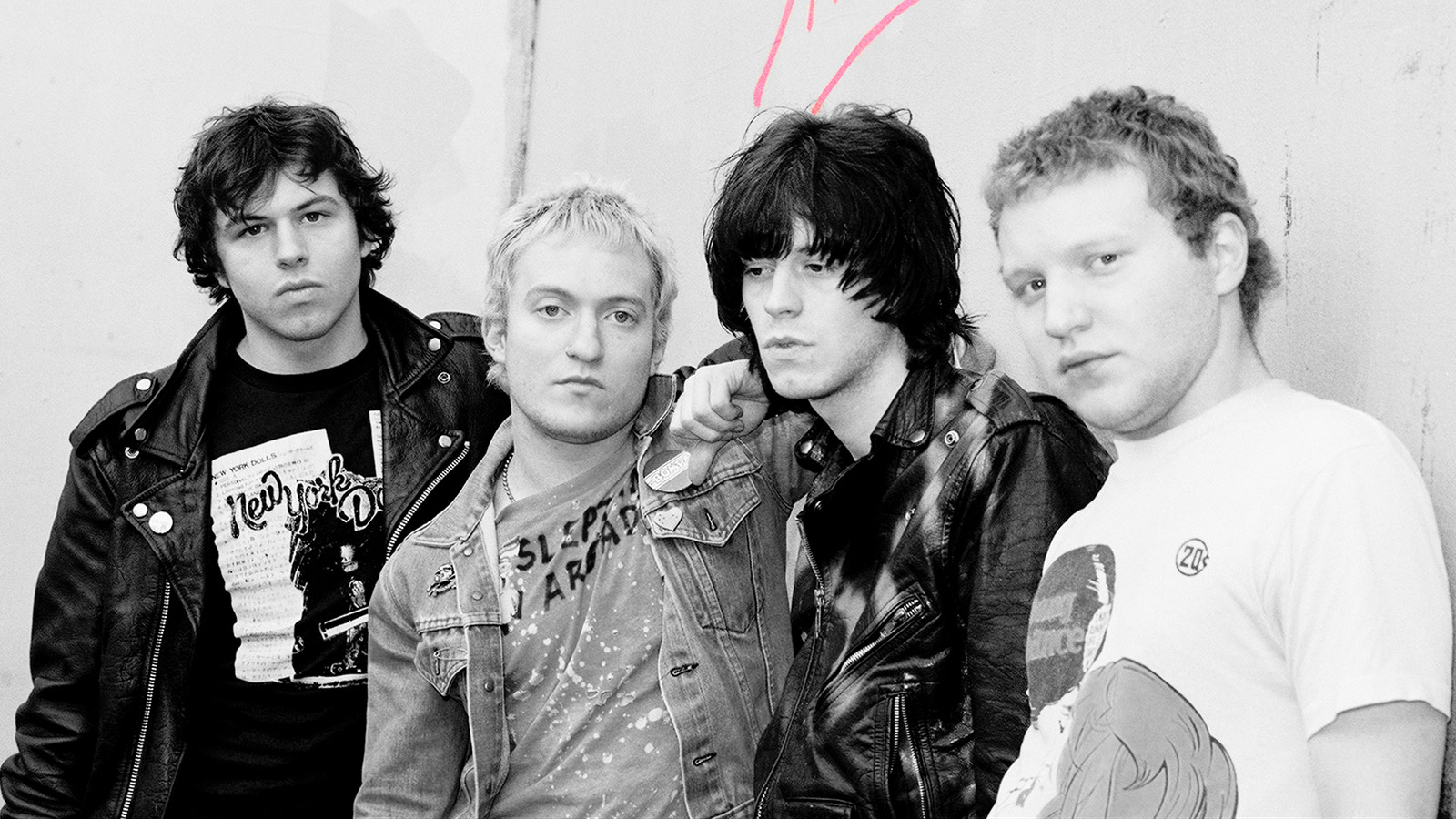 Guitarist Terry Six recalls heading down to the Bay Area in July 2003 with his band The Exploding Hearts to play a show. The Hearts—who had released their full-length debut Guitar Romantic, earlier that year—had a Friday set booked at Bottom of the Hill in San Francisco; a random meeting with members of The Briefs, who were in town performing with a side project, led to another gig the next night just a few blocks away at Thee Parkside. Six says the band's mics were cut off toward the end of the set, but the quartet kept playing, urging the crowd to sing along. The last song The Exploding Hearts played was "(Making) Teenage Faces."
After the show, they piled into a van and headed north on Interstate 5. At about 6 a.m. Sunday, July 20th, the driver lost control of the vehicle, and it rolled over twice. Singer and guitarist Adam Cox, and drummer Jeremy Gage died when they were thrown from the van. Bassist Matt Fitzgerald later died at an Oregon hospital. They were all 23 or younger. Only Six and Ratch Aronica, the band's manager, survived the accident.
Then they had to try to move on.
"It's just something I have to wear around. It's something I can never take off," Six says, speaking from his home in the California desert. He's spent the last year or so digging back into these memories as part of the preparation for a new 20th Anniversary reissue of Guitar Romantic, released last week via Jack White's Third Man Records. "I can't hide from it or run from it. And I don't try to. But I just tried to make the best choices I can. This whole thing is for them—keeping their memory going. Because they didn't deserve that. It wasn't supposed to go that way."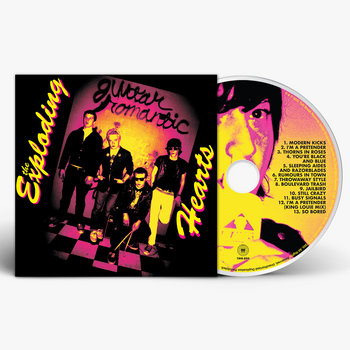 .
00:10 / 00:58
Merch for this release:
Vinyl LP, Compact Disc (CD)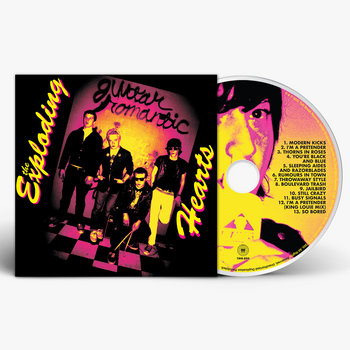 It's easy to read punk mystique into The Exploding Hearts, especially since the band didn't get the chance to properly tour, and now mostly exists in memories, reissues, and listicles about the early '00s. But that mythologizing belies the music's bite. Guitar Romantic—which also featured songwriting and keyboard work from frequent collaborator King Louie Bankston—was recorded in 2002 by Pat Kearns at Portland's Studio 13. Kearns would go on to work with punk acts like Defiance and Clorox Girls, though his own tastes hue toward the bucolic—preferring folksier music and retaining a healthy appreciation for The Grateful Dead. (He jokes about how he had to keep his musical allegiances to himself around the Hearts.)
"Terry and Adam came to a show [that I played]. And that was probably right before or in the midst of recording Guitar Romantic," Kearns recalls. "So we were supportive of each other, but they were from a younger and more punk background. But what was unusual about the Hearts is that they actually had the sensitivity and the harmonies in a hardcore scene where their buddies were in bands like [fellow Portland punk group] The Riffs."
The album's opening tracks—"Modern Kicks" and "I'm a Pretender"—perfectly encapsulate the Hearts's affinity for combining punky verve with pop ideals and tropes commonly associated with Motown love songs. "Most of the punk bands out of their scene, it's super crude and macho," Kearns says. "And these guys were trying to be more sensitive—and they were really pouring that on. It was just different."
On "Boulevard Trash," the band dives deep into their fandom of the New York Dolls—right down to Bankston's repetitive single-note key plunking. (The song's title is a reference to the Dolls classic "Trash"). Album closer "Still Crazy" is also supported by a deliberately simple keyboard line from Bankston, as Six's guitar traces the contours of the verse and chorus, and Cox weaves together a love story dotted with the protagonist's affinity for substances. Like the Dolls reference earlier in the record, the lyric "Psychotic reaction running through my brain" is a nod to Count Five's 1966 garage psych classic.
The album was initially released by Portland's Dirtnap Records, where it would eventually outsell all of the label's other releases. "I got to release what is still to this day one of my favorite punk rock records of all time," says Dirtnap founder Ken Cheppaikode. "In a lot of ways, [their success] helped make a lot of other great records come into the world that you may not have if it wasn't for The Exploding Hearts."
For the Third Man reissue—which has been remastered from the original DAT tapes—Kearns and Six included three new mixes, including one of the B-side from 2003's "Modern Kicks" single. "Busy Signals" is a mixed-up love song that's equal parts confusion, hurt, and melody, driven by an impassioned vocal from Cox. The new remix deepens each of those components, bumping the rhythm section up in the mix and filling out Bankston's chording. There's also a bit of studio chatter included that Kearns said reflects the band's fatigue as they were trying to perfect the composition. The new mix of "I'm a Pretender" adds a Bankston keyboard line, as well as some handclaps that draw a clearer line between that song and the group's 1960s forebears. The reissue's final addendum is a reworking of "So Bored," which was initially released on the posthumous 2006 collection Shattered.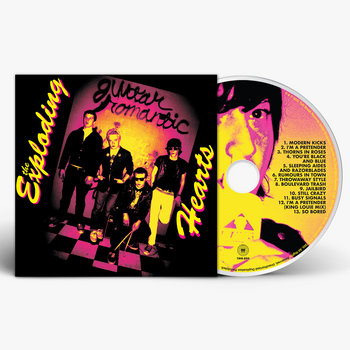 .
00:10 / 00:58
Merch for this release:
Vinyl LP, Compact Disc (CD)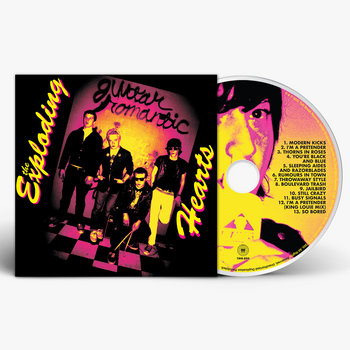 The members of the Exploding Hearts first met at a public high school in Beaverton, Oregon, during the '90s. Each had kicked around other punk and garage bands during that time, playing in various configurations that disintegrated and recombined until the final version of the Hearts coalesced. The members' experiences playing in punk bands with rigid genre structures created a desire to push back.
"Portland was just a place where you gassed up on your way to Seattle," Six says. "That's what it felt like back in the '90s. It didn't feel like it had really carved out its voice yet." Even if Portland hadn't yet become the cultural touchpoint it is today, its proximity to Seattle offered opportunities for musical kinship. The Briefs, a Seattle band who signed to Dirtnap a few years before The Exploding Hearts, served as a sort of template. "I think that our relationship with The Briefs was very, very positive and helpful," Six says. "And we really looked up to them, because they were a lot older than us at the time. We took notes, we went to their shows and we looked at what they were doing. We'd say, 'OK, every single person in the band sings. This is really cool. Like, nobody else does that.'"
In the wake of the crash, Six found himself making decisions he now sees as unsound: prizing the life of a musician over his own physical and mental health. The first single from his group The Nice Boys, a '60s-indebted rock act, was released within a year of the accident. An LP and another single on Dirtnap followed, with Kearns netting engineering and production credits on each. "I don't look back on that time period very fondly, honestly," Six says. "I never really fully healed. I never took a break. I just went back into it. It was six years of struggle."
Eventually, Six and his wife relocated to the Bay Area, and Six began working at a school for children with autism. He also started thinking about the unfinished songs he and Bankston had been working on while the Hearts were still around. Their 2014 single as Terry & Louie collects a few of those songs, each a bit less tightly wound than anything on Guitar Romantic, but still brimming with the sense of loss, desperation, and vulnerability that characterized the work of their former bandmates. The duo released another single and an LP, before Bankston's death in 2022.
Today, Six and Kearns are the only surviving contributors to Guitar Romantic. Kearns lives just north of Palm Springs and runs a studio that's run solely on solar power. And in 2020, Six left the Bay for a gig as operational director for several venues not too far away from Kearns. The two have remained friends, bonded by tragedy, a love of music, and a dedication to keeping their friends' work alive.
They've also continued working together on new projects beyond the scope of the music that bonded them two decades back. But there's a twinge of loss that lingers over the proceedings. "What we're doing now is just me and Terry," Kearns says about a recent, ongoing project. "Terry's playing all the instruments, and I'm just doing the thing I always do," says Kearns. "Whereas back in the old days, they were playing all the instruments, The Exploding Hearts, themselves. They switched around and we tinkered with things. Terry would sometimes play Adam's guitar parts; they would play to their strengths at that point in time. And now, it's just one guy."