FEATURES
Eric Dolphy's Prestige Recordings Showcase His Innovation
By Martin Johnson · November 11, 2021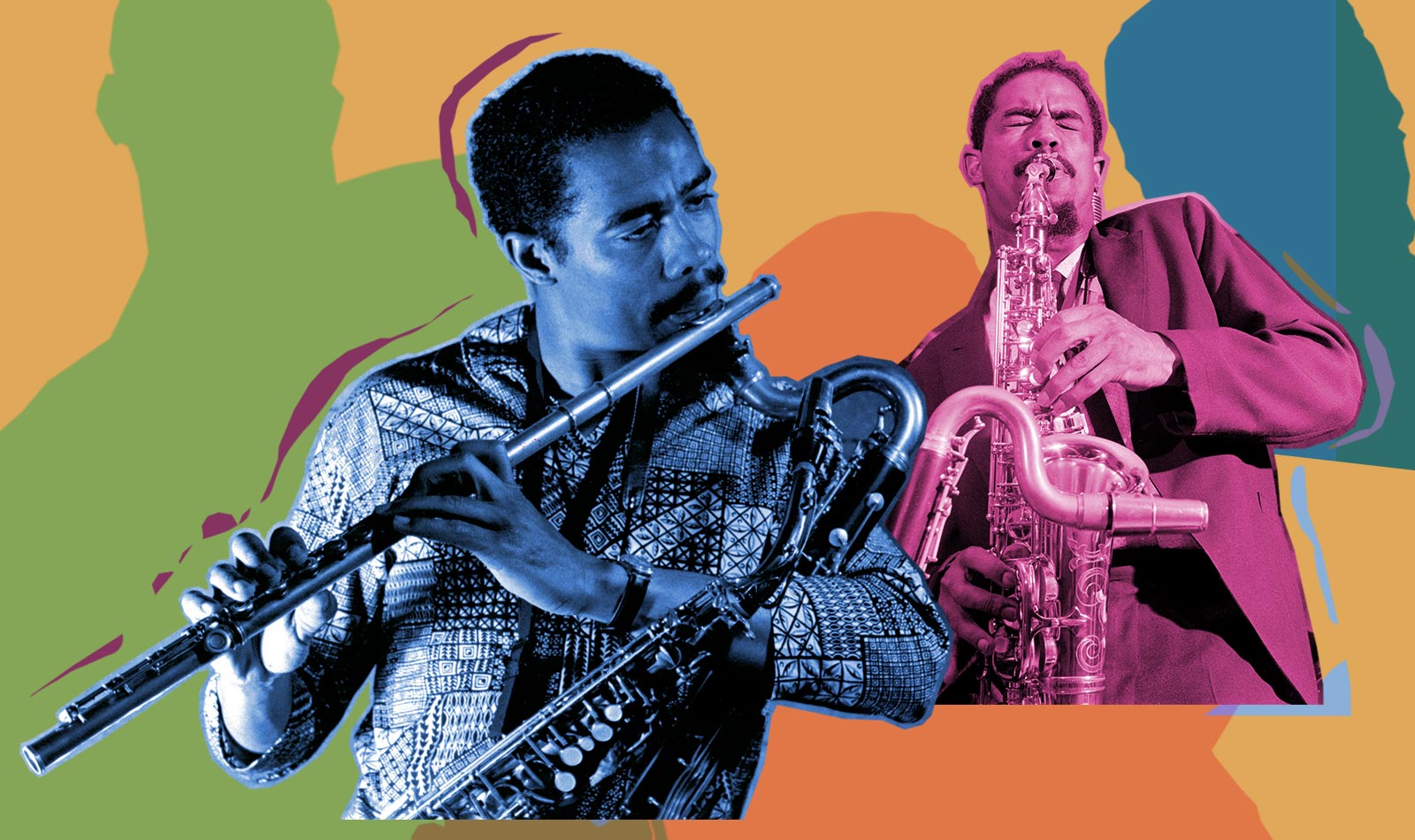 Eric Dolphy's recorded legacy is both astonishingly brief and extraordinarily rich.  He entered the studio for his first recording as a leader 10 weeks before his 32nd birthday in 1960. He died nine days after he turned 36 in 1964. In that short time, he made dozens of recordings, some on his own, others in the company of legendary peers—records that were groundbreaking upon their release six decades ago, and remain profoundly influential today.
Saxophonist and composer James Brandon Lewis credits Dolphy as a crucial influence on his innovative music, citing the legend's intervallic leaps and velocity of playing. "He created intensity without relying on crescendos, but using articulation and pointillism to build a solo," Lewis says, "almost like an Archimedean Spiral, spinning to then shoot out in either direction. His playing always felt urgent; he is entirely invested in the moment."
Dolphy was a virtuoso on three instruments: Alto saxophone, flute, and bass clarinet. If he never recorded as a leader, he'd be renowned for his extraordinary work alongside jazz greats like Charles Mingus and John Coltrane. In addition, he played on a breakthrough recording by Ornette Coleman. His sides with fellow innovators like Booker Little, Andrew Hill, and Max Roach are just as essential.
Merch for this release:
Compact Disc (CD)
But his work as a leader is canonical, and it breaks neatly into three chapters: His early sessions—most of which found their way to the Prestige label; his 1963 sessions in New York, which have been reissued by Resonance; and finally, his 1964 opus, Out to Lunch!, which was recorded only months before his tragic death. He introduced the bass clarinet into jazz, and his flute and alto saxophone playing expanded the lexicon of his instruments. The impact of his compositions can be heard throughout jazz today as his bands offer unusual combinations of sonorities and harmonies. And he was a brilliant mentor; his bands showcased many young musicians who would go on to stellar—if not legendary—careers in jazz.
Pianist, composer, and conceptual artist Jason Moran said of Dolphy, "There is something about all of the ranges of instruments he masters, from the bass clarinet, alto to flute. He has access to depths and the heights. One of his virtues is his obsessive technique that allows him to shift altitudes when he soars and then abruptly rumbles the core."
Of the major figures of the early '60s jazz avant-garde—the others are Coleman, Coltrane, Albert Ayler, and Cecil Taylor—Dolphy's music made the strongest argument that the "New Thing," as it was often called, wasn't a repudiation of the past, but a continuation of it. This is especially evident in the material on the Prestige label sessions—compelling music that is equally bracing and seductive.
Before moving to New York to jumpstart his career, Dolphy, a California native, spent more than a decade on the bustling Los Angeles scene developing his innovative style. According to composer/flutist and Dolphy scholar James Newton, he met with saxophone god Charlie Parker during the legend's recuperation at the Camarillo State Hospital in 1947. In 1954, he met Coleman, Coltrane, and Mingus, and shared ideas with each, and studied with contemporary classical composer Edgard Varese. All of which is telling: Dolphy's playing often has the bluesy swagger of Parker or Coleman, but it can also be stern and ascetic, like some of the best-known works of Varese.
Outward Bound, Dolphy's first session for Prestige came after a stint in a conventional band led by drummer Chico Hamilton and ongoing time with various bands led by Mingus. On the album, Dolphy is both looking back and peering ahead. The first track, "G.W.," is a dedication to Gerald Wilson, a bandleader and prominent figure on the postwar Los Angeles jazz scene. Ideas rush out of Dolphy's horn like a jailbreak and, like Thelonious Monk, whom Newton cites as a key influence on Dolphy, he hits notes that are "wrong" in the conventional schema of harmony but sound so right.
As Newton noted, "People don't talk about it as much as they should, because he was innovative in so many other ways, but Dolphy was a great blues player." That quality is beautifully illustrated in "245," a piece named for Dolphy's home, 245 Carlton, in Brooklyn's Fort Greene neighborhood.
Outward Bound also showcases the close bond between Dolphy and pianist Jaki Byard. Moran explained, "Dolphy never plays a cliche, and Jaki finds a balance that at times makes the piano sound like a big band while Dolphy is the biting edge of the era. The country is on the precipice of revolution, and Dolphy sews in the necessary optimism in abstraction."
Dolphy's next release for Prestige, Out There, demonstrates his interest in blending unusual sonorities. The band is a quartet: Dolphy, bassist George Duvivier, drummer Roy Haynes and Ron Carter, who would go on to hold the esteemed bass chair in Miles Davis's second quintet. Here, he's heard on cello, making for a most unusual front line. As the title track illustrates, the combination is pure genius, and Dolphy's amazing technique—especially his intervallic leaps and bluesy mien—are highlighted on "Serene."
Dolphy made several other stellar studio recordings, but his next acknowledged masterpiece was a series of live recordings at The Five Spot with a remarkable band: Little, pianist Mal Waldron, bassist Richard Davis, and drummer Ed Blackwell. It was music that pushed stylistic boundaries. In the '70s, the label compiled the recordings into a box set called The Great Concert of Eric Dolphy. Ethan Iverson recalls, "As a teenager I listened to 'Fire Waltz' from the Five Spot sessions over and over. There's something truly menacing about it. It's a restrained menace, and there's certainly joy present as well, but the 'fire' in the title is real."
Merch for this release:
Vinyl LP
Musical Prophet: The Expanded 1963 New York Studio Sessions is the next chapter in Dolphy's magnificent discography. It presents remastered versions of Dolphy's stellar Iron Man and Conversations albums, as well as 70 minutes of music that has never been released. It is a vital document of a master musician at a creative peak. Dolphy recruited an exceptional cast of young musicians whose later work would be revered, including Davis, vibraphonist Bobby Hutcherson; saxophonists Clifford Jordan and Sonny Simmons; and trumpeter Woody Shaw. The title track of "Iron Man" opens with a burst of speed and intensity, as if the listener walked in on a band in full flight. Dolphy plays alto saxophone solos almost immediately and with swinging ferocity, offering a modernist take on Paul Gonsalves's famous 1956 solo for "Diminuendo and Crescendo in Blue" on Ellington at Newport.
A more explicit connection to Ellington is made on the warm, reflective rendition of the Duke's gospel, "Come Sunday," which is done as a duet with Davis and with Dolphy on bass clarinet. Another tie to the past arrives with Dolphy's wistful and complex "Ode to Charlie Parker," also a duet with Davis—this time with the leader on flute.
There are two more superb ensemble tracks on Conversations, and the adroit weaving of sonic textures prefigures the brilliance of Out to Lunch! But the highlights are the intimate settings. "Love Me," which was written by Ned Washington and Victor Young, is a solo saxophone piece for Dolphy, a rare setting at the time, but one that grew commonplace by decade's end. Then there are three duets with Davis: "Alone Together" and two renditions of "Muses for Richard," both previously unissued, which showcase the bassist's rich woody tone and Dolphy's exceptional range. The pieces feel like an exciting and insightful musical dialogue.
Merch for this release:
Compact Disc (CD)
While all of these innovations make Dolphy's music very of its time, Newton sees deep roots in his sound. "The plaintive cry and deeply personal ruminations of the soul found in field hollers are never too far from the equation in Eric Dolphy's art," he wrote in the notes to Musical Prophet. "He taught us to listen much more closely to voices from all over the world."
Dolphy died due to complications from previously undiagnosed diabetes in 1964, but his influence lives on both in style of play, and in his innovative compositions. Saxophonists ranging from veterans like Oliver Lake, mid-career stalwarts like Steve Coleman, and newcomers like Immanuel Wilkins display aspects of Dolphy's playing. Dolphy's use of tonal color and unusual instrumentation looms over most of today's jazz. The music here demonstrates the range of Dolphy's melodic ingenuity. It often seems as if he might go in any musical direction when soloing, creating a frisson that animates the tune and excites the listener.