FEATURES
Soul Jazz's Original Recipe: "Cookin' with Jaws and the Queen"
By Ashawnta Jackson · February 09, 2023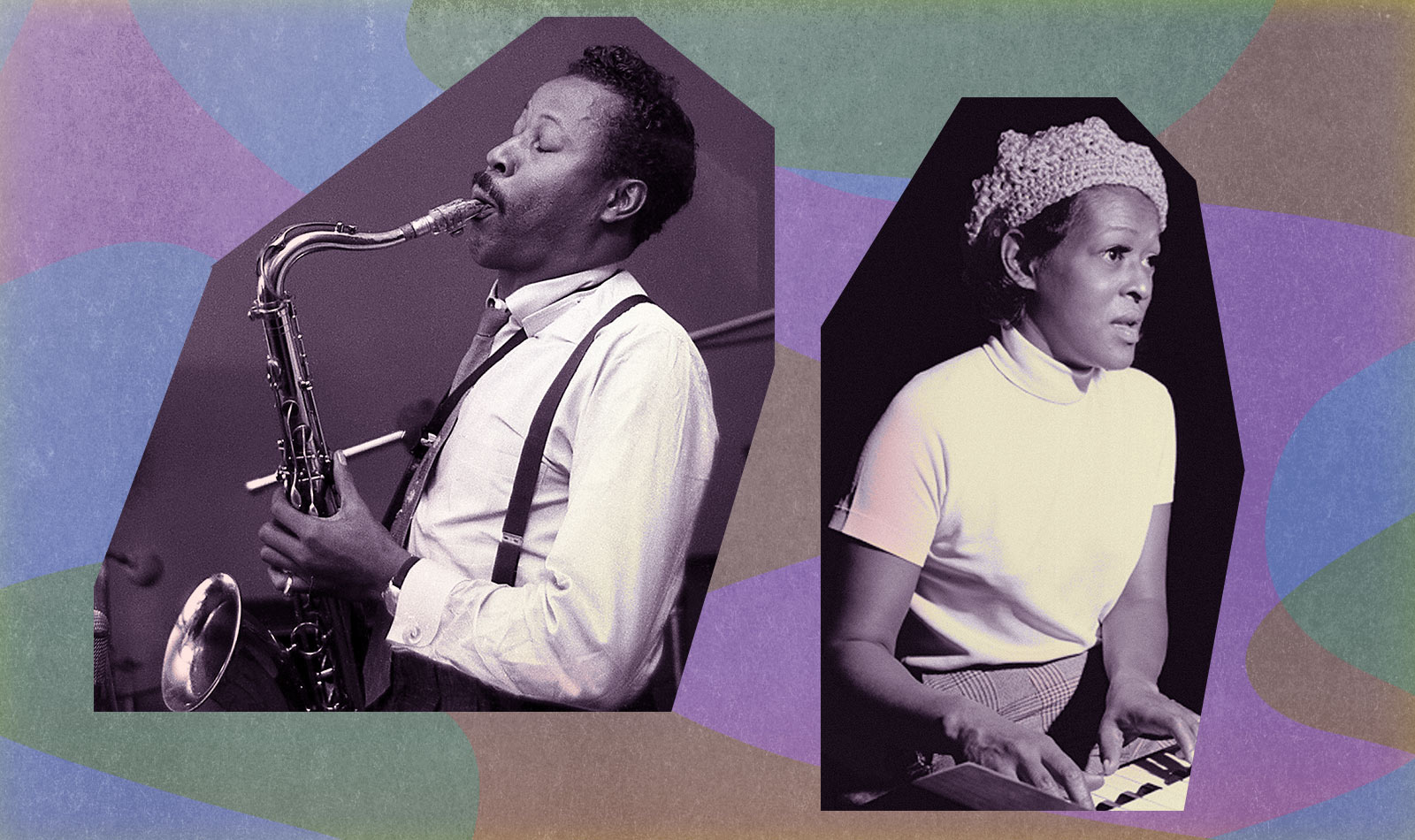 There's some debate about the way Eddie "Lockjaw" Davis got his nickname. Some say it was because of the way he clinched the mouthpiece of his saxophone, others say it was taken from the name of a tune he played early in his career. Jazz has a long history of tall tales and late-night rumors; so, sure—the origin stories have their way of getting mixed up, twisted, told longer and louder than maybe the truth warrants, but here's what's not in dispute— Eddie Davis could play.
.
00:10 / 00:58
His sound influenced scores of players after him, an elder statesman of the sound of soul jazz: a sound you can hear in so many that came after him, but a name that, somehow, doesn't always come up when talk turns to "the greats." We can talk about why that is, an endless list of why's peppered with opinions and debates. But that's not the music. The music is "honking, stomping, sinuous," photographer and writer Valerie Wilmer writes in her 1970 book Jazz People. Cultural critic Stanley Crouch once wrote that Jaws could "shape a ballad with such sumptuous control that the horn became the morning star of Venus." The music is the story, not the absence, so instead, we'll talk about the opportunity to relive and revisit the work of a man who set the tone for the genre in ways big and small.
That opportunity comes in the form of Cookin' with Jaws and the Queen: The Legendary Prestige Cookbook Albums, a four-album anthology featuring Jaws and a then up-and-coming organ player named Shirley Scott. Over the course of the four records included on the release (Cookbook Volumes 1, 2, and 3; and Smokin'), the group, which also featured multi-instrumentalist (flute, clarinet, tenor and baritone sax) Jerome Richardson, drummer Arthur Edgehill, and bassist George Duvivier, set the bar high for the kind of stylish, soulful, funk-inflected jazz that would come to define the genre. Davis came to prominence in a time of embarrassing riches for saxophone fans: John Coltrane. Sonny Rollins. Ben Webster. It was a crowded field, but there was room for everyone, especially someone like Davis who never seemed afraid to let his music lead him.
Born in New York in 1922, Davis was a reluctant sax player. As Bill Crow writes in his book Jazz Anecdotes, Davis was deciding between the sax and the drums, and as Davis explains, "My next move was to see who got the most attention, so it was between the tenor saxophonist and the drummer. The drums looked like too much work…"
Though largely self-taught, after just eight months, he was regularly working at Clark Monroe's Uptown House, a Harlem jazz club that, like its uptown neighbor Minton's Playhouse, was one of the early incubators for bop. Davis ended up having a lot to do with this emerging sound. He took a job at Minton's, providing the deciding voice for who would play in those legendary jam sessions, and ultimately leading the house band. And he'd let you know if you didn't belong. "If you were going to play again with Lockjaw," trumpeter Miles Davis wrote in his 1990 autobiography, "then you'd better not be bullshitting because he would embarrass you." Those decisions—yes/no/keep playing/get off the stage—played a part in shaping a scene and a sound. This judge of talent would come in handy later.
Meanwhile, something was happening in Philadelphia. Something was always happening in Philadelphia, especially when it came to jazz. The city was electric. And in the late 1950s and early 1960s, a lot of that music was coming from the B3 organ, particularly the one wielded by the city's native son, Jimmy Smith. Smith was like a beacon, his sound beckoning bodies to the dance floor, quarters into jukeboxes, and for those who really felt it: motion into inspiration. Such was the case for Shirley Scott; she'd been playing the piano, but that soul-jazz organ sound had changed her. "Jimmy Smith did so much to make that organ popular," she told Janis Stockhouse and Wayne Enstice in their book Jazzwomen: Conversations with Twenty-one Musicians. "Down Beat used to list it as miscellaneous until he started playing it."
.
00:10 / 00:58
Scott was one of those players who just always seemed destined for greatness. Born in Philadelphia in 1934, she was always surrounded by music. Her father ran an after-hours club in the basement of their house, and musicians that frequented it would teach her to play. "There was always music there. So these people would come by, and maybe the piano player would be a little late. Then I'd sit down there. I got a chance to play with all these people, and somebody was always showing me something…I was just a lucky kid."
Davis and Scott began playing together in 1955, leading to a collaboration that would last several years and albums, including the four albums that make up this release, recorded over three sessions in 1958.
One of the things about soul-jazz that doesn't always hit listeners right away is that beneath the funk, the dancing, the groove, there is a complexity. It comes from the skill of the players, sure, but it also comes from the way that this genre tells the history of Black music, note by note. Have a listen to "Skillet," a Davis-Scott composition from Volume 2. It enters like a sermon, feeling like church, holy. But suddenly, Scott, Duvivier, and Edgehill hint at a steady beat, building and building. The piece stretches and arcs, a smoky blues pulsating in a dimly lit club. Jaws enters, slow but insistent, and you realize that it is both things at once. Sinful and sanctified. These are players that understand the music and its history, but still remember to feel. Still remember that Saturday nights turn to Sunday mornings, and infuse the music with both. By the time Richardson comes in with his well-timed flute solo, it feels like a cool drink, refreshing, sating. There is a style and sophistication to the music.
But don't for one second ever forget that this group can move you. Tracks like "Pots and Pans," a Davis composition from Smokin', and "Heat 'n' Serve," a Scott-penned piece from Volume 3, remind us of Davis and Scott's R&B roots. And pieces like Davis's "Three Deuces" and "The Broilers," another Scott-Davis collaboration, let it be known that these two are deeply invested in bop and all of the places it can take the music.
As Willard Jenkins writes in the liner notes for this re-release, "Eddie "Lockjaw" Davis's tenor stands as one of the more personal sounds on his instrument in the saxophone lineage." Combine that with the innovations of a young player like Scott, whose star was just beginning to rise, and the result can't be anything but beautiful. "He was quite a person to work for," Scott told Stockhouse and Enstice. "He was a gentleman, and maybe my best teacher."