FEATURES
Dry Cleaning Evolves on "New Long Leg"
By Cam Lindsay · April 02, 2021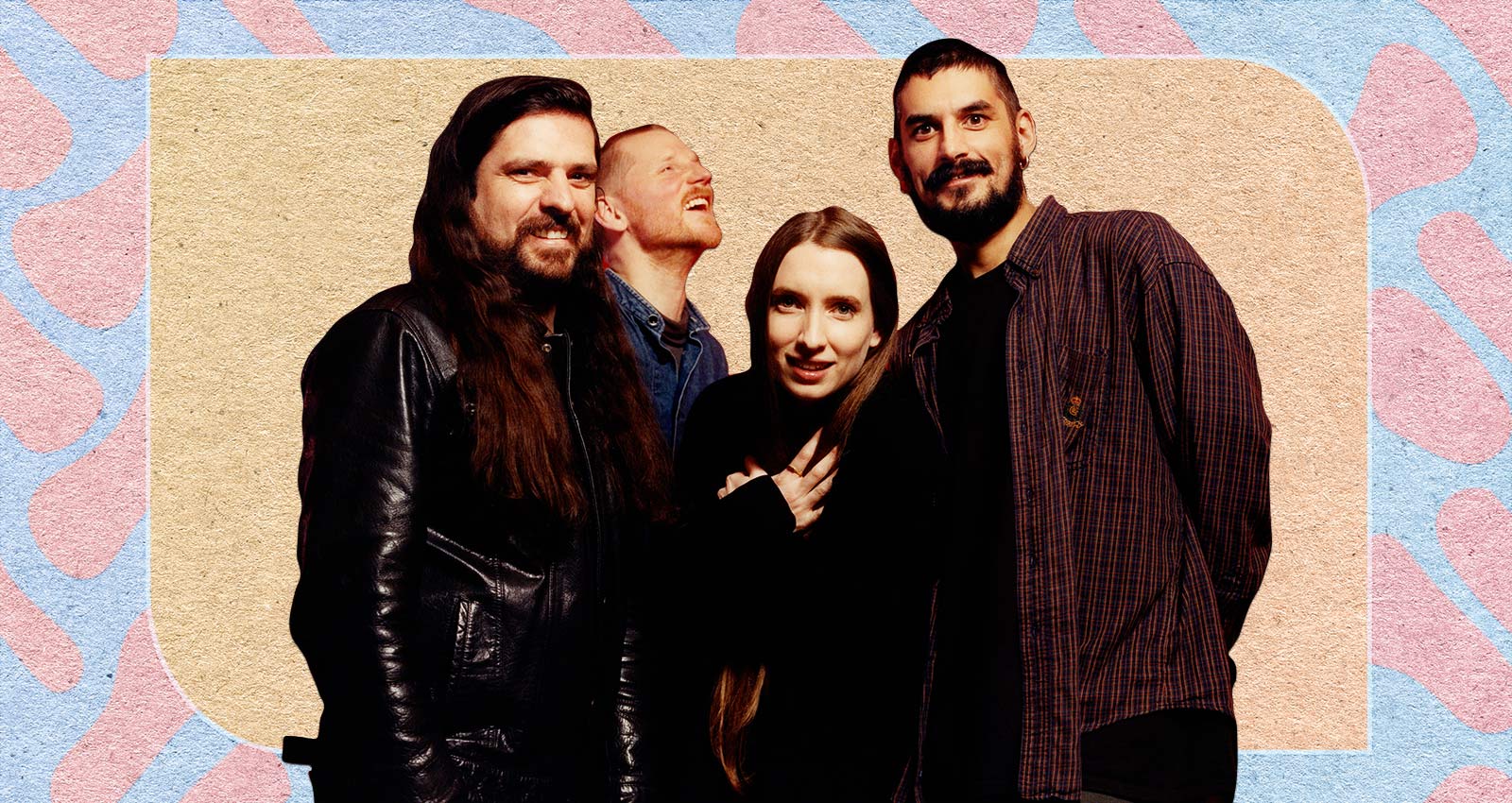 Florence Shaw never planned to front a band. When she was invited to join London's Dry Cleaning, she was busy working as a university drawing lecturer and picture researcher, and as a visual artist. But that lack of pretense is one of the things that made her the perfect fit. Rather than going for heavy-handed sloganeering, Shaw's lyrics are instead assembled from droll, haphazard observations—the perfect complement to the sinewy, minimal art-rock that backs her. For New Long Leg, Dry Cleaning's debut full-length, she filled a notebook with lists of words gathered from dreams, old texts, TV advertisements, even an empty packet of crisps. She brought that catalog of references—hot dogs, knitting circles, and Antiques Roadshow—to band rehearsal, and turned them into lyrics. "We would jam or improvise, and I would do the same using the words. I jumped around looking for rhythms or things that were of a similar theme or subject," she says.
Dry Cleaning's music has evolved in its nearly two years as a four-piece. Drummer Nick Buxton, guitarist Tom Dowse, and bassist Lewis Maynard have shed much of the frenetic energy they utilized early on their 2019 EPs, Sweet Princess and Boundary Road Snacks and Drinks, while Shaw controls the pace with her sing-speak vocals. "More Big Birds," trades tension for playfulness with Shaw blithely piping "da-da-da" to a steady beat. On "Every Day Carry," the group allows a loose, measured collage of noise to swell past the seven-minute mark. On the album's single, "Scratchcard Lanyard," the melody bounces across jagged guitar strings.
.
00:10 / 00:58
The matter-of-factness of Dry Cleaning's music feels strangely comforting in a year where comfort has been hard to come by. When the pandemic hit in March 2020, the band had just signed to 4AD and were celebrating with some gigs in Los Angeles. They narrowly made it back home to London before everything shut down. "It was quite unsettling, but our manager was with us and on the phone with the airlines for three hours every morning," says Dowse. "In the end, he managed to get us the last five seats on a plane from LAX. When we got on the plane, there was no one else on it."
Lockdown proved to be challenging. They would take turns recording with a four-track and occasionally congregate in a studio. Eventually they found a window to record the album, and traveled to Rockfield in Wales, a studio that allowed them to self-isolate and work with esteemed producer John Parish. Best known for his work with PJ Harvey and Aldous Harding, Parish pushed them to re-evaluate the way they functioned as a unit. Having recorded the EPs with just an engineer, they realized what a producer could do for the music.
"There's an underrated, unglamorous idea of working with a producer," says Buxton. "But they bring a lot of practicality to how the work actually gets done."
.
00:10 / 00:58
"I'm not ashamed to say that I certainly had no idea of what a producer does before we recorded this album," says Shaw. "It is quite a dark art in a way—and it's not always obvious unless you've been in the room to understand what it is that they do. He really pushed to add more dimensions, and to really tune up every single section. I don't think I was lazy before in my thinking, but I was more prepared to accept things at an earlier point. I was sort of humbled by that," she says.
For someone who had little experience as a musician prior to joining Dry Cleaning, Shaw's growth as both a lyricist and vocalist is apparent throughout New Long Leg. "It's something I haven't been doing that long, so I'm kind of still working out my process in general," she says. "It evolves, but really, I just write all the time."
Her contributions to Dry Cleaning, however, are exactly what her bandmates were counting on when they coaxed her into joining them. "I really value what Flo is doing," Buxton says. "I think the big, successful pop songs reach people because there is a certain ambiguity to them—anyone can feel that the song is about them. But another approach is to be thought-provoking about the small things. Like, 'I've been thinking about eating that hot dog for hours.' Who doesn't have some kind of connection to that?"