FEATURES
French-Caribbean Trio Dowdelin Put an Electronic Spin on Creole Music
By Max Savage Levenson · October 29, 2018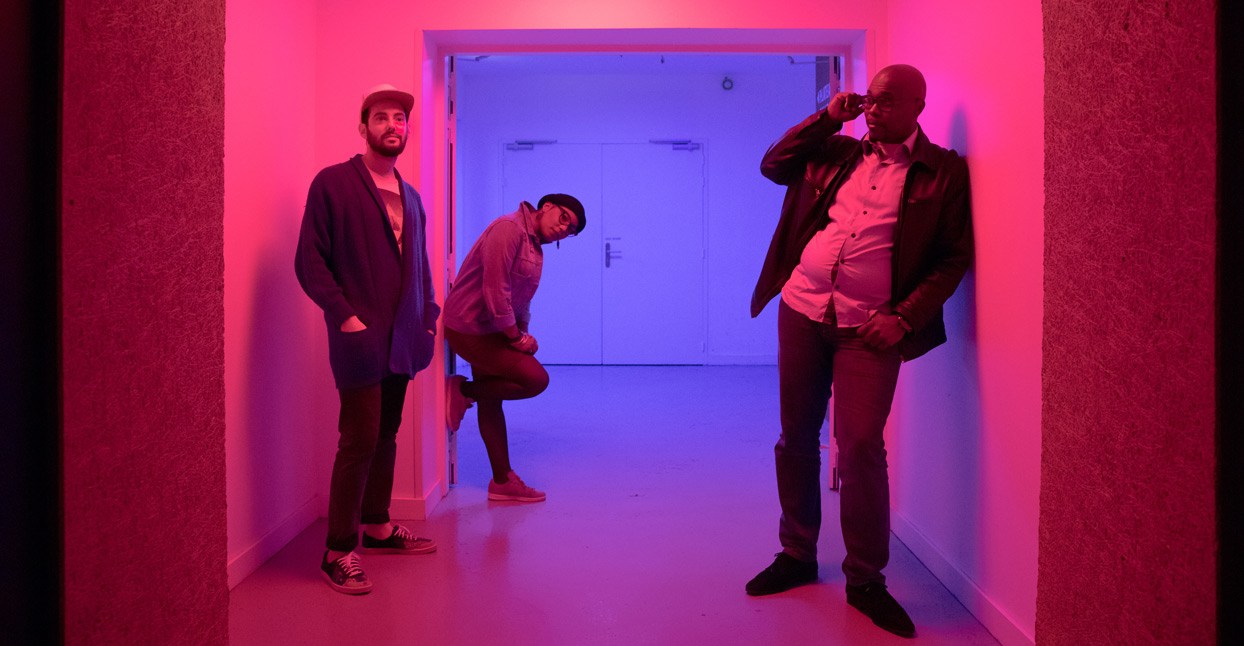 The history of the word Creole is as multi-faceted as the culture it describes; its French incarnation has roots in the Latin creo ("I make"), the Portuguese cria ("a person raised in one's house" or "servant"), crioulo ("a white person born in the colonies"), and the Spanish criollo. The French-Caribbean trio Dowdelin, who are steeped in Creole culture, draw inspiration from sources that are just as wide-ranging: the exuberant gwo ka rhythms of Guadeloupe, dancehall, jazz, American R&B, and the clatter of contemporary electronic music. The band have described their music as an "attempt to herald a Creole Afro-Futurism"; along the way, they have built a bridge not merely between various cultures, but between France's colonial past and its complicated present.
Dowdelin—pronounced "doe-de-lean," a play on "dawdling"—began in 2016, when singer Olivya, who lives in Lyon, France but traces her roots to the former French colony of Martinique, contacted David Kiledjian, a prolific songwriter and producer who was also living in Lyon. Creating and collaborating under several aliases including Fowatile, Plaster Cats, and Armad & Cyme, Kiledjian is a bit like a Francophone version of the Bay Area's Beats Antique, adding a party-ready touch to a wide range of musical styles. Olivya and Kiledjian initially adopted an "everything but the kitchen sink" mentality in the studio, throwing tons of ideas at the wall and seeing what stuck (including a slowed down and seething cover of Nirvana's "In Bloom"). In the end, Kiledjian was drawn to Olivya singing in Creole—it was the first time he'd collaborated with a singer who didn't sing in English. To fill out their lineup, Olivya and Kiledjian soon enlisted Raphael Philibert, a French-Guadeloupean former collaborator of Kiledjian's, to add traditional gwo ka drumming, electronic percussion, and saxophone (as well as some of the lyrics) to their debut LP, Carnaval Odyssey.
.
00:10 / 00:58
Merch for this release:
Compact Disc (CD), , Vinyl LP
The album's mission statement is effectively summed up in "Laissé Mwen," the lurching opening track. "We're trying to walk the thin line between our influences as people living in France with the internet in 2018, and the Caribbean," Kiledjian explains. "This song is our flag." Combining a hypnotic vocal loop, stuttering electronics, and a dubby bass alongside traditional Afro-Caribbean percussion, "Laissé Mwen" also serves as a prime example of Dowdelin's knack at balancing disparate styles. For Olivya, the song is particularly personal. "It's about La Martinique, my island, as well as the island of women and flowers, which I miss," she says. "But I grew up in France. I don't want to have to choose between the country of my birth and my country of origin [while making music]."
That "thin line" that Kiledjian mentions manifests itself throughout Carnaval Odyssey. Standout track "Eléphants Roses," for instance, tangles glitchy electronic sounds that evoke Radiohead's "Idioteque" with a beautifully knotted melody (it also tells the tale of a schizophrenic woman who ends up killing a man with whom she thought she was having an affair). Later, on the tender "Slow Down," a commentary on how technology often results in people being, paradoxically, less connected, the group channel the melodies of contemporary R&B and neo-soul artists like Mary J. Blige and Erykah Badu while still keeping a hand firmly on tradition with the use of the gwo ka drum. For Kiledjian, "Ka Fwo Bit" is the group's biggest success: built from a traditional rhythm in 3/4, "you can still dance to it even if you don't know [the rhythm]," he says.
For Olivya, Dowdelin's connection to Creole Afro-Futurism is relatively straightforward: "giving equal importance to traditional percussion, electronic production, and jazzy touches" in the band's music. But when asked about the music's political implications, a more nuanced connection rose to the surface: Even though France's history is rife with the evils of colonialism, and is by no means immune to the xenophobia and tribalism plaguing the United States, Kiledijan described his home country as a place where "people are more mixed up in their daily life [than in the United States]. It's much easier to [meet and collaborate]."
.
00:10 / 00:58
Merch for this release:
Compact Disc (CD), , Vinyl LP
The philosopher and writer Kwame Anthony Appiah, himself a British-born Ghanaian-American, wrote that "To create a life is to create a life out of the materials that history has given you"; the same holds true of Dowdelin's music. On their debut album, the trio display a hyper-conscious understanding of myriad strands of musical history, as well as the various countries they call home. As Dowdelin's remarkable debut makes clear, one path forward arrives through celebration.