FEATURES
How Dow Jones and the Industrials Created a Haven for Outcasts in a Midwest College Town
By Marc Masters · October 19, 2016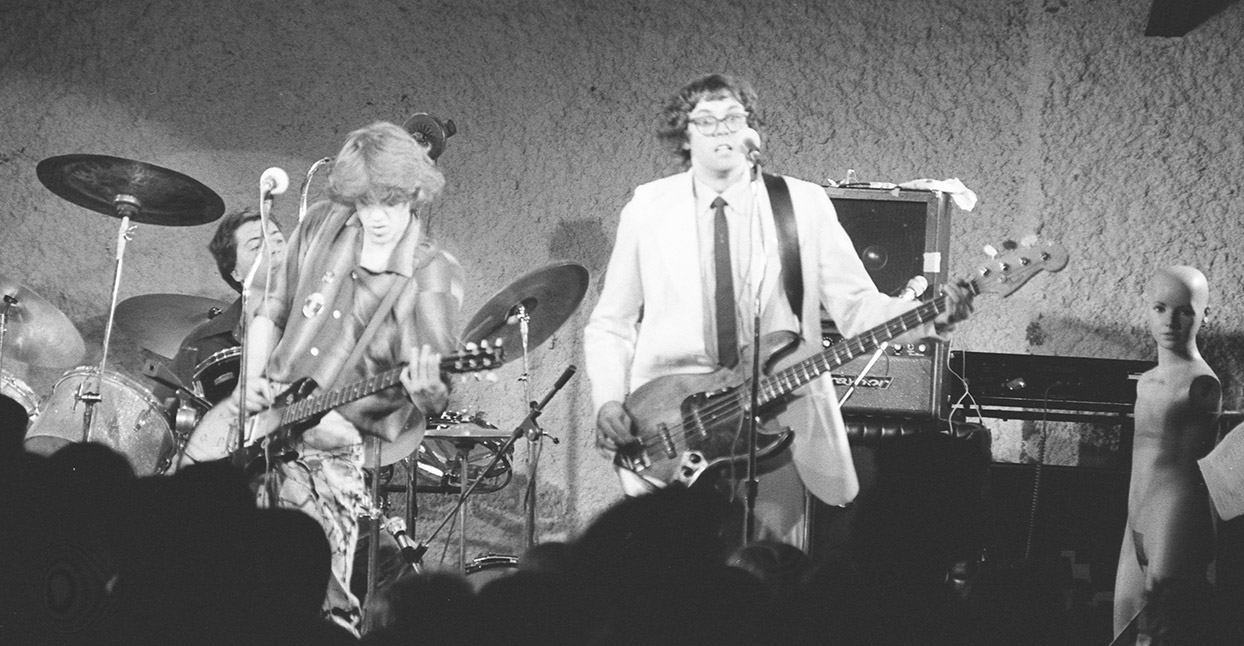 Four decades after it first erupted, American punk has achieved the kind of legendary status that almost defies reality. As more and more long-lost recordings emerge, it's tempting to believe that in the late '70s, every part of the country was teeming with punk bands. But the truth is, huge swaths of the U.S. barely knew what punk was.
Take the Midwest college town of Lafayette, Indiana. It wasn't literally empty, but musically, it felt that way. "There was nothing going on at all," says Greg Horn, who was a student at Purdue University at the time. "There was no scene whatsoever—no place to play, nothing to do. It was just dead."
Horn had come to Purdue in 1976 from Philadelphia where, as a teenager, he heard the Stooges and New York Dolls on college radio, and ventured to New York to see bands at CBGB's. His musical knowledge intrigued classmate Chris Clark, and the two bonded over a shared hatred of Lafayette's cultural void. Within a few years, they started a band called Dow Jones and the Industrials. "We were railing against societal norms," Horn says. "There was definitely a… I don't know, I wouldn't say 'revolutionary' aspect to it." Clark interjects, "An attitude of disgust is more like it."
Merch for this release:
Compact Disc (CD), Vinyl LP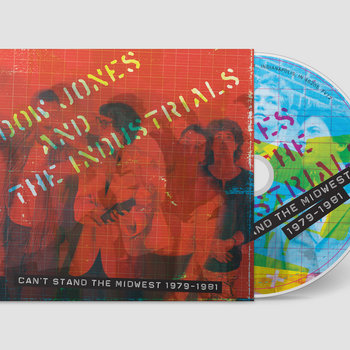 You can hear that attitude on the new Dow Jones and the Industrials anthology Can't Stand the Midwest 1979-1981, which compiles the group's two releases—one half of a split LP plus a 7''—plus outtakes and live material. But there's also joy in the music: With Horn on guitar, Clark on bass, Tim North on drums, and Brad Garton on keyboards and electronics, the band fused the power of classic rock with the snottiness of punk. On tracks such as the riff-revving "It Ain't Good Enough" and the manic "Set Yourself on Fire", Dow Jones combine reverence and rebellion in a manner similar to Death and Jack Ruby, two other great, recently-unearthed groups from the '70s.
The bubbling electronics of Garton—who went by the nickname "Mr. Science"—alongside Horn's barely-controlled guitar gave Dow Jones' music a hurtling exuberance and playful humor. "The thing I love the most in my memories of Dow Jones is how much fun and laughter we had," Garton says. "Bear in mind that we all grew up with the specter of nuclear war hanging over our childhoods.  What else could you do but laugh?"
Dow Jones and the Industrials were clearly thrilled to be playing such brash music, and going it alone just deepened their enthusiasm. "It just seems like there's always this establishment of people, and they've always been in charge of everything," says Clark. "Anything that would make them uncomfortable or angry or annoyed is what we were going for." "We were decidedly silly and irreverent, but we were never malicious," adds Horn. "We never smashed shit or spray-painted on anything."
But then there wasn't much to smash in Lafayette, where venues for live music were scarce. Dow Jones' first gig, in August 1979, actually took place at a mental facility ("You cannot imagine the dancing that went on there," says Clark.) Later, they played in a pig stable at a 4-H fair. Luckily, mentions in local papers—including news of a house gig that was shut down by the cops after just a few songs—helped word of mouth spread quickly. Garton recalls arriving at one show held in a hotel basement and gaping at the line outside. "The place was jammed out the door, people were sitting on each other's shoulders, standing on tables," he recounts. "I think that's when I first realized that this could be something really interesting."
The band also realized they were helping to reveal a subculture hidden underneath Lafayette's staid exterior. "All these weirdos came out to see us, because [the music] was weird, and you could be accepted [for being weird]" says Clark. "We motivated the outcasts," concurs Horn.
Merch for this release:
Compact Disc (CD), Vinyl LP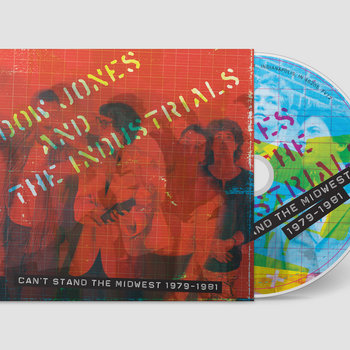 Those outcasts helped Dow Jones and the Industrials pull off an outlandish gimmick that got them even more attention. The idea emerged after the release of their first record, a split LP with the Gizmos called Hoosier Hysteria. As Clark recalls, "Somebody said that to publicize [the album], we should run Chris for student body president of Purdue." Adds Horn, "We just made up all this crazy shit [for the campaign], like 'Change the school colors to fluorescent pink and green,' 'Move the campus to Florida,' and 'Make roommate assignments random.' Chris gave speeches where he would just read off of a cereal box, or talk backwards."
But the band never guessed that the same weirdos who flocked to their shows would fill campus voting booths in such large numbers that Clark actually won. "The next day we were like, 'Well, what the fuck do we do now?'" remembers Horn. "Then somebody suggested, 'Take the school budget and put on concerts and hire all your friends' bands!'"
That spurred Dow Jones and the Industrials toward further absurd stunts. They declared "Vegetable Awareness Week," even handing a button to visiting President Ronald Reagan that said "I'm Vegetably Aware." At a Halloween show, they were lifted on stage in coffins, "shot" during their set as fake blood spurted from their shirts, and carried off on stretchers. On "Dental Hygiene Night," they handed out toothbrushes. During a battle of the bands, they brandished plastic baseball bats and pummeled each other.
Their stage setup included mannequins borrowed from a clothing store owned by Clark's dad, a TV set tuned to static, and a 7-foot tall standee of a man in a suit and tie smoking a cigarette. "We would go into these weird diatribes between songs, screaming at the audience," says Horn. "It would be like, 'You stupid people, what are you doing here? We suck. Why would you come see us? Here's another song that you're going to hate.'" It all may sound like primitive performance art, but the band insists there was no grand scheme. "We thought of ourselves as a rock band, and we wanted to put on as fun a show as we could," Garton says. "The wildness came from the whole scene, and it was indeed pretty crazy."

Behind all the rhetoric and antics, Dow Jones and the Industrials took their music seriously. The songs on Can't Stand the Midwest are just as stunning for their honed power as their raucous energy. "We made a concerted effort to be as good as we could while being irreverent," says Horn. Adds Clark, "A lot of punk bands, when they start out, can't play that well, but we happened to be able to play already. So we were really tight onstage, but there was also always a random element." Horn recalls a guitarist from another band asking if he could play melodies. His response: "Yeah, but I don't want to."
Merch for this release:
Compact Disc (CD), Vinyl LP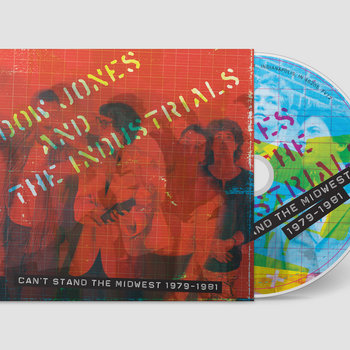 Dow Jones and the Industrials did have ambitions, though. "We wanted to be a real band that toured the world and all that kind of stuff," Horn says. "But other shit happened, and people got married, or whatever the fuck happens in life." Clark even admits that being student body president got in the way ("I feel like I've always been behind because of that," he laments). Whatever the reasons, the band played their final show in November of 1980, a mere 16 months after their first gig. "Our biggest regret is that we didn't keep going," says Horn. "We never had a huge falling-out, and we weren't on the downslide. We were actually still writing great songs when we broke up."
In the decades since, the band hasn't completely disappeared. A few Dow Jones songs have popped up unauthorized on compilations; "Can't Stand the Midwest" was included on at least three, including the legendary Killed by Death series. "If they made a million dollars off it, I would be unhappy," explains Horn. "But the fact that it's out there means that there's people all over the world that have heard these songs who wouldn't have otherwise."
Dow Jones and the Industrials have reunited a few times, too. In 2003, they put together a benefit show for drummer Tim North, who had cancer. Sadly, he passed away shortly before the gig, so the band played it as a memorial with longtime fan LonPaul Ellrich on drums. Recently, to celebrate the new compilation, the band played shows with Mike Doskocil of Drunks With Guns behind the drumkit.
Clark, Horn, and Garton are all still enthusiastic about the music they made 35 years ago—and they should be. The tunes on Can't Stand the Midwest crackle with life, thanks in part to the remastering work of veteran producer Paul Mahern, former singer for concurrent Indiana punk band Zero Boys. "I would like to think that the reason that people even care at all is because our songs are good," says Clark. "Some of the stuff is still pretty catchy, and it's still really fun to play."
For Garton, currently the Director of Computer Music at Columbia University, Dow Jones and the Industrials set him on a path that he still walks today. "It was an amazing time," he says. "The sheer amount of raw creativity that got unleashed through the band, our work, the things we did—that has sustained me through the rest of my life."
—Marc Masters