FEATURES
Divide and Dissolve Use Drone to Combat Oppression and Intolerance
By Jeff Treppel · March 02, 2018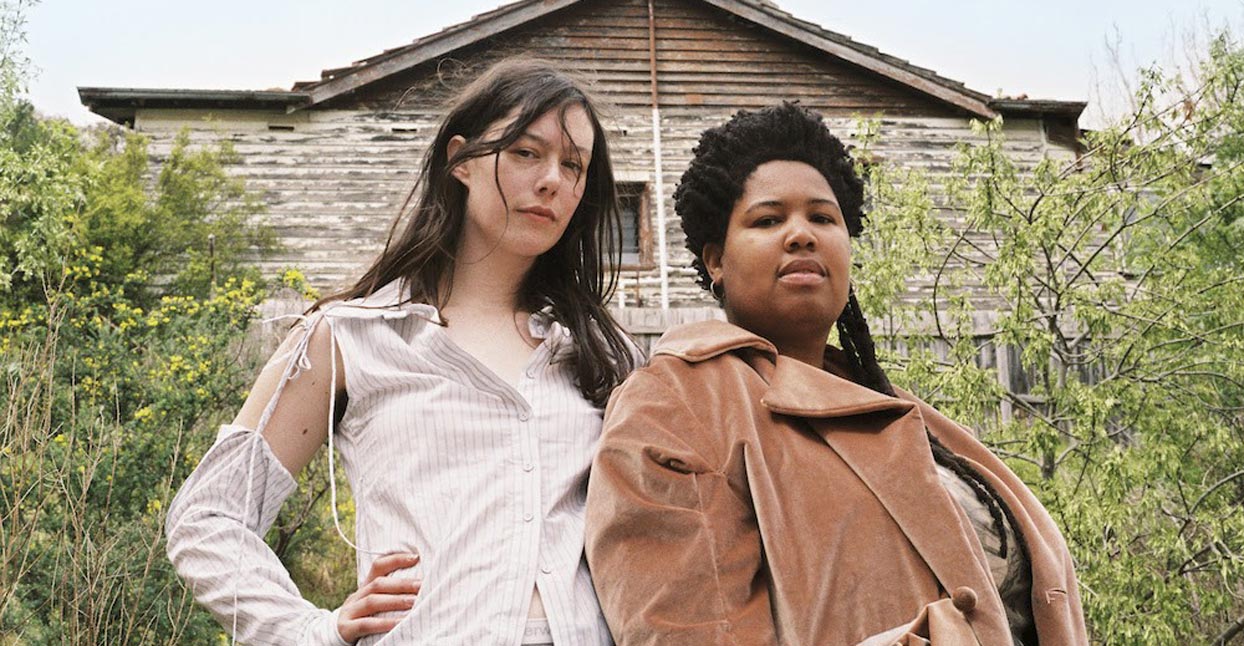 Drone metal seems like the ultimate apolitical genre. Outside of the transgressive act itself of crafting music through waves of undulating feedback, it's hard to imagine what one could say with something that usually doesn't have any words and involves a bunch of bearded dudes in hooded cloaks. Australian duo Divide and Dissolve are looking to change that—starting with the very demographics of the band itself. Takiaya Reed and Sylvie Nehill certainly aren't bearded dudes, and they have no interest in hiding who they are. To them, their identities are political acts in and of themselves: Both are women, and Reed is descended from, as she puts it, "indigenous people of the so-called United States." According to the duo, who prefer to answer questions collectively, "Our music is helping carve out space where it isn't supposed to be. Heavy music is apparently supposed to look, sound, and feel a certain way. Divide and Dissolve is and will continue to be a point of difference."
The differences abound. On Abomination, their second release for DERO Arcade, they bring together their diverse musical backgrounds into one cohesive sound. Reed combines her classical training with Nehill's experience as a rock drummer to create a unique synthesis of neoclassical composition and rumbling doom metal—a blend natural to the two of them, but also only the starting place. "It makes perfect sense to combine the experience of these two [genres]. Our music is nonlinear and asymmetrically grounded. We are driven to create heavy music, in whatever form it takes. We aren't loyal to any particular genre."
Their main musical loyalty seems to be to each other. "We realized we were musically compatible the first moment we played music together. The connection was formed immediately and has only deepened as time has progressed." In fact, they say it only took them around a week to write Abomination because of that compatibility. "Our connection with each other is one of the most important parts of our process. When we play together, we breathe together. Experiencing synchronicity allows us to ebb and flow, to play as slowly and powerfully as we do, and gives the music breath and life. "
Although they claim to not listen to other drone or doom, one can hear similarities to Sunn O)))'s sonic punishment, Jucifer's demonic wall of sound, and the Melvins' experimental doom. To Reed and Nehill, the draw comes from the music's visceral impact: "[The appeal of the style comes from] the low end. We are going deeper and deeper into the swamps. We move in thick muddy water."
When pressed as to how they were exposed to drone in the first place, they reply "through our ancestors." That ancestry plays into every aspect of the project, and the theme of Reed's people's continued suffering under colonialism is central to Abomination. Reed recalls a run-in with institutional racism when she was young that put everything into sharp relief for her.
"I remember when I was six, a police officer pulled my dad over and called him 'boy' over and over and over again and was extremely violent and aggressive. My dad and I didn't need to have a conversation about why this was happening, although we did calmly afterwards, and I already knew before we began talk about this. In this, moment something changed inside of me. My dad was going the speed limit at around 2pm in the day. I wouldn't call it politically active; I realized, in this particular moment, some people do not have the option to disengage. To space out, ignore, and escape the violence. Genocide, slavery, and violence are not theoretical to some people. It's very important for me to continue to learn about my ancestors and other peoples' experiences."
Nehill states it even more bluntly: "The abhorrent history of colonial violence, genocide, slavery, rape, and murder is still continuing today. It is this past, and the lasting and active power structures present in our world today that has driven me to prioritize decolonization."
The song titles aren't very subtle about those themes, either: "Cultural Extermination;" "Reparations;" "Resistance." They focus on "Indigenous sovereignty, decolonization, our ancestors, black power, [and] destroying, disestablishing, decentralizing, dismantling white supremacy." With the exception of a spoken word piece by New York-based poet Minori Sanchiz-Fung, Divide and Dissolve let the music do the talking—and the music doesn't have much pleasant to say.
To Reed and Nehill, the overwhelming intensity tells the story. Even without words making the meanings explicit, Abomination takes apolitical waves of noise and hammers them into a powerful, heartfelt statement about humanity.
-Jeff Treppel