FEATURES
The Story Behind the Punk Album By Ad-Rock, Monty Messex, and Tom Davis
By Gregory Adams · September 21, 2023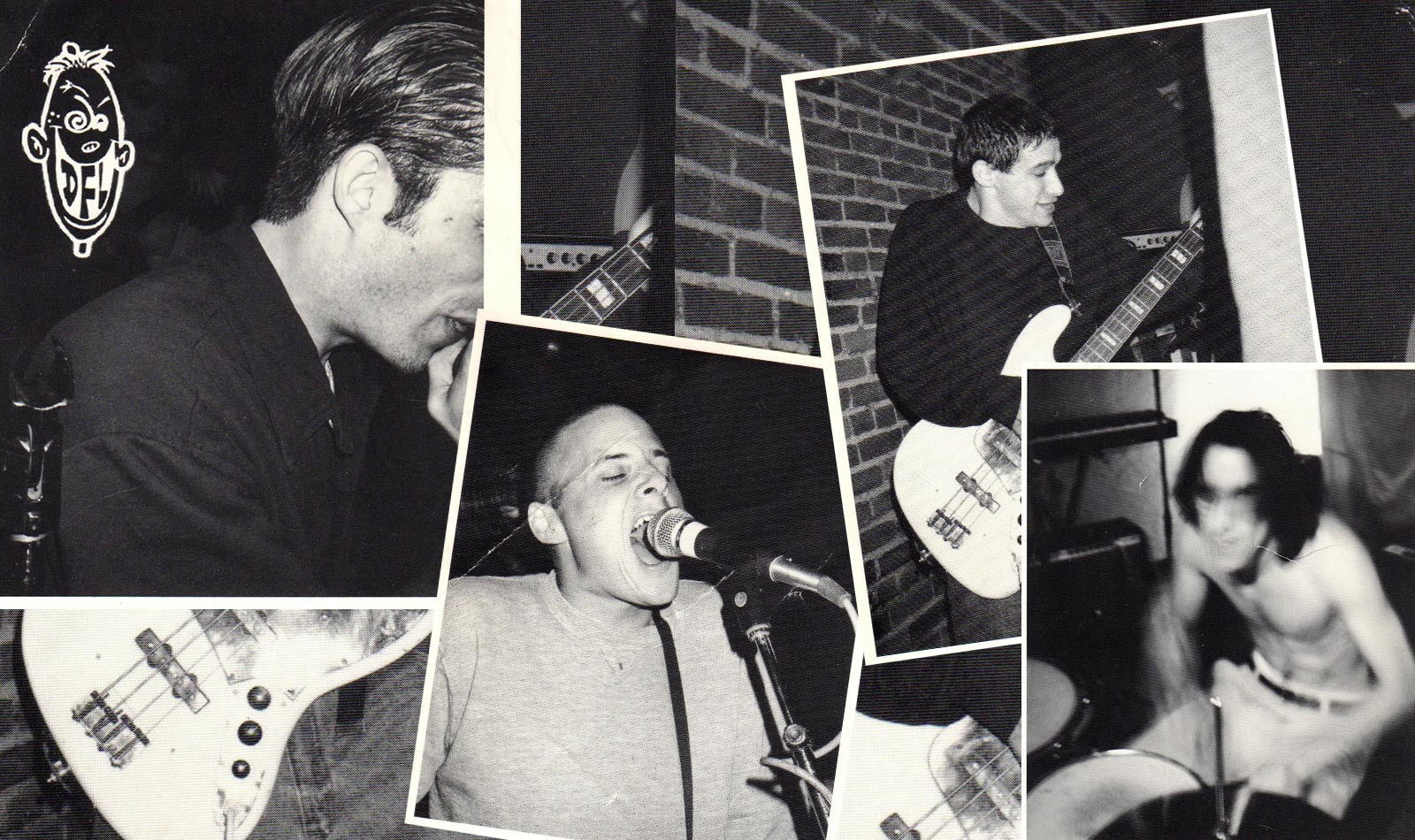 Dead Fucking Last founders Tom Davis and Monty Messex met on a city bus in the early '80s on their way to a San Fernando Valley skate park. The teenagers got to know each other while tail-tapping their way around the skate park and going to hardcore shows around Hollywood. While they both remain fond of that period of punk history—their long-running band is a love letter of sorts—the nascent subculture also had a dangerous side.
"I think the '80s were harder, weirder, [and] unpredictable," Davis says. "There was a lot of gang violence and a lot of fights. A lot of crazy stuff! '90s punk rock was [more mellow]. It wasn't as actively dangerous as it was in the '80s." The '90s are key here because that's the era when Messex and Davis linked up to form Dead Fucking Last, a brash and proudly old-school hardcore band co-founded alongside Beastie Boys's Adam "Ad-Rock" Horovitz. Recorded in 1993, the band's 20-minute debut album, My Crazy Life, has been reissued via punk archivists Trust Records.
Before DFL, Messex was the vocalist of an early '80s outfit called the Atoms, which also featured future Guns 'N Roses guitarist Izzy Stradlin on drums. Davis grew up in Hermosa Beach skating near the derelict Baptist church Black Flag used to practice in; he went to school with the members of Descendents; he hung around a group of guys that ultimately became Pennywise. Somewhere along the way, Davis picked up the nickname "Crazy Tom," which stems from an unpredictable nature and the mischief he'd get up to in his youth with Pennywise guitarist Fletcher Dragge. "We were just doing stupid shit at parties," Davis says. "You know, snorting crème of tartar sauce right out of the cabinet…throwing up on each other. Just doing ridiculous stuff."
Messex dropped out of his local punk scene after the Atoms broke up and spent a few years working through personal issues and drug use. One day, after he sobered up in the early '90s, he was spinning an old cassette copy of Bad Religion's 1981 debut album, How Could Hell Be Any Worse. Invigorated by its raw, unfettered energy, he started hashing out a few similarly styled originals on an old guitar. "I just loved those songs and that style of music," Messex says. "It brought me back to the early '80s—when I was really into music; before drugs really took a hold—and going to see the Adolescents, Circle Jerks, Black Flag, Bad Religion, and Wasted Youth."
Messex had befriended Horowitz not too long after the Beastie Boys relocated from New York City to the West Coast in the late '80s. One day while he and Ad-Rock were hanging out and reminiscing about the ugliest edges of hardcore's first wave—Horowitz having experienced the East Coast scene as the guitarist for the Young and the Useless before joining Beastie Boys, who themselves began as Bad Brains worshippers ahead of their pivot to hip-hop—Messex joked that the two should start a band that brought back the danger of those times. To Messex's surprise, Horowitz was all in.
DFL originally planned to feature two singers shouting back and forth, b-boy style. They began talking to Davis—whose sister, filmmaker Tamra Davis, also happened to be married to Beastie Boy Michael "Mike D" Diamond—and mutual friend Max Perlich about linking up. But the latter got shy on the mic during their first practice at the Beastie's G-Son Studios in Atwater, leaving Davis as the principal vocalist (Messex ultimately began chirruping backups). While Mike D sat in on drums for a practice or two, Davis notes it was a little awkward to be making music with his brother-in-law. So, DFL formally took off once they picked up drummer Tony Converse.
The band quickly honed a series of to-the-point punk songs, which generally topped out around the minute mark. The songs were tracked at G-Son with Beasties' producer Mario Caldato Jr., who set up some mics for posterity rather than for the goal of producing an album. Recorded in a single day, the sessions were originally pressed up in 1993 as a self-titled double 7-inch on Grand Royal records, the Beasties' vanity imprint through Capitol Records. A year later, they added a few bonus tracks and released a CD version dubbed My Crazy Life.
There's a curiously endearing, off-the-cuff feel to most of Davis's distorted screams on the record. Sometimes he's contemplating concert etiquette ("Think About the Pit"); other times, he's spitting take-out orders to their local pizza joint ("Pizza Man"). He seemed to have an unhealthy relationship with civil servants ("Meter Maid"), and he also has a tendency to trail off-topic. On two separate occasions, Davis caps DFL songs with the following non-sequitur: "Thank you all for showing up!" Davis explains that while seemingly random, this was in reference to the clubhouse spirit of the G-Son set-up.
Though Horowitz was integral to the formation of DFL, the fact that he was also in one of the globe's most popular hip-hop groups ultimately made his role in DFL untenable. My Crazy Life instead marked his interim between landmark Beastie releases Check Your Head and Ill Communication. Though he played a few more shows with the band around L.A., including a second stage performance at Lollapalooza and an opening spot for Fugazi, Ad-Rock eventually bounced back to the Beastie Boys full-time. He was replaced by four-stringer Tom Barta. "Beastie Boys were getting ready to tour, and I remember Adam being upfront with me, being like, 'It's a great band, but I'm in another band and I'm going to be really busy. So, I think you guys have to find another bass player,' which I thought was fair," says Messex.
For 1995's Proud to Be, Horowitz instead assumed a co-producer role alongside Caldato, and the record was mostly tracked at G-Son; the record's stratospheric "Minus Atom" is somewhat of a tongue-in-cheek nod to both Messex's first band and the exit of DFL's founding bass player. The group asked Mike D about dropping the disc through Grand Royal again, but he passed. In a nice bit of kismet, Bad Religion guitarist Brett Gurewitz reached out to the band about working with his Epitaph Records. In another beautiful bit of poetry, that also meant Davis was now labelmates with his old friends in Pennywise, who ended up taking DFL on tour.
While DFL broke up shortly after releasing their Grateful full-length in 1997, Messex and Davis reformed the group in 2013. In 2021, they released the YRUDFL EP, their first new music since the '90s. Next up, they'll be recording a full-length with Voodoo Glow Skulls guitarist Eddie Casillas—another Epitaph alum—at his home studio. Keeping on brand, Davis says they've got a new tune on deck called "Give Me Pizza, or Give Me Death."
In the meantime, Davis and Messex are honored by the renewed interest in My Crazy Life. Trust Records's recent co-sign is putting the hardcore album in the same conversation as the label's recent re-releases for genre icons, including 7 Seconds and the Circle Jerks. And while it's been 30 years since they last played with Ad-Rock, DFL remains a fascinating offshoot of one of hip-hop's most beloved institutions. "It does make me think a little bit more of how fucking interesting and crazy the history of DFL is, but I don't know if it's any much cooler or different than other people's bullshit. We were just in the right place at the right time," says Davis.