FEATURES
L.A. Is The Best Place For Devonwho's Sunny Rap Beats
By Jay Balfour · November 04, 2016
Last year, at the age of 31, Devon Fox moved back to Los Angeles after a short stint in San Francisco. For almost a decade, Fox had released hip-hop-leaning electronic music under the name Devonwho, but for a couple years in the Bay Area, he seemed to disappear. "Music wasn't my main focus for a little while," he says. "I'm getting back into it and just letting go of the whole perfectionist mindset."
In the late '00s, Fox gained traction as a member of Klipmode, a small, loosely-defined collective of producers that also included MNDSGN, Knxwledge, and Suzi Analogue. Launched in 2009 with no fixed homebase, the quartet of Klipmode producers helped calcify the L.A. beat scene's musical urgency with their varying takes on refreshingly weird hip-hop electronica. The collective put Klipmode's members on national and international radar. As they all struck out in individual directions, the collective's structure faded, but the producers still hover around the same scene. Three of the four members—Suzi being the only exception—have released projects on the L.A.-based LEAVING Records, a wide-open stage for off-kilter music co-founded by Brainfeeder producer Matthewdavid.
Fox was the last of the Klipmode alumni to make his LEAVING debut, releasing a cassette EP called Lyon in May, effectively ending his hiatus. A new album called Luz builds upon the EP's sound and finds Fox breaking his instrumental bent with a pair of vocal tracks. Like Lyon before it, Luz is a dense collection of impeccable electro funk: finicky grooves dripping in distinct, synthesized tones. Fellow Cali producer DâM-FunK is a strong influence on Fox's G-funk aesthetic. "I kind of know the specific sounds that I'm looking for," Fox says. "Particularly with this record, I had a sound: very warm, sunny."
Throughout Luz, Fox pivots between synth leads that warble, bend, and blip. It's a study in texture, but its producer has an equal knack for rhythm. Even when he pushes his tracks into glitchier territory, Fox still sounds naturally funky. The producer spoke with us about his background as a musician, how his new album came together, and why making music in a cramped studio apartment isn't the best look.
Merch for this release:
Vinyl LP, Cassette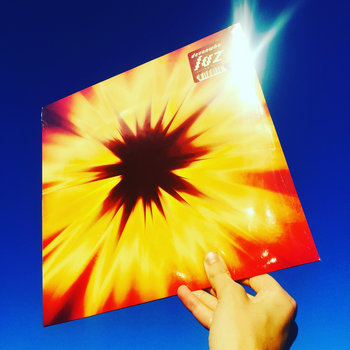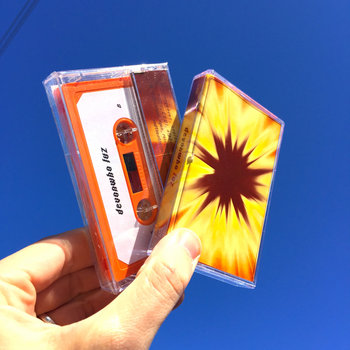 How did you start playing synthesizers?
I started with sampling and making beats, probably in the early 2000s. Basically, sampling was how I learned to make beats. Originally, I started making music as a drummer. I started to make hip-hop, but I basically didn't have a record player anymore, and didn't have a way to find samples. I wasn't really into sampling digital stuff. I just started picking up synths and messing with plug-ins. It's nice to me now that I don't have to clear samples [laughs].
How did you learn to play the keyboard? Was it when you started playing synths?
Not really, because when I got my first MIDI keyboard, I was just using it to chop samples. I would use it for the MIDI data. Then I'd use stuff like Reason, [which] was one of the first programs I had from way back. When that's your main thing, you just start picking it up slowly. I wound up getting rid of my drum kit in probably 2007 or something, so it kind of switched over for me. I grew up playing drums, and then got more into the key side of things. But I'm not a trained musician whatsoever; it's just been me fiddling around in my room.
How do you build your songs? Do you improvise at all?
You know, I don't actually sit down and have an idea of what; I don't even know the names of the notes and keys. I usually just kind of record live—I play live, none of it is MIDI on this record. It's all audio recorded in from my synths live, and then I just loop stuff and build a song off of that. But I'm not much of a structured-song builder. I'm all about moments, you know? For a while I've been finding stuff in that to create stuff around.
Maybe not coming from that formal training background gives you an opportunity for a different perspective.
Yeah, I think all knowledge is good. But I think for some people, they are kind of stuck in that more academic viewpoint. I don't necessarily have that, because I don't really see things in terms of structure. It's more of a momentary thing, you know? When I record something, I just record myself playing it how I would want to hear it, and then tie things together after that. I'm not looking at a song as a structure when I'm doing it. It's more of an afterthought; after I come up with a couple parts, I try to 'Frankenstein'-stitch them together afterwards. It's a funny process.
Maybe your sampling background helps in that way.
Yeah, definitely.
It seems like you took some time off from releasing music leading up to this year and your recent move back to Los Angeles. What's it like to be back in the city and sharing new music?
It's great. I wrote most of this record right when I moved back about a year ago. I'd been living in San Francisco before that. Now, I have some more free time, and things are a little cheaper here. It's a little easier to sustain life in L.A. than it is in San Francisco. So that was a big part of it. Now I'm just trying to raise the output a little bit. These songs are moments, and I've captured them. I don't have to think too hard afterwards. I can just kind of complete them and move along.
What ties the songs on Luz together?
It's really just being back here [in L.A.]. It's the vibe of being in my studio, of being here and actually having a nice place to create and having a whole space for it. Whereas being in San Francisco, being all cramped—it was my girlfriend and I, our cat, and all of our stuff in one room. It was like a living room and a bedroom and studio, where we both make art. It was kind of hectic. So it's really nice to have a whole space to unwind and really get lost in creating again.
Are you a solitary producer?
Yeah. I work well with others, too, but I don't necessarily always do that. I do like making music with other people, and that's really something I want to explore over the next few years. I think I have a lot to learn, and it'd be nice and cool to do band stuff at some point. I came from that. Playing music with other people is this special, sacred thing that I think gets lost on a lot of musicians that are by themselves. There's a disconnect for a lot of people.
Merch for this release:
Vinyl LP, Cassette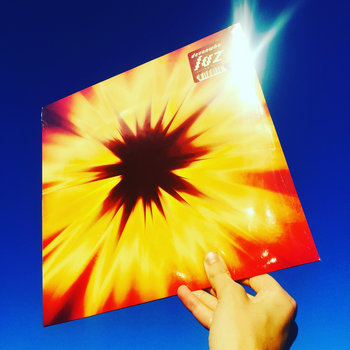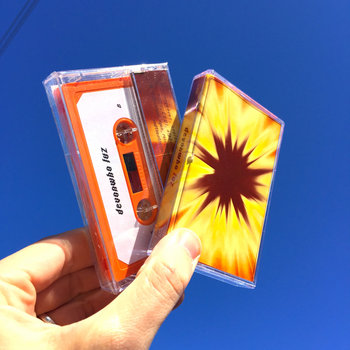 On the new record, you have two tracks that feature vocals. How did those collaborations come about?
Pink Siifu is my friend Liv. He's a really amazing vocalist. He actually makes beats, too. He and I both work in that momentary 'get something done and move on' [mindset]. That's something that I think is really cool about our project; it's really happening organically. We're starting another project that we'll end up releasing together.
The track with Zackey, I've been wanting to work with him for years. He's an interesting character, a good guy. He's definitely far left, a different sound, which is amazing. It's interesting to work with someone who just sounds different [laughs]. I would love to do a project with him, but I don't know. He builds spaceships and stuff. He works for SpaceX and has like no time. He works on the Falcon 9 rockets and stuff.
Is it different for you producing beats with a vocalist in mind?
I like it because I can leave things a little more sparse, and leave it to someone else to finish things, instead of feeling like I need to play any keys or avoid stagnant sounds. I'm just picky. [laughs] I have to find the right people to work with, so it's beneficial to both sides creatively.
—Jay Balfour