FEATURES
Daytripper: Hiking Mount Disappointment With Jerry Paper
By Philip Cosores · Photos by Philip Cosores · June 28, 2016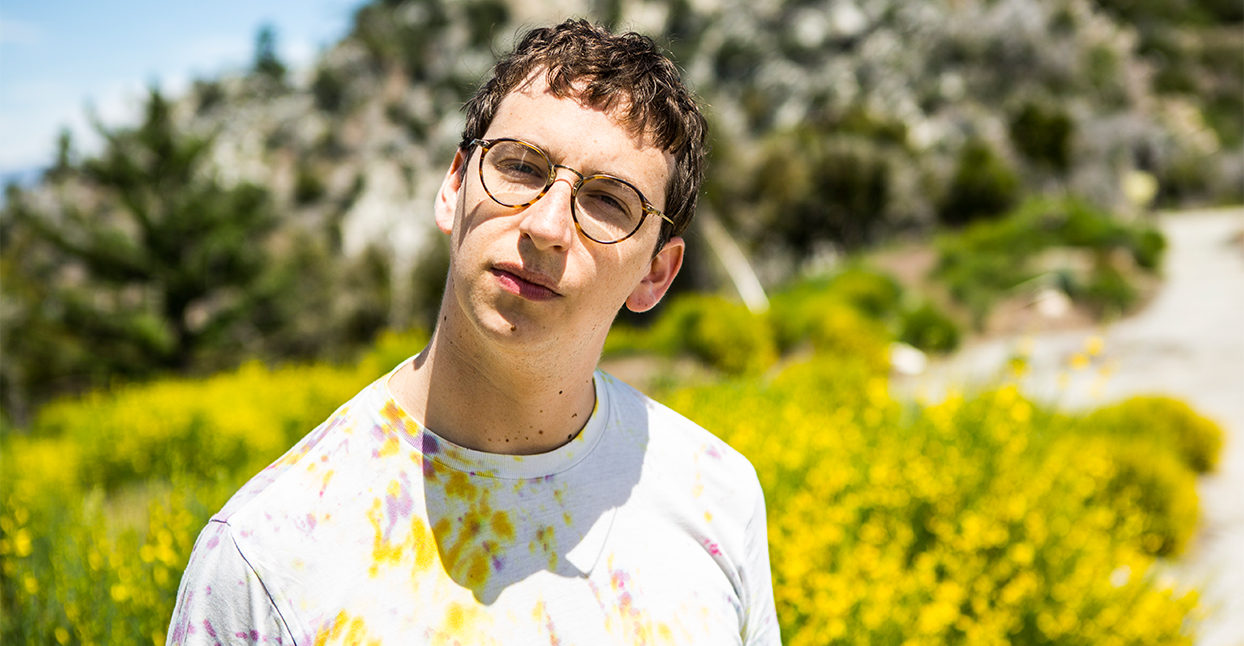 photo by Philip Cosores
"On hikes, I try to reflect on the holographic nature of my experience, the very human aspect of it. I find it extremely fulfilling to focus on that, rather than what website I need to look at."—Jerry Paper
It isn't until we are about halfway through our arduous, four-hour journey to the top of Mount Disappointment that Lucas Nathan, who records as Jerry Paper, tells me how the summit got its name. "More than 100 years ago, surveyors were trying to find the tallest point in this area of the San Gabriel Mountains," Nathan explains. "They were carrying a bunch of radio equipment to place on the top of the peak, and when they reached the top after a grueling trek, they realized it's not the tallest peak—that San Gabriel peak right next to it is a couple hundred feet higher. In their deep frustration, they decided to call the mountain Mount Disappointment. I like the idea of a beautiful mountain being named Mount Disappointment. The singular feeling that this group of people had toward the mountain became its name forever."
There is a parallel here to Jerry Paper's career, but it depends on how you look at it. On his new album, Toon Time Raw, he recorded with a backing band for the first time, employing friends BadBadNotGood, but choosing to keep their identity secret in order to avoid cheap publicity. For his upcoming tour, the task of recruiting a band to fill their shoes has proven both exhausting and expensive. In addition, he's finding his music more difficult to promote than ever. Topping all of this off are doubts as to whether being a successful touring musician would even be a satisfying career. Disappointment seems inevitable, but Nathan has a different outlook.
Merch for this release:
Vinyl LP
"It's ultimately how you view your own experience," he says. "What are you looking for from an experience? The surveyors had a very specific purpose for climbing this mountain, and for them it was a disappointment. But, if instead of hiking the mountain with a purpose, you hike it just to hike it, ultimately it becomes beautiful and rewarding. So whatever my frustrations are with my career, ultimately I need to keep telling myself that it's not about an end result. What am I going through life for, to reach a certain point? If I do that, I'm going to be constantly disappointed. Every time you climb a peak you're going to see a higher peak and feel like you've done the wrong thing."
And the hike is grueling. Nathan has done it before and is hardly winded, but for an amateur, frequent rest stops in the shade are essential for making it to the top. "Never apologize for wanting to rest on a hike," he assures. "Getting to the top isn't the reason for doing this. The whole point is just to be here."
Nathan returned to Los Angeles after a brief sojourn in New York, where he spent seven years working on his music career in earnest. He came back a few months ago, attracted by LA's affordability, diversity, and access to nature. Since returning to Southern California, Nathan's tried to spend as much time outdoors as possible—a frugal hobby that allows him a chance to clear his mind and develop lyrical ideas for his work as Jerry Paper. "Since moving to LA, I've been hiking a lot more, and every single time I'm able to come up with a deeper love and better reason for why I like it," he says. "LA has afforded me so much more outdoor time, and it's a visceral and frequent reminder that I don't like the two-dimensional reality of computer world. I'm much more interested in the four-dimensional reality of the human experience."
Merch for this release:
Vinyl LP
For Nathan, it's not that he needs a break from the aspects of his life that he loves. It's a brief reprieve from phones and computers that can cloud his creativity. "I go on hikes alone and find myself thinking about what I'm seeing, smelling, and feeling, with the understanding that what is going on outside of my body is a series of vibrations, be it a particle or a wave," he continues. "My experience of it is a vague representation of the world outside of me, based on my few sense impressions. I have a nose, ears, eyes, mouth, and a nervous system to take in this information, and my brain forms this holographic representation of reality, affording me the ability to go through it. So on hikes, I try to reflect on the holographic nature of my experience, the individual and very human aspect of it. I find that extremely fulfilling to focus on, rather than on what emails I have to do or what website I need to look at."
We're alone on the trail for a majority of the trip, and when we finally reach the summit, it feels nice not to have to share it with outsiders. The mountain is less than an hour's drive from the suburbs of Los Angeles, but that's plenty of distance from the distractions of contemporary life. Nathan notes that solitude has been an important aspect to his creative process since the beginning.
Merch for this release:
Vinyl LP
"It started when I was a teenager in LA with no access to a car," he says. "That ultimately led to making music, and being not only okay with being alone, but preferring it. That was how I enjoyed myself, and how I felt the most comfortable and creative. It translated to my music for a very long time. The live experience of Jerry Paper has long been just me dancing, and trying to create an environment of solitude. I've had people come up to me after live shows and say 'It's like you're dancing in your robe in your room,' which is ultimately what I'm trying to project."
Ultimately, he concludes: "My experience of solitude is freedom from other people's perceptions and freedom from social thought. People let their freakiest self out alone, which is what my music strives for." And that kind of true self-love is, of course, the furthest thing from disappointment.
—Words and Photos by Philip Cosores