FEATURES
All Roads in Peruvian Shoegaze and Post-Rock Lead To "Crisálida Sónica"
By Richard Villegas · April 18, 2022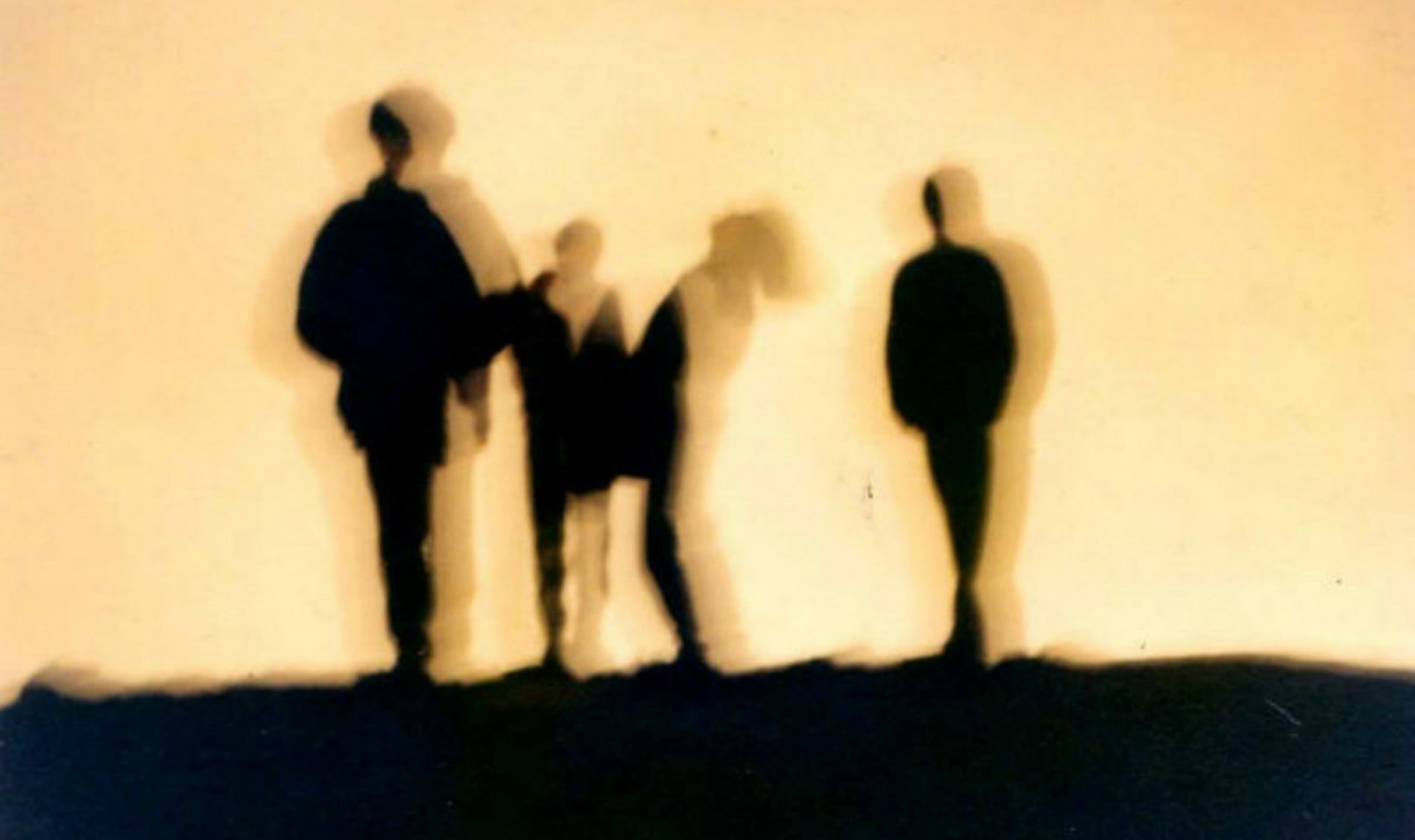 Within the pop culture pantheon, most might associate Peru's musical contributions with psychedelic chicha, syrupy Andean flute melodies, and punk innovators like Los Saicos. But the avant-garde has also thrived in the South American nation for decades, with a notable catalyst in 1997's Crisálida Sónica: Compilation I, which brought together scraggly experimentalists charting new waters in shoegaze, dreampop, post-rock, and ambient. Twenty-five years later, the release is still regarded as a groundbreaking document of a generation's discontent, reeling in post-guerrilla trauma and rejecting callous neo-liberalism with dissonant sounds that echoed their anger and alienation.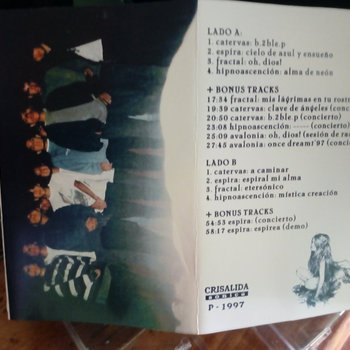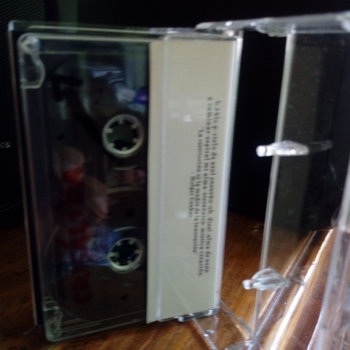 .
00:10 / 00:58
Merch for this release:
Cassette, Button/Pin/Patch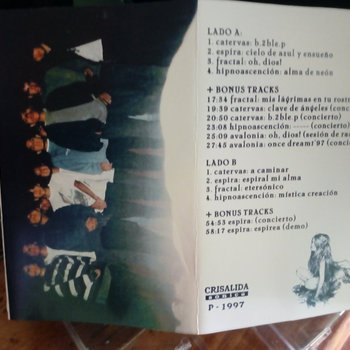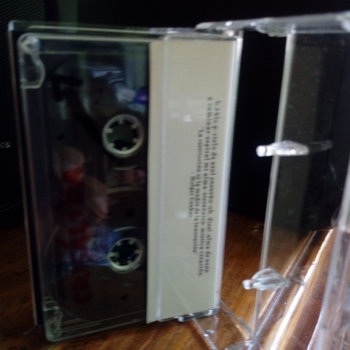 "Back in '94, people were still listening to Joy Division, but we'd moved on," says Wilder Gonzalez Agreda, founder of Superspace Records, a Lima-based label spotlighting some of Peru's most eccentric sounds. "We were into Spacemen 3, Slowdive, and John Cage, so we were weirdos even among the weirdos. But when it came to making music and forming a scene, we just wanted to do what nobody else was doing."
Following in the steps of trailblazers like SILVANIA, Gonzalez Agreda got his start in the early '90s with the band Katarsis, which later morphed into neo-psych improvisationists Hipnoascensión. By '95, he'd moved on and kickstarted new projects called Avalonia and Fractal, leaning into noisier, texture-driven territory heard on compilation cuts like "¡oh dios!" and "etersónico." He eventually found his footing alongside contemporaries Miguel Ángel 'Chino' Burga and Aldo Castillejos of Espira, Wilmer Ruiz of Catervas, Carlos Mariño of Girálea, and Christian Galarreta of Diosmehaviolado; most of whom met in 1994 while at the University of Lima.
"There's never been a music industry per se in Peru, and often international acts don't come here," reflects Gonzalez Agreda. "Paul McCartney came in 2009 and it was like Leonardo Da Vinci had just landed. We've always felt isolated, so we started creating this kind of music out of the love of it, never really for trends or to make a living. There was no support from government or cultural institutions so we only played in bars for tiny crowds usually made up of the other bands and a few friends. That's why we called it the scene that celebrates itself."
Loneliness and discomfort were all too familiar to Peruvians throughout the 1990s. By the time the decade rolled around, the bitter conflict between government officials and the paramilitary forces of Sendero Luminoso (or the Shining Path) had wreaked havoc on the fabric of Peruvian society. Rural massacres and metropolitan car bombings raged until the 1992 capture of Chairman Gonzalo, the nom de guerre of Sendero Luminoso leader Manuel Rubén Abimael Guzmán Reinoso. Then-President Alberto Fujimori's claimed victory in the country's fight against terrorism—a cruel irony, given how he'd relied on Grupo Colina death squads to achieve that goal. He later rolled out neo-liberal economic policies that privatized state industries, leading to a modest economic upswing; and ushered in a public health plan that led to the sterilization of over 300,000 women. In 2007, Fujimori was arrested, tried and convicted for corruption and human rights violations, for which he remains imprisoned to this day.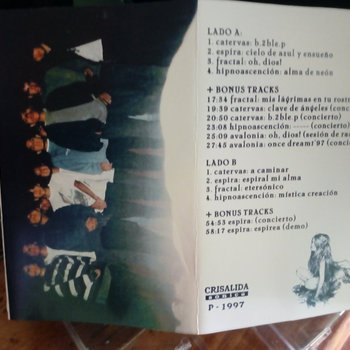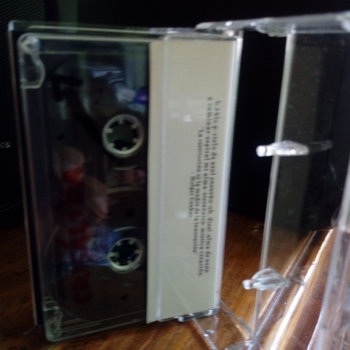 .
00:10 / 00:58
Merch for this release:
Cassette, Button/Pin/Patch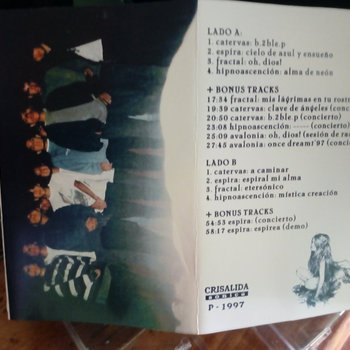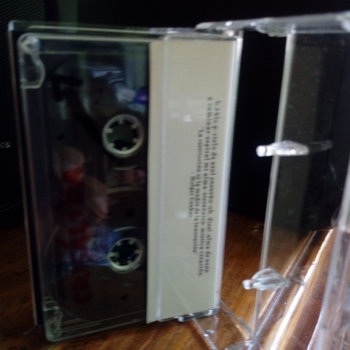 The desolation of the time is imprinted on Crisálida Sónica; both across the compilation and in the shape-shifting collective that took up the moniker to reflect these unique, evolving sounds. Rhythm is ignored in favor of texture on Catervas's dreamy opener "b-2able-p," as well as "Clave de Ángeles," a short, crescendoing clip taken from a live recording. The compilation is filled with these fascinating studio versus live set ups, like the funereal organ of Hipnoascensión's "Alma de Neón" reappearing as an intro for an untitled rumination on track eight, mostly built upon amp feedback. 
Within the towering bleakness, Espira's dreamy "Cielo Azul de Ensueño" stands out as a gauzy ray of light, hinting at the plethora of avenues in drone and psych Chino Burga would continue exploring over years to come with projects like La Ira de Dios, Culto al Qondor, and releases under his own name. In fact, Crisálida Sónica's greatest legacy may not be the compilation itself, but the milestone for experimentation that influenced a generation of musicians, as well as those who would come after, to continue their curious pursuits. Over the years, Catervas evolved steadily into fairly accessible post-punk and indie rock; a far cry from the eery cuts of their musical infancy. Meanwhile, Christian Galarreta has maintained a prolific output after his time as DiosMeHaViolado, breaking into techno with Evamuss, noise with Mardolor, and synthwave with Sajjra.
"Back when we were starting out, for a band to come on stage with no bass or drums, it was an insult," remembers Gonzalez Agreda, pondering the scene's arc and the battles that still lie ahead. "People didn't get it then, but over the years they've opened up to soundscapes and improvisation; the kind of stuff you now commonly find at a drone or ambient show. So the sensibilities of the new generation have expanded, but capitalism has infiltrated everything, so a lot of the counter-cultural intention has been forgotten. It's all just disposable hedonism now. Culture as another product; like iPhones and Coca-Cola. But I'm still fighting. I've given my life to music, and I'd do it again. You could say I'm a survivor."