FEATURES
The Provocative Punk of Cochonne
By Kerry Cardoza · October 19, 2021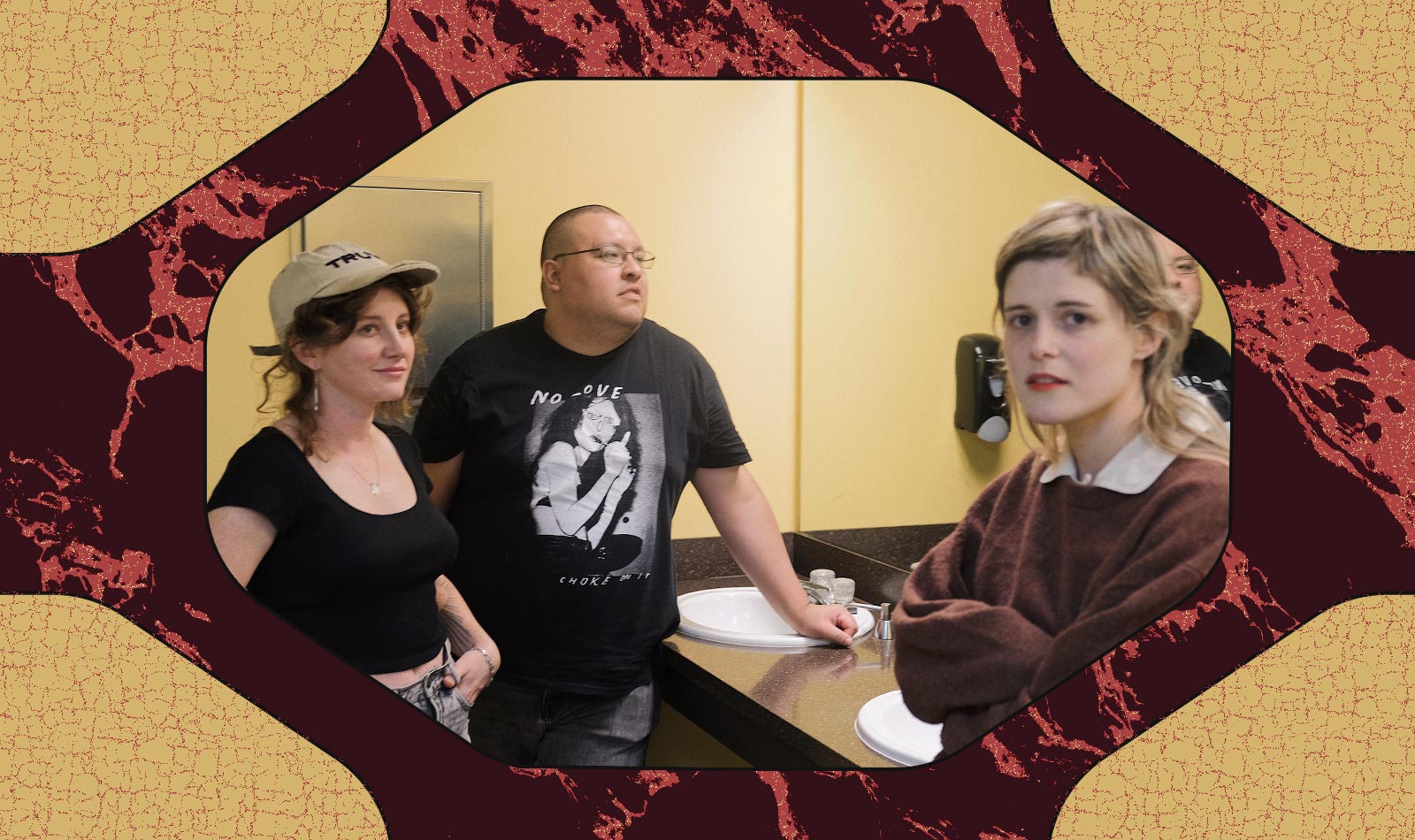 If you Google "cochonne," your web browser will fill with recipes for ham dishes—and NSFW links. The word means female pig in French and is also used to describe a certain type of smutty porn, wherein a woman might engage in bold or ultra-obscene acts. It's a fitting name for this Durham, North Carolina punk band, whose new album, Emergency, tackles sexuality and relationships in an aggressive, discomforting way.
"All the songs were written with intensity, and punk is such a good way to distill emotion," says Mimi Luse, Cochonne's bassist and vocalist. "None of them are really about romantic relationships or anything, they're more about horniness, or disgust with capitalism, or female friendships."
Merch for this release:
Bag, Vinyl LP, T-Shirt/Apparel
"I hereby grant you permission/ To wrestle me into submission," Luse shrieks on "Asking for a Friend." The minimal post-punk track opens with the sound of Luse being spanked. Loosely inspired by French Romantic poetry, Luse describes it as "turbo Rimbaud."
Cochonne formed in 2018, when Luse was in Paris doing research for her PhD and was "really bored." She'd never played an instrument before, and decided to teach herself bass. She soon had the opportunity to try out for the goth-punk band Gomme, which ended up being beyond her skill level. "I think I sprained my neck practicing that month," she says. "That's how I learned how to play the bass, and it was like this big failure, but it really pushed me." Guitarist Marielle DuToit thinks it was a great way to start out as a punk musician: "You can't start with an immediate success, that would be anti-punk," she says. "You start from the bottom."
After a few line-up changes, Cochonne is now made up of Luse and Dutoit, with Geoff Schilling on drums and David Rodriguez on keys. All play in other bands. Luse has branched into a more industrial direction with solo project Permanent. Dutoit and Rodriguez are both in new bands, neither of which have recorded, and Schilling plays in Marv—a sure indication of the strength of the area's punk scene, which includes Durham, Raleigh, and Chapel Hill. Raleigh is home to Sorry State Records, which has put out both Cochonne releases. The band agrees that the music scene is small but supportive. "It's a pretty good place to be if you want to spend more time on music than on your day job," Luse says.
Cochonne still has the sort of clever insouciance offered on their 2019 self-titled EP, which had a poppy, yé-yé-inspired sensibility. Here, the band is decidedly darker and more anxious, though. "KGB" is a stunning example. A broad criticism of surveillance culture, the music sets one's hair on end. A fly buzzes in the background, always evading reach. The synth sets a sinister tone while the guitar's repetitive drone increases the uneasiness. "Divide! It's mine/ Social control," Luse howls. Like many of the songs on the record, it has a sly way of critiquing the ways relationships are mediated through technology.
Merch for this release:
Bag, Vinyl LP, T-Shirt/Apparel
The band also makes liberal use of found sounds, borrowing the idea of dropping spoons from The Slits and the referee whistle, which features in "Qu'est-ce que t'as Fait?," from The Ramones. "It's the 'great artists steal' kind of vibe," Luse says. Because of the pandemic, the band didn't record all at the same time, which allowed more time to experiment. Luse, who mixed the record, was obsessed with capturing sounds of her phone—like that of DuToit laughing, which can be heard on the closing track, or a warped Stevie Nicks song she heard playing on a thrift store tape player. Rodriguez thinks that the sounds make the songs into a sort of personal archive, a time capsule for what is likely to be the band's last record. There's no interpersonal drama, they just feel like it's time to move on to their other projects.
Luse thinks found sounds open up possibilities in the music. "Why not use it in punk as a genre? It really expands it from just a drummer, guitarist, bass set up," she says. "You can bring the world in."