FEATURES
Chicano Batman on What Freedom Means
By Isabela Raygoza · March 10, 2017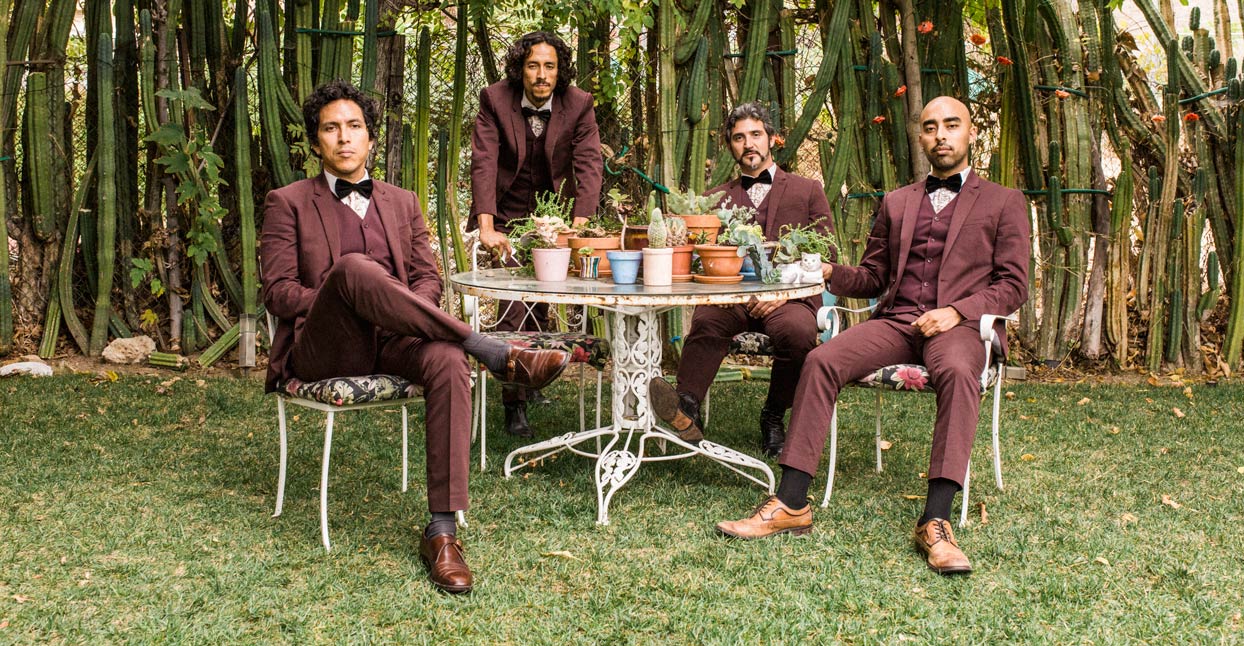 Freedom is Free, the latest piece of retro R&B heaven from L.A. troubadours Chicano Batman, is full of heart, soul, and fire. It's their most reflective release to date, a simmering collection of vintage-organ-laced tunes that renounce modern-day oppression while rejoicing in all things freedom.
Conjuring the supple bass grooves of Curtis Mayfield's Superfly, the romantic atmospherics of Spanish caballero Camilo Sesto, the spirit of Motown, and the strangeness of tropicalia, Freedom is Free is a multifaceted marvel. The funky "The Taker Story" references Daniel Quinn's heady book Ishmael ("We've been enacting the story for 12,000 years/The one that says that man must follow no natural law"), while the title is a deep dive into the idea of mental slavery. "La Jura" is an eerie ode to resistance that borrows the steel riffs of Santo & Johnny's "Sleepwalk," to critique systematic violence with heartfelt empathy.
We talked with frontman Bardo Martinez about contemporary dystopias, what freedom means, and the uniqueness of growing up Chicano.
(For more with Chicano Batman, tune into the February 25th edition of the Bandcamp Weekly)
.
00:10 / 00:58
Your musical repertoire pulls from both sides of the U.S./Mexico border. How does your bi-cultural experience play a role in your music?
The experience of many Mexican-Americans growing up here is very similar. Part of it is because we've been brought up with oldies and American music. I grew up next to the Santa Fe Springs swap meet, and every Friday night there I heard Donna Summer and lowrider oldies compilations in the background, which are popular with Chicanos in L.A. My dad — who grew up in Southern California — experienced disco in the '70s, and here I am listening to the same songs. Some of my first listens were from Cream, Santana, and Leo Dan. Hearing "Sunshine Of Your Love" [by Cream] is one of my first memories.
I'm [half] Colombian, too, so I had a different experience than your average Mexican-American; my mom comes from the Colombian coast. She, too, has been extremely important in my musical development because of her visceral nature — she's a radiant light, like Celia Cruz! It's that rhythm, charisma, and energy I'm constantly trying to get nearer to in life, as a musician and as a performer/lead singer. We all bring different energies. Eduardo's family is from Michoacán, and he's just straight Mexican vibes, bringing in that Rigo Tovar and quinceañera style. That's a different flow from mine, but we work together, and it's all beautiful. In a different light, I also connect with late '60s Brazilian music.
Our newly-acquired love, at least for me, is the whole recording and producing world, which I'm new to. We're all into tape machines and recording gear. The more you're around [music], the more you learn. Essentially, it's a never-ending quest of analog heaven. It all comes from the heart.
.
00:10 / 00:58
Freedom is Free, the title of your 2017 full-length, is an optimistic statement—especially now, during this tumultuous political climate. What does freedom mean to you?
Freedom is inherent to me, no matter who is around me or what's going on in the world. I'm already free—I'm free, girl! I have that energy. We're all born with it. Everyone carries the light of the universe; we're a representation of the universe. We're here for a short while, but our energy carries on and transfers to something else, just like nature. Ideologies, political positions, opinions, borders, boundaries—all these things are made up, man made. Obviously, they construct our realities around us, but that's because people believe those things. It's all in your head. Free your mind.
You can enlist [in the military], march in line and go to war—well, if someone can force you to do that. You have to believe in that authority and respect that authority. But you don't have to do that—none of us have to. Every individual in this society makes this society function. Obviously there's enough people to make it function. If everybody checked out and they were like "I'm not going to work today," the economic system would fall. It's going to happen eventually.
There's a long history of fallen societies, but in this specific case, why do you believe that will happen?
Because we're going to get rid of all of our natural resources. Generations of people will continue existing, but everything will change. We don't know if a natural disaster may happen, but something is going make cities fall—they're not sustainable entities. Cities have risen and fallen throughout history. It's a constant cycle. The United States will fall eventually. It's one of many governments—the Roman Empire fell, the Aztec empire fell…
Your song "La Jura," is such a beautiful listen yet it has a powerful critique on institutional violence. Is it based on a specific incident?
The song was put together by Eduardo, our bassist, who also sings it. We wrote the lyrics together. Essentially, it's about something he saw, someone he knew in the neighborhood. I think it was his friend, somebody younger. He grew up in Boyle Heights during the '90s when there was lots of violence in the streets and police brutality. Gang injunctions were happening and police were trying to get rid of all the gangs. They were very vicious in cracking down on the whole thing. The song is a real, honest sentiment in spite of the darkness in all of that.
What's the song that you connect to the most on Freedom is Free?
"The Taker Story." It's based on a book called Ishmael by Daniel Quinn, which I read twice in order to write the song. My whole attempt with "The Taker Story" was to represent the ideas in the book—a man's attempt to rewrite the myths of Western civilization. It's very succinct and has an epistemological framework. It's about what makes us perceive the world the way we do, and the ideas behind why the world is the way it is today. For one, people believe they don't have to obey by the laws of nature. People put up fences and kill everything around us. There's no animal in nature that works the way we've been doing things for the last 12,000 years. That's a short amount of time within the whole scheme of history that humans have been killing the Earth, and we've been around for a good 200,000 years. But humans weren't always like that. The whole point of the song is that everybody is living that story, the story of taking.
Your new partnership with Johnnie Walker, which features you covering "This Land is Your Land," is empowering. It's a refreshingly radical thing to see in the context of a commercial. Can you talk about that collaboration?
The brand was seeking a Latino group for the advertisement, and they chose us to represent the message. They dropped [the clip] on inauguration day, and that made so much sense. Once I saw the clip, I was like, 'Damn, this is such a strong message right now!' Especially because the public response has been overwhelmingly positive. People feel the message in it. We covered Woody Guthrie's ["This Land is Your Land"], which is actually a song against fascism in the 1940s, a fact most of us are oblivious to. I feel like our rendition coupled with the production of the music video really gives you the sense that we, as Latinos, are claiming stake to these United States at a critical moment in American politics.  Of course, the message is positive and the presentation is fresh and new. So we appreciate the fact that Johnny Walker decided to take such a stance because, at the end of the day, it's putting Latinos on the map and helping to erode age-old stigmas. Some kid could say, 'Wow, that guy looks like my cousin Ernesto!' That's what's happening and that's the future!
—Isabela Raygoza