FEATURES
How Chalga Became The Music of Bulgaria
By Garth Cartwright · January 05, 2018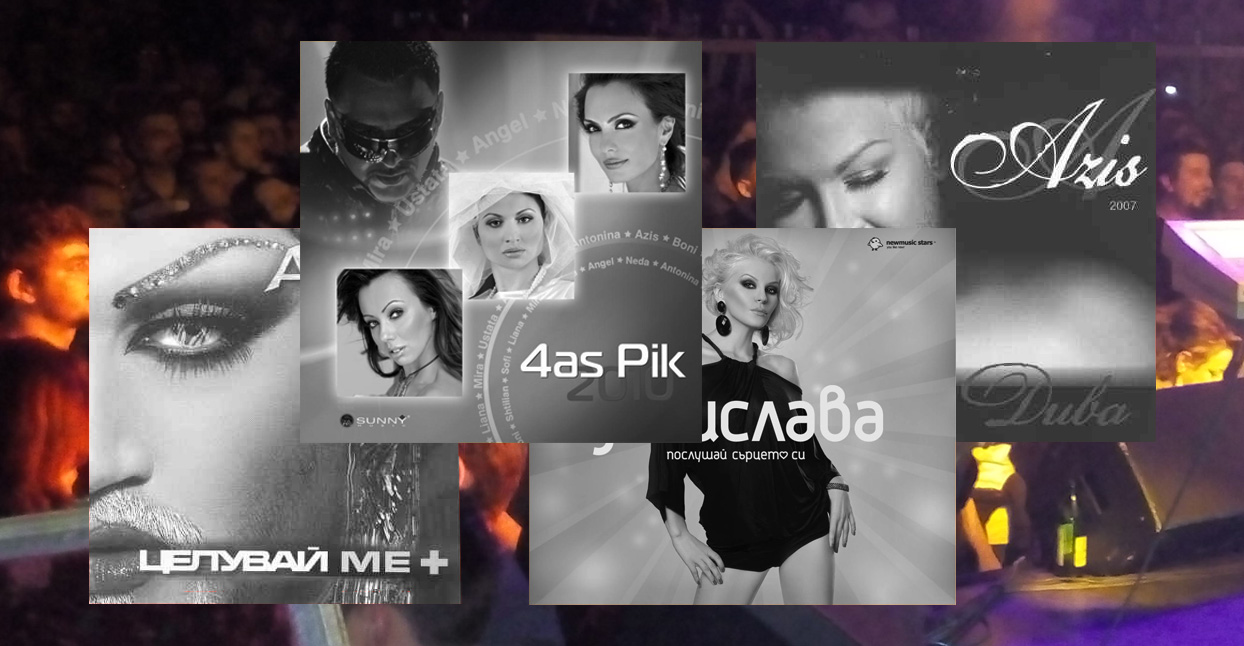 On stage at the Arets Arena in Bulgaria's capital city of Sofia, a musical spectacle is taking place. A nine-piece band of Roma musicians are playing eerie, Turkish-influenced music (the kind where the clarinet and keyboard take the lead lead); a six-piece string section swells behind them, and eight leggy dancers and a 10-piece village brass band round out the scene.
When the brass blowers come on, the stadium transforms into a Balkan village party, with everyone leaping to the jubilant dance grooves. Then, the guest singers join the fun. At center stage throughout is Sofi Marinova, who is celebrating 20 years of musical stardom.
.
00:10 / 00:58
Marinova is a Bulgarian-born Roma (Gypsy) singer whose multi-octave voice holds both great power and expressiveness. She performs a local musical genre called "chalga," a term that's Turkish in origin and refers to the urban music of the late 19th century and early 20th century Ottoman Empire. The term fell out of favour under communism—from 1945 to 1989, Bulgaria's ruling Stalinists tried to eradicate any sign of Turkish culture—but came roaring back after the Berlin Wall fell. The understanding that Bulgaria is a Balkan nation, where Turks and Roma are part of the ethnic tapestry, began to take hold.
Detractors dismiss chalga as "Gypsy music" or "truck driver music." There's also the persistent notion that Bulgaria's educated elite only listen to Western music, and consider chalga the soundtrack for provincial people who like simplistic party music. That the chalga sound is so Eastern in influence only adds to the elitist contempt: Bulgaria's middle class seems to loathe Bulgaria's Ottoman history, and want to be as Western as possible.
The concept of modern chalga is not exclusive to Bulgaria. It's similar to Serbian turbo-folk, laika of Greece, manele of Romania and Turkish Arabesque. These are the ruling Balkan pop genres, music indebted to local folk traditions that pulls from pop, dance, and rap from the West and the epic ballad singers of Iran and the Middle East. Though chalga has evolved thematically, it still incorporates humorous storylines from the past: where an older song might relay a tale of meeting a handsome man who rides a donkey to collect water from a well, a newer song would be about a rich man with a white Benz at the Currency Exchange Bureau.
Chalga relies heavily on keyboards with the voice swathed in reverb, and pushed way out front. Clarinet is often the only acoustic instrument and, while beats are programmed, darbuka (the Middle Eastern hand drum) is generously employed for added percussion. Indeed, chalga's sound represents a meeting place of Eastern and Western music forms. The melodies' ornamented vocal stylings can appear melodramatic on first listen. Chalga's popularity as party music means the local record labels—Payner, Sunny, and Diaparson—often employ DJs to remix popular songs for clubs—techno, house and dubstep chalga mixes have helped spread the genre internationally.
As with rap and R&B, chalga has a host of different bloodlines—it reaches back to folk songs, borrows melodies and beats from Greek, Serbian, Turkish, Egyptian and Bollywood songs (adding lyrics in Bulgarian and Romani); it's eclectic music, and many artists only score one or two hits before fading from sight. Chalga has also been known to have links to organized crime, and on occasion, its artists have been actively involved in major atrocities: chalga star Kondio, who hit No. 1 in Bulgaria in 1998 with Doko Doko (the first song sung in Romani to achieve this), was arrested in June 2004 and jailed for trafficking Bulgarian Roma girls to Spain and Portugal for the purposes of prostitution. Kondio served his sentence and is back singing in chalga clubs, his reputation not necessarily diminished.
The first major chalga band to emerge after the collapse of communism was Kristal, consisting of Bulgarians (pre-nation state Bulgarians of Turkish nomadic decent), Romas, and Turks. This set the stage for the multi-ethnic nature of chalga, leading to a pop culture "revolution" of sorts in Bulgaria. Where Roma women have almost no public profile in Bulgarian society, chalga icon Marinova has developed into one of the nation's biggest stars, a woman who flaunts her independence and lives as she pleases. She's not alone, though: Reyhan & Sevdzhan—two 17-year-old Muslim Roma girls—also crashed the charts in 2003.
The driving force behind international interest in chalga is not Marinova—brilliant as she is as a singer and performer—but another singer named Azis, a male Roma chalga singer whose career spans a similar arc to Marinova's (the two are good friends who've sung several duets together). Azis is happy to court controversy, though: in a series of independently-released videos, the singer wore saris, belly dance costumes, and high heels. The hair on his head, chest and beard were bleached. One video focused Azis's attention on a black bodybuilder, a boa constrictor snake and spilled milk. Bulgaria had never experienced such twisted eroticism. It prompted much outrage, something Azis has been happy to play up. Beyond spectacle, Azis has the brightest smile in town and sings in a beautifully eerie voice.
.
00:10 / 00:58
Chalga has broadened its reach beyond Roma musicians and singers. Most famous of these is Slavi Trifonov, who—as Bulgaria's most popular talk show host—is similar to David Letterman or Jools Holland. He also sings and plays piano, and has been Bulgaria's biggest celebrity for the past 20 years. He started off as a comedian who also created various forms of music with his Ku-Ku Band. He's sung two duets with Marinova and is hugely popular both at home and amongst Bulgarians abroad: when he came to the U.K., he sold out the 13,000-seat Wembley Arena.
Singers Desislava and Yanitsa are two of Bulgaria's foremost female vocalists. Desislava started as a traditional folk singer in Radnevo in the mid '90s, and quickly became one of the first big stars of Bulgarian pop-folk. Known for her more pop/R&B delivery and presentation—especially her Mariah Carey-style improvisations—her love of such music developed when she lived in Chicago in the early 2000s—during which time she was married to a local Bulgarian named Misho. As for Yanitsa, she burst onto the chalga scene in 2003 with the hit "Leko," which solidified her as a breakout star. Chalga may be rooted in Bulgaria's Ottoman past, but the music is directly connected to contemporary Western pop, dance and rap. Chalga is designed for clubs and parties.
Today, only a handful of labels in Bulgaria release chalga. They work across media platforms, owning TV stations where they pump out endless video loops of their artists and promote upcoming performances (these chalga labels now actively manage, book and merchandise their artists so earning revenue from all possible sources). Yet while other, more classical forms of music, have passed muster with the West, chalga is still largely relegated to dance floors in smaller spaces. But at least on this night, where Marinova roars through such Roma anthems as "Ederlezi," "Djelem Djelem" and "Chaje Shukarije," it feels like chalga—or "pop-folk," or "gypsy music," or whatever you want to call it—is among the most important music in the world.
-Garth Cartwright