FEATURES
Casey Dienel Retires White Hinterland and Discovers Herself
By Michael Tedder · Photos by Brad Ogbonna · May 17, 2017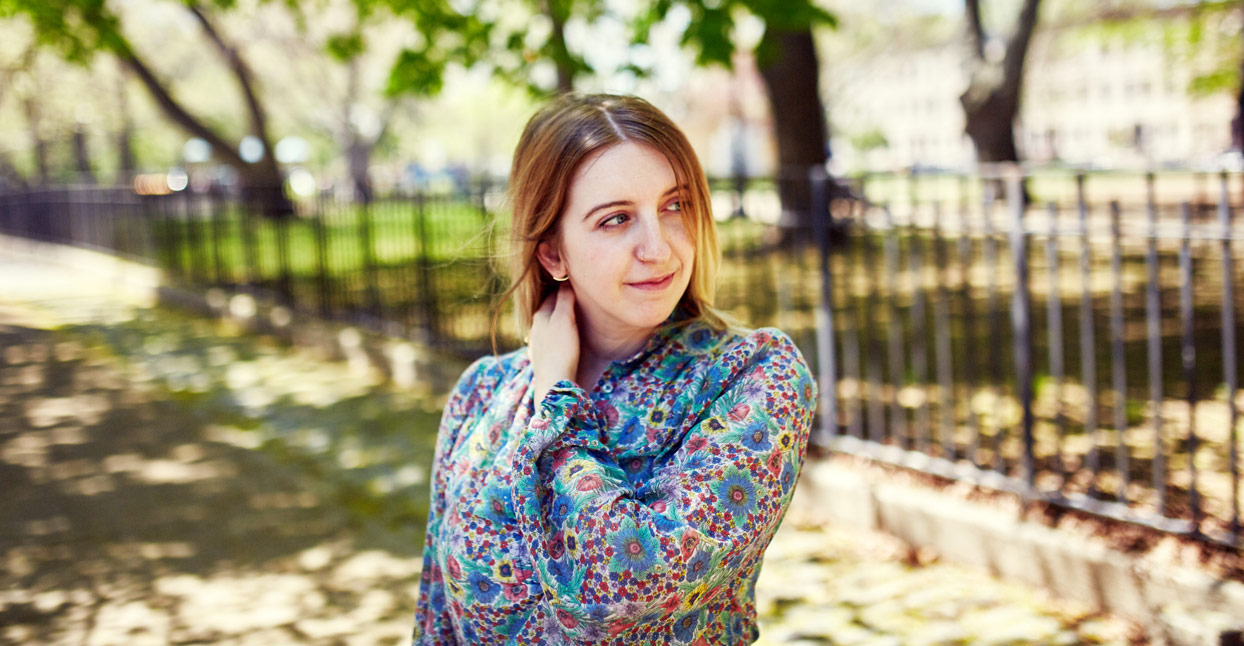 Casey Dienel likes having rules. For more than a decade, the singer-songwriter has been recording lush, gauzy art-pop as White Hinterland. Each time she started writing an album, she would give herself a set of restraints. "No proper nouns on these songs," she offers as an example, between bites of pizza at Saraghina, an eatery near her Bed-Stuy, Brooklyn apartment. "Or, 'No acoustic instruments on these songs,' or 'No reverb.'"
She readily admits to having a "Type A" personality. But when she set out to write the songs that would make up Imitation of a Woman to Love, the first album she has released under her own name in 11 years, she decided she had to change things up. She wanted music that was livelier than anything she had made before, lustier and more fun. And, most of all, truer to herself. So that meant she had to forswear her reliance on rules.
Well, except for one. Old habits, etc.
Listen to Imitation of a Woman to Love in full exclusively on Bandcamp Daily: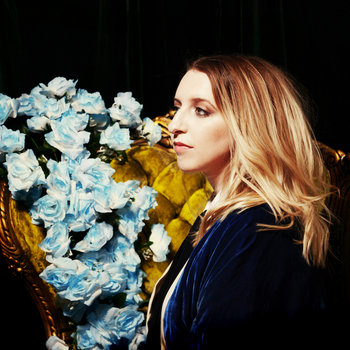 .
00:10 / 00:58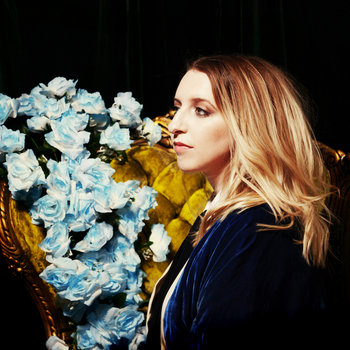 "The only thing I really wanted to stay away from was a sense of wonder. A lot of times when there are songs about people's sexuality, they're caught up in spirituality, and almost the saintly-ness of the woman's body," she says. "I don't feel that way about my sexuality. I feel a more earthly situation with it. I didn't want to have anything where I was talking about Gaia."
Wearing an oversized white thrift store sweatshirt, Dienel is chatty, quick to laugh and great at recommending which pizza to order. She's lived in Brooklyn for several years, but admits that at heart she prefers the great outdoors to the city. She's really only in New York because "my friends from college are all here." Dienel was born in Scituate, Massachusetts, and spent her youth hiking and playing piano. (Her dad, a former member of several '70s bands, was very protective of his guitar, and wasn't inclined to let her use it.)
She attended the New England Conservatory of Music, where she was one of only a handful of women in her program; consequently, she was constantly on the receiving end of mansplaining about jazz. "I started as a classical voice student, and I think I just hadn't done enough research," she says. "I was expecting it to be more creative for me, and not about adhering to tools and structure that really didn't suit me. I think I was called 'unteachable' at one point."
She eventually transferred from studying classical vocals to classical composition, and took to recording her own songs during her off time at a local caretaker's house that had been converted into a studio. "It was a way to let off steam, and then I realized I really loved it." A friend of hers sent the demos out to labels, and she got offered tours and a chance to release her debut album Wind-Up Canary on Hush Records in 2006. She hasn't looked back since, and though she sometimes thinks she might want to go back to school and get a degree in comparative literature, at the time she was over academia.
"I had a jury my sophomore year, and the department chair called my work 'show tunes,'" she remembers. "It was stuff that I had been working for a year at that point. I was so hurt."
After putting out Wind-Up under her own name, she released Phylactery Factory under the name White Hinterland in 2008 via the label Dead Oceans, and would go on to make two more albums and an EP of ornately arranged shadow-pop in the lineage of 4AD. Her music during this period was reliably gorgeous, but also somber and, in her own words, "monochromatic and grayscale." Looking back upon that period now, Dienel says "From 2008 to 2013, I was very depressed. I was having panic attacks. I got offered this opportunity to not have to be myself anymore.
"I think I just wanted to separate my musical identity and personal identity, and I thought if I had a persona, that would magically lift the spell," she says. "I didn't want to have to be me. I wanted to have my writing and keep myself out of it."
Things came to a head with her 2014 album Baby, which was much rawer and more direct than anything she'd made to that point. (And yes, Baby contains the song "Ring the Bell," which Dienel claimed was sampled without permission by Justin Bieber and Skrillex for their megahit, "Sorry." She is currently suing the pair for copyright infringement. As the lawsuit is ongoing, she is unable to say anything about the situation.) "Those songs were really cathartic to write, but very challenging to play every night. I wrote them in such a depressed, really sick state," she says. "I shouldn't have been making a record. I should have been in therapy. I had to go to therapy and do all that."
A few days after our interview concluded, Dienel sent me an email to further elucidate her mental health at the time.
"The reason for the change of tune and tone in the writing is that in the intervening years since I made the last WH album, I've been working at being a healthier, happier person. I was always a pretty spirited, happy kid. You can hear it a little bit on the Wind-Up Canary record. A general goofiness," she wrote. "Then when I hit 20, it kind of dropped off."
She elaborated. "My story is, unfortunately, a pretty common one. At 20, I was assaulted. At the age when most people are developing a sexual identity, mine got lost for awhile. I went into hiding from myself, because for a long time, all I saw when I looked in the mirror was someone sad, and the sadness would remind me of what happened. I thought I could escape or transcend her in some way. For about five years, I even managed to convince myself it never happened. I'm sure in some way I'd internalized that 'being myself' was what had invited that violation. Too trusting, too friendly, too open. That experience and the chain of events in my life it led me to rush into had a lot to do with my depression and anxiety.  Of course, the opportunity to be anyone else was welcome to me at the time, because the last person I wanted to be was someone sad or damaged."
Wanting to close the door on that period in her life, when it came time to make her new album, she decided she was going to do a few things differently.
First, she wanted to reclaim her name. She's never had a manager and has self-produced her albums for the past five years, often playing many of the instruments and also handling the art direction. She will also release Imitation through her own imprint, Paddle Your Own Canoe Society.
She says that at the start of her career, "I really believed that it would be better if people didn't know that, behind the scenes, I was doing everything," she says, which is why she liked the band moniker, and would downplay how hands-on she was about every aspect of the White Hinterland project. "I thought it would be annoying." She also says that when she was getting started, she worried that people wouldn't know how to pronounce her name (which is of Germanic descent), but is over all of that now. "I think about my dad and his family and where that name comes from. It's like why would I ever be ashamed of that? That seems sad. I really really proud to be a Dienel."
She also decided to try to be more like herself in her music. "[I thought that] maybe if I stop trying to control my personality on tape, it might be more fun for me," she says, adding that she used to strike a serious, somber tone in her lyrics because "I think that I was scared it would seem like I was this frivolous person" otherwise," she says. "I wanted to be taken seriously."
While she says she is proud of her work, looking back on White Hinterland, she thinks "I'm fun in private and in public I'm kind of a drag."
When it came time to start again, she went to a retreat at Hewnoaks Artist Colony in Lovell, Maine, "on a lake where Stephen King lives." There was no one nearby her, and she had to walk miles to get Internet access. "It was very beautiful, but it was very hard for me to enjoy the first week because I felt insane," she says. "'What the fuck do I do? I'm not hearing from many of my friends. What I my missing?' It's funny, I never thought of myself as someone attached to those things but I think it's hard to not be, now."
Eventually, the songs started to flow out of her in a "stream of consciousness [fashion]. I just was dancing around like an asshole in the cabin. It was fun to sing all night and not worry about the outcome."
She produced the album herself, playing nearly all of the instruments, and as with Baby, she worked with producer/songwriter Matt LeMay during mixing. (His wife, Joan LeMay, was Dienel's publicist before she retired from the music industry.) "If you know Casey as a friend, this record makes a lot of sense. This record sounds like Casey in a way that her other records didn't," LeMay says. "The last record felt like a summary of things she had done in the past. This was a transition into something new. This record just sounds like [the way] Casey talks, which is fantastic."
LeMay, who also contributed guitar to closing song "Paper Mache," says that they were "able to push each other. We would ask, 'How can we make this even weirder? How can we take the thing that was most unique about this and push it even further?' I feel like every time I made a choice that felt safe, she called me on it right away."
The album is warmer and livelier than the often chilly, electronic soundscapes of White Hinterland, recalling at times an unexpected marriage of the immaculate pop sheen of Fleetwood Mac, the futurism of Gary Numan and Devo, the soulful strength of Solange, the warped chamber-pop of Dirty Projectors and the boisterous rhythms of Dienel's favorite, Rihanna. ("She has so many wonderful euphemisms for the female anatomy.") It also finds Dienel cracking jokes for the first time on wax (On "Sincerely Insincerely" she notes with frustration "You wrote I love ya / With a y and an a") and owning her sexuality more than she has in the past. "High Times," a tale of a seducing and using a "Mr. Right Now" hunk, features one of the best couplet of the year: "He said some things that seemed borderline basic / But when he took off his shirt, I acquit him."
"I feel like a lot of the quote-unquote empowered songs for women are very much about pleasing someone else and not about getting what you want out of it," she explains. "Actually, because we're all human, we are not perfect, and sometimes when you sleep with someone, you're getting what you want and you're not giving."
Noting that this sort of blunt language "is how I talk to my friends," she explains that "I think I had to let go of my ego on a lot of that. Part of me that really doesn't want people to think the wrong thing, or think that I am that shallow. We all are that shallow sometimes. I'm not proud that I looked at someone across the room and was like 'borderline basic.' That is something that we do. It's human."
And being a real human, in all its flawed, lusty, shallow, imperfect glory is her only main concern anymore. "When I look back at a lot of the White Hinterland catalog, that is basically me just serving up a third of the pizza instead of doing a whole pizza," she says. "There's no point in me doing this if I can't just be myself."
—Michael Tedder